Why choose a wine trail for the weekend?
For one, you'll explore Paso Robles Wine Country the easy way. Home to more than 250 wineries spanning cozy mom and pop tasting rooms to grand estates, it pays to focus in on one or two wine trails that suit you best. Yes, the task of exploring all of Paso's impressive offerings can feel a tad overwhelming, even for the experts. A little advice from those in the know: Less is more! Wine tasting should be a leisurely and enjoyable experience, allowing time to savor the flavors and ambiance of each stop. Visit Paso Wine Country's distinct wine trails to gain valuable insight to truly unwind. Each route boasts its own unique charms worth discovering. So, which one is right for you?
Highway 46 West
Vineyards to the beach: If you're the kind of person who simply must take the scenic route, we've got a stunning journey for you. Nestled just a few miles from the coast, the green hills of Highway 46 West represents one of Paso's most popular (and photogenic) wine trails. Travel from vineyard to sand on this magical stretch of highway, which connects with Highway 1 and the Pacific Ocean beyond. Dotting Highway 46 West you'll find a clutch of boutique wineries to explore, most with vineyard-flanked outdoor sitting areas to enjoy the sunshine. One such sunny spot? Windward Vineyard, a local favorite. For decades, the mom and pop operation has worked tirelessly to put Paso Robles pinot noir on the map. Stop by this dreamy tasting room located just off Highway 46 West for a deep dive into pinot noir's earthy and alluring qualities. You'll soon find that wine grapes grown in this area enjoy dramatic swings in temperature, thanks to those cool ocean breezes we mentioned earlier. The result? Balanced, refined and elegant wines to rival the bucolic landscape.
Backroads Wineries
Cowboy country meets wine country: If a colorful patchwork of tasting rooms, olive farms and ranches sounds like pure heaven to you, then the Backroads Wineries are calling. Journey through the gently rolling hills of Paso's rural countryside and savor wines well worth the hunt. Here, dry-farmed vineyards and ancient oak trees mark the way to welcoming tasting rooms and cozy bed and breakfasts just off the beaten path. One such treasure tucked away along curving backroads? Still Waters Vineyard, located within the rolling hills of southeast Paso Robles, this laid back tasting room combines rural beauty with premium estate wines, including Rhône and Bordeaux inspired offerings that wow. Relax with your glass while surrounded by lush gardens and breathtaking vineyard views. You'll also want to taste the winery's estate olive oil, sourced from 130+ year old Spanish Olive Trees. It's no wonder why this proudly SIP-Certified winery puts an emphasis on sustainability in everything they do: the land provides unimaginable bounty!
Mapping & directions

Instagram 
Highway 46 East
For the thrill of it: With wine caves, hot air balloons and horseback rides for the taking, Highway 46 East is all about adventure! Featuring boutique, family-owned estates as well as larger, well-known names, this famous Paso wine trail allows visitors to sample a wide range of offerings, including cabernet sauvignon, zinfandel and Rhône varietals. With a long, warm growing season, bold reds ripen to perfection. When it comes to the cabernet sauvignon Paso has become known for, Eberle is the grand-daddy. Taste for yourself on the iconic back deck or go underground for a subterranean tour of the  Eberle wine caves. This well-appointed Paso wine trail is a favorite for a reason: there's always something more to discover just around the bend.
Downtown Wineries
Center of it all: If you prize walkability, shopping and dining above all else, head to the Downtown Wineries of Paso Robles. Conveniently located in Paso's idyllic downtown, find more than 25 walkable tasting rooms representing over 200 different wines from all 11 AVAs of the region. Hoyt Family Vineyards reflects downtown's keen focus on small production, high quality boutique wineries. Their downtown tasting room is ready to welcome walk-ins. Relax and enjoy the chill, beachy vibe and awesome company. Afterward, stroll through historic downtown Paso. Amidst old fashioned street lights and decorated storefronts you'll find incredible restaurants, shops, art galleries and more.
Mapping & directions to Hoyt Downtown 

Adelaida District
Roots run deep: If terroir is your thing and you can't get enough of early California history, the Adelaida District is your dream destination, to be sure. Situated in the rugged hills of the Santa Lucia Range, the Adelaida District boasts several unique microclimates and soil types (if you're seeking exceptional Rhône and Bordeaux varietals, you've come to the right place). The wineries in this area produce small-batch, handcrafted wines with a dose of lore to match. Traveling along these curvy roads, note white chalky rock, evidence of ancient marine sediment from the Mesozoic time. Limestone is also found along this wine trail, often used in stacked stone walls surrounding vineyards. At Adelaida's own Chronic Cellars tasting room, rejoice in bold blends that defy the status quo. Cheekily-named wines, plus a rousing game of lawn bowling always have a way of stirring up conversation among new friends. On your way to the tasting room, be sure to notice the moss (lace Lichen) hanging from majestic oak branches—transporting you back to simpler times.
More to explore
Willow Creek District: Situated on the west side of Paso Robles, the Willow Creek District is known for its calcareous soils and cooling coastal influence. Here, you'll find excellent Rhône varietals like syrah, grenache, and mourvèdre. The wineries in this area are also known for breathtaking vistas—an excellent choice for those seeking panoramic views alongside their tasting.
Templeton Gap District: Located in the coastal range, the Templeton Gap District benefits from the cool marine influence and warm Paso Robles sun. Here, you'll find exceptional zinfandel and Rhône-style wines, to be sure. The wineries themselves showcase a chill, friendly atmosphere—a solid choice for visitors looking for a laid-back wine tasting experience.
Book a Tour
Hop in, let's go! No need to plan a wine trail excursion yourself. Allow Third Wheel Tours to do the legwork and the driving for you. Embark on a private tour through Paso Robles in a revamped vintage sidecar and sample wine at amazing wineries, including Cass, Sculpterra, Bovino, Still Waters and more. Learn about regional agriculture, wine growing practices, and more on one of the most immersive tours in Paso Wine Country. The best part? After enjoying a scenic adventure through the undulating hills, guests will conclude the day with a final exclusive tasting at Cass Winery.
Photo by Kelsey Chance on Unsplash
Get Your Wine Country COUPONS click here!

 This blog is written by flavor fiend Hayley Cain. Follow her @flavorslo on Instagram or at astoldbyhayley.com.
CAN WE HELP YOU FIND?
DISTILLERIES TOURS & TRANSPORTATION
Looking for a place to stay in Paso Robles?
The Adelaide Inn is an iconic, locally-owned hotel known for its friendly staff and lush landscaping. With spacious rooms and a convenient location close to highway 101 and the event center – home of the California Mid-State Fair – this hotel is a great choice for most travelers. TOUR VIRTUALLY
Majestically set among vineyards, olive groves and fruit baring orchards, the 20-acre Allegretto Vineyard Resort is a world unto itself, offering breathtaking settings that inspire and bring joy to all who choose this memorable wine country haven. Featuring 171 rooms and suites, on-site spa, grand ballroom, wine tasting room, and inspired culinary creations at Cello, the resort's full-service restaurant.
Enjoy time with your loved ones with a glass of wine while taking in the panoramic views of ONX Wines Certified Sustainable Estate Vineyard. Clark House is a five-bedroom, four-bathroom home that is a perfect escape for up to ten people. All five bedrooms offer views of the vines and are impeccably furnished to help you unwind from an exciting day of exploring the Paso Robles area.
The GENESEO INN is a luxury boutique hotel nestled in the rolling hills of Paso Robles wine country. Built of industrial shipping crates perched above the vines on CASS Winery's 145 acres of vineyard, the experience truly allows you to "breathe in the vineyard views."
Hampton Inn & Suites Paso Robles is nestled in the Central Coast wine region, home to over 200 wineries, beautiful beaches, mountains and diverse attractions. Relax and revive in a comfortable guest room with all you need for a successful stay. You can count on Hampton to deliver value, consistency and service with a smile. We love having you here®
Experience the pristine countryside of Paso Robles Wine Country at chic, sparkling clean Lekai Ranch. Lounge on the porch of your private suite and lose yourself in the tranquility and stunning views of the vineyards and oak studded hills beyond. This vacation rental is located just minutes from some of the most distinguished wineries and a premier olive oil estate, and only 15 minutes from downtown Paso Robles' restaurants, wineries and shopping. TAKE AN AERIAL TOUR
Oxford Suites Paso Robles You'll find that from our lobby, our on-site restaurant, to our meeting spaces, to our 101 spacious suites, every space is beautiful + functional as well as comfortable + chic.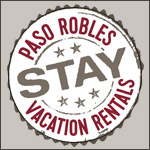 Paso Robles Vacation Rentals, also known as PasoStay.com assists guests in creating memories and wonderful experiences by providing quality privately owned vacation home rentals in Paso Robles Wine Country. With over 160 vacation homes to choose from, small enough for a couple's romantic getaway to large homes amongst local vineyards and olive orchards, PasoStay.com has the perfect option for you. Ask us how you save 15% on booking service fees! Feel free to call 805-423-9174 to talk with a local expert or book online at PasoStay.com.
The Farmhouse at Pelletiere Estate is a modern & luxurious wine country retreat. Privately situated & surrounded by our estate vineyards, located just off Hwy46w on a very accessible country road, nestled in the heart of Paso Robles' renowned Westside, just 6 miles to Paso's downtown square. The Farmhouse offers stunning vineyard views from every angle, as well as a stylish yet cozy house you're bound to fall in love with!
LEARN MORE