Summer is in full swing in Robles Wine Country, the perfect oasis to unwind and enjoy California sunshine and good times. From incredible food and wine experiences to off-the-charts outdoor fun, Paso Robles Wine Country and summer go together like ketchup and mustard (or, if you're asking a local, cabernet sauvignon and a fine cheese). Ready to explore the region's best tasting rooms, hiking trails, community festivals and beach getaways? You've come to the right place, friends. From the classic amusement of the California Mid-State Fair to fascinating vineyard tours and creative culinary events, you'll find plenty of compelling reasons to spend your summer vacation in Paso Robles Wine Country.
Wine tasting
Taste the rainbow: Home to more than 250 wine tasting rooms, Paso Robles Wine Country is a world renowned wine region chock full of unique wine experiences you won't find anywhere else. Each summer, vineyards boast lush greenery and vibrant grape vines worthy of your next summer photo op. Relax at an array of beautiful indoor and outdoor tasting spaces, many which offer staggering views of rolling, oak-studded hills. At Caelesta Wines, Vineyard + Truffière, experience the terroir of the winery's gorgeous Estate Vineyard while savoring a sublime tasting menu curated by the winemaker. The winery's newly opened tasting room is a sight to behold, featuring 35 acres of meticulously-farmed vineyards and a ten-acre black truffle orchard (yes, truffles and wine—what could be better?). While Caelesta Wines, Vineyard + Truffière is located in the Templeton Gap AVA of Paso Robles, there are many wine trails and microclimates to choose from. Go exploring and follow your tastebuds. You won't want to miss a single drop!
Festivals and events
Get festive: Summer in Paso Robles is filled with lively festivals and events you won't want to pass up. The California Mid-State Fair, held each July at the Paso Robles Event Center, is a time-honored attraction featuring live music, carnival rides, livestock exhibits and a wide array of entertainment (local acts and national headliners). You can also spend a sunny summer season sampling Paso Robles Wine Country's most exciting wine and food festivals. As if this wasn't enough to whet your whistle, dazzling Independence Day events light up the night sky each 4th of July. Truly, Summer is all about getting together and celebrating with a glass of something delicious in hand! It's no wonder Paso wineries host their own clutch of events, with tasting rooms like Robert Hall Winery leading the charge. From the winery's eco-conscious "field day" that illuminates drone-use for biological pest control (educational and cool) to sunset concerts hosted around a crackling fire pit, you're in for one action-packed summer.
Outdoor activities
Ready, set, go: Paso Robles Wine Country's unbelievable beauty is on full display each summer. Picturesque hills, green vines, majestic oaks and blue skies come together to create a dreamy backdrop for outdoor activities. The possibilities are endless: Go hiking or biking through pristine hills, take a scenic hot air balloon ride, hop on a horse or enjoy a round of golf. Camping and RVing is another popular way to take in Paso's natural wonders: find dozens of unique campsites, RV stops and cozy cabins nestled across our rugged landscape. Plus, splash into lakeside fun at Lake Nacimiento, the ultimate destination for boating and water sports, including waterskiing, wakeboarding, jet skiing, wakesurfing and more. For a historical day outside, head to Sextant, where you can check out the Old Edna Townsite and enjoy a meal at the tasting room's onsite gourmet cafe. Dine outdoors on the sun-dappled patio, breathing in the fresh air the Central Coast has become world famous for. Come nightfall, slip into one of Paso's natural hot springs, a fitting way to relax and rejuvenate under the stars.
Dining
Culinary delights: It's no secret that Paso Robles Wine Country boasts a thriving food scene, with numerous farm-to-table restaurants, artisanal food producers and farmer's markets to try. During the summer, savor fresh, seasonal produce—plus delicious meals paired with local wines. The best part? We'll create the perfect pairing for you! No guesswork here. Many downtown Paso Robles restaurants also offer outdoor seating, so you can enjoy your food and wine in the warm sunshine (afterward, grab a nightcap at some of our most interesting cocktail lounges, Eleven-Twenty-Two Speakeasy and Cane Tiki Room). A top shelf dining experience this summer? Head to Dubost Winery for a captivating evening with Cal Poly SLO history expert Dr. Dan Krieger on August 26. Discover the fascinating story of Paso's Adelaida AVA, known for generations of agricultural heritage. Get ready to be amazed, ask questions and indulge in a mouthwatering barbecue dinner paired with Dubost wines. Informative, entertaining and unforgettable? Let's eat!
The Coast
Hit Highway 1: Cooling down after a sizzling hot summer day in Paso is easier than you think. In fact, Paso Robles Wine Country is located just a few miles from Highway 1 and the shimmering Pacific coastline. Who knew? Cruise this scenic byway north up to San Simeon, where world famous Hearst Castle awaits on Enchanted Hill. Stop along the route and say hello to nearby Elephant Seals at the Piedras Blancas Elephant Seal Rookery, enjoy Cambria's eclectic mix of art galleries, boutiques and tasting rooms and end the day at Morro Bay's Embarcadero, where seabirds, salt water taffy and stellar seafood collide. You'll even find Paso wine along the water: Absolution Cellars boasts a tasting room located on the laid back Morro Bay Embarcadero (and you'll want to stop in for an epic oceanfront sunset). Trust us: the coastal breeze is ultra refreshing when Paso Robles heats up! You can thank us later. 
Before you go
Know before you go: Have the best summer ever! Paso Robles summer temperatures can soar into the triple digits. We recommend bringing adequate sun protection on your journey through Paso's diverse destinations. A wide brimmed hat, SPF and protective clothing can help battle the sun's rays, especially at midday. Nights can swing toward the cooler side, thanks to coastal breezes. While this is great for creating balanced wines, you'll want to come prepared with a light jacket (plus appropriate walking shoes, if you're headed for a vineyard tour or other outdoor excursion). Lastly, it's wise to note that some of our more outlying wineries are known to have inconsistent WiFi access. No problem! Simply download one of our handy wine tasting maps to ensure you're never without a little guidance.
Get Your Wine Country COUPONS click here!

 This blog is written by flavor fiend Hayley Cain. Follow her @flavorslo on Instagram or at astoldbyhayley.com.
CAN WE HELP YOU FIND?
DISTILLERIES TOURS & TRANSPORTATION
Looking for a place to stay in Paso Robles?
The Adelaide Inn is an iconic, locally-owned hotel known for its friendly staff and lush landscaping. With spacious rooms and a convenient location close to highway 101 and the event center – home of the California Mid-State Fair – this hotel is a great choice for most travelers. TOUR VIRTUALLY
Majestically set among vineyards, olive groves and fruit baring orchards, the 20-acre Allegretto Vineyard Resort is a world unto itself, offering breathtaking settings that inspire and bring joy to all who choose this memorable wine country haven. Featuring 171 rooms and suites, on-site spa, grand ballroom, wine tasting room, and inspired culinary creations at Cello, the resort's full-service restaurant.
Enjoy time with your loved ones with a glass of wine while taking in the panoramic views of ONX Wines Certified Sustainable Estate Vineyard. Clark House is a five-bedroom, four-bathroom home that is a perfect escape for up to ten people. All five bedrooms offer views of the vines and are impeccably furnished to help you unwind from an exciting day of exploring the Paso Robles area.
The GENESEO INN is a luxury boutique hotel nestled in the rolling hills of Paso Robles wine country. Built of industrial shipping crates perched above the vines on CASS Winery's 145 acres of vineyard, the experience truly allows you to "breathe in the vineyard views."
Hampton Inn & Suites Paso Robles is nestled in the Central Coast wine region, home to over 200 wineries, beautiful beaches, mountains and diverse attractions. Relax and revive in a comfortable guest room with all you need for a successful stay. You can count on Hampton to deliver value, consistency and service with a smile. We love having you here®
Experience the pristine countryside of Paso Robles Wine Country at chic, sparkling clean Lekai Ranch. Lounge on the porch of your private suite and lose yourself in the tranquility and stunning views of the vineyards and oak studded hills beyond. This vacation rental is located just minutes from some of the most distinguished wineries and a premier olive oil estate, and only 15 minutes from downtown Paso Robles' restaurants, wineries and shopping. TAKE AN AERIAL TOUR
Oxford Suites Paso Robles You'll find that from our lobby, our on-site restaurant, to our meeting spaces, to our 101 spacious suites, every space is beautiful + functional as well as comfortable + chic.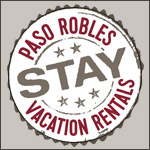 Paso Robles Vacation Rentals, also known as PasoStay.com assists guests in creating memories and wonderful experiences by providing quality privately owned vacation home rentals in Paso Robles Wine Country. With over 160 vacation homes to choose from, small enough for a couple's romantic getaway to large homes amongst local vineyards and olive orchards, PasoStay.com has the perfect option for you. Ask us how you save 15% on booking service fees! Feel free to call 805-423-9174 to talk with a local expert or book online at PasoStay.com.
The Farmhouse at Pelletiere Estate is a modern & luxurious wine country retreat. Privately situated & surrounded by our estate vineyards, located just off Hwy46w on a very accessible country road, nestled in the heart of Paso Robles' renowned Westside, just 6 miles to Paso's downtown square. The Farmhouse offers stunning vineyard views from every angle, as well as a stylish yet cozy house you're bound to fall in love with!
LEARN MORE