D

iscover fun harvest events in Paso Robles this October and November. Experience the charm of California's Wine Country with our comprehensive guide to Paso Robles' vibrant harvest events and activities. 

Raise a celebratory glass to harvest season in Paso Robles! Spanning October through November, harvest means hard work for local wine industry pros—including long hours of picking, pressing and crushing—but there's plenty of fun to be had, too. Discover a cornucopia of added excitement, including exclusive vineyard experiences, barrel tastings, winemaker dinners, live music events and so much more. Expect incredible tasting opportunities and great weather this fall: With more than 300 days of sunshine per year, there's no need to bundle up. Tour the vines as they transform from green to gold, visit a festive pumpkin patch or savor fall flavors at local farm-to-table restaurants. The coming vintage is always cause for celebration, whether you're a wine enthusiast, winemaker or local.
---
Paso Robles Wineries Harvest Events
Harvest Wine Month
When: Oct. 1-31
Where: Paso Robles Wine Country tasting rooms and venues
What: A year's worth of dedication culminates in yet another remarkable harvest. During Harvest Wine Month, participating Paso Robles wineries organize unique events, including specialized tours, winemaker dinners, grape-crushing demonstrations, musical performances and so much more. Join hundreds of Paso Robles wineries, visitors and locals in celebrating Harvest Wine Month in style. Expect incredible flavors, exciting events and lovely weather.  Note: There is no marquee event, so check winery calendars for individual events unfolding across the region throughout October. 
Info: https://pasowine.com/events/harvest-wine-month/
Under the Paso Sun – Olive Harvest Retreat
When: Nov. 1 and Nov. 8
Where: Cass Winery, GENESEO INN, Groves on 41 Olive Farm
What: Under the Paso Sun – Olive Harvest Retreat allows visitors to get better acquainted with Paso's most drizzle-worthy crop. Join Groves on 41 and Kiler Ridge Olive Farm for an event that aims to help everyone better understand the art of olive picking, pressing and tasting. Afterward, pamper yourself with olive oil based foot soaks from Life Elements, a luxurious stay at the GENESEO INN at Cass Winery and farm-fresh meals shared and paired with award-winning Cass wines. Note: Cass Winery features a slew of other great offerings this fall, including a backyard beekeeping retreat Oct. 11-12.
Tickets: https://www.experiences-casswines.com/olive-oil
Eberle Winery Harvest Sunset Supper
When: October 21 from 6:30 to 8:30 p.m.
Where: Eberle Winery
What: Winemaker Gary Eberle, co-founder of the Paso Robles Appellation way back in 1983, is a local legend. Today, the Harvest Sunset Supper celebrates his team's annual accomplishments. Held on the Eberle vineyard deck, this memorable evening includes a Spanish paella feast prepared by Paso Catering Co. and live music by Five Parts Devil. The first glass of Eberle Wine is included with your ticket. Additional wines are available for purchase by the glass or the bottle.
Tickets: https://www.eberlewinery.com/events/details/harvest-sunset-supper23/
The Downtown Vibe at Hoyt Family Wines
When: Oct 14 and 15
Where: Hoyt Family Wines tasting rooms
What: Hoyt Family Wines offers two great chances to enjoy their premium Paso Robles wines. On Saturday, Oct. 14, enjoy a Hoyt Family Wines tempranillo vertical tasting at the winery's Paso Robles "ranch" tasting room. On Sunday, Oct. 15, enjoy mimosas at the winery's downtown Paso Robles tasting room from noon to 5 p.m. Choose from assorted fresh fruits, juices and herbs perfect for adding to the winery's signature Hoyt 2 Hoyt sparkling wine. 
Tickets: https://www.hoytfamilyvineyards.com/experienc-hoyt
Oso Libre Por Vida Dinner
When: Oct. 14-15
Where: Oso Libre tasting room
What: Enjoy a luxurious harvest evening highlighting the release of Oso Libre's 2019 Estate blend, Por Vida. Library selections of this flagship blend will also accompany a perfectly paired five-course meal hosted at the winery's Paso Robles tasting room. Savor fall-themed delights on the menu, including pumpkin bisque, truffle risotto and braised Oso Libre Osso Bucco.
Tickets: https://osolibre.orderport.net/wines/Event-Tickets
Pelletiere Estate Winemaker Dinner
When: Oct. 7
Where: Pelletiere Estate tasting room
What: Join Pelletiere Estate for an intimate dining experience showcasing exceptional wine and phenomenal food. Celebrate harvest with an all-inclusive four-course feast highlighting Pelletiere Estate wines, hand-selected by Winemaker Natasha Boffman. Incredible Central Coast cuisine will be crafted by Executive Chefs Gregg and Kellie Wagner.
Tickets: https://www.pelletiere.com/events/
Robert Hall Winery Meet and Greet
When: Oct. 13
Where: Robert Hally Winery
What: Spend harvest at Robert Hall with fellow club members and friends. Warm yourself with crackling fires, listen to live local music and take in the gorgeous Paso Robles scenery. Tip: The sunset is always spectacular when viewed from the winery's western terrace. Club Members are free to attend (two per membership), and your ticket includes one glass of wine. All other guests are advised to purchase tickets in advance. 
Tickets: https://www.roberthallwinery.com/events/Sunset-Meet—Greet-10
Sculpterra Harvest Fiesta
When: Oct. 28 from noon to 4 p.m.
Where: Sculpterra Winery & Gardens
What: Free to attend, Sculpterra's fun harvest fiesta celebrates everyone who makes harvest happen. Enjoy delicious estate-grown Sculpterra wines, great food and a lively atmosphere elevated by towering statues and manicured gardens.
Tickets: https://sculpterra.com/events-2/
Bella Luna Fall Winemaker Dinner
When: Oct. 21
Where: Bella Luna Winery
What: Meet brand new Bella Luna Winemaker Lukas Finn at this harvest winemaker dinner event. The Bella Luna family welcomes guests into the courtyard for a memorable evening under the stars. Enjoy an intimate multi-course paired wine dinner from Chef Anthony Allesmith of The Prancing Chef. Using local Central Coast ingredients, Anthony has worked alongside the winery to create a menu that reflects the fall season. Dining accompanied by live music from the Racking Crew.
Tickets: https://pasowine.com/member-event/fall-winemaker-dinner-123/
Bovino Harvest Barn Dance
When: Sat. Oct 14
Where: Bovino Vineyards
What: Celebrate harvest, sip Bovino's fabulous fall releases and get your groove on at Twist Ranch Barn featuring country melodies courtesy of Deaverville. Each paid ticket includes a glass of wine, tastes of Bovino's newly released wines and light hors d'oeuvres. A delicious taco dinner will also be available for purchase.
Tickets: https://www.exploretock.com/bovinovineyards/event/422206/bovino-barn-dance-and-wine-club-pick-up-party
Windward Vineyard Chat with the Winemaker
When: Every Saturday in October from 2-4 p.m.
Where: Windward Vineyard tasting room
What: Ever dream of picking a Paso winemaker's brain? Chat with Windward Vineyards' celebrated winemaker and enjoy $10 glasses of estate grown pinot noir paired with complimentary cheeses. This event takes place each Saturday all October long, so make a date of it!
Tickets: https://www.windwardvineyard.com/events
Halter Ranch Ancestor dinner
When: Oct. 28
Where: Halter Ranch
What: Celebrate Hater Ranch's flagship Ancestor Estate Reserve during the winery's anticipated Ancestor Dinner. Set within Halter Ranch's Historic Barn, Chef Daniel Bruce will create a delicious five-course menu inspired by the community's abundant seasonal ingredients. This harvest dinner is paired with Halter Ranch estate and reserve wines, all thoughtfully selected by Winemaker Kevin Sass. The evening will begin with a welcome glass of wine in the Member Garden followed by a memorable evening in the historic barn. 
Tickets: https://shop.halterranch.com/res-427284/2023-Ancestor-Dinner.html
Seven Oxen Estate Wines Tenth Anniversary Winemaker Dinner
When: Oct. 21 from 6 to 9 p.m. 
Where: Seven Oxen Estate Wines tasting room
What: Help Seven Oxen celebrate its tenth year of winemaking with an intimate harvest dinner at the tasting room. Chef Rachel Ponce of Pair With has crafted an exciting five-course menu expertly matched with Seven Oxen wines. The meal includes an intermission with a tasting of one of the winery's oldest vintages of Zinfandel Reserve, a delicious dessert pairing with Estate Brandy and samples of the winery's new Grenache Dessert wine on the patio after dinner. Seating is very limited, so grab tickets while you can. 
Tickets: https://sevenoxen.orderport.net/product-details/0040/10th-Anniversary-Winemaker-Dinner
Rava Wines Paint and Sip
When: Oct. 15 from 12 to 2 p.m.
Where: Rava Wines
What: ArtSocial 805 hosts this popular wine harvest Paso Robles event at Rava Wines. Savor a glass of wine, pick up a brush and participate in Paint and Sip, a guided painting class. Once you've completed a masterpiece, stroll to the vineyard lawn for live music from 2 to 5 p.m. Each painting class ticket includes the two-hour workshop, art supplies and one glass of wine, with additional glasses available for purchase.
Tickets: https://ravawines.com/event-schedule/
ONX Estate Vineyard Harvest Experience
When: October 6 and 7, 2023
Where: ONX
What: Enjoy a fun Paso Robles harvest weekend with ONX Wines. Harvest Experience festivities start on Friday, Oct. 6 with wine samples and small plates at Taste! Craft Eatery in downtown Paso from 6 to 8 p.m. On Saturday, Oct. 7, take part in a hands-on harvest experience from 9 to 11 a.m. at the ONX Estate Vineyard. Learn how winemakers select the best grapes for every blend before stomping your own. The event includes continental brunch and ONX wines. Guests staying at Clark House or Briarwood Cottage will also enjoy transportation to the Saturday activities.
Tickets: https://onxwines.com/events/harvest-experience/
Opolo Vineyards Harvest Festival Grape Stomp & Dinner
When: October 21 and 22, 2023
Where: Opolo
What: Reserve your table for a charming two-night harvest celebration at Opolo, where the Harvest Festival Grape Stomp & Dinner menu features oysters, whole-roasted lamb, sarma, chicken and more paired with Opolo wines. Also taste distillery samples, enjoy live music, watch folk dancing and grape stomping, too. This dynamic event sells out every year, so plan ahead and book tickets in advance.
Tickets: https://opolo.com/harvest-2023/
Le Vigne Winery Harvest Festival Winemaker Dinner
When: October 21 from 6:30 to 9:30 p.m.
Where: Le Vigne Winery
What: Chef Walter Filippini hosts this annual harvest winemaker dinner that pairs Le Vigne wines with family-style prosciutto-wrapped shrimp, purple eggplant ravioli and beef Wellington with black truffle-Le Vigne Cabernet Sauvignon a jus. Expect live music to round out the fall festivities. Le Vigne club members enjoy a special discount on tickets.
Tickets: https://www.levignewinery.com/upcoming-events/harvest-festival-winemaker-dinner
---
Paso Robles Harvest Live Music Events
Villa San-Juliette Live Music I October 15 from 1 to 4 p.m.
Still Waters Vineyards Live Music I October 21 and October 28 from 5 to 7 p.m.
Venteux Friday Concert Series I Fridays in October starting at 5 p.m.
Midnight Cellars Acoustic Saturdays | Saturdays in October, from 1 to 4 p.m.
Midnight Cellars Twilight Sunday Concerts | Sundays in October, from 5 to 8 p.m.
J. Dusi First Thursdays Summer Concerts | October 5, 2023, from 4 to 7 p.m.
Castoro Cellars Lazy Locals Free Concerts | Sundays in October, from 1 to 4 p.m.
Changala Winery Creekside Concert | October 7 from 1 to 4 p.m.
Bovino Vineyards Barn Dance | October 14 from 6 to 9 p.m.
Cass Winery Barrel Room Concert | October 22 from 4 to 6 p.m.
Live Music at Eberle Winery | Various October dates from 1 to 4 p.m.
Stevie Nicks Illusion Concert at Rava Wines | October 21 from 7 to 9 p.m.
---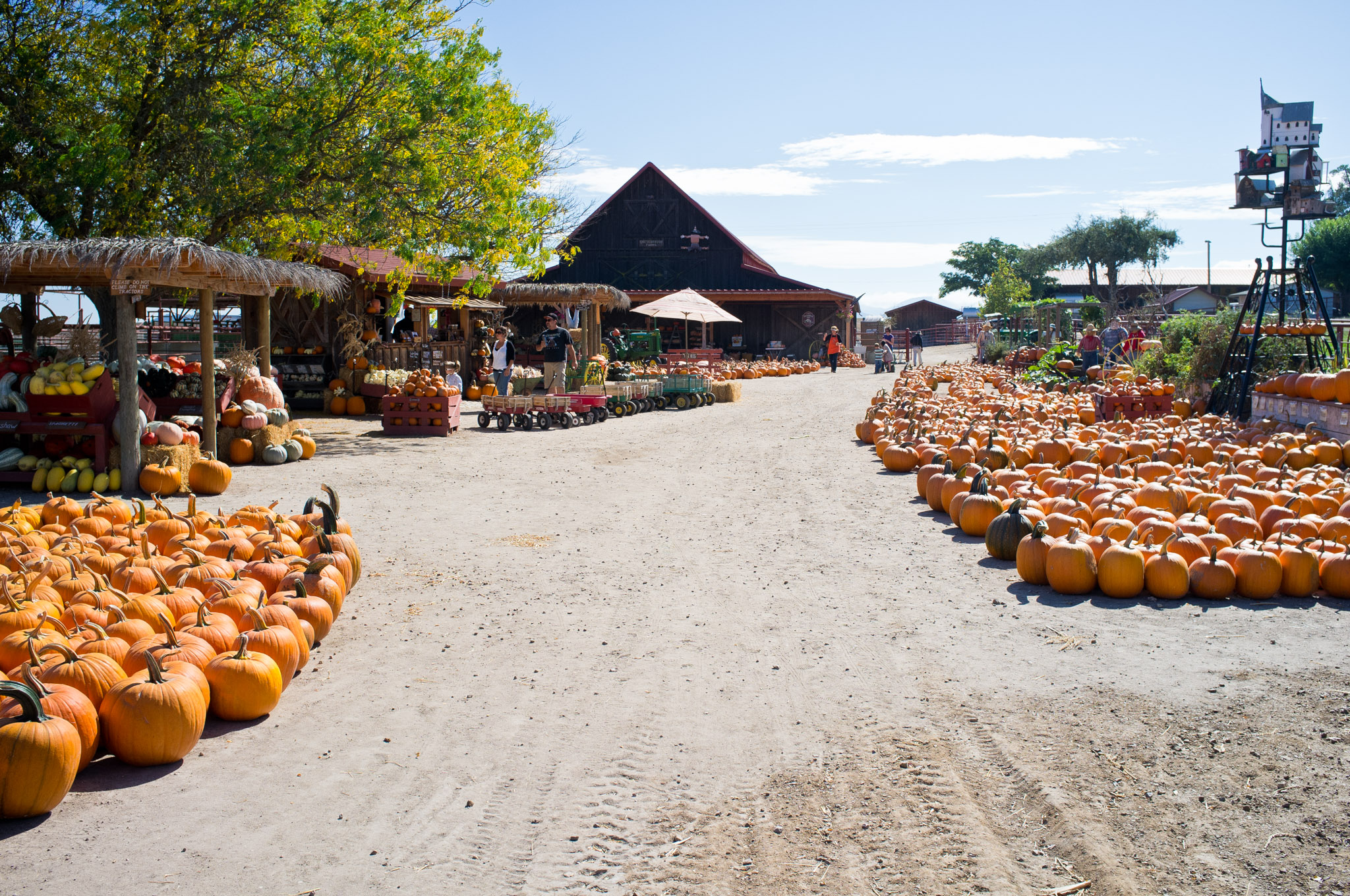 Pumpkin Patches
Classic fall activities like pumpkin picking, corn mazes and hayrides are popular in Paso Robles Wine Country. Far from your average pumpkin patch experience, find award-winning wineries just a stone's throw away.
Chesebrough Farm Pumpkin Patch
At Chesebrough Farm in Templeton, scarecrows watch over more than 60 varieties of heirloom pumpkins, gourds and winter squash. Discover an old-fashioned roadside stand with lots of fun extras like pumpkin cannon and a historic barn experience.
Opens Oct. 1-31
Hours: 10 a.m. to 6 p.m. seven days a week
Address: 790 Moss Lane, Templeton, CA
Jack Creek Farms
Overflowing with pumpkins of all shapes and sizes, Jack Creek Farms is the perfect fall excursion in Templeton. Hunt for short flat, tall skinny, perfectly round, lumpy, bumpy and everything in between. Plus, colors range between orange, red, yellow, pink, brown, green, blue and white! If you're looking for a vivid selection of pumpkins, you've come to the right patch.
Open: Oct. 1-31
Hours: Open Monday, Tuesday, Thursday, Friday from 11 a.m. to 5 p.m. and Saturday-Sunday 10 a.m. to 6 p.m.
Address: 5000 Highway 46 West, Templeton, CA
River K Pumpkin Patch
A Paso Robles tradition for more than five decades, River K Pumpkin Patch offers up classic pumpkin-picking fun. Explore a vast array of pumpkins of all textures and sizes as well as festive hayrides and more. The real star of the show is a massive corn maze stretching more than three acres!
Open Oct. 1-31
Hours: Monday-Thursday 10 a.m. to 8 p.m. and Saturday and Sunday and 9 a.m. to 8 p.m.
Address: 5670 North River Road, Paso Robles, CA
---
More Harvest Flavors
Experience Paso's finest harvest flavors at a range of farm-to-table restaurants, tasting rooms and markets this fall. From fall-themed winemaker dinners to Michelin Star restaurants and Paso-grown produce, enjoy harvest, one bite at a time.
Fall farm-to-table dining
Paso Robles Wine Country is known for its fabulous farm-to-table restaurants. Find Michelin Star restaurants, creative Chef-driven plates and tasting rooms with onsite kitchens all serving up fresh fall flavors. Be sure to check out our list of the best restaurants to try during harvest season, here.
Tin City Cider Tasting
Is it really fall without cider tasting? Head to Tin City Cider in Paso Robles for a range of delicious hard cider offerings sure to get you in the autumnal mood. A collaboration between winemakers Curt Schalchlin, Mikey Giugni, and Andrew Jones, Tin City Cider Co. produces carefully crafted cider made with the best California apples. Tip: Want to try the Central Coast's local apple haul this harvest season? Head south to the See Canyon browning region, where you can pick and sample a range of apple varieties at See Canyon Fruit ranch, Gopher Glen, SLO Creek Farms and Avila Valley Barn.
Paso Robles Farmer's Market
Deepen your connection to Paso Robles farmers, ranchers and artisans. Head to Paso Robles' celebrated farmer's market, held each Tuesday from 9:30 to noon at Paso Robles Downtown City Park. Enjoy ripe produce, local meats, herbs, baked goods, cheeses, fresh-cut flowers and more. Tip: FARMstead ED is home of the SLO County Farm Trail, where local farmers and ranchers are spotlighted through hands-on educational experiences. Check out an interactive map featuring fall-themed agricultural experiences.
---
More Harvest Events on the Central Coast
Harvest on the Coast
Each harvest, Central Coast winemakers come together for the annual Harvest on the Coast event hosted by SLO Coast Wine. This year's festival kicks off Saturday, Nov. 4 with a 2 p.m. Grand Tasting at Chamisal Winery in Edna Valley. Savor a lineup of world class wines grown within the SLO Coast growing region paired with food and entertainment (a VIP Rare & Reserve Tasting will be held earlier in the day from 1 to 2 p.m.).
Atascadero Fall Festival
Carnival rides, craft beer and live music come together for Atascadero's Fall Festival, held in Sunken Gardens Friday, Nov. 17 through Sunday Nov. 19. Enjoy music from 25+ bands on two stages, carnival rides and games, local arts and crafts vendors, delicious food, seltzer, wine and more.
Scarecrow Festival
The Scarecrow Festival in Cambria offers up a free, public activity for anyone visiting Cambria this fall. A unique spectacle that brings together dozens of creative scarecrows in Cambria's charming downtown, view scarecrow characters decorating local shop sidewalks and street corners from October 1 through 31.
---
Cover Photo by saira ahmed on Unsplash
LEARN MORE