Enjoy Paso Robles Wines and cocktails minus the buzz!
Wine without the alcohol might seem surprising, but in Paso Robles, it's just another delicious offering. These days, a growing number of folks are reaching for non-alcoholic options, whether poured into a Champagne flute or rocks glass. From The New York Times to Wine Enthusiast, everyone's raving about premium zero-proof bottles.
Forget any misconceptions you might have about non-alcoholic drinks: Today's non-alcoholic and alcohol-removed wines taste like the real deal. Complex, balanced and sophisticated, these modern offerings pack a flavorful punch without the hangover. After all, sharing special moments with friends shouldn't mean ditching out on that a.m. hike.
Whether you're on a health kick, sober curious or simply want to enjoy an amazing Paso Robles wine excursion minus the alcohol, these vibrant, virgin drinks are the new cool. In fact, the global non-alcoholic beverages market reached $750.6 billion in 2022 and is projected to grow rapidly over the next half decade.
Ready to jump in? Join the fun in innovative Paso Robles. Known for harboring a bold and pioneering spirit, it's no wonder this world class wine region is making waves in the NA pool. Amid rolling hills and majestic oaks, savor awesome ambiance paired with diverse drink alternatives that fit your lifestyle. With more beverage choices hitting the market daily, there's a low or no-alcohol pleasure for every palate.
What is the difference between alcohol-removed and non-alcoholic wines?
Non-alcoholic Wines: Non-alcoholic wines are crafted without the fermentation process that usually produces alcohol. These grape-based beverages taste very much like wine, but they contain very little alcohol, typically less than 0.5% alcohol by volume. This minimal alcohol content might come from residual alcohol or be added for flavor enhancement. Non-alcoholic wines are a good choice for those who want the wine taste without the alcohol buzz.
Alcohol-removed Wines: These are traditional wines from which the alcohol has been extracted or reduced to a very low level. They start as alcoholic wines but go through a process to remove or significantly reduce the alcohol content. Methods for alcohol removal can include heating, vacuum distillation, or reverse osmosis. The resulting product typically contains less than 0.5% alcohol by volume, similar to non-alcoholic wines, but they often retain more of the original wine flavor. Alcohol-removed wines are an option for those who enjoy the taste of traditional wine but wish to avoid or minimize alcohol consumption.
How are alcohol-removed wines made?
While it might seem like magic, a lot of thought goes into each bottle of alcohol-removed wine. Truly, the alcohol removal processes are fascinating: Vacuum distillation places wine in a vacuum chamber where it can be heated at a lower temperature than under normal atmospheric pressure, for example. This allows alcohol to evaporate at a lower temperature, preserving the wine's flavor and aroma while removing most of the alcohol.
Alcohol-removed wines can also be produced using reverse osmosis, which involves passing wine through a membrane that separates the alcohol out. Other methods employ steam distillation or the futuristic-sounding "spinning cone column," a whirring device that singles out alcohol to be heated and removed via evaporation and condensation. Talk about a science experiment!
How much alcohol is in alcohol-removed and non-alcoholic wines?
Non-alcoholic wines and alcohol-removed wines typically contain very low levels of alcohol, usually less than 0.5% alcohol by volume. This small amount of alcohol is often a result of residual alcohol from the fermentation process or is added in trace amounts to enhance the flavor and mouthfeel of the product. The alcohol content in non-alcoholic and alcohol-removed wines is so minimal that it is generally considered safe for individuals who aim to avoid alcohol for health or personal preference.
Do alcohol-removed and non-alcoholic wines taste good?
The short answer: Yes. After the alcohol is discarded, modern alcohol-free offerings are often further processed for optimal flavor and aroma and mouthfeel. The result is a product that closely resembles the taste, aroma, and appearance of traditional wine but typically contains less than 0.5% alcohol by volume, which is low enough to be considered alcohol-free in California.
What styles of alcohol-removed and non-alcoholic wines are available?
Discover a rainbow of alcohol-removed and non-alcoholicl wines crafted with care, including delicious red, white and sparkling options. In Paso Robles Wine Country, find an array of sophisticated non-alcoholic wines featuring many of the varietals you already know and love.
Who drinks alcohol-removed and non-alcoholic wines?
You need no "big reason" to skip the alcohol anymore. Alcohol free wines cater to anyone who wants to enjoy wine without the alcohol content, whether for health reasons, pregnancy or simply personal preference. These innovative options offer a non-intoxicating alternative, allowing anyone to participate in wine-related social events, including tastings, pairings and winemaker dinners. Who doesn't love that?
Oceano Wines: Ocean Zero alcohol-removed wine
Luxury pinot noir without the alcohol
Serving up coastal elegance with a modern twist, Oceano Wines' Oceano Zero crafts luxury traditional and alcohol-removed pinot noir. The female-founded winery aims to create distinctive California-style wines updated for today's preferences (you won't find over-oaked or too-buttery flavor profiles here). On the contrary, Oceano Wines' refreshingly vibrant wines are naturally lower in alcohol, reflecting its vineyard's cool ocean breezes, coastal fog and seafront soils.
Is it really as good as traditional offerings? A single sip of Oceano Zero 2022 Pinot Noir is sure to put any lingering apprehension to rest. Complex and alluring, the winery's debut alcohol-removed offering is far from simple, "juice-like" non-alcoholic wines you might remember from yesteryear. Geography, geology, climate and artistry shine within each drop, proving that modern wine alternatives can attain the same terroir-driven excellence as traditional offerings.
Complex and alluring, the winery's debut alcohol-removed offering is far from simple, "juice-like" non-alcoholic wines you might remember from yesteryear.

Oceano Pinot Noir
Speaking of terroir, Oceano Wines are produced from grapes grown at a singular San Luis Obispo vineyard—Spanish Springs—nestled less than two miles from the coast. Truth be told, this is the closest vineyard to the ocean in the Golden State! The combination of soils, oceanic influence and elevation of the vineyard site imbue Oceano Wines with a signature combination of acidity and complexity.
If you're wondering how these wines are made, here's the breakdown: Partnering with alcohol-removal industry leaders BevZero, a spinning cone column is employed, placing the wine under a high vacuum at low temperature. The process itself is extraordinarily gentle on the liquid, which contains just 0.25% of the original alcohol up to this point in the process. Later, winemakers add back in a portion of the flavor, aroma and essence, resulting in wines with less than 0.5% alcohol by vol. Learn more about Oceano Wines' amazing alcohol removal process on Youtube!
What's next for this modern wine label? Like Oceano's original wines, Oceano Zero will feature single-vineyard, single-vintage premium estate offerings from the winery's iconic coastal vineyard site. Ready to taste for yourself? Ocean Zero wines can be purchased online at the winery's website or from Boisson, the leading curator and distributor of non-alcoholic spirits, beer, wine and mixology supplies.
Bottle Spotlight: 2022 Oceano Zero Alcohol-Removed Pinot Noir, Spanish Springs Vineyard
Garnet in color, this light-bodied alcohol-removed wine features persistent flavors of plum and raspberry on the palate, structured by crisp and bright acidity. Raspberry and sour cherry flavors linger on the palate. Savor a long and refreshing finish with hints of sour cherry, plum and pomegranate.
---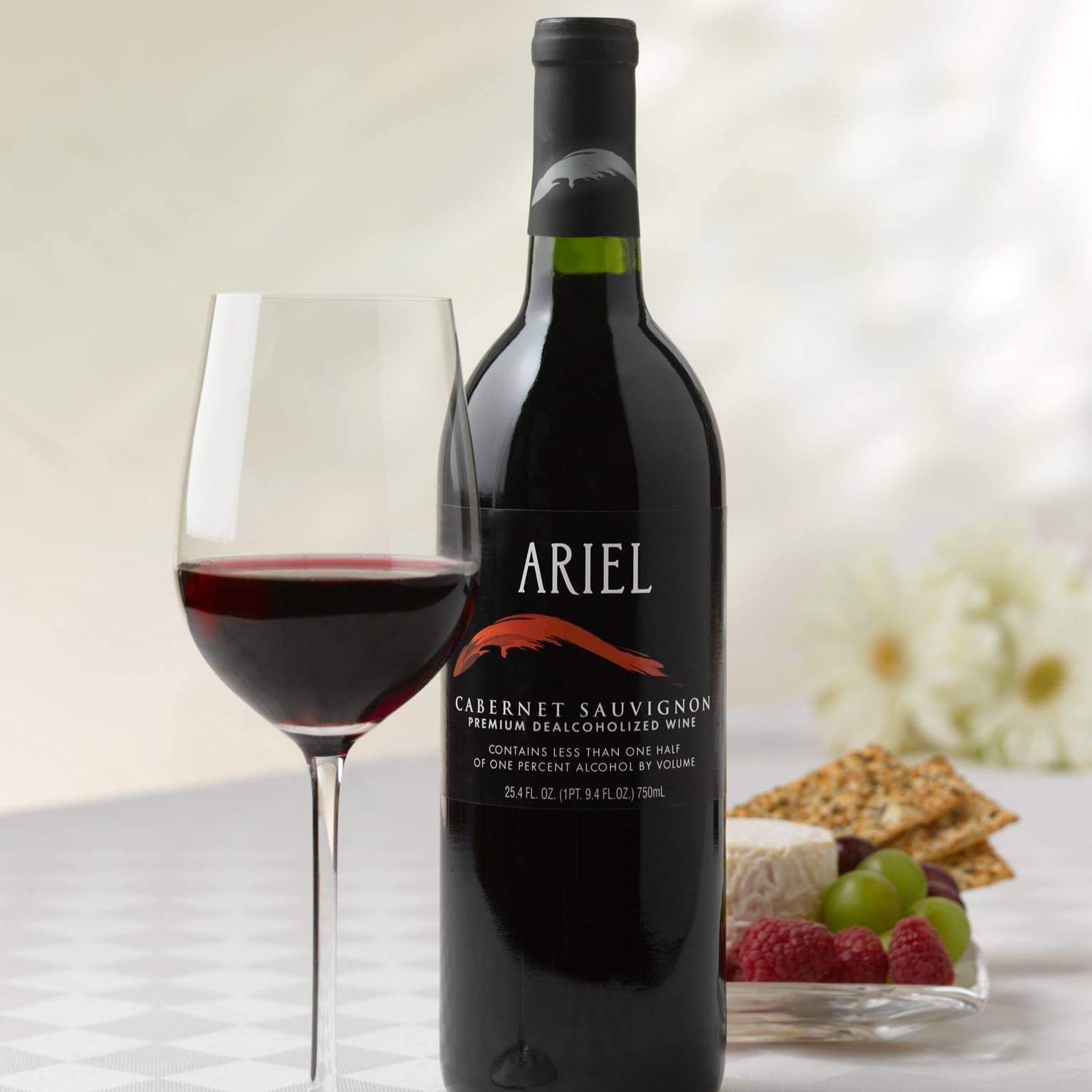 ARIEL Vineyards
Dealcoholized wines with California coastal character from Paso's J. Lohr
Founded in 1972 by Jerry Lohr, J. Lohr Vineyards & Wines is a pillar of fine winemaking in Paso Robles Wine Country. But did you know that one of the region's most pioneering and esteemed wineries also produces incredible non-alcoholic wines? Enter: ARIEL Vineyards, J. Lohr's answer to boosting enjoyment while holding off on the alcohol.
Thanks to its famous parent company, ARIEL Vineyards has access to high-quality fruit from J. Lohr's 3,700 acres of estate vineyards running from Monterey County to Paso Robles. These coveted, sustainably-farmed vineyards were chosen for their specific microclimates and soil compositions. The best part? These vineyards are the primary source of the fruit used in ARIEL Vineyards dealcoholized wines.
Interested in ARIEL's dealcoholization process? All of the operation's non-alcoholic offerings are fined and filtered according to traditional winemaking methods, with select wines aged in oak barrels. More than 99.5% of the alcohol is removed through the winery's gentle cold filtration process, which uses reverse osmosis. This allows alcohol to be removed while retaining many of the qualities found in traditional wine. That means you can savor all of that lush California wine flavor without the alcohol.
Bottle Spotlight: ARIEL Non-alcoholic Chardonnay
Brimming with tropical fruit character and subtle oak from barrel aging, this sophisticated chardonnay boasts a distinctive combination of buttery apple and butterscotch flavors combined with a toasty, French oak bouquet.
Bottle Spotlight: ARIEL Cabernet Sauvignon
ARIEL oak-aged Cabernet Sauvignon offers aromas of black currants, cherry, blueberries and chocolate bliss. Enjoy lingering lushness, soft tannins and a dry finish.
---
Want to explore the best wineries, discover new wines & delightful dining experiences?
Let's face it, planning a trip to wine country is exciting but can also be a bit daunting. Why? Paso Robles alone boasts over 300 wineries, each offering a unique blend of wines, tasting experiences, and beautiful vistas.
With so many vineyards to choose from, the choices are endless and the fear of missing out on that perfect wine or that unforgettable view is real.
Take the stress out of planning.
We've crafted something just for you to make it easy, rewarding, and also a little less expensive.
Ready to make your Paso Robles experience truly unforgettable? Click the button below to grab your tailored Digital Itinerary and start your wine adventure like a pro!
👇 Get Your Digital Itinerary Now
Special Bonus: As an introductory promotion, we're excited to offer you a massive 50% discount! Use the code FRIENDS50 at checkout. But hurry, this offer won't last long!
---
Sip non-alcoholic drinks & mocktails in Paso Robles
While the following haunts are traditional bars, you're sure to get a great mocktail or NA option if you inquire with the bartender on duty.
The Backyard on 13th
Chill, kid-friendly outdoor beer garden with extensive self-pour taps and nonalcoholic options.
Eleven Twenty-Two Speakeasy & Cocktail Lounge
Jazzy speakeasy known for a swanky-secret bar (ask for a non-alcoholic version of a golden age cocktail). Cheers! Learn more about Eleven Twenty-Two
The Alchemist's Garden
Modern bar and restaurant featuring world fusion fare and fresh-squeezed cocktails sure to surprise (make yours NA).
CANE TiKi Room
Tropical tiki vibes with tantalizing virgin options for you to choose from. You'll also enjoy the miniature umbrella, cherry and orange slice! Learn more about the CANE Tiki Room
Hatch Rotisserie & Bar
Michelin Star-rated rotisserie chicken joint with high-end comfort food and creative, customizable drink creations.
Pappy McGregor's
Elevated pub grub with a cheerful ambiance and friendly bartenders sure to pour you up something deliciously NA. Learn more about Pappy McGregor's
La Cosecha Bar and Restaurant
Latin cuisine and an extensive bar sure to shake things up (without the alcohol).
Yes Cocktail Company
Craft mixology with a dash of fun. Great mixers and elixirs perfect when combined with sparkling water and a squeeze of citrus!
Pony Club Bar & Lounge
A cozy, charming bar with a diverse range of cocktails at your fingertips (ask for something stellar without the booze).
Fish Gaucho
Fiery Cali-Mexican eatery with refreshing mocktails and plenty of fresh lime juice on hand. Learn more about Fish Gaucho
Check out or Distillery and Craft Spirits guide for deep dives into more of these bars
---
Mocktail order cheat cheat
Virgin Mojito: A refreshing blend of fresh lime juice, mint leaves, sugar, and soda water. It's simple to make and a classic choice.
Virgin Pina Colada: This tropical favorite consists of pineapple juice, coconut cream, and crushed ice. It's usually blended and garnished with a cherry and a pineapple slice.
Shirley Temple: A timeless classic, it's made with ginger ale or lemon-lime soda, grenadine syrup, and a maraschino cherry.
Virgin Mary: A non-alcoholic version of the Bloody Mary, it's made with tomato juice, lemon juice, Worcestershire sauce, hot sauce, and various seasonings.
Iced Tea: Simply brewed tea served over ice with a lemon wedge or sweetened with sugar.
Lemonade: Freshly squeezed lemon juice, sugar, and water. It's easy to customize by adding fruit purees or other flavorings.
Arnold Palmer: Half iced tea and half lemonade. It's a simple but delightful combination.
Cranberry Sparkler: Cranberry juice mixed with soda water, often garnished with a lime wedge.
Ginger Beer with Lime: Non-alcoholic ginger beer served with a slice of lime. It's a zesty and refreshing choice.
Fruit Punch: A combination of various fruit juices, sometimes with a bit of soda for fizz.
Cucumber Cooler: Muddled cucumber, fresh lime juice, and soda water. It's light and crisp.
Blueberry Fizz: Blueberry juice or puree mixed with soda water, often garnished with fresh blueberries.
---
Enjoyed this article? Here are some others you might like.
LEARN MORE