Mysterious, romantic and brooding—if this is what you think makes a winemaker, think again! In Paso Robles Wine Country, winemakers walk among us. Although we certainly recognize these artisans as the rock stars they are, our winemakers are characteristically humble, kind and open. Plan to visit Paso Robles Wine Country this Spring for a meet-and-greet you'll never forget. Where else can you sip world class wine while gabbing with the flesh-and-blood winemaker who made it? We'll wait. Here's five stellar Paso Robles wineries (plus a few more!) where you'll meet the winemaker today.
Absolution Cellars
King of the surf: Specializing in limited production, single-vineyard wines made from select Central Coast vineyards, Absolution Cellars is a breath of fresh air. That's probably due to the fact that their scenic tasting room is located on the Morro Bay Embarcadero! Don't be surprised if you see an otter or seal pop up to say "hey" during your patio tasting. Winemaker Dirk Neumann is another common sight, as ubiquitous as the seagulls soaring overhead. Come for the coastal oasis and stay for the stories. Neumann is known to spin a riveting yarn while pouring an amazing albariño. What tales lie behind the winery's more than a dozen single-varietal wine offerings, including bold tempranillo and honey-tinged roussanne? You're about to find out.
Chateau Margene
Man and wife (and wine): In Paso, France is just a few sips away. Experience the Parisian charm of Chateau Margene, known for a gorgeous, garden-flanked tasting room! With a seven-generation California history, winemaker Michael Mooney is a living legend of sorts. That said, you won't need to wait in line to chat with the viticulturist, who started the winery alongside wife Margene way back in 1998. While cultivating exceptional cabernet sauvignon was the couple's first aim, the tasting room now produces estate-grown cabernet franc, malbec, merlot and a small lot of sangiovese (for their Super Tuscan-style blend–do try). Want to hear just how Paso has changed in the past 20+ years? Curious about the winery's organic and sustainable farming practices? The Mooneys are here to demystify everything in plain old English.
Hayseed and Housdon
His kindness flows: With big flavors and an even bigger heart, Hayseed and Housdon is a warm and cozy place to savor Paso's best efforts. Whether you swirl a chilled chardonnay or sample the Warrior cabernet/pinot noir blend, you're likely to enjoy a similar experience (well, in conversation, that is). Ted Ross, owner and winemaker, is always on hand to talk about his mission to produce high-quality, craft wines at a welcome price point. The winemaker's approach is simple: source top grapes from sustainably-farmed vineyards in the Paso Robles and Edna Valley appellations, apply proven wine making techniques, then wait for the fruit to do its thing! "Its thing" generally includes some toasty French oak or shimmering stainless steel barrels. Why does the winery utilize both extremes in terms of aging? Just ask!
Michael Gill Cellars
The man, the myth: At Michael Gill Cellars, the winemaker is right there in the name! While some wineries choose vague, flowery language to entice tasters, Gill doubles down on the distinct charisma of his award-winning syrah offerings. In fact, the winemaker has dedicated his life to this now iconic Paso varietal. Syrah first appeared as a wine grape in California in the 1970s, where it was planted by a group of viticulturists who called themselves "Rhône rangers." These days, the varietal rivals the popularity of even King Cab! One taste of Gill's vivacious and velvety vintages underscores why. From earthy to fruity, high quality syrah has a way of romancing the taste buds. Although Gill's wine has garnered more than 100 Gold Medals, he's not too famous to stop and chat all about it with travelers like you.
Halter Ranch Winery
Back to the land: Gorgeous, sprawling estate. Check. Elegant tasting room. Check. Friendly winemaker? Oh yes! Halter Ranch Winery provides an upscale tasting experience that begins the moment you stroll through their castle-like front door. Don't let that intimidate you, however. Simply flag down winemaker Kevin Sass when you spot him in the tasting room. A southern California native, Sass has spent nearly 20 harvests with Halter Ranch, making him an expert of sorts (and there's a lot to consider: the ranch spans over 2,700-acres, with 200-acres of organic wine grapes, 10-acres of organic walnuts and 17-acres of organic olives). Enjoy your grenache blanc or robust red CDP Blend—a delightful mix of grenache, syrah, tannat and mourvèdre—while catching up on all the latest. From native owls spotted in the vineyard to ancient oak trees worth trekking out to see, there's always much to discuss.
More Paso wineries where you'll meet the winemaker
These aren't the only wineries where you'll meet the winemaker—not by a long shot! Paso Robles Wine Country is known for its casual charm and candor. Head to Venteux Vineyards (Winemaker Josh Salazar, pictured) this spring for a bevy of wine-centric events, including a Mother's Day shindig and Spring Wine Club Dinner. Another friendly tasting room with a winemaker you'll love to meet? Founded in 2003, Line Shack is the realization of over two decades of Balentine family winemaking experience. Come say "hi" and join the family winemaking adventure! Lastly, Mystic Hills is a great place to rub elbows with a true VIP (viticulturist in person). Learn how this popular San Miguel-area winery utilizes its distinct terroir to craft deeply concentrated, fabulously flavorful wines. What can we say? In Paso Robles, we love cutting out the middleman!
Venteux Vineyards
Mapping & directions
Instagram 
Line Shack
Mapping & directions
Instagram
Mystic Hills
Mapping & directions
Instagram
Get Your Wine Country COUPONS click here!

 This blog is written by flavor fiend Hayley Cain. Follow her @flavorslo on Instagram or at astoldbyhayley.com.
CAN WE HELP YOU FIND?
DISTILLERIES TOURS & TRANSPORTATION
Looking for a place to stay in Paso Robles?
The Adelaide Inn is an iconic, locally-owned hotel known for its friendly staff and lush landscaping. With spacious rooms and a convenient location close to highway 101 and the event center – home of the California Mid-State Fair – this hotel is a great choice for most travelers. TOUR VIRTUALLY
Directions: speedfind.com/AdelaideInn
Majestically set among vineyards, olive groves and fruit baring orchards, the 20-acre Allegretto Vineyard Resort is a world unto itself, offering breathtaking settings that inspire and bring joy to all who choose this memorable wine country haven. Featuring 171 rooms and suites, on-site spa, grand ballroom, wine tasting room, and inspired culinary creations at Cello, the resort's full-service restaurant.
Directions: speedfind.com/Allegretto
Enjoy time with your loved ones with a glass of wine while taking in the panoramic views of ONX Wines Certified Sustainable Estate Vineyard. Clark House is a five-bedroom, four-bathroom home that is a perfect escape for up to ten people. All five bedrooms offer views of the vines and are impeccably furnished to help you unwind from an exciting day of exploring the Paso Robles area.
Directions: speedfind.com/ONX
The GENESEO INN is a luxury boutique hotel nestled in the rolling hills of Paso Robles wine country. Built of industrial shipping crates perched above the vines on CASS Winery's 145 acres of vineyard, the experience truly allows you to "breathe in the vineyard views."
Directions: speedfind.com/CassWinery
Hampton Inn & Suites Paso Robles is nestled in the Central Coast wine region, home to over 200 wineries, beautiful beaches, mountains and diverse attractions. Relax and revive in a comfortable guest room with all you need for a successful stay. You can count on Hampton to deliver value, consistency and service with a smile. We love having you here®
Directions: speedfind.com/PRWine.HamptonInn
Experience the pristine countryside of Paso Robles Wine Country at chic, sparkling clean Lekai Ranch. Lounge on the porch of your private suite and lose yourself in the tranquility and stunning views of the vineyards and oak studded hills beyond. This vacation rental is located just minutes from some of the most distinguished wineries and a premier olive oil estate, and only 15 minutes from downtown Paso Robles' restaurants, wineries and shopping. TAKE AN AERIAL TOUR
Directions: speedfind.com/Lekai | vrbo.com/701796
Oxford Suites Paso Robles You'll find that from our lobby, our on-site restaurant, to our meeting spaces, to our 101 spacious suites, every space is beautiful + functional as well as comfortable + chic.
Directions: speedfind.com/oxfordsuitespasorobles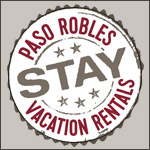 Paso Robles Vacation Rentals, also known as PasoStay.com assists guests in creating memories and wonderful experiences by providing quality privately owned vacation home rentals in Paso Robles Wine Country. With over 160 vacation homes to choose from, small enough for a couple's romantic getaway to large homes amongst local vineyards and olive orchards, PasoStay.com has the perfect option for you. Ask us how you save 15% on booking service fees! Feel free to call 805-423-9174 to talk with a local expert or book online at PasoStay.com.
The Farmhouse at Pelletiere Estate is a modern & luxurious wine country retreat. Privately situated & surrounded by our estate vineyards, located just off Hwy46w on a very accessible country road, nestled in the heart of Paso Robles' renowned Westside, just 6 miles to Paso's downtown square. The Farmhouse offers stunning vineyard views from every angle, as well as a stylish yet cozy house you're bound to fall in love with!
Directions: speedfind.com/Pelletiere
LEARN MORE