Put your phone down in Paso Robles Wine Country! More and more of our lives are spent online. Between social media notifications and email pings, there's not much time left to enjoy the real pleasures of everyday life. True? Not so in Paso Robles Wine Country, where incredible IRL adventures await around every corner. Even your favorite smartphone game (we're looking at you, Words with Friends, Candy Crush) is no match for our array of dazzling food and wine experiences. Time to log off and venture into the vineyard. Now that you're in Paso Robles Wine Country, you'll start to see your phone for what it really is: a device designed to make calls.
Cull your friends list
Up your engagement: Ever see a bunch of friends all on their phones at the same time? It's a sad sight, but not one you're likely to see happening anywhere in Paso Robles Wine Country! That's because we're built for in-person fun. Grab a few of your best buds and make a beeline for one of our 250+ tasting rooms, all with their own unique charm. Hope Family Wines is a groovy spot to clink glasses and compare tasting notes. With casual and comfy areas to hang–and delicious pairings to nibble–you'll find a zillion ways to connect with your real friends in the real world. Why settle for a boring group chat when you can enjoy a vibrant and intimate tasting?
Eat with both hands
Don't ping me, I'm eating: When both hands are occupied, you won't be tempted to check Instagram (even if your plate is pretty enough to adorn your feed). At Cass Winery, the fabulous wine is only rivaled by the fantastic food. A chef-prepared menu of juicy burgers, fresh salads and the most epic crispy crab cakes you've ever cracked a fork into are calling your name now. Belly up to a patio table and allow the wine tasting to come to you. This is Paso personality served with French DNA. What else could possibly tear you away from this delicious moment? Well, besides dessert…
Pack a picnic
Screensaver be gone: When's the last time you actually chased a butterfly? Was it childhood? An outdoor excursion is in order, and that's an order. Unfurl your picnic blanket at Four Lanterns Winery, a scenic tasting room home to a sprawling green lawn. Known for serving top notch Paso Robles wines with a side of bountiful sunshine, this is your happy place, no doom scrolling allowed. Local cheeses, breads and olive oil are a fantastic snack savored under a clear blue sky (we tend to overpack too–no shame here). Bring the kids, bring Fido–this picnic is for everyone's pleasure!
Enjoy the view
Like it in real life: Instead of figuring out how to capture that spectacular "Paso Robles Wine Country view" with the perfectly worded Facebook post, try to enjoy it with whomever you're with. Ah, a novel idea, indeed! Of course, we're all guilty of wanting to overshare a magical moment, but Paso Robles' beauty soars beyond a mere pic. Why try? Clear your iCal and kick back at Oso Libre, where epic vineyard views roll on as far as the eye can see. When the fine wine is flowing and the Paso sunset is glowing, you'll wonder why you ever cared about snapping that landscape in the first place. The only people who need to see this masterpiece are the friends you walked in with. 
Be surprised (IRL)
Log in to the unexpected: In this digital age, it's way too easy to over-research a trip before you go. At Anarchy Wine Co., over planning is out and in-the-moment joy is in. Forget trying to map out your entire wine tasting trip ahead of time and just enjoy the spontaneous beauty of Paso Robles Wine Country. One of the coolest parts? Paso Robles is full of winemaking rebels–folks that buck the status quo and ferment on their own terms. Get blissfully lost at Anarchy Wine Co., the perfect example of this rebellious spirit in action. No Yelp review could ever adequately describe just how happy your tastebuds will be when they stumble upon a brand new favorite. Happy wandering!
Get Your Wine Country COUPONS click here!

 This blog is written by flavor fiend Hayley Cain. Follow her @flavorslo on Instagram or at astoldbyhayley.com.
CAN WE HELP YOU FIND?
DISTILLERIES TOURS & TRANSPORTATION
Looking for a place to stay in Paso Robles?
The Adelaide Inn is an iconic, locally-owned hotel known for its friendly staff and lush landscaping. With spacious rooms and a convenient location close to highway 101 and the event center – home of the California Mid-State Fair – this hotel is a great choice for most travelers. TOUR VIRTUALLY
Directions: speedfind.com/AdelaideInn
Majestically set among vineyards, olive groves and fruit baring orchards, the 20-acre Allegretto Vineyard Resort is a world unto itself, offering breathtaking settings that inspire and bring joy to all who choose this memorable wine country haven. Featuring 171 rooms and suites, on-site spa, grand ballroom, wine tasting room, and inspired culinary creations at Cello, the resort's full-service restaurant.
Directions: speedfind.com/Allegretto
Enjoy time with your loved ones with a glass of wine while taking in the panoramic views of ONX Wines Certified Sustainable Estate Vineyard. Clark House is a five-bedroom, four-bathroom home that is a perfect escape for up to ten people. All five bedrooms offer views of the vines and are impeccably furnished to help you unwind from an exciting day of exploring the Paso Robles area.
Directions: speedfind.com/ONX
The GENESEO INN is a luxury boutique hotel nestled in the rolling hills of Paso Robles wine country. Built of industrial shipping crates perched above the vines on CASS Winery's 145 acres of vineyard, the experience truly allows you to "breathe in the vineyard views."
Directions: speedfind.com/CassWinery
Hampton Inn & Suites Paso Robles is nestled in the Central Coast wine region, home to over 200 wineries, beautiful beaches, mountains and diverse attractions. Relax and revive in a comfortable guest room with all you need for a successful stay. You can count on Hampton to deliver value, consistency and service with a smile. We love having you here®
Directions: speedfind.com/PRWine.HamptonInn
Experience the pristine countryside of Paso Robles Wine Country at chic, sparkling clean Lekai Ranch. Lounge on the porch of your private suite and lose yourself in the tranquility and stunning views of the vineyards and oak studded hills beyond. This vacation rental is located just minutes from some of the most distinguished wineries and a premier olive oil estate, and only 15 minutes from downtown Paso Robles' restaurants, wineries and shopping. TAKE AN AERIAL TOUR
Directions: speedfind.com/Lekai | vrbo.com/701796
Oxford Suites Paso Robles You'll find that from our lobby, our on-site restaurant, to our meeting spaces, to our 101 spacious suites, every space is beautiful + functional as well as comfortable + chic.
Directions: speedfind.com/oxfordsuitespasorobles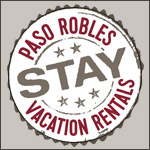 Paso Robles Vacation Rentals, also known as PasoStay.com assists guests in creating memories and wonderful experiences by providing quality privately owned vacation home rentals in Paso Robles Wine Country. With over 160 vacation homes to choose from, small enough for a couple's romantic getaway to large homes amongst local vineyards and olive orchards, PasoStay.com has the perfect option for you. Ask us how you save 15% on booking service fees! Feel free to call 805-423-9174 to talk with a local expert or book online at PasoStay.com.
The Farmhouse at Pelletiere Estate is a modern & luxurious wine country retreat. Privately situated & surrounded by our estate vineyards, located just off Hwy46w on a very accessible country road, nestled in the heart of Paso Robles' renowned Westside, just 6 miles to Paso's downtown square. The Farmhouse offers stunning vineyard views from every angle, as well as a stylish yet cozy house you're bound to fall in love with!
Directions: speedfind.com/Pelletiere
LEARN MORE