Wine compounds—especially "polyphenols"—are a lot like stars. Your body knows what they are when you experience them, but you'd have a doozie of a time explaining exactly what they're made of when asked. Just as heavenly bodies are composed of gasses, particles, and electromagnetic fields, wine is composed of dynamic, sometimes mysterious compounds that go into making a bottle great. Maybe it's all the buzz surrounding the recent eclipse, or perhaps it's those end of summer sunsets, but we're thinking of wine as its own epicurean star-gazing adventure. After all, wine compounds interact with one another to create a dazzling display not in the sky, but in your mouth. Got your goggles on? Good. It's time to dust off that old microscope and prepare to peer deep, deep into the galaxy that is your glass. What you find may surprise you!
Discovery #1 Tannins cannot be tasted
Where they come from: The grape skins, stems, and seeds
Findings: You never really "taste" tannins, although some might say they create a "bitter" pucker. Say what? This is weird to think about, but true.
Tannins are really more of a texture than a taste. Like a wave of umami or sour rushing over your senses, tannins are more about your body's reaction to their presence than any one particular flavor. Sip a red wine with high tannin content, and you'll know immediately. The moisture is sucked from your mouth, causing your salivary glands to kick into overdrive. Considering the fact that tannins have a particularly bodaciousway of bonding to the proteins in your mouth (and your medium rare steak), can you even imagine a nice glass of Bordeaux without that signature tongue-smacking satisfaction?
Science experiment: Sip astringent black tea or snack on raw walnuts (also high in tannins) and compare the mouthfeel to your fave full-bodied red.
Discovery #2 Anthocyanins open up a world of color
Where they come from: The hypodermal cells of the skin, except in red fleshed grape varieties, where they are also found in the pulp.
Findings: Sounds scary, but I promise this one's easier to understand than pronounce. All you need to know is this: Anthocyanins are responsible for the main pigments in wine, and we can all agree a glass of merlot would not be the same without them!
Fun fact: Over 600 anthocyanins have been identified in nature, and these are formed from six different basic anthocyanin structures, called aglycones. These six are cyanidin (Cy), pelargonidin (Pg), delphinidin (Dp), petunidin (Pt), malvidin (Mv) and peonidin (Pn). These all differ in hue slightly with some more red, and some more purple.
Science experiment: Anthocyanins also differ in color according to the pH, with a more red color at low pH and a more blue color at high pH: this can be seen when you rinse out a wine glass with a tiny bit of red wine in it with tap water: the rise in pH causes the trace of wine to go from red to blue-black. Try it at home and see if you notice the color change (we promise: it's more fun than raising Sea-Monkeys).
Discovery #3 Flavonols are a grape's best defense
Where they come from: The skins of both red and white grapes.
Findings: Get this: Even wines need SPF daily! These helpful, protective compounds act as sunscreen against UV-A and UV-B light wavelengths. How cool is Mother Nature? Flavonol levels actually increase in response to enhanced UV exposure (they have a yellow color, which can contribute to the hue of white wines, and is masked in red wines). Scientists will tell you the most important of the flavonol is quercitin, but (and you won't be tested on this) there's also kaempferol, myrcetin, laricitrin, isorhamnetin and syringetin. That's a mouthful.
Fun fact: Other sources of flavonoids include all citrus fruits, berries, ginkgo biloba, onions, parsley, pulses, tea (especially white and green tea), seabuckthorn, and chocolate with a cocoa content of 70 percent or greater. Who knew?
Discovery #4 Resveratrol is worth a second look
Where it comes from: Red wine skins.
Findings: Scientists and beauty marketers are making a big deal about this nifty polyphenol, but did you know that you can also find Resveratrol (gasp!) in peanuts and the Polygonum cuspidatum? (Google it: it's a large perennial plant.) We recently posted a detailed blog post about the exciting potential (yet still mostly unproven) cosmetic benefits of Resveratrol here, but there are still some pretty hefty health claims it can make.
Fun fact: Studies show that Resveratrol is able to protect the endothelial lining of your arteries (so blood flows as it should); reduce oxidative stress which, in turn, helps fight premature aging of cells; and block the production of nf kappa b, a powerful noxious inflammatory agent. Overachieve much?
Tip: If you want these health benefits, go for the red over the white—but don't go overboard! Very little goes a long way, whether applied in a beauty cream or consumed the old fashioned way.
Discovery #5 People actually study this stuff?
Findings: Want to learn more about what's going on inside that single grape? You'll want to rub elbows with a local, Paso Robles wine lab technician—and trust me, there are many around these parts! These helpful "wine scientists" are incredibly important to Paso Robles winemakers because it is literally their job to study whether a wine grape is developing the right ratio of sugars, tannins, and acids.
Fun fact: Around harvest time, the ability to "see" inside the grape is immensely valuable, as you might imagine! Pick too early, and the wine may suffer and be to acidic. Pick too late, and it could be too sugary, with higher-than-desired levels of alcohol! It all depends on the vision of the winemaker, but he/she rarely makes these decisions alone.
Experiment: In Paso Wine Country, tasting rooms are free-wheeling places where one can chat in person with winemakers, vineyard owners, and cellar workers alike. Next time you taste, ask a few questions about the grape phenolics and see if you can't converse with the best of 'em. The best part of wine phenolics? Just like when looking up at the Milky Way, there is always something new to discover.
And that, my friends, is why science rules.
---
Great Tasting Rooms for Grape Science Geeks!
Meet "Steve Cass the Science Guy" at Cass Winery and Vineyard
Cass Winery and Vineyard is known for its gorgeous Rhone wines and delicious lunch menu, but owner Steve Cass is also another perk! Stop by their backroads tasting room and ask for his thoughtfully penned newsletter, usually chock-full of information about what's going on in the vineyard at any given time. Got specific grape questions? Ask Steve—or one of his helpful crew—yourself. They love chatting about their estate grown fruit!
Click here for mapping and directions to Cass Winery
Be one with Nature at Brecon Estate
Brecon Estate is all about expressing the beauty of Mother Nature, one award winning Rhone/Bordeaux bottle at a time. If you want to talk about the Westside estate-grown grapes and sustainable growing methods, stop by and visit winemaker Damian Grindley in person! He's always game to talk shop, taste, and speculate about the vintage to come.
Click here for mapping and directions to Brecon Estate
Get the French Facts at Écluse Wines
If ultra boutique, French-style wines are your thing, stop by Écluse Wines, where owners Steve and Pam Lock are always knee-deep in vineyard stories. Maybe that's why this winemaking couple maintain the mantra "great fruit makes great wine." One thing's for certain: They owe much to their success to the quality of their estate grown Bordeaux and Rhone varietals crafted in the rustic, traditional way.
Click here for mapping and directions to Écluse Wines
Laid Back Lesson at Chronic Cellars
Feel intimidated to talk wine grape science with a real Paso Robles winemaker? Nowhere will you feel more at ease than at casual Chronic Cellars, home of wickedly unique Rhone and Bordeaux single varietals and blends (and a pool table)! That said, Owner/Winemaker brothers Josh and Jake Beckett are avid surfers who don't take much stock in the "fancy" wine lingo. Ask away (if they're not out surfing), or ply one of their chill tasting room attendants with all the questions your heart desires.
Click here for mapping and directions to Chronic Cellars
Cool Coastal Education at Cutruzzola Vineyards
Located near the ocean in breezy Cambria, Cutruzzola's cool climate grapes are one-of-a-kind. From terroir to vineyard to barrel, this Riesling and Pinot Noir house is known for taking great care of their grapes and staffing its tasting room with knowledgable, friendly staff. Plus, you might just run into Francis Cutruzzola himself, co-owner Lisa Miller, or winemaker Stephen Dooley (known to talk your ear off about his precious grapes).
Click here for mapping and directions to Cutruzzola Vineyards
---

This blog was written by Hayley Thomas Cain, food and wine writer for SLO New Times and PasoRoblesWineries.net. You can reach her at hthomas@newtimesslo.com or follow her on instagram @flavorslo.
---
If you're looking for a place to spend the night in Paso Robles, checkout:
The Adelaide Inn is an iconic, lo
cally owned hotel known for its friendly staff and lush landscaping. With spacious rooms and a convenient location close to highway 101 and the event center – home of the California Mid-State Fair – this hotel is a great choice for most travelers.
Directions: speedfind.com/AdelaideInn
Majestically set among vineyards, olive groves and fruit baring orchards, the 20-acre Allegretto Vineyard Resort is a world unto itself, offering breathtaking settings that inspire and bring joy to all who choose this memorable wine country haven. Featuring 171 rooms and suites, on-site spa, grand ballroom, wine tasting room, and inspired culinary creations at Cello, the resort's full service restaurant.
Directions: speedfind.com/Allegretto
La Bellasera Hotel & Suites is an elegant boutique hotel nestled in the heart of Central Coast Wine Country. Influenced by Mediterranean and Italian architecture, the luxurious accommodations reflect the aged sophistication of the Central Coast region and the relaxed nature of the California countryside.
Directions: speedfind.com/LaBellasera
Hampton Inn & Suites Paso Robles is nestled in the Central Coast wine region, home to over 200 wineries, beautiful beaches, mountains and diverse attractions. Relax and revive in a comfortable guest room with all you need for a successful stay. You can count on Hampton to deliver value, consistency and service with a smile. We love having you here®
Directions: speedfind.com/PRWine.HamptonInn
Experience the pristine countryside of Paso Robles Wine Country at Lekai Ranch. Lounge on the porch of your private suite and lose yourself in the tranquility and stunning views of the vineyards and oak studded hills beyond. This vacation rental is located just minutes from some of the most distinguished wineries and a premier olive oil estate, and only 15 minutes from downtown Paso Robles' restaurants, wineries and shopping.
Directions: speedfind.com/Lekai | vrbo.com/701796
Enjoy the elegance, style and natural beauty of California's Central Coast at the JUST Inn®. Surrounded by vineyards, our JUST Inn Suites offer luxurious appointments like fireplaces, Tempur-Pedic®mattresses, Frette linens, hydro-spa tubs, and range in size from 600–1,200 square feet. An overnight stay includes breakfast and a tour of the winery and caves.
Directions:  speedfind.com/JustinWine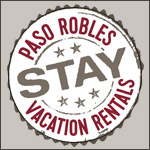 Paso Robles Vacation Rentals, also known as PasoStay.com assists guests in creating memories and wonderful experiences by providing quality privately owned vacation home rentals in Paso Robles Wine Country. With over 90 vacation homes to choose from, small enough for a couple's romantic getaway to large homes amongst local vineyards and olive orchards, PasoStay.com has the perfect option for you. Feel free to call 805-423-9174 to talk with a local expert or book online at PasoStay.com.
Directions:  speedfind.com/PasoRoblesVacationRentals
LEARN MORE