You may think that wine comes in three primary colors: white, red, and pink. What a dull way to live! You certainly aren't looking long enough to notice the subtle nuances in the glass, and that's a darn shame. Chances are, you aren't smelling the roses day to day, either. Just like those old school crayons (with its brick red, burnt Sienna, and red violet – there's about 20 red colors in every box of Crayola), wine comes in all shades and hues. So is that white Rhone blend more of a gilded honey or desaturated hay hue? Never considered it? OK. It's time to truly taste the rainbow. Why do wine enthusiasts take the time to remark on the color?
 You may think that flavor is the only thing that matters in a good wine, and you'd be right. However, here's the trick: flavor isn't just about what your taste buds experience: it's about the smell, texture, finish, and (yes) the color in the glass. Just like an amazing work of art, perfectly coordinated outfit, or a fantastic meal, each component comes together to create the whole.
How does one properly appreciate color?
That's easy! Pour a glass and hold it up to a source of natural light. Suddenly, that merlot will beam to life with ruby red vibrancy. Perhaps the Pinot Gris you've been enjoying will appear even more verdant in color, with even a twinge of dandelion yellow highlight. Notice how darker reds like petite sirah (which may appear black in the bottle) come to life with ripples of velvety purple, maroon, or even subtle waves of deep blue.
Cherry-glaze: Sculpterra 2015 Grenache
This Grenache bursts forth with aromas of ripe raspberry and cherry with herbaceous undertones. The wine is dominated by red plum, tart cherry, and raspberry flavors that finish short with juicy red fruit punch characteristics.
Click here for mapping and directions to Sculpterra Winery
Orange-pink: Peachy Canyon 2016 Rosé
This lively rosé shows an enticing mix of orange and pink colors that brighten with time. On the nose there's rich raspberry, strawberry, and zesty citrus. The palate is dry, with thirst quenching acidity and a smooth fruity finish.
Click here for mapping and directions to Peachy Canyon Winery
When should you notice the color?
You'd never close your eyes, take a bite of your dinner and then look down at the plate. Color appreciation should always be the first thing you do before you sniff, sip, or even swirl the wine. Think about it: You drink with your eyes first!
Green-gold: Harmony Cellars 2016 Reserve Pinot Gris
Unlike its light and fruity cousin pinot grigio, this Pinot Gris was crafted in the French Burgundian style and finished dry. This vintage boasts aromas of ripe pear, citrus and tropical fruit. Flavors of juicy pear and citrus are followed by a finish of shortbread cookie.
Click here for mapping and directions to Harmony Cellars
What about clarity?
Chances are, you've heard the word "clarity" thrown around a wine bar, back of a wine bottle, or review. But what the heck does it mean? Clarity, put simply, pertains to how bright and clear the wine is, or (oh-so scientifically) how well you can see light through the glass. Varietal, age, and amount of sediment will come into play here. Lighter reds or a younger vintage, say, a recently released pinot noir or grenache for instance, will usually show brighter clarity than a darker, more viscous Syrah. It's not a good or bad thing, but certainly something to take note of. These aren't diamonds, they're wines. And they are all beautiful in their own way.
Straw-silver: JUSTIN 2016 Sauvignon Blanc
This Sauvignon Blanc reflects the diversity of the climates and soils in the Central Coast that range from the cool, limestone laden Templeton Gap area to the warmer, sandy, river-influenced eastern regions. The winery has combined Sauvignon Blanc from vineyards in these unique areas to give JUSTIN Sauvignon Blanc a full palate of tropical and citrus fruits with a hint of fresh herbs balanced by a crisp, refreshing mineral structure.
Click here for mapping and directions to JUSTIN Vineyards & Winery
How many wine colors are out there?
Too many to name here! From the most delicate cream colored viognier to a grassy green vino verde, a watermelon-hued rosé or a striking garnet colored red blend, wines come in (pretty much) every color under the sun. Try to sum up the color in your glass in as many words as you can, and open up your vocab to new descriptions, too. It's actually quite fun once you get the hang of it. That chardonnay isn't just plain old goldenrod, it's sunrise butterscotch! There's no right or wrong way to appreciate color. Just make sure you do!
Ruby red: 2013 First Born King Paso Robles Grenache/Syrah
A classic Rhone blend from sandy soils. Hints of blackberry and blueberry start on the journey followed by earth, leather and tobacco. The 35% whole cluster is what gives this wine layers. The 25% new 500L French oak barrels ensure the structure and tannin are kept in check while this wine evolves. 156 cases produced.
Click here for mapping and directions to Rendarrio Vineyards
---

This blog was written by Hayley Thomas Cain, food and wine writer for SLO New Times and PasoRoblesWineries.net. You can reach her at hthomas@newtimesslo.com or follow her on instagram @flavorslo.
---
If you're looking for a place to spend the night in Paso Robles, checkout:
The Adelaide Inn is an iconic, lo
cally owned hotel known for its friendly staff and lush landscaping. With spacious rooms and a convenient location close to highway 101 and the event center – home of the California Mid-State Fair – this hotel is a great choice for most travelers.
Directions: speedfind.com/AdelaideInn
Majestically set among vineyards, olive groves and fruit baring orchards, the 20-acre Allegretto Vineyard Resort is a world unto itself, offering breathtaking settings that inspire and bring joy to all who choose this memorable wine country haven. Featuring 171 rooms and suites, on-site spa, grand ballroom, wine tasting room, and inspired culinary creations at Cello, the resort's full service restaurant.
Directions: speedfind.com/Allegretto
La Bellasera Hotel & Suites is an elegant boutique hotel nestled in the heart of Central Coast Wine Country. Influenced by Mediterranean and Italian architecture, the luxurious accommodations reflect the aged sophistication of the Central Coast region and the relaxed nature of the California countryside.
Directions: speedfind.com/LaBellasera
Hampton Inn & Suites Paso Robles is nestled in the Central Coast wine region, home to over 200 wineries, beautiful beaches, mountains and diverse attractions. Relax and revive in a comfortable guest room with all you need for a successful stay. You can count on Hampton to deliver value, consistency and service with a smile. We love having you here®
Directions: speedfind.com/PRWine.HamptonInn
Experience the pristine countryside of Paso Robles Wine Country at Lekai Ranch. Lounge on the porch of your private suite and lose yourself in the tranquility and stunning views of the vineyards and oak studded hills beyond. This vacation rental is located just minutes from some of the most distinguished wineries and a premier olive oil estate, and only 15 minutes from downtown Paso Robles' restaurants, wineries and shopping.
Directions: speedfind.com/Lekai | vrbo.com/701796
Enjoy the elegance, style and natural beauty of California's Central Coast at the JUST Inn®. Surrounded by vineyards, our JUST Inn Suites offer luxurious appointments like fireplaces, Tempur-Pedic®mattresses, Frette linens, hydro-spa tubs, and range in size from 600–1,200 square feet. An overnight stay includes breakfast and a tour of the winery and caves.
Directions:  speedfind.com/JustinWine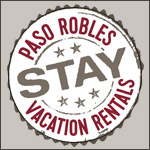 Paso Robles Vacation Rentals, also known as PasoStay.com assists guests in creating memories and wonderful experiences by providing quality privately owned vacation home rentals in Paso Robles Wine Country. With over 90 vacation homes to choose from, small enough for a couple's romantic getaway to large homes amongst local vineyards and olive orchards, PasoStay.com has the perfect option for you. Feel free to call 805-423-9174 to talk with a local expert or book online at PasoStay.com.
Directions:  speedfind.com/PasoRoblesVacationRentals
LEARN MORE