Meet the founders! Behind every bottle is a great vineyard, and behind every great vineyard is a hardworking winery founder! Today, we're excited to share some of the truly inspirational stories behind the entrepreneurs and visionaries who built some of Paso Robles' most celebrated wineries. With 300 tasting rooms and counting, our scenic wine country landscape is dotted with as many realized dreams as varietals. All you need to do is belly up to the bar and listen closely. From chasing big ideas to taking massive leaps of faith, these Paso Robles winery founders knew what they wanted and went for it. Lucky for us, right?
Bella Luna Winery: High school buddies aim high
Graduating class: Bella Luna Winery's story began some 40 years ago in the hearts and minds of its founders, Kevin Healey and Sherman Smoot (they were both high school seniors when they hatched the plan, if you can believe that). Kevin had just returned from serving his country in Vietnam, and Sherman, a Navy Fighter Pilot, wasn't far behind. Growing up together as best friends in the Paso Robles AVA, they always shared a passion for wine and a curiosity of spirit. Now, you can taste the guys' big dream in every glass of Bella Luna. This estate winery remains proudly family-owned and focuses on unique varietals that spur on a sense of adventure. Taste the founders' small lot  premium offerings (grown on ten acres in the Templeton Gap District) when you book an educational vineyard or barrel room tour! Kind of makes us wish we'd stuck with that lemonade stand idea from back in the day!
Kiame Wine Cellars: Opposites attract
Real estate meets real wine passion: In biz relationships, having different backstories has a way of paying off! Kiamie Wine Cellars is a collaboration between two guys with totally diverse yet complementary backgrounds. While living in New York City, Aram Deirmenjian and Greg Johnson always shared a history and enthusiasm for wine. That, it seems, is where the similarities end. Aram grew up working in his family's vineyards, spending every summer helping out with the backbreaking harvest. Meanwhile, Greg, an heir to the Kiamie Real Estate throne in New York, spent his life sipping fine wines and making a name for himself at one of New York's top-selling wine shops. Together, the guys realized their dream of developing a world class California winery, naming the business after Greg's mother's maiden name, Kiamie. Check out the partners' distinctive blends when you stop by this scenic tasting room for a flight. Untethered by tradition, the founders live by one golden rule: showcase only the best fruit Paso Robles has to offer. Some things are easy to agree on!
Iron Oaks Winery: Cowboy throws his hat into the ring
Wine cowboy: Iron Oaks Winery Founder Doug Burkett admits he "didn't know a damn thing about wine" when he started. However, there is far more depth behind the winery founder than just a true blue cowboy attitude. Burkett started selling juice to a winemaking friend in 2010, watching their wine label grow. After a stint in Sacramento bartending and selling wine, he received a chance phone call that led him to San Francisco, where he co-founded Rebel Coast Winery with a pal. After "a ridiculous five year stretch of shenanigans and tons of fun," he felt it was time to move on." Burkett said. "That fall of 2017, I moved to our family ranch and started my cattle business, DD Cattle Co. This brought me down to Paso Robles, where a chance encounter with some pretty cool guys (California Coast Beer Co.) opened the door to re-start my wine dream." In 2018 Iron Oaks Winery was born! But, as the founder likes to say, you'll have to get the rest of the story by hanging out at the tasting room. Stop by Iron Oaks Winery today and hear this yarn for yourself. Oh, and don't forget to grab some delicious DD Cattle Co. beef while you're there!
Villa San-Juliette: American Idol producers spotlight Paso
Lights, camera, wine: Sometimes, the stars have a way of aligning in the most incredible way! In 2005, Villa San-Juliette proprietors Ken and Julie Warwick, along with Nigel Lythgoe, began the pursuit of turning their long-held dream of owning a vineyard into a reality. Once childhood friends in the backstreets of Liverpool, the Emmy-winning pair grew up to produce the primetime hit, American Idol. It was during their time on Idol, traveling between audition cities, that the friends first discovered Paso Robles, which was still a wine region growing under the radar. Not long after consulting with their families, Ken and Nigel purchased and began redevelopment of an old-vine property located at the northern edge of the Paso Robles AVA. Over a decade later, Villa San-Juliette has emerged as a premier wine destination on the Central Coast! Stop by the tasting room for a taste of their efforts paired with a gourmet, seasonal menu. To say that these wine "sing" is an understatement!
Robert Hall: One man's hard work
Iconic to the last drop: Robert Hall Winery embodies how a whole lot of "can-do" spirit can turn one man's vision into a truly world-class winery. A small-business visionary, the late great Robert Hall harbored life-long passion for wine and the winery lifestyle (even if he began his journey a little farther north). A self-made man from working-class St. Paul, Minnesota, Hall never shied away from a challenge, opening and growing a broad range of innovative businesses throughout his life. After establishing his namesake winery in 1999, Hall devoted himself to capturing the big, bold essence of Paso terroir. Thankfully, he had the perfect partner in crime: Acclaimed winemaker Don Brady has served as a creative force behind Robert Hall's award-winning wines since day one. With so much continued passion carrying on Hall's legacy into the future, it's no wonder that Robert Hall wines have earned global recognition. You could even say the spirit of the man inspires Paso visitors and locals alike to this very day! Savor a tasting room or to-go experience at the winery to fully appreciate Hall's dream.
Get Your Wine Country COUPONS click here!

 This blog is written by flavor fiend Hayley Cain. Follow her @flavorslo on Instagram or at astoldbyhayley.com.
CAN WE HELP YOU FIND?
DISTILLERIES   TOURS & TRANSPORTATION
Looking for a place to stay in Paso Robles?
The Adelaide Inn is an iconic, locally-owned hotel known for its friendly staff and lush landscaping. With spacious rooms and a convenient location close to highway 101 and the event center – home of the California Mid-State Fair – this hotel is a great choice for most travelers. TOUR VIRTUALLY
Directions: speedfind.com/AdelaideInn
Majestically set among vineyards, olive groves and fruit baring orchards, the 20-acre Allegretto Vineyard Resort is a world unto itself, offering breathtaking settings that inspire and bring joy to all who choose this memorable wine country haven. Featuring 171 rooms and suites, on-site spa, grand ballroom, wine tasting room, and inspired culinary creations at Cello, the resort's full-service restaurant.
Directions: speedfind.com/Allegretto
Spend an idyllic getaway at Briarwood Cottage at ONX Estate Vineyards in an English-cottage inspired vineyard-side home. Guests may rent rooms in the main cottage, reserve the entire main cottage for a large group, or book the fully equipped apartment. Wake up to peaceful vineyard views and spend twilight hours sipping wine on the back porch of the cottage. It's a time you won't quickly forget. Contact us for pricing and availability (see form below). Case, 6 Bottle, and 4 Bottle Collective Members receive preferred pricing.
Directions: speedfind.com/BriarCottage
Hoyt Family Vineyard RetreatsTwo very cool, tiny houses, designed using fertile imagination and repurposing of materials are located on Hoyt Family Vineyard.
Directions: speedfind.com/hoytfamilyvineyards
Hampton Inn & Suites Paso Robles is nestled in the Central Coast wine region, home to over 200 wineries, beautiful beaches, mountains and diverse attractions. Relax and revive in a comfortable guest room with all you need for a successful stay. You can count on Hampton to deliver value, consistency and service with a smile. We love having you here®
Directions: speedfind.com/PRWine.HamptonInn
The Kiler Canyon Vineyard Retreat Perched on top of a hill on ONX Estate's vineyard with gorgeous 360 degree views of the Willow Creek AVA
Directions: speedfind.com/KilerRetreat
Experience the pristine countryside of Paso Robles Wine Country at chic, sparkling clean Lekai Ranch. Lounge on the porch of your private suite and lose yourself in the tranquility and stunning views of the vineyards and oak studded hills beyond. This vacation rental is located just minutes from some of the most distinguished wineries and a premier olive oil estate, and only 15 minutes from downtown Paso Robles' restaurants, wineries and shopping. TAKE AN AERIAL TOUR
Directions: speedfind.com/Lekai | vrbo.com/701796
Oxford Suites Paso Robles You'll find that from our lobby, our on-site restaurant, to our meeting spaces, to our 101 spacious suites, every space is beautiful + functional as well as comfortable + chic.
Directions: speedfind.com/oxfordsuitespasorobles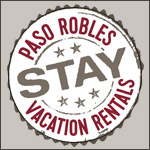 Paso Robles Vacation Rentals, also known as PasoStay.com assists guests in creating memories and wonderful experiences by providing quality privately owned vacation home rentals in Paso Robles Wine Country. With over 90 vacation homes to choose from, small enough for a couple's romantic getaway to large homes amongst local vineyards and olive orchards, PasoStay.com has the perfect option for you. Feel free to call 805-423-9174 to talk with a local expert or book online at PasoStay.com.
The Farmhouse at Pelletiere Estate is a modern & luxurious wine country retreat. Privately situated & surrounded by our estate vineyards, located just off Hwy46w on a very accessible country road, nestled in the heart of Paso Robles' renowned Westside, just 6 miles to Paso's downtown square. The Farmhouse offers stunning vineyard views from every angle, as well as a stylish yet cozy house you're bound to fall in love with!
Directions: speedfind.com/Pelletiere
LEARN MORE