Why should the kids have all the fun this time of year? Plan your dream summer vacation in Paso Robles Wine Country today!
Incredible stays ranging from cozy vineyard cottages to plush resorts, surprisingly close proximity to the ocean, lots of exciting events and divine dining options—I mean, what's not to love? FOMO (the fear of missing out) is all too real these days. Here's five ways to avoid that dreaded feeling in Paso Robles Wine Country right now. Think of us as your gorgeously grown-up summer camp!
Stay lavishly
A better way to stay: Whether you are seeking intimate vibes or a rocking party pad, you'll find a range of incredible vacation rentals in Paso Robles Wine Country. From crackling fire-pits and barbecues you and your friends can gather around to gorgeous pools and spa services, you'll never worry about staying in a humdrum hotel here. Simply click over to the handy Paso Robles Vacation Rentals website and find your dream stay. You can also plan to check into a local winery, a fun idea for couples and small groups. Located at Cass Winery, the Geneseo Inn is a luxury boutique hotel that combines fresh design and incredible scenery. Nestled along Paso's gently rolling hills, you'll breathe in Cass's stunning vineyard views (all 145 acres of them)! Constructed from industrial shipping crates, this refreshingly modern stay is perched high above the vineyard and includes a delicious breakfast prepared by Cass's executive chef. From fresh-picked herbs courtesy of the winery's onsite Chef Gardens to private massage and yoga sessions, there's a million reasons to up-level your accommodations. Looking for even more adventure? Check out Geneseo Inn's Cass Camp experiences. You might just find yourself horseback riding into the sunset! 
Paso Robles Vacation Rentals
Mapping & directions
Instagram 
Geneseo Inn
Mapping & directions
Instagram 
Sip sunnier
Fresh air outings: With more than 250 tasting rooms to choose from and plenty of outdoor tasting areas included in that number, Paso's bucolic surroundings come standard. This summer, enjoy our famously fresh air, sweet birdsong and signature sunny skies all while delving into dozens of delicious varieties. Located off scenic Vineyard Drive in Paso Robles, Brecon Estate is a picture-perfect summer oasis, to be sure. Kick back with a glass of awesome albarino or perhaps take up a rousing game of corn hole. Another Paso-area winery with scenery that rivals the wine? Chateau Margene, nestled in rustic Creston. Reserve a sunny tour and tasting and learn just how Paso terroir translates into top tier wine. Strolling through verdant vineyards with oak-studded hills beyond—could there be a better backdrop for an epic summer outing?
Brecon Estate
Mapping & directions
Instagram 
Chateau Margene
Mapping & directions
Instagram 
Go beachy
Coastal vibes: When you think of Paso Robles wine country, you might not think of the Pacific Ocean. Did you know that we're only a few miles away from the Central Coast's glittering coastline? Simply cruise along Paso's celebrated Highway 46 West Highway for a scenic route that summer dreams are made of. Flanked with incredible wineries, you'll find tantalizing tasting rooms all along the way. One great stop along Highway 46 West in Paso? Donati Family Vineyard, a long time favorite among locals and travelers alike. You might be surprised to find that this tasting room is located less than 20 miles from the beach! Home to outstanding Donati Family Wines and Bear + Prophet Spirits, you'll find plenty of worthy bottles to enjoy when you reach the sea. Yes—only in Paso can you travel from vineyard to sand. Want to dive into Donati Family Wines before taking the plunge? Check out the winery's nifty flavor profile quiz. If only all summer plans could be this easy-breezy.
Donati Family Vineyard
Mapping & directions
Instagram 
Do it all
Don't miss a moment: Summer in Paso Robles Wine Country begs visitors to mingle, giggle and socialize with new friends. Throw your cares to the wind and check out all of Paso Robles' diverse events kicking off all summer long. Industrial park-turned-epicurean epicenter Tin City is ground zero for sizzling shindigs this time of year. While checking out the array of wine, craft beer, culinary and cider offered at this hip hub, be sure to stop by Anarchy Wine Co., a rebellious tasting room that's all about serving bold blends that break the rules. Another awesome locale for non-stop summer intrigue? Cass Winery, which blends French winemaking with Paso hospitality. From educational sommelier classes created to help anyone hone their wine tasting skills to a mouthwatering Surf and Turf winemaker dinner (Friday, June 23) and live music courtesy of the winery's groovy Barrel Room Concert Series, you can expect a summer season to remember.
Anarchy Wine Co.
Mapping & directions
Instagram 
Cass Wines
Mapping & directions
Instagram 
Eat it up
Make room for summer flavor: If you're not eating all (I repeat, all) of Paso's sensual summer produce, you're missing out, period. Paso Robles Wine Country is famous for friendly farmer's markets, artisanal farmers and—of course—farm-to-table cuisine. Be sure to hit Paso's famous farmers market, which kicks off each Saturday morning at Downtown City Park. Chances are, you'll rub elbows with one of the area's local "celebrity" chefs. Just steps from this market, you'll find elevated Mexican fare at Fish Gaucho, pub grub at Pappy McGregor's and many other stellar restaurants utilizing the best of summer's bounty. This summer, be sure to savor Paso's ripest heirloom tomatoes, summer squash, avocados, peppers, stone fruit and berries! Paired with award winning Paso wine, cold craft beer and cocktails,  you're in for a decadent meal that smacks of summer's juiciest offerings. 
Fish Gaucho
Mapping & directions
Instagram 
Pappy McGregors
Mapping & directions
Instagram 
Photo by Árpád Czapp on Unsplash
Get Your Wine Country COUPONS click here!

 This blog is written by flavor fiend Hayley Cain. Follow her @flavorslo on Instagram or at astoldbyhayley.com.
CAN WE HELP YOU FIND?
DISTILLERIES TOURS & TRANSPORTATION
Looking for a place to stay in Paso Robles?
The Adelaide Inn is an iconic, locally-owned hotel known for its friendly staff and lush landscaping. With spacious rooms and a convenient location close to highway 101 and the event center – home of the California Mid-State Fair – this hotel is a great choice for most travelers. TOUR VIRTUALLY
Directions: speedfind.com/AdelaideInn
Majestically set among vineyards, olive groves and fruit baring orchards, the 20-acre Allegretto Vineyard Resort is a world unto itself, offering breathtaking settings that inspire and bring joy to all who choose this memorable wine country haven. Featuring 171 rooms and suites, on-site spa, grand ballroom, wine tasting room, and inspired culinary creations at Cello, the resort's full-service restaurant.
Directions: speedfind.com/Allegretto
Enjoy time with your loved ones with a glass of wine while taking in the panoramic views of ONX Wines Certified Sustainable Estate Vineyard. Clark House is a five-bedroom, four-bathroom home that is a perfect escape for up to ten people. All five bedrooms offer views of the vines and are impeccably furnished to help you unwind from an exciting day of exploring the Paso Robles area.
Directions: speedfind.com/ONX
The GENESEO INN is a luxury boutique hotel nestled in the rolling hills of Paso Robles wine country. Built of industrial shipping crates perched above the vines on CASS Winery's 145 acres of vineyard, the experience truly allows you to "breathe in the vineyard views."
Directions: speedfind.com/CassWinery
Hampton Inn & Suites Paso Robles is nestled in the Central Coast wine region, home to over 200 wineries, beautiful beaches, mountains and diverse attractions. Relax and revive in a comfortable guest room with all you need for a successful stay. You can count on Hampton to deliver value, consistency and service with a smile. We love having you here®
Directions: speedfind.com/PRWine.HamptonInn
Experience the pristine countryside of Paso Robles Wine Country at chic, sparkling clean Lekai Ranch. Lounge on the porch of your private suite and lose yourself in the tranquility and stunning views of the vineyards and oak studded hills beyond. This vacation rental is located just minutes from some of the most distinguished wineries and a premier olive oil estate, and only 15 minutes from downtown Paso Robles' restaurants, wineries and shopping. TAKE AN AERIAL TOUR
Directions: speedfind.com/Lekai | vrbo.com/701796
Oxford Suites Paso Robles You'll find that from our lobby, our on-site restaurant, to our meeting spaces, to our 101 spacious suites, every space is beautiful + functional as well as comfortable + chic.
Directions: speedfind.com/oxfordsuitespasorobles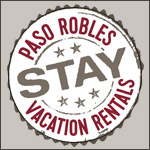 Paso Robles Vacation Rentals, also known as PasoStay.com assists guests in creating memories and wonderful experiences by providing quality privately owned vacation home rentals in Paso Robles Wine Country. With over 160 vacation homes to choose from, small enough for a couple's romantic getaway to large homes amongst local vineyards and olive orchards, PasoStay.com has the perfect option for you. Ask us how you save 15% on booking service fees! Feel free to call 805-423-9174 to talk with a local expert or book online at PasoStay.com.
The Farmhouse at Pelletiere Estate is a modern & luxurious wine country retreat. Privately situated & surrounded by our estate vineyards, located just off Hwy46w on a very accessible country road, nestled in the heart of Paso Robles' renowned Westside, just 6 miles to Paso's downtown square. The Farmhouse offers stunning vineyard views from every angle, as well as a stylish yet cozy house you're bound to fall in love with!
Directions: speedfind.com/Pelletiere
LEARN MORE