Taste like a pro in Paso Robles Wine Country this summer!
Despite what you may have heard, wine tasting need not be intimidating. Paso Robles Wine Country is all about incorporating a bit of friendly education into each delicious sip. Not sure exactly what to do when handed a glass of our famously fabulous cabernet sauvignon? Relax. Just remember the five S's: see, swirl, smell, sip and savor. That's pretty easy, right? Whether you enjoy a flight at the tasting bar, pop open a bottle to share with friends or sample our diverse varieties with a convenient at-home kit, you're about to become better prepared. Go on—squeeze all the joy from each precious drop!
See more at Dubost
The eyes taste first: In Paso Robles Wine Country, wine tasting begins before you ever take a sip. You might be surprised to note that the visual element of wine tasting matters—but you'll soon find that color boosts the overall experience. Before sampling that grenache or rosé in your glass, hold it up to the light for detailed inspection. Is the wine ruby red, inky purple or a bright, pinky hue? Similarly, take in your surroundings: blue sky, green hills and stunning scenery beyond. Dubost's tasting room is nestled along a rustic backdrop of oak trees, rolling vineyards and wildflower-strewn meadows. Tucked away from the noise of the modern world, you'll find a picture-perfect outdoor tasting area like something out of a romantic painting. This summer, enjoy Dubost's bold, fruit-forward red wines paired with wood-fired pizzas and our famously fresh air. As the sun sets, a feast for the eyes (and the stomach) are sure to ensue. Color us jealous!
Swirl into Iron Oaks
Twirl your glass: There's nothing more fun than swirling a glass of award winning Paso Robles wine. Worried about spillage? No need to remove your glass from the table—simply move the stem in small circles to bring more air (a.k.a life) into your next sip. Just as a dose of aeration allows a choice wine to "open up" in bouquet and flavor, Paso's more than 250 tasting rooms have a way of bringing out the best in all walks of life. You probably already know we cultivate a cowboy-meets-wine country vibe—and as a result, our tasting rooms feel more like local hangouts than stuffy museums. Kick back at Paso's beloved Iron Oaks tasting room and you'll soon be rubbing elbows with winemakers, ranchers and longtime residents alike. Swirl top tier wines, pick up estate-raised beef and allow the shenanigans to roll on into the night. Did we mention this jumping joint features live music most weekends throughout the summer? Swirl, twirl and mingle—just don't be a wallflower, ya hear?
Smell freely at Pelletiere
A whiff of magic: Did you know that your sense of smell accounts for most of your overall tasting experience? If you've ever had a stuffy nose, you know that it's just no fun to taste anything—whether it be a taco or a tempranillo—without olfactory abilities. In Paso Robles Wine Country, you'll find endless opportunities to catch a whiff of the good stuff: Simply place your nose into your wine glass (yes, as far as it will go) and inhale deeply. At Pelletiere, elegant Italian-style wines are layered with sumptuous aromas that seduce the senses, smell very much included. Earthy, fruity, floral—you tell us what first comes to mind. Stop by the farmhouse and embark on a vineyard tour followed by a tasting. From honeysuckle and violets to cigar box and leather, there's no correct way to appreciate the many scents of Paso Robles wine. Over time, each bottle tells its own story. Follow your nose for intriguing plot twists!
Sip joyfully Seven Oxen Estate Wines
Sip, sip hooray: Arguably everyone's favorite portion of the tasting experience, now is the time to allow your palate to take center stage. Yes—the glorious first sip awaits! While there's a lot of hoopla out there about the "correct" way to sip, we like to keep it simple, silly. Allow the wine to coat your mouth, tongue, teeth. Hold the liquid for a few moments before sipping (or spitting; just as good, but less fun). At Seven Oxen Estate Wines, each offering opens up a world of exciting flavor associations. Home of robust red blends as well as single varietals like petite sirah and mourvedre, you'll find endless opportunities to practice your newly-honed tasting technique. While up-front flavor elements hit your mouth first: the sweetness of a ripe cherry, tartness of a green apple or creaminess of creme brulee, for example—you'll soon find these initial sensations give way to more murky flavor mysteries. Do you taste fresh cut grass, key lime pie or a particular bubble gum from your youth? Trust us: deciphering your own flavor cues is half the fun. Don't forget to compare notes!
Savor more at Écluse Wines
More than a moment: Time is on your side when you're wine tasting in Paso Robles Wine Country. No need to rush: Slowly consider the acidity, minerality, tannin and structure of each wine as it graces your lips. Now is a great time to consider the mouthfeel (is it silky? Velvety?) as well as the body of the wine (is it rich and buttery or light and refreshing?). You'll have no trouble thoroughly savoring each selection set before you at Écluse Wines, home of French winemaking and Paso passion. Muse over a lineup of world class blends and single varietals including chardonnay and zinfandel at the Terrace at Écluse. Located just off the crush pad and overlooking the winery's awe-inspiring Lock Vineyard (named after Francophile owners Steve and Pam Lock), you'll feel a true sense of calm. Even as you complete your wine tasting, Paso wine has a way of lingering on long after the fact. This is what we in the business call an "extra long finish." You're welcome.
Photo by Elle Hughes on Unsplash
Get Your Wine Country COUPONS click here!

 This blog is written by flavor fiend Hayley Cain. Follow her @flavorslo on Instagram or at astoldbyhayley.com.
CAN WE HELP YOU FIND?
DISTILLERIES TOURS & TRANSPORTATION
Looking for a place to stay in Paso Robles?
The Adelaide Inn is an iconic, locally-owned hotel known for its friendly staff and lush landscaping. With spacious rooms and a convenient location close to highway 101 and the event center – home of the California Mid-State Fair – this hotel is a great choice for most travelers. TOUR VIRTUALLY
Directions: speedfind.com/AdelaideInn
Majestically set among vineyards, olive groves and fruit baring orchards, the 20-acre Allegretto Vineyard Resort is a world unto itself, offering breathtaking settings that inspire and bring joy to all who choose this memorable wine country haven. Featuring 171 rooms and suites, on-site spa, grand ballroom, wine tasting room, and inspired culinary creations at Cello, the resort's full-service restaurant.
Directions: speedfind.com/Allegretto
Enjoy time with your loved ones with a glass of wine while taking in the panoramic views of ONX Wines Certified Sustainable Estate Vineyard. Clark House is a five-bedroom, four-bathroom home that is a perfect escape for up to ten people. All five bedrooms offer views of the vines and are impeccably furnished to help you unwind from an exciting day of exploring the Paso Robles area.
Directions: speedfind.com/ONX
The GENESEO INN is a luxury boutique hotel nestled in the rolling hills of Paso Robles wine country. Built of industrial shipping crates perched above the vines on CASS Winery's 145 acres of vineyard, the experience truly allows you to "breathe in the vineyard views."
Directions: speedfind.com/CassWinery
Hampton Inn & Suites Paso Robles is nestled in the Central Coast wine region, home to over 200 wineries, beautiful beaches, mountains and diverse attractions. Relax and revive in a comfortable guest room with all you need for a successful stay. You can count on Hampton to deliver value, consistency and service with a smile. We love having you here®
Directions: speedfind.com/PRWine.HamptonInn
Experience the pristine countryside of Paso Robles Wine Country at chic, sparkling clean Lekai Ranch. Lounge on the porch of your private suite and lose yourself in the tranquility and stunning views of the vineyards and oak studded hills beyond. This vacation rental is located just minutes from some of the most distinguished wineries and a premier olive oil estate, and only 15 minutes from downtown Paso Robles' restaurants, wineries and shopping. TAKE AN AERIAL TOUR
Directions: speedfind.com/Lekai | vrbo.com/701796
Oxford Suites Paso Robles You'll find that from our lobby, our on-site restaurant, to our meeting spaces, to our 101 spacious suites, every space is beautiful + functional as well as comfortable + chic.
Directions: speedfind.com/oxfordsuitespasorobles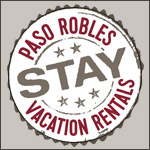 Paso Robles Vacation Rentals, also known as PasoStay.com assists guests in creating memories and wonderful experiences by providing quality privately owned vacation home rentals in Paso Robles Wine Country. With over 160 vacation homes to choose from, small enough for a couple's romantic getaway to large homes amongst local vineyards and olive orchards, PasoStay.com has the perfect option for you. Ask us how you save 15% on booking service fees! Feel free to call 805-423-9174 to talk with a local expert or book online at PasoStay.com.
The Farmhouse at Pelletiere Estate is a modern & luxurious wine country retreat. Privately situated & surrounded by our estate vineyards, located just off Hwy46w on a very accessible country road, nestled in the heart of Paso Robles' renowned Westside, just 6 miles to Paso's downtown square. The Farmhouse offers stunning vineyard views from every angle, as well as a stylish yet cozy house you're bound to fall in love with!
Directions: speedfind.com/Pelletiere
LEARN MORE