Emojis, we know them well! 2021 might have ushered in the era of peak emoji use for all humans (just ask your grandma which one she sends most—the bouquet of flowers, thumbs up or double heart?). These days, the crying smiley face, perky unicorn and confusingly happy poop emoji are as much a part of our daily conversations as simply saying "hello." Knowing this, it makes sense that your most commonly used emojis say quite a bit about you. In Paso Robles Wine Country, our emojis do just that (we're all about sun, fun and sippin' on the best wines around). Hey, winemakers gotta text, too! 
Surfer + Hang Loose 🏄‍♀️ 🤙
Surf's up in Wine Country! Wait, fine wine and hanging ten? This might seem like a weird combo, but trust us—it's all in a day's fun under the sun. Located just a few miles from Highway 1 and Cayucos, Harmony, Cambria and Big Sur beyond, Paso Robles Wine Country is the perfect Golden State getaway combining rural vineyard views and breathtaking beach days (take the scenic route along Highway 46 West to experience a diverse lineup of local wineries followed by a lovely coastal experience awaiting just beyond). It makes sense, then, that many local winemakers are also surfers, kayakers and stand-up paddle boarders rising at dawn to check on the grapes and the surf. Case in point: the original founding brothers of Chronic Cellars, brought their love of shred tasty waves and blending even tastier wines, into their branding. You can still experience the guys' signature laid back vibe paired with bold single-varietals and blends at this casual tasting room! Gnarly good, brah.
Cowboy + wine 👨‍🌾 🍷
Ye-haw! Yes, it's true that Paso Robles is where cowboy country meets wine country (just head out onto the backroads and count the cattle, horses, goats and barbed wire fences). Still, we've managed to combine these authentic Old West traditions with world class wines all while keeping our famous down home hospitality intact (and proud of it). Kick up dust on the Backroads Wineries trail winding through the Eastside of Paso Robles and the rural community of San Miguel, and you'll see what we mean right quick. At Cass Winery, you can belly up to a fabulous table-side wine tasting paired with incredible gourmet food, enjoy some live music under the stars or hop in the saddle! That's right: gallop through the vines and imagine what your life might be like if you truly trotted into a romantic Western novel. Hey…just because we're fancy, doesn't mean we have to sip with our pinkies up!
Sunset + pow 🌅 💥
Wish you were here: It's easy to make everyone on your Instagram feed jealous when you're hanging out in Paso Robles Wine Country come sunset (#PasoRoblesWineries!) With glorious streaks of pink, orange and red painted across a wide open sky, these sunsets are legendary when savored among the vines. Oh, and the stargazing is nothing to scoff at, either! Located in rural Paso Robles, Still Waters Vineyard offers up a breathtaking sunset view of the area's gently rolling hills, lush vines and majestic oak trees all backdropped by one glorious photo opp. Relax in the garden for the ultimate private, outdoor wine tasting experience, complete with a knowledgeable attendant ready to guide you through the lineup (you can also bring a picnic or purchase a made-to-order cheese plate for dinner and a "show"). Oh, and the wines aren't bad either–in fact, we believe they're the physical embodiment of a true natural wonder. Taste for yourself!
Cocktail + Rock n roll 🍹 🎸
It's happy hour somewhere: We may be self-described wine freaks, but trust us—we can still appreciate an expertly-mixed cocktail! In fact, Paso Robles Wine Country is also known for craft beer, hard cider, hard seltzer and unique spirits made to be savored slowly, sip by sip. Always pouring up something fresh and zesty, KROBAR Craft Distillery offers up outrageously creative and delish spirits—including barrel aged whiskey, bourbon, rum and vermouth—plus uniquely pungent bitters (olallieberry citrus, anyone?). Sample a few spirits at the bar or pick up a bottle for your next soiree. Just be sure to ready yourself for a "wow" moment (around here, the old daft rules are made to be shaken up). 
Silverware + Yum 🍽  😋
Come and get it! Everyone knows we love to eat in Paso Robles Wine Country, but not just any meal will satisfy our craving. When it comes to flavor, we're always searching for that next great taste (and thanks to a temperate year-round growing season, we have plenty of material to work with). With a penchant for farm fresh produce, creative, genre-bending menus and surprising twists on the old classics, you'll find our humble dining scene offers up more than the boring white tablecloths of yore. Sample the finest peak season fruits and veggies at Thomas Hill Organics, ignite your taste buds with elevated Cali-Mexican fare at Fish Gaucho, dig into unconventional comfort food at Pappy McGregor's, or simply dunk a hunk of bread into a lineup of luscious olive oils at Pasolivo. Wherever you roam, you'll be sure to leave fed and happy.
Thomas Hill Organics   Mapping & Directions   Instagram
Fish Gaucho  Mapping & Directions  Instagram
Pappy McGregor's  Mapping & Directions  Instagram
Pasolivo  Mapping & Directions Downtown  Mapping & Directions Vineyard Dr  Instagram
Get Your Wine Country COUPONS click here!

 This blog is written by flavor fiend Hayley Cain. Follow her @flavorslo on Instagram or at astoldbyhayley.com.
CAN WE HELP YOU FIND?
DISTILLERIES   TOURS & TRANSPORTATION
Looking for a place to stay in Paso Robles?
The Adelaide Inn is an iconic, locally-owned hotel known for its friendly staff and lush landscaping. With spacious rooms and a convenient location close to highway 101 and the event center – home of the California Mid-State Fair – this hotel is a great choice for most travelers. TOUR VIRTUALLY
Directions: speedfind.com/AdelaideInn
Majestically set among vineyards, olive groves and fruit baring orchards, the 20-acre Allegretto Vineyard Resort is a world unto itself, offering breathtaking settings that inspire and bring joy to all who choose this memorable wine country haven. Featuring 171 rooms and suites, on-site spa, grand ballroom, wine tasting room, and inspired culinary creations at Cello, the resort's full-service restaurant.
Directions: speedfind.com/Allegretto
Wouldn't you love to wake up among the vines? Eden House at Carriage Vineyards Bed & Breakfast is on a real working vineyard and longhorn ranch in the Paso Robles Wine Region. Our rooms overlook vineyards, creeks and oaks, right in the Paso Robles Wine Country of Central California.
Directions: speedfind.com/edenhouse
Spend an idyllic getaway at Briarwood Cottage at ONX Estate Vineyards in an English-cottage inspired vineyard-side home. Guests may rent rooms in the main cottage, reserve the entire main cottage for a large group, or book the fully equipped apartment. Wake up to peaceful vineyard views and spend twilight hours sipping wine on the back porch of the cottage. It's a time you won't quickly forget. Contact us for pricing and availability (see form below). Case, 6 Bottle, and 4 Bottle Collective Members receive preferred pricing.
Directions: speedfind.com/BriarCottage
Hoyt Family Vineyard RetreatsTwo very cool, tiny houses, designed using fertile imagination and repurposing of materials are located on Hoyt Family Vineyard.
Directions: speedfind.com/hoytfamilyvineyards
Hampton Inn & Suites Paso Robles is nestled in the Central Coast wine region, home to over 200 wineries, beautiful beaches, mountains and diverse attractions. Relax and revive in a comfortable guest room with all you need for a successful stay. You can count on Hampton to deliver value, consistency and service with a smile. We love having you here®
Directions: speedfind.com/PRWine.HamptonInn
The Kiler Canyon Vineyard Retreat Perched on top of a hill on ONX Estate's vineyard with gorgeous 360 degree views of the Willow Creek AVA
Directions: speedfind.com/KilerRetreat
Experience the pristine countryside of Paso Robles Wine Country at chic, sparkling clean Lekai Ranch. Lounge on the porch of your private suite and lose yourself in the tranquility and stunning views of the vineyards and oak studded hills beyond. This vacation rental is located just minutes from some of the most distinguished wineries and a premier olive oil estate, and only 15 minutes from downtown Paso Robles' restaurants, wineries and shopping. TAKE AN AERIAL TOUR
Directions: speedfind.com/Lekai | vrbo.com/701796
Oxford Suites Paso Robles You'll find that from our lobby, our on-site restaurant, to our meeting spaces, to our 101 spacious suites, every space is beautiful + functional as well as comfortable + chic.
Directions: speedfind.com/oxfordsuitespasorobles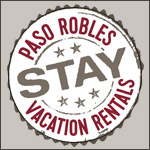 Paso Robles Vacation Rentals, also known as PasoStay.com assists guests in creating memories and wonderful experiences by providing quality privately owned vacation home rentals in Paso Robles Wine Country. With over 90 vacation homes to choose from, small enough for a couple's romantic getaway to large homes amongst local vineyards and olive orchards, PasoStay.com has the perfect option for you. Feel free to call 805-423-9174 to talk with a local expert or book online at PasoStay.com.
LEARN MORE