Buzz buzz! Yes, the bees are pollinating, the baby birdies are chirping, the wildflowers are blooming and grapes of all kinds are on a journey to optimal sugar levels! Spring has arrived in Paso Robles Wine Country, and we know you're ready to get out under our big blue sky. Around here, we know each bud break is unique—and so are you! That's why we wholeheartedly encourage visitors to choose their own path to paradise (there's an itinerary for every soul). Whether you're a seize-the-day go-getter or laid back sun-setter, Paso Robles Wine Country has the epic wine—and unforgettable adventures—to pique your interest all spring break long. There's just one question left: Which one of these sounds the most like you?
The trail blazer
You rise early and exercise often. You've never met a trail you couldn't hack. You never shy away from getting a little dirt on your boots (or your tires, or your face). Oh yeah, you're the outdoorsy type! If the idea of jumping into a galloping saddle or onto a rugged mountain bike gets your heart racing, Paso Robles Wine Country is the spring break locale for you. Crisscrossed with dozens of scenic hiking trails that lead from vine to mountain to lake, we can guarantee you'll get lost (and love every moment of it).
Taste: When you step foot onto the dynamic soil at Hoyt Family Vineyards, you'll understand why we just can't stay inside (Reservation required)! Breathe in the fresh Paso Robles air, enjoy an array of fine wine and even tour the Hoyt vineyard by ATV if you're feeling adventurous (something tells us you are)! Oh, and be sure to greet the goats, who always appreciate a pat on the noggin.
BONUS: Gorgeous views and 2 super cool, vacation rentals made with recycled materials in the hippest way.
2 for 1 wine tasting coupons! Click here
Hoyt Vacation Rentals, click here
Buy wine, click here
For mapping and directions to Hoyt Vineyards, click here
For mapping and directions to Hoyt's downtown tasting room, click here
Follow Hoyt on Instagram, click here
The seaside explorer
You always carry SPF 50 in your bag (even on cloudy days). "Beach hair" is your highest beauty standard. You always relish the sand between your toes, even when it manages to get everywhere else, too. It's no secret that you're a freckled, fun-loving beach bunny! You might be surprised to know that Paso Robles Wine Country is only a few miles from the glittering Pacific (plus, the drive there on Highway 46 West is worth the journey all on its own). Explore the nearby seaside towns of Harmony, Cambria, Cayucos and San Simeon all while sipping on our sunny Paso wines.
Taste: Heading to the beach during your visit? Be sure to stop at Four Lanterns Winery along the way and pick up some fresh whites for that cooler! Nestled along the popular Highway 46 West wine trail in Paso Robles, this breezy tasting room serves up distinctive flights, tastings and wine by the glass in a bucolic, outdoor setting. Yep: it's a day at the beach, reimagined!
BONUS: After tasting, your drive to the coast over the grade on Highway 46 West will be the highlight of your trip. You'll swear you're in Ireland with the tender green grasses and wildflowers carpeting the hillsides.
Reserve your visit to Four Lanterns, click here
For mapping and directions to Four Lanterns, click here
Follow Four Lanterns on Instagram, click here
The lounge lizard
You actually get giddy when setting the "away" message on your work email. You own more sunglasses than suits. You've never wasted a sick or vacation day in your life. Congrats—you're a lounge lizard! In Paso Robles Wine Country, you can truly let your hair down and get a whole lot of nothing crossed off your to-do list. Whether you desire a relaxing spa experience or just want to stroll among the vines with a glass in hand, we are here to embrace your laziest ambitions.
Taste: What's on the agenda in Paso Robles? Well, at Michael Gill Cellars, a whole lot of swirling (and that's about it)! Sample a luxurious lineup of award-winning syrah offerings while enjoying the plush quarters reminiscent of a French hunting lodge (if it's your thing, taxidermy included)! Now we could get used to this…
BONUS: Vineyards views and a chance to chat with Michael himself!
For mapping and directions to Michael Gill Cellars, click here
Follow Michael Gill Cellars on Instagram, click here
The feast beast
You don't nibble, nosh or "save half for later." You believe that a new flavor is always worth savoring. You have at least one chef on your speed dial. Yes, you came to devour, not just dine! Well, my friend, you have come to the right place. Paso Robles Wine Country is the epicenter of a fresh, farm-to-table foodie explosion that you've just got to taste to believe. That's right: a long, temperate growing season isn't just ideal for growing world class grapes—our terroir is legendary for producing some of the most delectable produce (not to mention sustainably raised meats). With downtown restaurants that soar beyond the ordinary, you'll never be far from your next great grub.
Taste: Want to savor the true, farm-fresh offerings of Paso? Belly up to Thomas Hill Organics in downtown Paso Robles, where every ingredient is fresh-picked perfection. Still hungry? Several Paso Robles wineries also offer estate-raised beef, the perfect souvenir for any passionate home chef. Sample a stellar wine flight at Rangeland Wines in Paso Robles and leave with a box of their famous grass-fed Angus beef! Win, win.
Make your reservation at Thomas Hill Organics, click here
For mapping and directions to Thomas Hill Organics, click here
Follow Thomas Hill Organics on Instagram, click here
For mapping and directions to Rangeland, click here
Follow Rangeland on Instagram, click here
The lover
You can quote every word from "Breakfast at Tiffany's" from heart. Your idea of "fun" involves burning wax and shared glasses for two. No one gets between you and your favorite slow jam playlist. Yes, you're a hopeless romantic! With our private, tucked away vineyard stays, glorious sunsets and twinkling stars, Paso Robles Wine Country was made for first dates, weddings and honeymoons. Reconnect with the one you love in one of the most gorgeous settings on Earth! Plus, the wine has a way of enchanting the imagination and sparking the heart.  What can we say? The heart wants what the heart wants!
Taste: Romeo oh romeo! At Villa San-Juliette, you can live out your epic romance novel fantasy, one sip at a time. Explore a dozen varietals with your special companion, take in the manicured gardens and soak up the passion while lounging in their stunning, European-styled patio. There's even gourmet plates you can enjoy together. Just be aware that if you do choose to feed each other nibbles by hand, others might ask you to politely "get a room." Hey, at least Paso's full of 'em!
Reserve your visit Villa San Juliette, click here
For mapping and directions to Villa San Juliette, click here
Follow Villa San Juliette on Instagram, click here
For some lodging options, click here
Get Your Wine Country COUPONS click here!

 This blog is written by flavor fiend Hayley Cain. Follow her @flavorslo on Instagram or at astoldbyhayley.com.
CAN WE HELP YOU FIND?:
DISTILLERIES   TOURS & TRANSPORTATION
Looking for a place to stay in Paso Robles?
The Adelaide Inn is an iconic, lo
cally owned hotel known for its friendly staff and lush landscaping. With spacious rooms and a convenient location close to highway 101 and the event center – home of the California Mid-State Fair – this hotel is a great choice for most travelers. TOUR VIRTUALLY
Directions: speedfind.com/AdelaideInn
Majestically set among vineyards, olive groves and fruit baring orchards, the 20-acre Allegretto Vineyard Resort is a world unto itself, offering breathtaking settings that inspire and bring joy to all who choose this memorable wine country haven. Featuring 171 rooms and suites, on-site spa, grand ballroom, wine tasting room, and inspired culinary creations at Cello, the resort's full service restaurant.
Directions: speedfind.com/Allegretto
Wouldn't you love to wake up among the vines? Eden House at Carriage Vineyards Bed & Breakfast is on a real working vineyard and longhorn ranch in the Paso Robles Wine Region. Our rooms overlook vineyards, creeks and oaks, right in the Paso Robles Wine Country of Central California.
Directions: speedfind.com/edenhouse
Spend an idyllic getaway at Briarwood Cottage at ONX Estate Vineyards in an English-cottage inspired vineyard-side home. Guests may rent rooms in the main cottage, reserve the entire main cottage for a large group, or book the fully equipped apartment. Wake up to peaceful vineyard views and spend twilight hours sipping wine on the back porch of the cottage. It's a time you won't quickly forget. Contact us for pricing and availability (see form below). Case, 6 Bottle, and 4 Bottle Collective Members receive preferred pricing.
Directions: speedfind.com/BriarCottage
Hoyt Family Vineyard Retreats  Two very cool, tiny houses, designed using fertile imagination and repurposing  of materials are located on Hoyt Family Vineyard.
Directions: speedfind.com/hoytfamilyvineyards
new
Hampton Inn & Suites Paso Robles is nestled in the Central Coast wine region, home to over 200 wineries, beautiful beaches, mountains and diverse attractions. Relax and revive in a comfortable guest room with all you need for a successful stay. You can count on Hampton to deliver value, consistency and service with a smile. We love having you here®
Directions: speedfind.com/PRWine.HamptonInn
Enjoy the elegance, style and natural beauty of California's Central Coast at the JUST Inn®. Surrounded by vineyards, our JUST Inn Suites offer luxurious appointments like fireplaces, Tempur-Pedic®mattresses, Frette linens, hydro-spa tubs, and range in size from 600–1,200 square feet. An overnight stay includes breakfast and a tour of the winery and caves. TOUR VIRTUALLY
Directions:  speedfind.com/JustinWine
The Kiler Canyon Vineyard Retreat Perched on top of a hill on ONX Estate's vineyard with gorgeous 360 degree views of the Willow Creek AVA
Directions: speedfind.com/KilerRetreat
Experience the pristine countryside of Paso Robles Wine Country at chic, sparkling clean Lekai Ranch. Lounge on the porch of your private suite and lose yourself in the tranquility and stunning views of the vineyards and oak studded hills beyond. This vacation rental is located just minutes from some of the most distinguished wineries and a premier olive oil estate, and only 15 minutes from downtown Paso Robles' restaurants, wineries and shopping. TAKE AN AERIAL TOUR
Directions: speedfind.com/Lekai | vrbo.com/701796
Oxford Suites Paso Robles You'll find that from our lobby, our on-site restaurant, to our meeting spaces, to our 101 spacious suites, every space is beautiful + functional as well as comfortable + chic.
Directions: speedfind.com/oxfordsuitespasorobles
Peachy Canyon Guest Inn Sits above Peachy Canyon Winery + acres of vines at Mustang Springs Vineyard. The house has 2 bedrooms, 2.5 baths, living room, family room + panoramic views.
Directions: speedfind.com/PeachyInn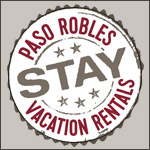 Paso Robles Vacation Rentals, also known as PasoStay.com assists guests in creating memories and wonderful experiences by providing quality privately owned vacation home rentals in Paso Robles Wine Country. With over 90 vacation homes to choose from, small enough for a couple's romantic getaway to large homes amongst local vineyards and olive orchards, PasoStay.com has the perfect option for you. Feel free to call 805-423-9174 to talk with a local expert or book online at PasoStay.com.
Directions:  speedfind.com/PasoRoblesVacationRentals
LEARN MORE