The kids are heading back to school, which means packing up those books, pencils and brown bag lunches. It might have been a while since you hit the books yourself, but learning never loses its allure. No matter what age, we can all enjoy the power that comes from developing our minds (at least, that's what our teachers used to say). How much, may I ask, do you think you know about Paso Robles Wine Country? With varied tasting rooms and dozens of varietals to explore, there's always an opportunity to dive deeper into our favorite subject: Paso Wine 101. Yes, this will all be on the test!
Q: When did winemaking begin in Paso Robles?
A: A long time ago! In fact, wine has been made in Paso point since Mission San Miguel Archangel was established in 1787. After the Gold Rush, many immigrants moved south to pursue agricultural endeavors bringing along their cultural traditions, which included wine (perhaps the one thing we can all agree on). Over generations, these families would become the first commercial wine grape growers in the region. Today, Paso Robles winemakers continue to salute these early immigrants for their ingenuity and passion.
The more you know: We truly are a community of immigrants in Paso Robles, and the folks at Sixmilebridge celebrate this fact. The winery is named or the small town located in County Clare, Ireland once home to James Moroney, owner Jim's great-grandfather, prior to immigrating to the U.S. Jim really says it best: "This anchor in the past reminds us that every step, no matter how seemingly unconnected, has led us here, to Paso. We're thankful for that. We know this place is where we can make great wine."
Q: How big is the Paso Robles American Viticultural Appellation (AVA)?
A: Larger than you might think! The Paso Robles American Viticultural Appellation (AVA) is home to more than 250 wineries and a whopping 40,000 vineyard acres focusing on premium wine production. Paso Robles' viticultural areas are as diverse as the grapes grown on them, including Adelaida District, Creston District, El Pomar District, Templeton Gap District, York Mountain and so many more. Plus, each of these distinct areas boast their own microclimate!
The more you know: One of the coolest corners of Paso's west side, The Willow Creek District is known for its chalky, calcareous soil and steep elevations as compared to the largely flat, east side of Paso Robles. Jada's estate vineyard epitomizes Willow Creek's charms, with hilltop terraces chock-full of fractured shale, rocks and even fossils (the west side of Paso was once an ocean floor, rising 1,300 feet above sea-level). Now that's crazy to think about, right?
Q: What wine first put Paso Robles on the map?
A: Zinfandel is known as Paso Robles' heritage grape for a reason! In the 1920s, famous Polish concert pianist Ignace Paderewski planted the Italian varietal on his Rancho San Ignacio vineyard in the Adelaida area, inspiring a whole new chapter in Paso Robles agricultural history (goodbye almond orchards, hello vines!). In fact, you can still find old Paso vine zinfandel today that dating back to these early years. Hey—if it aint broke, why replace it?
The more you know: Zinfandel is still an extremely popular grape in Paso Robles Wine Country, with its own annual festival and offerings ranging from jammy to spicy to fruit forward. Medium-bodied with vibrant acid and flavors of brambly red raspberry, white pepper, dried violet petals, black currant, and delicate sweet tobacco, Still Waters Vineyard's 2017 Zinfandel carries on the legacy of flavor that Paderewski began so long ago.
Q: What was Paso's first claim to fame?
A: Hint: it wasn't wine! For thousands of years, the Salinan inhabited the area, hunting, gathering, and soaking in its natural hot springs. As far back as 1795, Paso Robles had been dubbed "California's oldest watering place" due to the area's hot sulphur springs and natural mud baths. This, indeed, was the selling point that initially drew people from all over the world to come to the Paso Robles area. Today, folks still visit the Paso Robles Inn with the intention of soaking in these therapeutic waters.
The more you know: The folks at Rangeland Wines have owned historic Adelaida Springs Ranch since 2000, but the land has been home to humans for thousands of years, from Native American acorn gatherers to mission-era herders and finally to American miners and homesteaders in the 19th century. The ranch is adjacent to the historic Klau and Buena Vista Mines, which were the commercial hub of the area as early as 1870. Previous owners include Marshall Sawyer, whose father Frank Sawyer was the house physician and general manager of the then-grand Hotel De Paso Robles Spa at the turn of the century. One of the winery's long term goals is to publish information about local homesteaders and document the title and occupying family history of each of the parcels here on the ranch!
Q: What kind of wine is Paso Robles known for?
A: Thanks to a year round, temperate growing season and plenty of sun, Paso Robles is uniquely positioned to grow supremely ripe, fruit forward red wines. The region is best known worldwide for its popular cabernet sauvignon and Bordeaux varietals, jammy zinfandel and Rhone offerings, including grenache and syrah. Although Paso Robles has become known for excellent whites and more refined reds, the official motto of the region has continued to be "the bolder the better!" Paso's established and emerging winemakers have also made a splash with taking these iconic reds to new levels  by blending them together—oftentimes with surprising results.
The more you know: Not many Paso Robles wineries buck established tradition quite as loudly as ONX, where red blends are crafted with a sense of playful artistry and irreverent humor. This bold attitude is part and parcel with Paso Robles's pioneering history, a narrative that finds parallels in the wines. Unhindered by convention, the ONX Winemaking Team strives to create balanced wines that reflect both terroir and vintage. From rule-breaking to blind blending, each vintage of ONX Wines is completely different, yet delightfully cohesive.
Get Your Wine Country COUPONS click here!

 This blog is written by flavor fiend Hayley Cain. Follow her @flavorslo on Instagram or at astoldbyhayley.com.
CAN WE HELP YOU FIND?
DISTILLERIES   TOURS & TRANSPORTATION
Looking for a place to stay in Paso Robles?
The Adelaide Inn is an iconic, locally-owned hotel known for its friendly staff and lush landscaping. With spacious rooms and a convenient location close to highway 101 and the event center – home of the California Mid-State Fair – this hotel is a great choice for most travelers. TOUR VIRTUALLY
Directions: speedfind.com/AdelaideInn
Majestically set among vineyards, olive groves and fruit baring orchards, the 20-acre Allegretto Vineyard Resort is a world unto itself, offering breathtaking settings that inspire and bring joy to all who choose this memorable wine country haven. Featuring 171 rooms and suites, on-site spa, grand ballroom, wine tasting room, and inspired culinary creations at Cello, the resort's full-service restaurant.
Directions: speedfind.com/Allegretto
Wouldn't you love to wake up among the vines? Eden House at Carriage Vineyards Bed & Breakfast is on a real working vineyard and longhorn ranch in the Paso Robles Wine Region. Our rooms overlook vineyards, creeks and oaks, right in the Paso Robles Wine Country of Central California.
Directions: speedfind.com/edenhouse
Spend an idyllic getaway at Briarwood Cottage at ONX Estate Vineyards in an English-cottage inspired vineyard-side home. Guests may rent rooms in the main cottage, reserve the entire main cottage for a large group, or book the fully equipped apartment. Wake up to peaceful vineyard views and spend twilight hours sipping wine on the back porch of the cottage. It's a time you won't quickly forget. Contact us for pricing and availability (see form below). Case, 6 Bottle, and 4 Bottle Collective Members receive preferred pricing.
Directions: speedfind.com/BriarCottage
Hoyt Family Vineyard RetreatsTwo very cool, tiny houses, designed using fertile imagination and repurposing of materials are located on Hoyt Family Vineyard.
Directions: speedfind.com/hoytfamilyvineyards
Hampton Inn & Suites Paso Robles is nestled in the Central Coast wine region, home to over 200 wineries, beautiful beaches, mountains and diverse attractions. Relax and revive in a comfortable guest room with all you need for a successful stay. You can count on Hampton to deliver value, consistency and service with a smile. We love having you here®
Directions: speedfind.com/PRWine.HamptonInn
The Kiler Canyon Vineyard Retreat Perched on top of a hill on ONX Estate's vineyard with gorgeous 360 degree views of the Willow Creek AVA
Directions: speedfind.com/KilerRetreat
Experience the pristine countryside of Paso Robles Wine Country at chic, sparkling clean Lekai Ranch. Lounge on the porch of your private suite and lose yourself in the tranquility and stunning views of the vineyards and oak studded hills beyond. This vacation rental is located just minutes from some of the most distinguished wineries and a premier olive oil estate, and only 15 minutes from downtown Paso Robles' restaurants, wineries and shopping. TAKE AN AERIAL TOUR
Directions: speedfind.com/Lekai | vrbo.com/701796
Oxford Suites Paso Robles You'll find that from our lobby, our on-site restaurant, to our meeting spaces, to our 101 spacious suites, every space is beautiful + functional as well as comfortable + chic.
Directions: speedfind.com/oxfordsuitespasorobles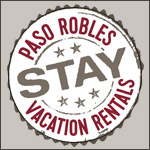 Paso Robles Vacation Rentals, also known as PasoStay.com assists guests in creating memories and wonderful experiences by providing quality privately owned vacation home rentals in Paso Robles Wine Country. With over 90 vacation homes to choose from, small enough for a couple's romantic getaway to large homes amongst local vineyards and olive orchards, PasoStay.com has the perfect option for you. Feel free to call 805-423-9174 to talk with a local expert or book online at PasoStay.com.
LEARN MORE