Grab that wicker basket and your favorite blanket: Here are 5 tips for a perfect Paso Wine tasting picnic.
Indulge in the perfect Paso Wine Tasting Picnic. From tips on packing the perfect lunch to enjoying made-to-order food at local wineries, indulge in exquisite wines, breathtaking scenery, and sunny skies. Explore top-notch restaurants for to-go options and don't forget to include locally produced olive oil in your spread. Complete your picnic with wines from over 300 wineries, whether you bring your own or purchase on-site. Plan your unforgettable picnic adventure in Paso Robles and create lasting memories in this idyllic wine destination.
Plan for the weather
Sunny skies ahead: Paso Robles is known for lots of warm and sunny days, so be sure to bring sunscreen and light clothing to stay comfortable. Kiamie Wine Cellars offers the perfect picnic setting with rolling hills, vineyards and panoramic views. Bring your own lunch and they'll provide the wine! The vineyard estate—located in a mountainous region of Paso's westside—is blessed with optimal climate conditions, including warm days and cool nights that contribute to the development of rich and complex wines. Most Paso Robles wineries boast their own outdoor seating areas to take advantage of the gorgeous scenery, so you can soak up every drop of ambiance. Whether you kick back on the lawn with a blanket, claim a picnic table with friends or relax into a lawn chair, you're sure to understand why summer is such a popular time to visit Paso. Note: A wide-brimmed sun hat usually comes in handy—and always bring a jacket for those cool, coastal breezes come sundown!
 Learn more about Kiamie Wine Cellars
Let the winery do the serving
Table for two: Paso Robles Wine Country is known for world-class wines, so it makes sense that many local wineries offer made-to-order food to pair with those awesome offerings. Yes, you read that last sentence correctly: many Paso wineries feature sit-down restaurants ready to serve you! The picnic comes to you at Villa San Juliette, a winery known for elegant Bordeaux wines and upscale, chef-driven dishes. The winery's seasonal menu includes fresh baked rosemary focaccia, charcuterie, caesar salad topped with either white anchovies, chicken or Tiger shrimp and a famous VSJ wine Country cheeseburger served with a side of fries. Of course, if you wanted to go a little fancier for a first date or anniversary, you could order up a plate of crab cakes, sumptuous duck fettuccine or the "frutti di mare," a romantic dish of fresh lobster tail, clams, mussels and white wine broth. Crazy to think you can get all this at a winery, right? Sometimes it's best not to question a good thing.
Grab some goodness to-go
Easy lunch: A hub of great cuisine, Paso Robles Wine Country is a foodie's dream. Don't miss our incredible restaurants, many of which offer top tier to-go grub. If you're heading to a winery that doesn't serve substantial food, simply stop over in downtown Paso along your route. Fish Gaucho offers up a fun twist on Mexican fare while Pappy McGregor's is all about elevated comfort food that really sticks to your gills. Looking for something lighter? Thomas Hill Organics is ground zero for farm fresh flavors reflecting the juiciest crops of the season. Note: downtown Paso Robles is also home to incredible, walkable wine tasting rooms. Swing by one of these convenient haunts while your food is being made. Two birds, one stone, right? Hayseed and Housdon is home to a way-cool tasting garage on Railroad Street, a stone's throw from downtown. If you're looking for a fabulous and easy food and wine experience, all you'd need to do is bring your to-go order to this welcoming hangout. Dogs are invited to partake in the picnic, too.
Learn more about Pappy McGregor's
Don't forget the wine
Wine or bust: This tip is pretty obvious, but it had to be said. A picnic in Paso Robles Wine Country wouldn't be complete without the wine! Visit one of our more than 250 wineries to select a few bottles to go or simply purchase a bottle at the tasting room and spread out with friends. Of course, you can always enjoy a wine flight at the tasting bar, but many wineries also offer wines by the glass, allowing you to take your party to a grassy area or picnic table.
When their kitchen is closed (Monday through Thursday) Lone Madrone is a great place to unwind with a picnic basket and a shared bottle.  These vineyard-specific wines are truly unique to Paso Robles, and the scenery—featuring stately oaks, native wildflowers and rolling hills—aint bad either! Cheers to a picnic made in heaven.
Essential extras
All the fixings: Besides some extra napkins and silverware, you'll also want to include Paso's lesser-known (but very delicious) local offerings in your picnic spread. Be sure to pack a small bottle of locally produced olive oil for dipping bread or drizzling over your dishes. You won't regret it! Pasolivo is a fabulous olive oil choice, featuring a range of Paso-grown EVOOs that lead from soft and buttery to intense and peppery. At Still Waters Vineyards, shop world class wines as well as estate-sourced olive oil selections. The best part? This pastoral winery provides a gorgeous backdrop for your next Paso picnic. With a large green meadow boasting acres of lush gardens, you'll want to linger till sunset. We think that's a great idea, too!
Learn more about Still Waters Vineyard
Conclusion
Paso Robles Wine Country offers the ideal setting for a memorable picnic experience. Whether you choose to bring your own spread or indulge in the culinary delights of the local wineries, you'll be treated to sunny skies, world-class wines, and breathtaking scenery. Don't forget to plan for the weather and bring sunscreen and light clothing for those warm and sunny days. Let the wineries take care of your dining experience, as many offer sit-down restaurants with delectable menus designed to complement their exceptional wines. And if you're looking for to-go options, downtown Paso Robles has a range of incredible restaurants where you can grab delicious food to enjoy during your picnic.
Of course, no picnic in Paso Robles Wine Country would be complete without the wine itself. Visit one of the 3000 wineries in the region to select a few bottles or indulge in a wine flight at the tasting bar. Many wineries also offer wines by the glass, allowing you to savor the flavors while relaxing in a picturesque setting. Add a touch of local flavor to your picnic spread with Paso Robles' locally produced olive oil, such as those offered by Pasolivo and Still Waters Vineyards. These flavorful oils are perfect for dipping bread or enhancing your dishes, adding an extra layer of enjoyment to your picnic experience.
So, grab your picnic essentials, soak up the ambiance of Paso Robles Wine Country, and create lasting memories with great food, exceptional wines, and stunning surroundings. Cheers to a perfect picnic in this enchanting destination!
FAQs
Are there any wineries in Paso Robles Wine Country that offer on-site dining options?
Yes! Many wineries in Paso Robles Wine Country have sit-down restaurants where you can enjoy made-to-order food paired with their exceptional wines. One such example is Villa San Juliette, known for its elegant Bordeaux wines and upscale, chef-driven dishes.
What are some recommended restaurants in downtown Paso Robles for grabbing food to-go before heading to a winery?
Downtown Paso Robles has a variety of incredible restaurants that offer delicious food to-go. Fish Gaucho offers a fun twist on Mexican fare, Pappy McGreagors specializes in elevated comfort food, and Thomas Hill Organics is known for farm-fresh flavors. These options allow you to grab a satisfying meal to enjoy during your wine country picnic.
Can I bring my own picnic lunch to Paso Robles wineries?
Absolutely! Many wineries in Paso Robles Wine Country welcome visitors to bring their own picnic lunches. Kiame Wines, for example, offers a picturesque picnic setting with rolling hills and vineyards where you can bring your own lunch, and they will provide the wine.
Can I purchase wine at the wineries to enjoy during my picnic?
Yes, definitely! Paso Robles Wine Country is home to more than 250 wineries, and most of them offer the option to purchase bottles of wine to enjoy during your picnic. You can also opt for a wine flight at the tasting bar or choose wines by the glass to accompany your picnic spread.
Are there any local products from Paso Robles that I should include in my picnic?
Absolutely! Paso Robles is known for its locally produced olive oil, which adds a delightful flavor to your picnic. Pasolivo and Still Waters Vineyards are two places where you can find excellent olive oil selections. Don't forget to pack a small bottle for dipping bread or drizzling over your dishes.
Photo by Kateryna Hliznitsova on Unsplash
Get Your Wine Country COUPONS click here!

 This blog is written by flavor fiend Hayley Cain. Follow her @flavorslo on Instagram or at astoldbyhayley.com.
CAN WE HELP YOU FIND?
DISTILLERIES TOURS & TRANSPORTATION
Looking for a place to stay in Paso Robles?
The Adelaide Inn is an iconic, locally-owned hotel known for its friendly staff and lush landscaping. With spacious rooms and a convenient location close to highway 101 and the event center – home of the California Mid-State Fair – this hotel is a great choice for most travelers. TOUR VIRTUALLY
Directions: speedfind.com/AdelaideInn
Majestically set among vineyards, olive groves and fruit baring orchards, the 20-acre Allegretto Vineyard Resort is a world unto itself, offering breathtaking settings that inspire and bring joy to all who choose this memorable wine country haven. Featuring 171 rooms and suites, on-site spa, grand ballroom, wine tasting room, and inspired culinary creations at Cello, the resort's full-service restaurant.
Directions: speedfind.com/Allegretto
Enjoy time with your loved ones with a glass of wine while taking in the panoramic views of ONX Wines Certified Sustainable Estate Vineyard. Clark House is a five-bedroom, four-bathroom home that is a perfect escape for up to ten people. All five bedrooms offer views of the vines and are impeccably furnished to help you unwind from an exciting day of exploring the Paso Robles area.
Directions: speedfind.com/ONX
The GENESEO INN is a luxury boutique hotel nestled in the rolling hills of Paso Robles wine country. Built of industrial shipping crates perched above the vines on CASS Winery's 145 acres of vineyard, the experience truly allows you to "breathe in the vineyard views."
Directions: speedfind.com/CassWinery
Hampton Inn & Suites Paso Robles is nestled in the Central Coast wine region, home to over 200 wineries, beautiful beaches, mountains and diverse attractions. Relax and revive in a comfortable guest room with all you need for a successful stay. You can count on Hampton to deliver value, consistency and service with a smile. We love having you here®
Directions: speedfind.com/PRWine.HamptonInn
Experience the pristine countryside of Paso Robles Wine Country at chic, sparkling clean Lekai Ranch. Lounge on the porch of your private suite and lose yourself in the tranquility and stunning views of the vineyards and oak studded hills beyond. This vacation rental is located just minutes from some of the most distinguished wineries and a premier olive oil estate, and only 15 minutes from downtown Paso Robles' restaurants, wineries and shopping. TAKE AN AERIAL TOUR
Directions: speedfind.com/Lekai | vrbo.com/701796
Oxford Suites Paso Robles You'll find that from our lobby, our on-site restaurant, to our meeting spaces, to our 101 spacious suites, every space is beautiful + functional as well as comfortable + chic.
Directions: speedfind.com/oxfordsuitespasorobles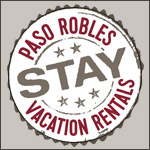 Paso Robles Vacation Rentals, also known as PasoStay.com assists guests in creating memories and wonderful experiences by providing quality privately owned vacation home rentals in Paso Robles Wine Country. With over 160 vacation homes to choose from, small enough for a couple's romantic getaway to large homes amongst local vineyards and olive orchards, PasoStay.com has the perfect option for you. Ask us how you save 15% on booking service fees! Feel free to call 805-423-9174 to talk with a local expert or book online at PasoStay.com.
The Farmhouse at Pelletiere Estate is a modern & luxurious wine country retreat. Privately situated & surrounded by our estate vineyards, located just off Hwy46w on a very accessible country road, nestled in the heart of Paso Robles' renowned Westside, just 6 miles to Paso's downtown square. The Farmhouse offers stunning vineyard views from every angle, as well as a stylish yet cozy house you're bound to fall in love with!
Directions: speedfind.com/Pelletiere
LEARN MORE