May means magic in colorful Paso Robles! During this vibrant month, Paso Robles Wine Country buzzes with enchanting activities and alluring possibilities.
Blessed with the perfect weather for outdoor adventures and al fresco wine tasting, there's much to enjoy under the bright blue Paso sky. Nestled in the heart of California's Central Coast, our charming wine region is renowned for world-class tasting rooms offering one-of-a-kind wine experiences. Ready to join us this May? Grab your favorite sun hat and your best bud. Away we go!
Table of Contents
Introduction
May is an extraordinary time to visit Paso Robles Wine Country. With its colorful landscapes and delightful weather, this vibrant month beckons wine enthusiasts and adventure seekers alike. From uncovering the secrets of Paso's terroir to indulging in local festivals, here are five ways to find May magic in Paso Wine Country.
Dig deeper
Tell-tale terroir: As birds chirp, bees buzz, and buds bloom, May is the perfect time to delve deeper into Paso's rich agricultural history. Take a deep dive into the diverse terroir of Paso Robles and discover how it all comes together to shape our exquisite wine offerings. At Bovino Vineyards, you can sample fantastic malbec, zinfandel, and petite sirah while admiring the bucolic 80+ acre property. Learn about the sixteen different grape varieties grown on the ranch and savor the flavors that the unique terroir imparts. Knowing where your wine is grown only deepens your appreciation of the entire tasting process. Trust us.
Learn more about Bovino Vineyards
Go feasting
Let the festivities commence: Paso Robles Wine Country comes alive in May with a myriad of exciting events and festivals. One notable event is the Paso Wine Fest, a time-honored tradition featuring more than 100 local wineries. Join the Paso Wine Fest Grand Tasting on Saturday, May 20, and indulge in select wine offerings from incredible purveyors like Austin Hope & Treana. Pair your favorite wines with lively music and delectable nibbles. While you're in town for the festival, make sure to visit enchanting Paso wineries like Sculpterra, where ethereal garden sculptures merge with top-tier wine experiences. During Wine Fest weekend, everything in Paso feels a little more magical.
Unleash your Inner Winemaker
Roll up your sleeves: Ever daydream about working as a winemaker? Well, your fantasy can come true this May! Embark on a hands-on winemaking adventure and delve into the art of blending (yes—anyone can do it!). At Donati Family Vineyard, experts will guide you through the process of selecting and combining different Paso Robles varietals to craft a unique blend that suits your palate. Learn all about the winery's blending techniques, sample delicious Donati Family Vineyard wines and unleash your winemaking creativity. The best part? You'll take home a bottle of your own personalized creation!
Learn more about Donati Family Vineyard
Sip and cycle
See Paso in a new light: Explore Paso Robles wineries by bike this May! Experience our famous wine country offerings at a leisurely pace when you embark on your journey by bicycle. The Kiler Canyon Loop is a beloved westside cycling route that rolls past plenty of awesome wineries—not to mention shady oak trees (a good thing during sunny Spring months). You'll want to stop at Écluse Wines along the route, sample French-inspired wines on their heavenly terrace, then get back to pedaling your way through scenic vineyards and meandering country roads. In Paso, it's easy to discover the joy of wine tasting amidst the serenity of nature—with the added bonus of staying active along the way.
Learn more about Kiler Canyon Loop
Taste off the beaten path
Taste like a local: Paso Robles Wine Country is chock full of hidden gems. So, why not taste like a local during your visit? May is a fabulous time to uncover laid back mom-and-pop tasting rooms all over the region, including some that may very well become your next favorite. Venture off the beaten path and explore the lesser-known (but equally remarkable) boutique wineries of the area: At Absolution Cellars you'll ​​find unique, artistic and authentic wines sourced from choice single-vineyard estates. Located on the Morro Bay Embarcadero, you'll sample some of Paso's finest offerings while overlooking the Pacific. Who knew, right? This eclectic tasting room is simply one of countless boutique wineries that you might not have heard of just yet—but totally should. This is Paso authenticity at its finest!
Conclusion
In the magical month of May, Paso Robles Wine Country reveals its vibrant and captivating charm. From exploring the diverse terroir to enjoying the festivities, there is something for everyone. Unleash your inner winemaker, experience the beauty of Paso by bike, and taste the authentic wines from hidden gems. Join us in Paso Robles Wine Country this May and create memories that will last a lifetime.
FAQs
Is May a good time to visit Paso Robles Wine Country?
Absolutely! May offers perfect weather for outdoor activities and wine tasting. The vibrant atmosphere and enchanting events make it a wonderful time to visit.
What can I expect at Paso Wine Fest?
Paso Wine Fest is a fantastic event featuring over 100 local wineries. You can enjoy a grand tasting experience with select wines, live music, and delicious food pairings.
Can anyone participate in winemaking at Donati Family Vineyard?
Yes! Donati Family Vineyard offers a hands-on winemaking adventure where experts guide you through the process of blending Paso Robles varietals. It's a unique experience for all wine enthusiasts.
Are there cycling routes in Paso Robles Wine Country?
Absolutely! The Kiler Canyon Loop is a popular cycling route that takes you past wineries and scenic landscapes. It's a great way to explore the region while enjoying the beauty of nature.
What are some hidden gems in Paso Robles Wine Country?
Paso Robles is home to many hidden gems. One of them is Absolution Cellars, where you can taste unique and authentic wines sourced from single-vineyard estates. Explore the lesser-known tasting rooms and discover your new favorites.
Get Your Wine Country COUPONS click here!

 This blog is written by flavor fiend Hayley Cain. Follow her @flavorslo on Instagram or at astoldbyhayley.com.
CAN WE HELP YOU FIND?
DISTILLERIES TOURS & TRANSPORTATION
Looking for a place to stay in Paso Robles?
The Adelaide Inn is an iconic, locally-owned hotel known for its friendly staff and lush landscaping. With spacious rooms and a convenient location close to highway 101 and the event center – home of the California Mid-State Fair – this hotel is a great choice for most travelers. TOUR VIRTUALLY
Directions: speedfind.com/AdelaideInn
Majestically set among vineyards, olive groves and fruit baring orchards, the 20-acre Allegretto Vineyard Resort is a world unto itself, offering breathtaking settings that inspire and bring joy to all who choose this memorable wine country haven. Featuring 171 rooms and suites, on-site spa, grand ballroom, wine tasting room, and inspired culinary creations at Cello, the resort's full-service restaurant.
Directions: speedfind.com/Allegretto
Enjoy time with your loved ones with a glass of wine while taking in the panoramic views of ONX Wines Certified Sustainable Estate Vineyard. Clark House is a five-bedroom, four-bathroom home that is a perfect escape for up to ten people. All five bedrooms offer views of the vines and are impeccably furnished to help you unwind from an exciting day of exploring the Paso Robles area.
Directions: speedfind.com/ONX
The GENESEO INN is a luxury boutique hotel nestled in the rolling hills of Paso Robles wine country. Built of industrial shipping crates perched above the vines on CASS Winery's 145 acres of vineyard, the experience truly allows you to "breathe in the vineyard views."
Directions: speedfind.com/CassWinery
Hampton Inn & Suites Paso Robles is nestled in the Central Coast wine region, home to over 200 wineries, beautiful beaches, mountains and diverse attractions. Relax and revive in a comfortable guest room with all you need for a successful stay. You can count on Hampton to deliver value, consistency and service with a smile. We love having you here®
Directions: speedfind.com/PRWine.HamptonInn
Experience the pristine countryside of Paso Robles Wine Country at chic, sparkling clean Lekai Ranch. Lounge on the porch of your private suite and lose yourself in the tranquility and stunning views of the vineyards and oak studded hills beyond. This vacation rental is located just minutes from some of the most distinguished wineries and a premier olive oil estate, and only 15 minutes from downtown Paso Robles' restaurants, wineries and shopping. TAKE AN AERIAL TOUR
Directions: speedfind.com/Lekai | vrbo.com/701796
Oxford Suites Paso Robles You'll find that from our lobby, our on-site restaurant, to our meeting spaces, to our 101 spacious suites, every space is beautiful + functional as well as comfortable + chic.
Directions: speedfind.com/oxfordsuitespasorobles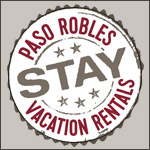 Paso Robles Vacation Rentals, also known as PasoStay.com assists guests in creating memories and wonderful experiences by providing quality privately owned vacation home rentals in Paso Robles Wine Country. With over 160 vacation homes to choose from, small enough for a couple's romantic getaway to large homes amongst local vineyards and olive orchards, PasoStay.com has the perfect option for you. Ask us how you save 15% on booking service fees! Feel free to call 805-423-9174 to talk with a local expert or book online at PasoStay.com.
The Farmhouse at Pelletiere Estate is a modern & luxurious wine country retreat. Privately situated & surrounded by our estate vineyards, located just off Hwy46w on a very accessible country road, nestled in the heart of Paso Robles' renowned Westside, just 6 miles to Paso's downtown square. The Farmhouse offers stunning vineyard views from every angle, as well as a stylish yet cozy house you're bound to fall in love with!
Directions: speedfind.com/Pelletiere
LEARN MORE