What's in a wine glass? More than you think! In Paso Robles Wine Country, visitors are encouraged to savor all aspects of our world class wine: aroma, taste, body and finish (our favorite part, too). But did you know that the shape and size of the wine glass can make an impact on how these characteristics hit your palate? With more than 250+ wine tasting rooms and thousands of bottles to choose from, there's no shortage of ways to taste in Paso. Deepen your appreciation when you pair the right glass to the right wine. Here's a few favorite Paso Robles varietals—and the stemware best suited to maximize their charms:
Cabernet Sauvignon
The challenge: This fabulous full-bodied red wine is, in a word, "extra." Thanks to ample sun and perfect growing conditions, Paso cab is often rich in balanced tannins and flavors of deep fruit, black currant, tobacco and leather. With so much going on, how does a humble taster experience the full range of sensory gifts that Paso Cab has become famous for?
The stemware: Like royalty, the glass you choose should tower above all others. Our iconic cabernet sauvignon is best served in a large, tall glass with a wide bowl to allow for ample aeration and the release of its awesome aromas.
The pour: Villa San Juliette's 2019 VSJ Cabernet Sauvignon Reserve is every cab you've ever dreamed of, all wrapped up in luxurious Paso Robles appeal. A vivid red-fruit offering with a robust structure and aromas of Rainier cherry, clove and rhubarb (plus some spicy undertones of whiskey barrel and cinnamon), you'll be drinking this one far into 2035. Yes, we do recommend you buy two: one for now, one for later.
Zinfandel
The challenge: A fun-loving medium-to-full-bodied red, zinfandel is known for its jammy fruit flavors and characteristic spiciness. How to get all that excitement onto your palate in one sexy swirl?
The stemware: When it comes to zinfandel, a large red wine glass with a wide bowl and a tapered rim can help to enhance all that layered, spicy brilliance.
The pour: The Riboli Family of San Antonio Winery knows a thing or two about crafting high quality zins. Sip the winery's 2018 Opaque Zinfandel for a primer on the varietal (and to understand why Paso zinfandel continues to enjoy a cult-like following). Utilizing estate-grown fruit cultivated on a steep, rocky hillside of dry shale soil, head-trained zinfandel vines impart a distinct minerality you just can't fake. After aging in French oak barrels for 18 months, this zin reveals ripe flavors of blackberry and black cherry exuberance. It just goes to show: In the end, the struggle is well worth the wine. 
Syrah
The challenge: Syrah is infamous in Paso Robles Wine Country for its unbridled richness. Deep, dark and dangerous, this inky red beast is full-bodied and saturated, with notes of dark fruit, pepper and spice. How does one accommodate this larger-than-life variety?
The stemware: An ample, wide-bowled glass with a slightly tapered rim is best suited for syrah, which allows for proper aeration and release of its complex and peppery aromas. Remember: The wider the bowl, the better!
The pour: Caelesta Wines, Vineyard and Truffiere's 2018 Denner Vineyard Syrah begins with black tea, bright fruit and black currant swagger. Fig, peppercorn and blackberry carry through the supple, polished tannins that slide to a silky finish. Needless to say: this wine comes off strong and needs a little time to open up over an evening of food and conversation. See? No need to be afraid of the big, bold wolf.
Chardonnay
The challenge: Chardonnay can be a lot of things, depending on how it's made: rich and round; austere and acidic. So, do you need multiple glasses to tackle this varietal's multiple personalities?
The stemware: Luckily, all you really need for chardonnay is a medium-sized, wide-bowled glass, which will enhance the wine's luxurious aromas while allowing for proper aeration. Whew!
The pour: Harmony Cellars winemaker Chuck Mulligan barrel ferments his 2021 chardonnay, then allows the new wine to gain complexity by extended aging with the yeast (called sur lie). Word on the street: a portion of the wine is allowed to go through malolactic fermentation, adding a double layer of complexity and the signature sweet, buttery note and creamy texture that has made Harmony Cellars chardonnay famous. Butter us up, why don't you! 
Viognier
The challenge: A medium to full-bodied Rhone white, Viognier is known for its delicate floral aromas and juicy flavors of apricot, peach, and honeysuckle. All of this romance, however, can be overpowered with a way-too-wide glass.
The stemware: A smaller white wine glass with a tapered rim can help to concentrate viognier's springlike aromas and direct the wine to the front of the mouth, where the wine's sweetness can truly shine.
The pour: Dubost's NV Homestead Wine sounds more folksy than it tastes. This elegant white blend is a breath of fresh Paso breeze featuring 40 percent viognier, 20 percent roussanne, 20 percent chardonnay and another 20 percent grenache blanc. Dubost's tasting room is nestled among rural, rolling hills and a tapestry of wildflowers. Imagine you're strolling casually through the vineyard at dusk, honeysuckle on the wind. Yeah, it's a lot like that (time to plan your next trip to Paso). 
Get Your Wine Country COUPONS click here!

 This blog is written by flavor fiend Hayley Cain. Follow her @flavorslo on Instagram or at astoldbyhayley.com.
CAN WE HELP YOU FIND?
DISTILLERIES TOURS & TRANSPORTATION
Looking for a place to stay in Paso Robles?
The Adelaide Inn is an iconic, locally-owned hotel known for its friendly staff and lush landscaping. With spacious rooms and a convenient location close to highway 101 and the event center – home of the California Mid-State Fair – this hotel is a great choice for most travelers. TOUR VIRTUALLY
Directions: speedfind.com/AdelaideInn
Majestically set among vineyards, olive groves and fruit baring orchards, the 20-acre Allegretto Vineyard Resort is a world unto itself, offering breathtaking settings that inspire and bring joy to all who choose this memorable wine country haven. Featuring 171 rooms and suites, on-site spa, grand ballroom, wine tasting room, and inspired culinary creations at Cello, the resort's full-service restaurant.
Directions: speedfind.com/Allegretto
Enjoy time with your loved ones with a glass of wine while taking in the panoramic views of ONX Wines Certified Sustainable Estate Vineyard. Clark House is a five-bedroom, four-bathroom home that is a perfect escape for up to ten people. All five bedrooms offer views of the vines and are impeccably furnished to help you unwind from an exciting day of exploring the Paso Robles area.
Directions: speedfind.com/ONX
The GENESEO INN is a luxury boutique hotel nestled in the rolling hills of Paso Robles wine country. Built of industrial shipping crates perched above the vines on CASS Winery's 145 acres of vineyard, the experience truly allows you to "breathe in the vineyard views."
Directions: speedfind.com/CassWinery
Hampton Inn & Suites Paso Robles is nestled in the Central Coast wine region, home to over 200 wineries, beautiful beaches, mountains and diverse attractions. Relax and revive in a comfortable guest room with all you need for a successful stay. You can count on Hampton to deliver value, consistency and service with a smile. We love having you here®
Directions: speedfind.com/PRWine.HamptonInn
Experience the pristine countryside of Paso Robles Wine Country at chic, sparkling clean Lekai Ranch. Lounge on the porch of your private suite and lose yourself in the tranquility and stunning views of the vineyards and oak studded hills beyond. This vacation rental is located just minutes from some of the most distinguished wineries and a premier olive oil estate, and only 15 minutes from downtown Paso Robles' restaurants, wineries and shopping. TAKE AN AERIAL TOUR
Directions: speedfind.com/Lekai | vrbo.com/701796
Oxford Suites Paso Robles You'll find that from our lobby, our on-site restaurant, to our meeting spaces, to our 101 spacious suites, every space is beautiful + functional as well as comfortable + chic.
Directions: speedfind.com/oxfordsuitespasorobles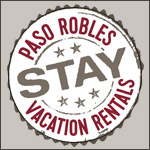 Paso Robles Vacation Rentals, also known as PasoStay.com assists guests in creating memories and wonderful experiences by providing quality privately owned vacation home rentals in Paso Robles Wine Country. With over 160 vacation homes to choose from, small enough for a couple's romantic getaway to large homes amongst local vineyards and olive orchards, PasoStay.com has the perfect option for you. Ask us how you save 15% on booking service fees! Feel free to call 805-423-9174 to talk with a local expert or book online at PasoStay.com.
The Farmhouse at Pelletiere Estate is a modern & luxurious wine country retreat. Privately situated & surrounded by our estate vineyards, located just off Hwy46w on a very accessible country road, nestled in the heart of Paso Robles' renowned Westside, just 6 miles to Paso's downtown square. The Farmhouse offers stunning vineyard views from every angle, as well as a stylish yet cozy house you're bound to fall in love with!
Directions: speedfind.com/Pelletiere
LEARN MORE