Day dreaming about taking a romantic wine tasting trip to France? Try Paso Robles Wine Country instead! Nestled on the California Central Coast, Paso Robles Wine Country shares much in common with world-renowned French wine regions. From the diverse terroir to the artisanal production methods and celebration of food and wine culture, Paso Robles Wine Country is a must-visit destination for any wine lover looking to experience a taste of Europe in California. Ready to explore our je ne sais quoi? Save some dough and savor a worldly wine tasting experience all in one easily-accessible destination. Allow us to be your tour guide:
Terroir
French from the ground up: Paso Robles winemakers throw the term "terroir" around quite a bit—and not just to sound fancy. Terroir is actually a French term that refers to the natural environment, including soil, climate and topography (all of which contribute to the particular character of a given wine). At Brecon Estate, the terroir of Paso Robles is reflected in every sip. The vineyards are planted at varying elevations and cooled by the westside's coastal breezes. Meanwhile, the soil, a mixture of clay and limestone, adds to the wine's complex and elegant appeal. It's no surprise that Paso Robles Wine Country is known for its terroir, boasting more than a dozen different soil types and varying microclimates. Plus—and this is common knowledge to locals and wine aficionados—the overall conditions in Paso Robles are actually quite similar to that of Bordeaux France! 
Grape Varietals
Grape escape: When a French vacation is out of the picture, grab a Paso wine instead. Known worldwide for producing top tier cabernet sauvignon, Paso Robles Wine Country also offers a wide range of grape varietals popular in Southern France, including award-winning Rhône offerings. Not only are these grapes an integral part of French winemaking history, they have become synonymous with Paso Robles Wine Country. Sextant Wine's GSM—a French-inspired blend of grenache, syrah and mourvedre—is the perfect way to sample a bit of Europe in Paso. Why is this Rhône classic très magical? The combination of bright grenache, peppery syrah and earthy mourvedre speaks for itself. In the mood for a delicate white instead? No worries. Try the tasting room's elegant viognier, a Rhône rock star known for its flirty floral aromas and full-bodied texture. 
Winemaking Techniques
Old world meets new ideas: In Paso Robles Wine Country, we borrow from French winemaking without losing our California identity. In fact, Paso Robles Wine Country is all about blending traditional Old World techniques with forward-thinking ideas. The result? Complex and nuanced wines worthy of a European stamp of approval. Boutique winery Kiamie Wine Cellars utilizes hand-harvesting to ensure that only quality grapes make it into their small-lot wines, not unlike the winemakers of Bordeaux. This attention to detail, coupled with fermentation techniques like cold soaking (to extract color, flavor, and tannins from grape skins), add to the overall authenticity of their offerings. At Kiamie Wine Cellars, reds are aged in a combination of new and used French oak barrels, adding subtle flavors and aromas you just can't fake. I mean, is there anything more French than French oak?
Artisanal Production
Artful to the last drop: Everyone claims to be "artisanal" these days, but Paso Robles Wine Country is home to small, family-owned wineries that produce limited wine quantities (aka artisanal to the max). Similar to the winemaking culture in France, many Paso Robles wineries are mom and pop shops that champion a "quality over quantity" approach. Lone Madrone in Paso Robles exemplifies this ethos, sourcing grapes from unique vineyards throughout the entire Central Coast region. The results are wines that reflect the terroir and unique characteristics of each vineyard—a very French vibe, indeed. Lone Madrone also experiments with different grape varietals and winemaking styles, an homage to the art of revolution. It's no wonder Lone Madrone has earned a reputation as one of the top actually artisanal wineries in all the land, and owner/winemaker Neil Collins, has been chosen as wine industry person of the year twice by his peers!
Culinary Culture
Bon appetit: There can be no wine without food in France, or for that matter Italy. Similarly, Paso Robles Wine Country is all about serving up delightful culinary experiences that compliment each wine offering perfectly. At Italian inspired Pelletiere Estate, you can enjoy special pairings that shine with European appeal: this Spring and Summer, stop by the tasting room to partake in a four-part educational tasting series pairing new and Old World style wines with delicious gourmet charcuterie (select pairing events are held May 6, Aug 19 and Sept 30). Hungry for more? Slurp up all the goodness at a May 17 Pasta Cooking Class and Dinner with hands-on instruction taught by cookbook author Brigit Binns. The event serves up fabulous pasta creations and sumptuous sauces galore, so be sure to come with your full appetite. Guests are in for an epic five-course meal paired with incredible Italian varieties! What can we say? When you visit Pelletiere's rustic-chic farmhouse tucked among the vines, you're liable to leave fed.
Virtually Tour Pelletiere Estate!
Get Your Wine Country COUPONS click here!

 This blog is written by flavor fiend Hayley Cain. Follow her @flavorslo on Instagram or at astoldbyhayley.com.
CAN WE HELP YOU FIND?
DISTILLERIES TOURS & TRANSPORTATION
Looking for a place to stay in Paso Robles?
The Adelaide Inn is an iconic, locally-owned hotel known for its friendly staff and lush landscaping. With spacious rooms and a convenient location close to highway 101 and the event center – home of the California Mid-State Fair – this hotel is a great choice for most travelers. TOUR VIRTUALLY
Directions: speedfind.com/AdelaideInn
Majestically set among vineyards, olive groves and fruit baring orchards, the 20-acre Allegretto Vineyard Resort is a world unto itself, offering breathtaking settings that inspire and bring joy to all who choose this memorable wine country haven. Featuring 171 rooms and suites, on-site spa, grand ballroom, wine tasting room, and inspired culinary creations at Cello, the resort's full-service restaurant.
Directions: speedfind.com/Allegretto
Enjoy time with your loved ones with a glass of wine while taking in the panoramic views of ONX Wines Certified Sustainable Estate Vineyard. Clark House is a five-bedroom, four-bathroom home that is a perfect escape for up to ten people. All five bedrooms offer views of the vines and are impeccably furnished to help you unwind from an exciting day of exploring the Paso Robles area.
Directions: speedfind.com/ONX
The GENESEO INN is a luxury boutique hotel nestled in the rolling hills of Paso Robles wine country. Built of industrial shipping crates perched above the vines on CASS Winery's 145 acres of vineyard, the experience truly allows you to "breathe in the vineyard views."
Directions: speedfind.com/CassWinery
Hampton Inn & Suites Paso Robles is nestled in the Central Coast wine region, home to over 200 wineries, beautiful beaches, mountains and diverse attractions. Relax and revive in a comfortable guest room with all you need for a successful stay. You can count on Hampton to deliver value, consistency and service with a smile. We love having you here®
Directions: speedfind.com/PRWine.HamptonInn
Experience the pristine countryside of Paso Robles Wine Country at chic, sparkling clean Lekai Ranch. Lounge on the porch of your private suite and lose yourself in the tranquility and stunning views of the vineyards and oak studded hills beyond. This vacation rental is located just minutes from some of the most distinguished wineries and a premier olive oil estate, and only 15 minutes from downtown Paso Robles' restaurants, wineries and shopping. TAKE AN AERIAL TOUR
Directions: speedfind.com/Lekai | vrbo.com/701796
Oxford Suites Paso Robles You'll find that from our lobby, our on-site restaurant, to our meeting spaces, to our 101 spacious suites, every space is beautiful + functional as well as comfortable + chic.
Directions: speedfind.com/oxfordsuitespasorobles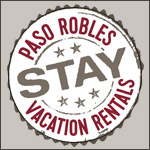 Paso Robles Vacation Rentals, also known as PasoStay.com assists guests in creating memories and wonderful experiences by providing quality privately owned vacation home rentals in Paso Robles Wine Country. With over 160 vacation homes to choose from, small enough for a couple's romantic getaway to large homes amongst local vineyards and olive orchards, PasoStay.com has the perfect option for you. Ask us how you save 15% on booking service fees! Feel free to call 805-423-9174 to talk with a local expert or book online at PasoStay.com.
The Farmhouse at Pelletiere Estate is a modern & luxurious wine country retreat. Privately situated & surrounded by our estate vineyards, located just off Hwy46w on a very accessible country road, nestled in the heart of Paso Robles' renowned Westside, just 6 miles to Paso's downtown square. The Farmhouse offers stunning vineyard views from every angle, as well as a stylish yet cozy house you're bound to fall in love with!
Directions: speedfind.com/Pelletiere
LEARN MORE