Protecting a wine cellar is essential to ensure your wine investment is kept safe and preserved for years. After all, not only have you made a substantial investment, but you'll want to ensure that your wines are kept in the ideal environment so that when you have a unique (or not-so-special) occasion and pop that cork, you'll pour a beautifully aged wine.
Nothing is more disappointing than the expectation of drinking a fine wine you've cellared, only to discover it is off. This "wine fault" or "defect" is an unpleasant characteristic of a wine that can result from poor storage conditions.
Here are some best practices to consider:
Control temperature and humidity: Maintaining a constant temperature between 45 and 65 degrees Fahrenheit and a humidity level between 50 and 70 percent is ideal for wine storage. Use a temperature and humidity control system to monitor and adjust the environment inside the cellar.

Use appropriate lighting: Light can damage wine by causing premature aging or oxidization. Use low-level or UV-filtered lighting inside the cellar to prevent this.
Install a security system: Protect your wine cellar with an alarm system, security cameras, and secure locks. Make sure that only authorized individuals have access to the cellar.
Choose appropriate shelving and racks: Use sturdy and well-constructed shelves and racks to store your wine bottles. Avoid using wire racks, as they can scratch or damage wine labels.
Organize your collection: Organize your wine collection by type, region, or vintage to make it easier to find and manage your inventory. Use a wine management system to track your wines and their location within the cellar.
Regularly inspect and maintain: Inspect your cellar regularly for signs of damage, leaks, or pests. Maintain proper cleaning practices to prevent the buildup of mold or other harmful contaminants.
By following these best practices, you can ensure that your wine cellar is appropriately protected and maintained, preserving the quality of your wine collection for years to come. 
– Lauren Lekai PasoRoblesWineries.net
Read more about "Tips on How to Best Cellar your Wine" on Porch.com
Get Your Wine Country COUPONS click here!
CAN WE HELP YOU FIND?
DISTILLERIES TOURS & TRANSPORTATION
Looking for a place to stay in Paso Robles?
The Adelaide Inn is an iconic, locally-owned hotel known for its friendly staff and lush landscaping. With spacious rooms and a convenient location close to highway 101 and the event center – home of the California Mid-State Fair – this hotel is a great choice for most travelers. TOUR VIRTUALLY
Directions: speedfind.com/AdelaideInn
Majestically set among vineyards, olive groves and fruit baring orchards, the 20-acre Allegretto Vineyard Resort is a world unto itself, offering breathtaking settings that inspire and bring joy to all who choose this memorable wine country haven. Featuring 171 rooms and suites, on-site spa, grand ballroom, wine tasting room, and inspired culinary creations at Cello, the resort's full-service restaurant.
Directions: speedfind.com/Allegretto
Enjoy time with your loved ones with a glass of wine while taking in the panoramic views of ONX Wines Certified Sustainable Estate Vineyard. Clark House is a five-bedroom, four-bathroom home that is a perfect escape for up to ten people. All five bedrooms offer views of the vines and are impeccably furnished to help you unwind from an exciting day of exploring the Paso Robles area.
Directions: speedfind.com/ONX
The GENESEO INN is a luxury boutique hotel nestled in the rolling hills of Paso Robles wine country. Built of industrial shipping crates perched above the vines on CASS Winery's 145 acres of vineyard, the experience truly allows you to "breathe in the vineyard views."
Directions: speedfind.com/CassWinery
Hampton Inn & Suites Paso Robles is nestled in the Central Coast wine region, home to over 200 wineries, beautiful beaches, mountains and diverse attractions. Relax and revive in a comfortable guest room with all you need for a successful stay. You can count on Hampton to deliver value, consistency and service with a smile. We love having you here®
Directions: speedfind.com/PRWine.HamptonInn
Experience the pristine countryside of Paso Robles Wine Country at chic, sparkling clean Lekai Ranch. Lounge on the porch of your private suite and lose yourself in the tranquility and stunning views of the vineyards and oak studded hills beyond. This vacation rental is located just minutes from some of the most distinguished wineries and a premier olive oil estate, and only 15 minutes from downtown Paso Robles' restaurants, wineries and shopping. TAKE AN AERIAL TOUR
Directions: speedfind.com/Lekai | vrbo.com/701796
Oxford Suites Paso Robles You'll find that from our lobby, our on-site restaurant, to our meeting spaces, to our 101 spacious suites, every space is beautiful + functional as well as comfortable + chic.
Directions: speedfind.com/oxfordsuitespasorobles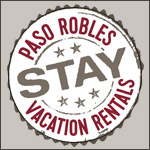 Paso Robles Vacation Rentals, also known as PasoStay.com assists guests in creating memories and wonderful experiences by providing quality privately owned vacation home rentals in Paso Robles Wine Country. With over 160 vacation homes to choose from, small enough for a couple's romantic getaway to large homes amongst local vineyards and olive orchards, PasoStay.com has the perfect option for you. Ask us how you save 15% on booking service fees! Feel free to call 805-423-9174 to talk with a local expert or book online at PasoStay.com.
The Farmhouse at Pelletiere Estate is a modern & luxurious wine country retreat. Privately situated & surrounded by our estate vineyards, located just off Hwy46w on a very accessible country road, nestled in the heart of Paso Robles' renowned Westside, just 6 miles to Paso's downtown square. The Farmhouse offers stunning vineyard views from every angle, as well as a stylish yet cozy house you're bound to fall in love with!
Directions: speedfind.com/Pelletiere
LEARN MORE