By 2019, you'd think we would finally have found a way to create flying cars—or at least self-cleaning cars, build robot maids a la the Jetsons, or, at the very least, find a way to ensure the survival of leftover sushi. Well, we can't have it all, but we can totally start the new year off with a whole new set of chill wine gadgets! Pull on your comfiest online shopping pajamas and prepare to surf your way to checkout! These 5 wine helpers are not only super convenient and stylish, they are befitting of an ultra-modern 2019 seal of approval. Of course, a great wine gadget is only as great as the bottle it bolsters. For that reason, we've included 5 fresh Paso Robles white wine selections for entertaining, sipping, and celebrating.
1. A wine chilling tote
Say goodbye to the days of bulky, ugly coolers. Who wants to lug one of those boxy behemoths to a picture-perfect picnic? These wine totes are not only functional—they're far more attractive than many of our current purses and man bags. Elegant designs and pops of bright color? A removable, padded shoulder strap with custom hardware and the ability to carry up to 24 cans or two wine bottles? Sold.
Tote this: Keep your wine chilled on the go and be the most popular person on the bocce ball court. Try  ONX Winery's 2014 Post Script Dessert Wine, made with sauvignon blanc and viognier.
Mapping and Directions to ONX Wines Tasting Room & Winery
2. A truly modern wine guide
It's 2019. The new wine writer is humorous, approachable, and laid back. Ditch the stuffy tomes filled with hard-to-pronounce descriptors. Say hello to a fresh, fun, and unpretentious guide to wine from Marissa A. Ross, official wine columnist for Bon Appétit. You'll want to be her BFF, but you'll settle for picking her oh-so-beautiful brain.
Learn the easy way: As you flip through these pages, you'll be tempted to test and try different varietals yourself. Popular Rhone whites are on every wine writer's lips. We recommend Kiamie's 2017 White Kuvee, a Rhone influenced white.
Mapping and Directions to Kiamie Wine Cellars
3. A wine rack fit for your fridge
Why has no one thought of this before? This simple gadget will transform the way you store your weekly whites. This clear Fridge Binz Wine Holder is stackable, allowing you to use the vertical space in your refrigerator more efficiently (this most certainly sparks joy). The holder rests securely on any wire or glass refrigerator shelf and is perfect for storing and organizing wine or water bottles, so you can cook (and sip) with ease.
Make room for more: If you're going to pop a few bottles into your fridge for a dinner party later in the week, you'll want to check out this crowd-pleasing  Allegretto 2015 Chardonnay.
Mapping and Directions to Allegretto
4. A no-fuss, futuristic opener
Yes, there's a million wine gadget lists with a million wine openers on them (yawn), but does your electric wine opener remove corks at the touch of a button and chill your wine? The Oster Rechargeable and Cordless Wine Opener with Chiller does just that, and it might even massage your feet, too! Open 30 bottles on a single charge, which means entertaining is now a breeze. The thermal stainless steel wine cooler keeps your whites cold for hours (and doesn't look too bad on the counter, either).
Wine and chill: You'll want to open this wine immediately, and good thing, you can. Clavo Cellars 2012 Compadre Blanco is the perfect white table wine. Always keep within reach.
Mapping and Directions to Clavo Cellars
5. Glass refreshing pearls
No, your wine isn't running for office in sensible pumps and a blazer. You've heard of boring old ice…now get ready for the sexier version: wine pearls! Rather than drag out the ice bucket whenever you'd like to enjoy a little vino, this set of four chillers allow you to enjoy wines by the glass at their ideal sipping temps. Simply freeze this set of four stainless steel orbs, pour a glass, then drop a few into your wine. Like ice cubes, the more "pearls" you use, the more frosty your beverage will get. The sophisticated, oval shape of the chillers is ideal for round-bottomed glasses, since the glimmering spheres will pile up elegantly in the bowl after they're plinked in one at a time. The best part? These pearls never dissolve, leaving you with a sad watery wine.
This wine deserves jewelry: Wine pearls will keep your 2017 Harmony Cellars Vibrante blend fresh. Good thing too, as you'd never want to dilute this tank-fermented, food-friendly Chardonnay with melting tap water!
Mapping and Directions to Harmony Cellars
---

 This blog was written by Hayley Thomas Cain, food and wine writer for SLO New Times and PasoRoblesWineries.net. You can reach her at hthomas@newtimesslo.com or follow her on instagram @flavorslo.
---
---
Looking for a place to stay in Paso Robles?
The Adelaide Inn is an iconic, lo
cally owned hotel known for its friendly staff and lush landscaping. With spacious rooms and a convenient location close to highway 101 and the event center – home of the California Mid-State Fair – this hotel is a great choice for most travelers.
Directions: speedfind.com/AdelaideInn
Majestically set among vineyards, olive groves and fruit baring orchards, the 20-acre Allegretto Vineyard Resort is a world unto itself, offering breathtaking settings that inspire and bring joy to all who choose this memorable wine country haven. Featuring 171 rooms and suites, on-site spa, grand ballroom, wine tasting room, and inspired culinary creations at Cello, the resort's full service restaurant.
Directions: speedfind.com/Allegretto
La Bellasera Hotel & Suites is an elegant boutique hotel nestled in the heart of Central Coast Wine Country. Influenced by Mediterranean and Italian architecture, the luxurious accommodations reflect the aged sophistication of the Central Coast region and the relaxed nature of the California countryside.
Directions: speedfind.com/LaBellasera
Hampton Inn & Suites Paso Robles is nestled in the Central Coast wine region, home to over 200 wineries, beautiful beaches, mountains and diverse attractions. Relax and revive in a comfortable guest room with all you need for a successful stay. You can count on Hampton to deliver value, consistency and service with a smile. We love having you here®
Directions: speedfind.com/PRWine.HamptonInn
Experience the pristine countryside of Paso Robles Wine Country at Lekai Ranch. Lounge on the porch of your private suite and lose yourself in the tranquility and stunning views of the vineyards and oak studded hills beyond. This vacation rental is located just minutes from some of the most distinguished wineries and a premier olive oil estate, and only 15 minutes from downtown Paso Robles' restaurants, wineries and shopping.
Directions: speedfind.com/Lekai | vrbo.com/701796
Enjoy the elegance, style and natural beauty of California's Central Coast at the JUST Inn®. Surrounded by vineyards, our JUST Inn Suites offer luxurious appointments like fireplaces, Tempur-Pedic®mattresses, Frette linens, hydro-spa tubs, and range in size from 600–1,200 square feet. An overnight stay includes breakfast and a tour of the winery and caves.
Directions:  speedfind.com/JustinWine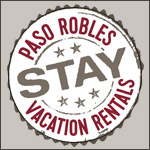 Paso Robles Vacation Rentals, also known as PasoStay.com assists guests in creating memories and wonderful experiences by providing quality privately owned vacation home rentals in Paso Robles Wine Country. With over 90 vacation homes to choose from, small enough for a couple's romantic getaway to large homes amongst local vineyards and olive orchards, PasoStay.com has the perfect option for you. Feel free to call 805-423-9174 to talk with a local expert or book online at PasoStay.com.
Directions:  speedfind.com/PasoRoblesVacationRentals
LEARN MORE