Cats seem to know something we don't. They're always curling up in the perfect spot for maximum pleasure (right where the sun is warmest, or in your cozy lap). They know how to get fed when they're hungry (brushing against your leg at just the right moment with those syrupy-sweet eyes). Plus, cats are excellent at self care, napping, exploring, and savoring life. Here's 5 purrrrfect wine tasting tips your cat would impart upon you if, she could in fact, say more than "yeow."
Relax
Take a cat nap. You'll feel better.
When you check in to a cozy vacation rental or hotel in Paso Robles Wine Country, catching a few z's—or lounging around in the sun—has never been easier. Choose a cottage nestled in the vines or go for a room closer to downtown. Either way, you'll be in pouncing distance of world class wine. Cozy, casual cat naps? Adelaide Inn or the Hampton Inn. Fancy Feasting and Finery? Allegretto Vineyard Resort.
In search of Romance and Belly Rubs? Try JUST Inn or La Bellasera Hotel & Suites. Want to explore the vineyard in between snoozes? These hideaways are almost as appealing as the best cat nip Briarwood Cottage at ONX Estate Vineyard, Eden House at Carriage Vineyards or The Inn at Opolo, Peachy Canyon Guest Inn or Pelletiere Farmhouse. Nap on.
Mapping and Directions to Adelaide Inn
Mapping and Directions to Hampton Inn
Mapping and Directions to Allegretto Vineyard Resort
Mapping and Directions to JUST Inn
Mapping and Directions to La Bellasera Hotel & Suites
Mapping and Directions to Briarwood Cottage
Mapping and Directions to Eden House at Carriage Vineyards
Mapping and Directions to the Inn at Opolo
Mapping and Directions to Pelletiere Farmhouse
Play
We really love laser pointers, but that's just us! Perhaps you're interested in taking part in an arts and craft night, dancing to live music, or getting in on a good natured game of corn hole. However you define "play," you'll find it in Paso Robles Wine Country. Here, you can raise a glass and a bocce ball all in the same afternoon. Parrish Family Vineyard tops off brilliant wine tasting with a putting green, and corn hole. Chronic Cellars is home to billiards tables and corn hole, and Vines on the Marycrest, Tooth & Nail and Rava Wines are a rocking live music venue. Take your pick! Now, where did that bouncing ball of light go?
Mapping and Directions to Parrish Family Vineyard
Mapping and Directions to Chronic Cellars
Mapping and Directions to Vines On The Marycrest
Mapping and Directions to Tooth & Nail
Mapping and Directions to Rava Wines
Get Fed
But first, Meow Mix! Or, the human equivalent: a bowl of marinated olives, local EVOO, and nuts! Savor a small plate, shared cheese board, or multi-course meal in Paso Robles Wine Country. Thomas Hill Organics is known for its farm-to-table fare paired with local wines, Cass Winery serves burgers and salads right in its own tasting room, Fish Gaucho serves up our favorite (seafood!) alongside margs and wine, and Pappy McGregor's has the casual vibe of your favorite Irish pub with all the flavor of a wine country dining destination. Still, we really do recommend the fish! Did we mention the fish is great here?
Mapping and Directions to Thomas Hill Organics
Mapping and Directions to Cass Winery
Mapping and Directions to Fish Gaucho
Mapping and Directions to Pappy McGregor's
Indoor or outdoor, you decide
Whether you're a fancy indoor cat or a rough-and-tumble outdoor cat, Paso Robles wineries have you covered. Perhaps you prefer to hang out in a plush tasting room where your paws won't touch the dirt, or you're more into getting out and into the vineyard where the birds are chirping and sun is shining. Sextant Winery offers up a great romp through the historic townsite of Edna Valley and a chic tasting room on a hillside in Paso, while Lusso Della Terra Cellars offers up a more loungy vibe. Indoor or outdoor, your experience will be out of this world. Keep your collar on, just in case you get lost out there.
Mapping and Directions to Sextant Edna Valley
Mapping and Directions to Sextant Winery
Mapping and Directions to Lusso Della Terra
Stay Adventurous
You never know what's inside that grocery bag until you stick your head inside to find out! Translation: Don't get stuck in a rut. Try new varietals, check out new tasting rooms, and explore new offerings the moment they're released. Get to know your own tastes better. In Paso Robles, there's always something fresh to enjoy, including totally unique wine experiences you've never even thought of before. Case in point: Hearst Winery hosts a Water to Wine Kayak Tour in San Simeon followed by lunch (make an appointment, 3 days notice preferred)! Now, we aren't too fond of water, but as long as our hair doesn't get wet, we could be persuaded.
Mapping and Directions to Hearst Winery
---

 This blog was written by Hayley Thomas Cain, food and wine writer for SLO New Times and PasoRoblesWineries.net. You can reach her at hthomas@newtimesslo.com or follow her on instagram @flavorslo.
---
---
Looking for a place to stay in Paso Robles?
The Adelaide Inn is an iconic, lo
cally owned hotel known for its friendly staff and lush landscaping. With spacious rooms and a convenient location close to highway 101 and the event center – home of the California Mid-State Fair – this hotel is a great choice for most travelers.
Directions: speedfind.com/AdelaideInn
Majestically set among vineyards, olive groves and fruit baring orchards, the 20-acre Allegretto Vineyard Resort is a world unto itself, offering breathtaking settings that inspire and bring joy to all who choose this memorable wine country haven. Featuring 171 rooms and suites, on-site spa, grand ballroom, wine tasting room, and inspired culinary creations at Cello, the resort's full service restaurant.
Directions: speedfind.com/Allegretto
La Bellasera Hotel & Suites is an elegant boutique hotel nestled in the heart of Central Coast Wine Country. Influenced by Mediterranean and Italian architecture, the luxurious accommodations reflect the aged sophistication of the Central Coast region and the relaxed nature of the California countryside.
Directions: speedfind.com/LaBellasera
Hampton Inn & Suites Paso Robles is nestled in the Central Coast wine region, home to over 200 wineries, beautiful beaches, mountains and diverse attractions. Relax and revive in a comfortable guest room with all you need for a successful stay. You can count on Hampton to deliver value, consistency and service with a smile. We love having you here®
Directions: speedfind.com/PRWine.HamptonInn
Experience the pristine countryside of Paso Robles Wine Country at Lekai Ranch. Lounge on the porch of your private suite and lose yourself in the tranquility and stunning views of the vineyards and oak studded hills beyond. This vacation rental is located just minutes from some of the most distinguished wineries and a premier olive oil estate, and only 15 minutes from downtown Paso Robles' restaurants, wineries and shopping.
Directions: speedfind.com/Lekai | vrbo.com/701796
Enjoy the elegance, style and natural beauty of California's Central Coast at the JUST Inn®. Surrounded by vineyards, our JUST Inn Suites offer luxurious appointments like fireplaces, Tempur-Pedic®mattresses, Frette linens, hydro-spa tubs, and range in size from 600–1,200 square feet. An overnight stay includes breakfast and a tour of the winery and caves.
Directions:  speedfind.com/JustinWine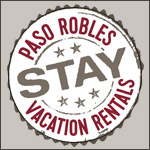 Paso Robles Vacation Rentals, also known as PasoStay.com assists guests in creating memories and wonderful experiences by providing quality privately owned vacation home rentals in Paso Robles Wine Country. With over 90 vacation homes to choose from, small enough for a couple's romantic getaway to large homes amongst local vineyards and olive orchards, PasoStay.com has the perfect option for you. Feel free to call 805-423-9174 to talk with a local expert or book online at PasoStay.com.
Directions:  speedfind.com/PasoRoblesVacationRentals
LEARN MORE