If you are looking for a world-class wine tasting experience, look no further than Paso Robles Wine Country. With over 250 tasting rooms offering dozens of unique varietals, you are bound to find something that suits your palate. But why settle for a simple tasting when you can come to crowd-pleasing Paso? From rocking live music and fabulous food to tantalizing tours and surprising animal encounters, here are 5 fresh ways to easily level up your Paso Wine Country tasting today.
Table of Contents
The Importance of Pairing Wine with Food
Paso Robles Wine Country is home to a variety of stellar restaurants and exciting cuisine options to devour. From Italian to Asian, farm-to-table to barbecue, you will find countless mouthwatering ways to sip and savor. Plus, you probably already know that pairing wine with food can enhance both the wine and the food.
One of Paso's oldest and most beloved tasting rooms, Eberle Winery, offers wines to wow with every meal. From chardonnay and rosé to bold Bordeaux blends, the perfect pairing is a cinch. A good rule of thumb is to match the weight and intensity of the wine with the dish you are serving. For instance, a bright viognier wine pairs well with a seafood pasta dish while Paso's full-bodied cabernet sauvignon and syrah offerings are always fabulous alongside a juicy, grass-fed burger. The winery also hosts epic Dine in the Vines or Harvest Sunset Supper events, which do the legwork for you!
Take a Tour
Did you know that many Paso Robles wineries offer exclusive guided tours? Check out the barrel room, estate vineyard, or winemaking facility before, after, or sometimes during your tasting! Back by popular demand, the Halter Ranch Winery & Cave Tour is open to visitors every Thursday through Monday. Peek behind the curtain with Halter Ranch winemaker Kevin Sass as your guide! Follow the path of a premium wine grape, learning the ins and outs of the winery's state-of-the-art production facility and the sustainable winemaking operation. Plus, you'll explore the largest wine caves on the Central Coast! As if that weren't enough to get you interested, tours include a crash course on select on-site art sculptures and a tour-exclusive tasting flight hand-picked by Sass himself. Gaining a bit of behind-the-scenes knowledge not only boosts your wine tasting confidence, but it also has the delightful way of making each sip that much more satisfying.
Keep a Wine Journal
As you visit different wineries in Paso Robles Wine Country, jot down your thoughts in a wine journal. Why? You're going to want to remember those notes next time you visit (or perhaps when you do some online wine shopping). Note the wine's name, vintage, varietal, AVA and what you liked about the tasting room. Extra credit: Write a few sentences of your own tasting notes, including the wine's appearance, aroma, flavor, and finish.
When it comes to understanding the nuances of different wines, there's no better way than to head to a tasting room that focuses on one varietal. Windward Vineyard tasting room in Paso Robles is a prime example, with a range of award-winning pinot noir offerings all made from their own estate-grown pinot noir grapes. And now, every Wednesday, they offer a complimentary gourmet cheese pairing with each purchased wine tasting ($15 each). So take your time to savor each sip and enjoy the unique flavors, while indulging in some delicious cheese to complement the experience. And remember, there's no right or wrong way to scribble down your notes as you learn about the intricacies of wine.
Explore and Learn More
Discovering Beyond Vineyards: Paso Robles boasts more than 250 tasting rooms, but that's not all there is to enjoy in the region. Immerse yourself in the full range of activities, from culinary events and live music to festivals and winemaker dinners. While staying at Allegretto Vineyard Resort, you can soak up the sun by the pool, savor wines at the on-site tasting room, dine at the farm-to-table restaurant, and embark on unique adventures. The resort offers yoga classes, art tours, olive oil tastings, spa services, and even alpaca encounters. Take a horseback ride, soar in a hot air balloon, or head to the coast to experience the world-class vacation destination that is Paso Robles. With Allegretto Wine always on hand, you're sure to have an unforgettable experience.
Take Your Time
Are you someone who often rushes through tasks, even enjoyable ones? If so, it's time to change that habit! Paso Robles Wine Country is renowned for its laid-back and friendly atmosphere, so take your time to enjoy each sip of wine, noticing the various aromas and flavors in your glass. Relax and bask in the good life at Iron Oaks Winery, situated on 13th Street in downtown Paso. This relaxed wine hangout strikes a balance between cowboy vibes and wine country elegance. Book a table for a charcuterie and wine tasting with friends, or plan to attend one of Iron Oak's legendary live music events, which combine boot-stomping tunes with boutique-style wines. Remember: let the wine sit on your palate for a few seconds before swallowing to appreciate all of its nuances (after all, isn't that why you came here?).
Get Your Wine Country COUPONS click here!

 This blog is written by flavor fiend Hayley Cain. Follow her @flavorslo on Instagram or at astoldbyhayley.com.
CAN WE HELP YOU FIND?
DISTILLERIES TOURS & TRANSPORTATION
Looking for a place to stay in Paso Robles?
The Adelaide Inn is an iconic, locally-owned hotel known for its friendly staff and lush landscaping. With spacious rooms and a convenient location close to highway 101 and the event center – home of the California Mid-State Fair – this hotel is a great choice for most travelers. TOUR VIRTUALLY
Directions: speedfind.com/AdelaideInn
Majestically set among vineyards, olive groves and fruit baring orchards, the 20-acre Allegretto Vineyard Resort is a world unto itself, offering breathtaking settings that inspire and bring joy to all who choose this memorable wine country haven. Featuring 171 rooms and suites, on-site spa, grand ballroom, wine tasting room, and inspired culinary creations at Cello, the resort's full-service restaurant.
Directions: speedfind.com/Allegretto
Enjoy time with your loved ones with a glass of wine while taking in the panoramic views of ONX Wines Certified Sustainable Estate Vineyard. Clark House is a five-bedroom, four-bathroom home that is a perfect escape for up to ten people. All five bedrooms offer views of the vines and are impeccably furnished to help you unwind from an exciting day of exploring the Paso Robles area.
Directions: speedfind.com/ONX
The GENESEO INN is a luxury boutique hotel nestled in the rolling hills of Paso Robles wine country. Built of industrial shipping crates perched above the vines on CASS Winery's 145 acres of vineyard, the experience truly allows you to "breathe in the vineyard views."
Directions: speedfind.com/CassWinery
Hampton Inn & Suites Paso Robles is nestled in the Central Coast wine region, home to over 200 wineries, beautiful beaches, mountains and diverse attractions. Relax and revive in a comfortable guest room with all you need for a successful stay. You can count on Hampton to deliver value, consistency and service with a smile. We love having you here®
Directions: speedfind.com/PRWine.HamptonInn
Experience the pristine countryside of Paso Robles Wine Country at chic, sparkling clean Lekai Ranch. Lounge on the porch of your private suite and lose yourself in the tranquility and stunning views of the vineyards and oak studded hills beyond. This vacation rental is located just minutes from some of the most distinguished wineries and a premier olive oil estate, and only 15 minutes from downtown Paso Robles' restaurants, wineries and shopping. TAKE AN AERIAL TOUR
Directions: speedfind.com/Lekai | vrbo.com/701796
Oxford Suites Paso Robles You'll find that from our lobby, our on-site restaurant, to our meeting spaces, to our 101 spacious suites, every space is beautiful + functional as well as comfortable + chic.
Directions: speedfind.com/oxfordsuitespasorobles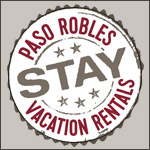 Paso Robles Vacation Rentals, also known as PasoStay.com assists guests in creating memories and wonderful experiences by providing quality privately owned vacation home rentals in Paso Robles Wine Country. With over 160 vacation homes to choose from, small enough for a couple's romantic getaway to large homes amongst local vineyards and olive orchards, PasoStay.com has the perfect option for you. Ask us how you save 15% on booking service fees! Feel free to call 805-423-9174 to talk with a local expert or book online at PasoStay.com.
The Farmhouse at Pelletiere Estate is a modern & luxurious wine country retreat. Privately situated & surrounded by our estate vineyards, located just off Hwy46w on a very accessible country road, nestled in the heart of Paso Robles' renowned Westside, just 6 miles to Paso's downtown square. The Farmhouse offers stunning vineyard views from every angle, as well as a stylish yet cozy house you're bound to fall in love with!
Directions: speedfind.com/Pelletiere
LEARN MORE