Life is short—drink the good stuff! Why delay gratification when you can savor all of life's little pleasures in Paso Robles Wine Country? Around here, each day is worthy of celebration and each meal a chance to reconnect, rejoice and unwind. Now, we invite you to take the time to toast to your achievements, your dreams and your precious time on this planet. In Paso Robles, life is good and the wine is great. Join us as we raise a glass to you! Not sold? Here's five reasons we say you should really live a little.
You're going to like it
Here's a bold statement: You'll never get bored of Paso Robles Wines. Why's that? Well, there are just so darn many to choose from! From award-wining Rhone, Bordeaux, Spanish, and Italian varietals to bold blends, fresh whites and sparklings galore, there's never a dull moment when you're sipping on Paso wines. Truly, every tastebud can have its way as you traverse this diverse and multi-layered wine region. Once you pop, you just can't to stop, as they say. I mean, with these many choices, why would you ever want to?
Prove it: If there were any winery to showcase Paso's amazing microclimates and offerings, Lone Madrone is it! Crafting boutique wines from a smattering of renowned biodynamic, organically grown Westside vineyards, each vintage is totally unique (and totally Paso)! I mean, they even have English-inspired hard cider on the tasting list—so you know the sky's the limit when it comes to options!
Upcoming events: Lunch on Saturday and Sundays, Dinners on various Saturdays at Lone Madrone
Visit their website, click here 
For mapping and directions, click here
Follow Lone Madrone on Instagram
Wine tasting is fun
If you haven't been wine tasting in a while, let us blow your expectations through the roof. With more than 250 wineries and tasting rooms dotting our scenic countryside, every trip to Paso is another opportunity to explore. (Grab our Paso Robles Wine Country map, the ONLY map that has EVERY winery represented – others are missing up to half the wineries.) From casual lounges serving incredible food to sunny outdoor patios nestled amongst stately oaks, you'll find the perfect place to sit, sip and swirl the afternoon away. Whoever said wine tasting is stuffy had never come to Paso. In fact, many of our tasting rooms feature laid back barbecues and vibrant winemaker dinners, exciting live bands, educational barrel tastings and jaw-dropping vineyard tours. Grab your overnight bag or just a pair of shades—adventure awaits and you won't want to miss a moment!
Prove it: In Paso Robles, even our hotels have their own wineries! Well, that's the case for Allegretto Vineyard Resort, a plush stay with all the charms of European villa. No, you don't have to stay at the resort to try the wine in the resort's wine tasting room, but with luxurious amenities and spa treatments, you'll probably want to! And if you want to hang out at their gorgeous Westside tasting room on Vineyard Drive, you'll swoon over the scenic outdoor areas with a pond, towering willow and oak trees and a view of their historic Allegretto shares this tasting room with Rangeland, noted below…see the photo!)
Visit their website, click here
For mapping and directions to the Resort, click here
For mapping and directions to the Vineyard Drive tasting room, click here
Follow Allegretto on Instagram
It makes you happier
We're 100% biased, but there might be something to the idea that wine and happiness are linked (stay with us here). The ancient Romans knew it, the late great kings and queens knew it too: life is just better with good wine in your goblet and a bit of cheese on your plate. Take it from us, modern life is hard enough without denying yourself a little sip of pleasure now and then (or in our case, a big sip enjoyed daily). That said, everyone should drink Paso Robles wine responsibly. Above all else, stick to our credo: don't worry, drink happy!
Prove it: Feel the bubbles dance under your nose and ask yourself, "is this making me happy?" The answer, if you're tasting sparkling wines at Kiame Wine Cellars, must be a resounding "Yes!" With celebratory wines made the artisanal way, each sip brings you closer to a feeling of total zen. Well, almost (we can be sure they'll make you smile along with their 2 miniature goats cruising freely to everyone's Instagramable delight)!
Visit their website, click here
For mapping and directions, click here
It makes you healthy(ish)
You already knew this fun fact, but it's worth repeating. Numerous epidemiological studies have observed that moderate intake of alcohol including wine is associated with a lower risk of cardiovascular disease. Not bad! In fact, several authors state that moderate consumption of wine is more beneficial than that of beer or spirits. In other words: if you're going to have a glass of alcohol for your health, drink the best wine you can get your hands on. That's just sound medical advice.
Prove it: This is just the medicine the doctor ordered! Michael Gill's lush syrah offerings (many of which have won numerous gold metals and high scores) are a sure-fire cure for whatever ails you. It doesn't hurt that the tasting room is fashioned like a plush, old school hunting lodge, either. We'll take all our sick days here, thank you!
Visit their website, click here
For mapping and directions, click here
Follow Michael Gill Cellars on Instagram
We see the glass half full
Not only are we a friendly and personable bunch, Paso Robles is also leading the way in the production of green, sustainably crafted wines. SIP Certified vineyards are everywhere in Paso, which means you can rest assured that the land, native animals and workers are always honored and protected along the production line from grape to glass. In Paso Robles, we know that it all comes together when the right factors: environment, passion and people—set out to create wine that truly reflects (and respects) our little slice of the world.
Prove it: Sustainable, authentic and totally delicious wines: that's what you get when you venture to Rangeland, where ranching meets winemaking. From sustainably raised grass-fed beef to eco-conciously crafted wines grown nearby native streams, plants and wildlife, you can taste Paso's remarkable abundance in every last sip.
Visit their website, click here
For mapping and directions, click here
Get Your Wine Country COUPONS click here!

 This blog is written by flavor fiend Hayley Cain. Follow her @flavorslo on Instagram or at astoldbyhayley.com.
CAN WE HELP YOU FIND?
DISTILLERIES   TOURS & TRANSPORTATION
Looking for a place to stay in Paso Robles?
The Adelaide Inn is an iconic, lo
cally owned hotel known for its friendly staff and lush landscaping. With spacious rooms and a convenient location close to highway 101 and the event center – home of the California Mid-State Fair – this hotel is a great choice for most travelers. TOUR VIRTUALLY
Directions: speedfind.com/AdelaideInn
Majestically set among vineyards, olive groves and fruit baring orchards, the 20-acre Allegretto Vineyard Resort is a world unto itself, offering breathtaking settings that inspire and bring joy to all who choose this memorable wine country haven. Featuring 171 rooms and suites, on-site spa, grand ballroom, wine tasting room, and inspired culinary creations at Cello, the resort's full service restaurant.
Directions: speedfind.com/Allegretto
Wouldn't you love to wake up among the vines? Eden House at Carriage Vineyards Bed & Breakfast is on a real working vineyard and longhorn ranch in the Paso Robles Wine Region. Our rooms overlook vineyards, creeks and oaks, right in the Paso Robles Wine Country of Central California.
Directions: speedfind.com/edenhouse
Spend an idyllic getaway at Briarwood Cottage at ONX Estate Vineyards in an English-cottage inspired vineyard-side home. Guests may rent rooms in the main cottage, reserve the entire main cottage for a large group, or book the fully equipped apartment. Wake up to peaceful vineyard views and spend twilight hours sipping wine on the back porch of the cottage. It's a time you won't quickly forget. Contact us for pricing and availability (see form below). Case, 6 Bottle, and 4 Bottle Collective Members receive preferred pricing.
Directions: speedfind.com/BriarCottage
Hoyt Family Vineyard Retreats  Two very cool, tiny houses, designed using fertile imagination and repurposing  of materials are located on Hoyt Family Vineyard.
Directions: speedfind.com/hoytfamilyvineyards
new
Hampton Inn & Suites Paso Robles is nestled in the Central Coast wine region, home to over 200 wineries, beautiful beaches, mountains and diverse attractions. Relax and revive in a comfortable guest room with all you need for a successful stay. You can count on Hampton to deliver value, consistency and service with a smile. We love having you here®
Directions: speedfind.com/PRWine.HamptonInn
Enjoy the elegance, style and natural beauty of California's Central Coast at the JUST Inn®. Surrounded by vineyards, our JUST Inn Suites offer luxurious appointments like fireplaces, Tempur-Pedic®mattresses, Frette linens, hydro-spa tubs, and range in size from 600–1,200 square feet. An overnight stay includes breakfast and a tour of the winery and caves. TOUR VIRTUALLY
Directions:  speedfind.com/JustinWine
The Kiler Canyon Vineyard Retreat Perched on top of a hill on ONX Estate's vineyard with gorgeous 360 degree views of the Willow Creek AVA
Directions: speedfind.com/KilerRetreat
Experience the pristine countryside of Paso Robles Wine Country at chic, sparkling clean Lekai Ranch. Lounge on the porch of your private suite and lose yourself in the tranquility and stunning views of the vineyards and oak studded hills beyond. This vacation rental is located just minutes from some of the most distinguished wineries and a premier olive oil estate, and only 15 minutes from downtown Paso Robles' restaurants, wineries and shopping. TAKE AN AERIAL TOUR
Directions: speedfind.com/Lekai | vrbo.com/701796
Oxford Suites Paso Robles You'll find that from our lobby, our on-site restaurant, to our meeting spaces, to our 101 spacious suites, every space is beautiful + functional as well as comfortable + chic.
Directions: speedfind.com/oxfordsuitespasorobles
Peachy Canyon Guest Inn Sits above Peachy Canyon Winery + acres of vines at Mustang Springs Vineyard. The house has 2 bedrooms, 2.5 baths, living room, family room + panoramic views.
Directions: speedfind.com/PeachyInn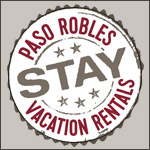 Paso Robles Vacation Rentals, also known as PasoStay.com assists guests in creating memories and wonderful experiences by providing quality privately owned vacation home rentals in Paso Robles Wine Country. With over 90 vacation homes to choose from, small enough for a couple's romantic getaway to large homes amongst local vineyards and olive orchards, PasoStay.com has the perfect option for you. Feel free to call 805-423-9174 to talk with a local expert or book online at PasoStay.com.
LEARN MORE