Color is magic, with the ability to make us instantly happy, calm or energized all in an instant. Just think about the last time you saw a shiny manicure, a glossy paint job, or a vibrant bouquet of carnations bursting with cheer. Next time  the doldrums hit, pull out a bottle of color therapy (there's no better place to start than your wine rack). Paso Robles reds, whites and rosés aren't just made to wow your taste buds—they're easy on the eyes, too! Now, let's taste the rainbow:
Pink: Ecluse 2020 Rosé
Think pink: The color of sunsets, cherry blossoms and blushing cheeks, it's no wonder that pink is a calming color associated with love, kindness, and soft, relaxed feel-good vibes. Want to test this theory out for yourself? Écluse's refreshing 2020 Rosé is the perfect pink drink to enjoy on a leisurely afternoon (be sure to chill the bottle, though, before you indeed chill out). Aged in stainless steel, this wine is balanced with aromas of honey, citrus, orange peel and stone fruit leading to flavors of peach, nectarine and strawberry. But don't underestimate its classically feminine appeal. We suggest anyone needing a pick-me-up take a deep dive into Paso's incredible (never cloying) blush-toned bottles. You might just be surprised by the power of pink!
Red: Lone Madrone 2017 Oveja Negra
Seeing red: You probably already know that ruby lips and crimson roses have a way of revving up the nervous system. But did you know that the color red can actually increase a person's heart rate? The warmest and most dynamic of all hues—this vibrant shade triggers a passionate response, that's for certain. Inject some fiery romance  into your life with Lone Madrone's most ravishing garnet-hued Rhone blend, sure to get the blood pumping fast. A balanced wine with ample fruit plus enticing spice and game notes, you'll be surprised by its ability to wow with restraint. Naturally, this luscious red inspires sighs of pleasure when paired with charcuterie or chocolate-dunked anything (wink wink).
Purple: Michael Gill
 

Cellars Syrah
Associated with mystery, royalty and wealth, the magnificent color purple also has a way of making folks feel extra creative (so next time you're trying to solve a particularly confounding problem to solve, just watch a Prince video). At Michael Gill Cellars, you'll have no shortage of purple-tinged wines to experiment with—in fact, winemaker Michael might even be known as Paso's unofficial "Saint of Syrah." Stop by this European hunting lodge-inspired tasting room and see what we mean: from rich plum to bright violet, these boutique syrah offerings shine with a singular gloss that rivals royal jewels.
Yellow: Austin Hope 2020 Sauvignon Blanc
Whether lemon, canary or golden, yellow has the incredible superpower of lifting our spirits up, up and away (perhaps that's because it's the most energetic of the warm colors associated with laughter, hope and sunshine). The second vintage of Austin Hope's exclusive sauvignon blanc, this 2020 single varietal offering explodes with jubilant white floral and citrus aromas balanced with juicy tropical notes. A bright dash of acidity and a lingering finish inspire a true-to-life happy face. With these kind of cheery vibes on tap, there's no need for an emoji!
Black: Hoyt Family Vineyards 2014 Petite Sirah
Dark and lovely: Whether it comes in the form of a classic black cocktail dress or late model limousine, black exudes a sense of class, sex appeal, sophistication and elegance (not to mention luxury, professionalism and minimalism). Few swatches boast such an instantly bold and powerful appeal—and no, we don't just mean for the latent goths among us. Petite Sirah's inky hue and bold taste actually derive from wine's high skin-to-juice ratio, a big factor in creating exceptional tannin and acidity, too. Hoyt Family Vineyard's 2014 Petite Sirah isn't here to play around, either: with big bold legs, a rounded mouth feel and silky finish, it's a lot like a well-tailored suit. That is, to say, infinitely appealing!
Get Your Wine Country COUPONS click here!

 This blog is written by flavor fiend Hayley Cain. Follow her @flavorslo on Instagram or at astoldbyhayley.com.
CAN WE HELP YOU FIND?
DISTILLERIES   TOURS & TRANSPORTATION
Looking for a place to stay in Paso Robles?
The Adelaide Inn is an iconic, locally-owned hotel known for its friendly staff and lush landscaping. With spacious rooms and a convenient location close to highway 101 and the event center – home of the California Mid-State Fair – this hotel is a great choice for most travelers. TOUR VIRTUALLY
Directions: speedfind.com/AdelaideInn
Majestically set among vineyards, olive groves and fruit baring orchards, the 20-acre Allegretto Vineyard Resort is a world unto itself, offering breathtaking settings that inspire and bring joy to all who choose this memorable wine country haven. Featuring 171 rooms and suites, on-site spa, grand ballroom, wine tasting room, and inspired culinary creations at Cello, the resort's full-service restaurant.
Directions: speedfind.com/Allegretto
Wouldn't you love to wake up among the vines? Eden House at Carriage Vineyards Bed & Breakfast is on a real working vineyard and longhorn ranch in the Paso Robles Wine Region. Our rooms overlook vineyards, creeks and oaks, right in the Paso Robles Wine Country of Central California.
Directions: speedfind.com/edenhouse
Spend an idyllic getaway at Briarwood Cottage at ONX Estate Vineyards in an English-cottage inspired vineyard-side home. Guests may rent rooms in the main cottage, reserve the entire main cottage for a large group, or book the fully equipped apartment. Wake up to peaceful vineyard views and spend twilight hours sipping wine on the back porch of the cottage. It's a time you won't quickly forget. Contact us for pricing and availability (see form below). Case, 6 Bottle, and 4 Bottle Collective Members receive preferred pricing.
Directions: speedfind.com/BriarCottage
Hoyt Family Vineyard RetreatsTwo very cool, tiny houses, designed using fertile imagination and repurposing of materials are located on Hoyt Family Vineyard.
Directions: speedfind.com/hoytfamilyvineyards
Hampton Inn & Suites Paso Robles is nestled in the Central Coast wine region, home to over 200 wineries, beautiful beaches, mountains and diverse attractions. Relax and revive in a comfortable guest room with all you need for a successful stay. You can count on Hampton to deliver value, consistency and service with a smile. We love having you here®
Directions: speedfind.com/PRWine.HamptonInn
The Kiler Canyon Vineyard Retreat Perched on top of a hill on ONX Estate's vineyard with gorgeous 360 degree views of the Willow Creek AVA
Directions: speedfind.com/KilerRetreat
Experience the pristine countryside of Paso Robles Wine Country at chic, sparkling clean Lekai Ranch. Lounge on the porch of your private suite and lose yourself in the tranquility and stunning views of the vineyards and oak studded hills beyond. This vacation rental is located just minutes from some of the most distinguished wineries and a premier olive oil estate, and only 15 minutes from downtown Paso Robles' restaurants, wineries and shopping. TAKE AN AERIAL TOUR
Directions: speedfind.com/Lekai | vrbo.com/701796
Oxford Suites Paso Robles You'll find that from our lobby, our on-site restaurant, to our meeting spaces, to our 101 spacious suites, every space is beautiful + functional as well as comfortable + chic.
Directions: speedfind.com/oxfordsuitespasorobles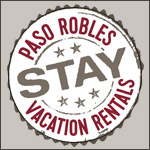 Paso Robles Vacation Rentals, also known as PasoStay.com assists guests in creating memories and wonderful experiences by providing quality privately owned vacation home rentals in Paso Robles Wine Country. With over 90 vacation homes to choose from, small enough for a couple's romantic getaway to large homes amongst local vineyards and olive orchards, PasoStay.com has the perfect option for you. Feel free to call 805-423-9174 to talk with a local expert or book online at PasoStay.com.
LEARN MORE