It's a common conundrum. You love wine tasting rooms and all the sensory pleasures they offer, but you're not really a "crowds" person. That's totally OK! It's not that you don't like people (you actually just really love your people). Some of us just prefer a more relaxing and intimate environment where you can truly focus on the wines at hand. We get it. And we got you. If you ask us, 2018 is bound to be the year of the introvert. Here's 5 Tips to keep your wine game strong as well as your sanity.
1. Book Off-Season
You prefer quiet and calm tasting rooms as opposed to loud and energetic ones filled with activity. Well, Paso Robles is more serene February through March, and that means all the trappings of a world class wine region without the hustle and bustle. You won't have to worry about elbowing your way up to the bar and carving out a teeny space for yourself. During these lovely temperate (and green) months, you can breathe easy and taste freely.
Tip: You'll also find extra deals and savings from winter through the beginning of spring, both in terms of wine tasting and lodging. Click here for Hotel Special Offers featuring La Bellasera Hotel and Suites, special tours, romantic getaway packages, and more.
Other great hotels to visit during the off season:
Adelaide Inn
Hampton Inn & Suites Paso Robles
Paso Robles Vacation Rentals (100 homes to pick from)
Allegretto Vineyard Resort
JUST Inn®
2. Taste off the beaten path
You aren't interested in "going where the most action is." Naturally, some of Paso Robles' more "off road" wineries will provide a chiller atmosphere, which is great for your personality type. Less people on the road = less crowded tastings. This doesn't mean the wines aren't worthy of paparazzi (in fact, many if these wineries tucked away off winding hillsides are world renowned and afford the best views). This just means that the only the truly thoughtful and well-researched wine tasters will go the extra mile to reach this fantastic destinations. As an introvert, you're probably one of them.
Tip: You crave authenticity. Kiamie Wine Cellars is small, but their wines are mighty. With a tasting room located in a simple rock outbuilding on Ramage Ranch (homesteaded around the 1800s), the tasting room is about as rustically cozy and intimate as you can get. Stop by and meet the owners (you can't miss 'em: they are the only ones who pour). Sample a range of blends sourced from Westside Paso Robles mountain vineyards while chewing the fat with two of Paso's most down-to-earth winery owners.
Mapping and Directions to Kiamie Wine Cellars
3. Get One-on-One
You crave one-on-one experiences that allow you to peer deeper into the winemaking process. You have questions—lots of them! You also aren't super comfortable peppering the poor tasting room attendant with all your interrogations (especially if he or she is helping many patrons at once). As a tried-and-true introvert, you'd rather go straight to the source. Book a private tasting today and ensure a small group setting filled with education, hands-on learning, and illuminating barrel tastings. You might even meet the winemaker. In fact, odds are you certainly will!
Tip: Michael Gill Cellars is known nationally for crafting superb syrah that sings with Paso terroir. Here on the West side of Paso Robles, rolling hills, deep valleys, a dynamite combination of soil, and 50 degree temperature swings inspire great wines—and even greater tourist activity. Visit this exclusive tasting room for an intimate one-on-one chat with Michael Gill himself. The tasting room is open weekends and by appointment only, so you know you're getting a unique and one-of-a-kind experience.
Mapping and Directions to Michael Gill Cellars
4. Take a Seat
You love the chance to sit down and focus on what you're really tasting. Some wineries are all about gabbing at the bar and taking in dozens of conversations and opinions happening around you. That's…just not your speed. Instead, look for wineries that offer table service or a more relaxed setting for kicking back and swirling. The plus: You get to relax, enjoy your chosen companion(s) and take in the scenery while the wine comes to you. Allow a single wine attendant to answer your specific questions, or just sip quietly and know that your next taste is just moments away.
Tip: Kick up your heels at this comfortable and rustic tasting room in west Paso Robles. Dubost Winery's family owned vineyards are crafted with generations of farming pride. Here, tasting is casual and you'll feel like a valued family guest.
Mapping and Directions to Dubost Ranch
5. Chill Out
You love unwinding in a low pressure environment where you can come as you are and burn off a little steam. No disrespect to Paso's most elegant and sophisticated tasting rooms (we love the grand appeal of these impressive and well-photographed destinations), but sometimes you just want to chill out and let loose. Instead of spending all your time fussing over tasting notes pick up a pool cue and connect with your friends. You can still enjoy excellent wine while you have a darn good time!
Tip: Chronic Cellars is a super laid back hangout beloved by locals and tourists alike. Taste a flight or pop a bottle and share with friends. These unique, often rebellious blends are always best when shared with a few good pals. Shoot pool, play a game of corn hole, or just relax under the oak trees. This is what wine country is all about.
Mapping and Directions to Chronic Cellars
---

This blog was written by Hayley Thomas Cain, food and wine writer for SLO New Times and PasoRoblesWineries.net. You can reach her at hthomas@newtimesslo.com or follow her on instagram @flavorslo.
---
If you're looking for a place to spend the night in Paso Robles, checkout:
The Adelaide Inn is an iconic, lo
cally owned hotel known for its friendly staff and lush landscaping. With spacious rooms and a convenient location close to highway 101 and the event center – home of the California Mid-State Fair – this hotel is a great choice for most travelers.
Directions: speedfind.com/AdelaideInn
Majestically set among vineyards, olive groves and fruit baring orchards, the 20-acre Allegretto Vineyard Resort is a world unto itself, offering breathtaking settings that inspire and bring joy to all who choose this memorable wine country haven. Featuring 171 rooms and suites, on-site spa, grand ballroom, wine tasting room, and inspired culinary creations at Cello, the resort's full service restaurant.
Directions: speedfind.com/Allegretto
La Bellasera Hotel & Suites is an elegant boutique hotel nestled in the heart of Central Coast Wine Country. Influenced by Mediterranean and Italian architecture, the luxurious accommodations reflect the aged sophistication of the Central Coast region and the relaxed nature of the California countryside.
Directions: speedfind.com/LaBellasera
Hampton Inn & Suites Paso Robles is nestled in the Central Coast wine region, home to over 200 wineries, beautiful beaches, mountains and diverse attractions. Relax and revive in a comfortable guest room with all you need for a successful stay. You can count on Hampton to deliver value, consistency and service with a smile. We love having you here®
Directions: speedfind.com/PRWine.HamptonInn
Experience the pristine countryside of Paso Robles Wine Country at Lekai Ranch. Lounge on the porch of your private suite and lose yourself in the tranquility and stunning views of the vineyards and oak studded hills beyond. This vacation rental is located just minutes from some of the most distinguished wineries and a premier olive oil estate, and only 15 minutes from downtown Paso Robles' restaurants, wineries and shopping.
Directions: speedfind.com/Lekai | vrbo.com/701796
Enjoy the elegance, style and natural beauty of California's Central Coast at the JUST Inn®. Surrounded by vineyards, our JUST Inn Suites offer luxurious appointments like fireplaces, Tempur-Pedic®mattresses, Frette linens, hydro-spa tubs, and range in size from 600–1,200 square feet. An overnight stay includes breakfast and a tour of the winery and caves.
Directions:  speedfind.com/JustinWine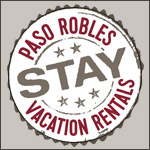 Paso Robles Vacation Rentals, also known as PasoStay.com assists guests in creating memories and wonderful experiences by providing quality privately owned vacation home rentals in Paso Robles Wine Country. With over 90 vacation homes to choose from, small enough for a couple's romantic getaway to large homes amongst local vineyards and olive orchards, PasoStay.com has the perfect option for you. Feel free to call 805-423-9174 to talk with a local expert or book online at PasoStay.com.
Directions:  speedfind.com/PasoRoblesVacationRentals
LEARN MORE