Paso Robles knows its fine wine, but that doesn't mean we're too "fancy" to flip the script. Although this humble wine region is world renowned for fresher-than-fresh farm to table food and super high scoring bottles, we're also known to break with tradition with bold wine making choices and even bolder pairing ideas. Here's 5 Weird Paso Wine Pairings you'll want to try at home, even if you're secretly a little afraid someone will see you. Hey! We say pair proudly (snap an Insta if you're really brave). Paso Robles is a place for brilliant blends, rugged renegades and fad-busting flavor remixes. Life is short. Who really wants to pair just like the rest?
1. Sparkling and Mac n Cheese
Party in your mouth: Could it really be? Oh yes! You aren't dreaming, friend. The fizzy bubbles tickle your tongue while acid cuts the fat of a creamy, salty comfort food classic. Plus, Chenin Blanc grows with bright fruitiness and balanced acidity in warm Paso Robles, reflecting notes of savory quince and juicy apple. Which, if you hadn't already imagined—will add a fantastic tangy counterpart to the mac's nutty, indulgent richness. Pair Lone Madrone's 2012 Sparkling Chenin Blanc with your next mac attack and see if dreams really do come true.
Buy it Now
Mapping and Directions to Lone Madrone
2. Pinot noir and Chocolate Ice Cream
Dessert like you really, really mean it: Upon opening, Cutruzzola Vineyards' 2013 Pinot Noir hits you with a dose of fresh minerality and dark cherry fruit—a perfect match for the earthy sweetness of dark chocolate ice cream (mind you, dark is best here). Layers of plum and baking spice in this sumptuous wine only intensify this insanely decadent match. Extra credit:drizzle your ice cream with a dark cherry syrup—or infuse with pinot noir if you're really trying to go all out. Extra extra credit: Select artisan Leo Leo Gelato dark chocolate crafted locally in Paso Robles. You'll find it at Dolce Galleria, SLO Sweets in Paso by the scoop.
Buy it Now
Mapping and Directions to Cutruzzola Vineyards' 2013 Pinot Noir
3. Chardonnay and Bacon
The brunch game-changer: A new release, Harmony Cellars 2016 Chardonnay is modern and complex, yet showcases that oh-so classic creamy texture you crave from a really good chardonnay. Bacon begs for this golden wine, which offers intense aromas of pineapple, melon and butterscotch. Tropical and citrus flavors are complemented by crisp acidity and a strong suggestion of buttered toast. Breakfast wine, your time has come! We'll call it "brunch wine," as to not raise too many eyebrows.
Buy it Now
Mapping and Directions to Harmony Cellars
4. Roussanne, Marsanne and Tacos
Spoil yourself this Taco Tuesday: You probably reserve your chilled, acidic Spanish varietals for Mexican night, yes? Well, move over crisp Albarino! This multitasking Roussanne, Marsanne blend with a touch of Albarino boasts equal parts fruit, floral, and light citrus notes. Cass Winery's 2015 Rockin' One Blanc showcases a nose of Asian pear preserves, melon meringue, candied quince and hawthorne blossom. The palate remains balanced with the essence of meyer lemon custard commingling with white peach and freshly whipped butter cream. Soft acidity and stony minerality create a multidimensional palate, delivering flavors of crushed chamomile, baking spice and toasted cashews. Its layered finish and kiss of honey tea pair well with a dollop of fatty sour cream. Holy guacamole. It's that good!
Buy it Now
Mapping and Directions to Cass Winery
5. Meat Lover's Pizza with 'Jug Wine'
All the toppings: When you're in the mood for a really meaty pie—one chock-full of hamburger, sausage, and pepperoni, you're going to need an equally hefty red that brings a trio of spice, structure, and acidity. It makes sense, then, to go for a truly crowd-pleasing wine that likes to have fun, right? Invite your best buds over and crack open a limited edition, screen-printed "Rotta Jug." Filled with Rotta Winery's classic field style blend of 60% bold Estate Cabernet Sauvignon and 40% zesty Estate Zinfandel (and made with 100% French Oak) this offering is as solid structurally as it is sassy in flavor profile.
Buy it Now
Mapping and Directions to Rotta Winery
---

This blog was written by Hayley Thomas Cain, food and wine writer for SLO New Times and PasoRoblesWineries.net. You can reach her at hthomas@newtimesslo.com or follow her on instagram @flavorslo.
---
If you're looking for a place to spend the night in Paso Robles, checkout:
The Adelaide Inn is an iconic, lo
cally owned hotel known for its friendly staff and lush landscaping. With spacious rooms and a convenient location close to highway 101 and the event center – home of the California Mid-State Fair – this hotel is a great choice for most travelers.
Directions: speedfind.com/AdelaideInn
Majestically set among vineyards, olive groves and fruit baring orchards, the 20-acre Allegretto Vineyard Resort is a world unto itself, offering breathtaking settings that inspire and bring joy to all who choose this memorable wine country haven. Featuring 171 rooms and suites, on-site spa, grand ballroom, wine tasting room, and inspired culinary creations at Cello, the resort's full service restaurant.
Directions: speedfind.com/Allegretto
La Bellasera Hotel & Suites is an elegant boutique hotel nestled in the heart of Central Coast Wine Country. Influenced by Mediterranean and Italian architecture, the luxurious accommodations reflect the aged sophistication of the Central Coast region and the relaxed nature of the California countryside.
Directions: speedfind.com/LaBellasera
Hampton Inn & Suites Paso Robles is nestled in the Central Coast wine region, home to over 200 wineries, beautiful beaches, mountains and diverse attractions. Relax and revive in a comfortable guest room with all you need for a successful stay. You can count on Hampton to deliver value, consistency and service with a smile. We love having you here®
Directions: speedfind.com/PRWine.HamptonInn
Experience the pristine countryside of Paso Robles Wine Country at Lekai Ranch. Lounge on the porch of your private suite and lose yourself in the tranquility and stunning views of the vineyards and oak studded hills beyond. This vacation rental is located just minutes from some of the most distinguished wineries and a premier olive oil estate, and only 15 minutes from downtown Paso Robles' restaurants, wineries and shopping.
Directions: speedfind.com/Lekai | vrbo.com/701796
Enjoy the elegance, style and natural beauty of California's Central Coast at the JUST Inn®. Surrounded by vineyards, our JUST Inn Suites offer luxurious appointments like fireplaces, Tempur-Pedic®mattresses, Frette linens, hydro-spa tubs, and range in size from 600–1,200 square feet. An overnight stay includes breakfast and a tour of the winery and caves.
Directions:  speedfind.com/JustinWine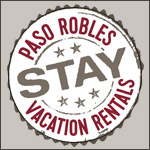 Paso Robles Vacation Rentals, also known as PasoStay.com assists guests in creating memories and wonderful experiences by providing quality privately owned vacation home rentals in Paso Robles Wine Country. With over 90 vacation homes to choose from, small enough for a couple's romantic getaway to large homes amongst local vineyards and olive orchards, PasoStay.com has the perfect option for you. Feel free to call 805-423-9174 to talk with a local expert or book online at PasoStay.com.
Directions:  speedfind.com/PasoRoblesVacationRentals
LEARN MORE