Unless you're tragically stuffy, you've probably giggled while reading the back of a fancy wine label. I mean, let's get real. Laughing at wine descriptors now and then is part of the fine wine drinking experience (it's practically an American pastime). Now, clear your mind and take a long hard whiff. What do you smell? Good and Plenty? Pencil lead? Green Beans? Old saddle leather? Just ask respected somms everywhere: These 5 weird wine descriptors are right on the money.
Tomato Leaf
Have you ever reached into a lush tomato plant to pick a few juicy orbs? Then you totally know the heady, summery scent of fresh tomato leaves. Fragrant, intoxicating, and super perfumy, this heavenly (but weird) scent is coveted among high end winemakers and is especially prevalent in some types of Sauvignon Blanc. That said, we must remind you that you should never eat tomato leaves. They are, indeed, toxic.
Banana
No, we aren't talking about those icy tropical rum drinks that make your head throb. Many wines utilizing the cabonic maceration process will have a particular banana scent upon opening—especially Beaujolais wines. In this process, the grapes are sealed in a vessel filled with carbon dioxide prior to regular fermentation, which gives Beaujolais wines their distinctive juicy or subtly tropical flavors. Interestingly, the same "banana" compound is released by the honey bees from their sting to alert fellow bees to danger. Weird, right?
Cat Pee
A gross descriptor for super delicious wines, right? Don't throw out that Sauvignon Blanc just yet…a subtle cat pee flavor is a very good thing! Want to know the difference between a low or high end Sauvignon Blanc? Smell for that funky and tangy scent that makes you wrinkle your nose just a tiny bit (if you're a cat person, you'll know the smell immediately). That said, if your wine smells like "wet dog," it's probably corked. Sorry pups, but the cats win this round.
Dill
If fresh chopped dill makes you think of mom's tuna fish salad sandwiches and crunchy, salty pickles, think again. You'll usually pick up that herbaceous, bright "dill" scent in oak aged wines. Sure, you'll probably catch the traditional vanilla, cinnamon, clove, and cedar flavors associated with oak, but do yourself a favor and train your noise to pick out the dill in your drink. You'll impress everyone at the table.
New Plastic
This one is just bizarre, but oh so true! A chemical aroma associated with high acidity whites, this "new Barbie smell" can be found in Rieslings and Chablis, among others. Of course, there is no real plastic lingering in your wine. How's that for factory fresh flavor?
Follow Your Nose Through Paso
1. Mourvèdre
Mourvèdre is sometimes said to have a "read meat" flavor. Try Seven Oxen, balanced with red fruit flavors and 10% elegant Grenache (goes great with a bloody steak). It scored 90 PTS with Wine Enthusiast! Look for their cool, new tasting room opening in March on Ramada Drive.

Buy Now
Mapping and Directions to Seven Oxen
2. Red Rhône Blend
Can you taste the chocolate mint, cedar and coffee bean in Oso Libre's MV Carnal Red Rhone Blend? It scored 96 PTS with a Double Gold Medal!
Buy Now
Mapping and Directions to Oso Libre
3. Zinfandel
San Marcos Creek Vineyard's 2014 Estate Zinfandel is all about fresh raspberries, licorice and white pepper.

Buy Now
Mapping and Directions to San Marcos Creek Vineyards
4. Grenache Blanc
Clavo Cellars' 2012 Grenache Blanc- Oracle boasts calming aromas of eucalyptus leaves, dried stone fruit and lavender. A fave!

Buy Now
Mapping and Directions to Clavo Cellars
5. Tempranillo
Cooking spices ain't just for cookies: Can you smell the nutmeg and cardamom in Hoyt Family Vineyards' 2012 Tempranillo? This great wine won GOLD at the 2017 Los Angeles International Wine Competition!

Buy Now
Mapping and Directions to Hoyt Family Vineyards
---

This blog was written by Hayley Thomas Cain, food and wine writer for SLO New Times and PasoRoblesWineries.net. You can reach her at hthomas@newtimesslo.com or follow her on instagram @flavorslo.
---
If you're looking for a place to spend the night in Paso Robles, checkout:
The Adelaide Inn is an iconic, lo
cally owned hotel known for its friendly staff and lush landscaping. With spacious rooms and a convenient location close to highway 101 and the event center – home of the California Mid-State Fair – this hotel is a great choice for most travelers.
Directions: speedfind.com/AdelaideInn
Majestically set among vineyards, olive groves and fruit baring orchards, the 20-acre Allegretto Vineyard Resort is a world unto itself, offering breathtaking settings that inspire and bring joy to all who choose this memorable wine country haven. Featuring 171 rooms and suites, on-site spa, grand ballroom, wine tasting room, and inspired culinary creations at Cello, the resort's full service restaurant.
Directions: speedfind.com/Allegretto
La Bellasera Hotel & Suites is an elegant boutique hotel nestled in the heart of Central Coast Wine Country. Influenced by Mediterranean and Italian architecture, the luxurious accommodations reflect the aged sophistication of the Central Coast region and the relaxed nature of the California countryside.
Directions: speedfind.com/LaBellasera
Hampton Inn & Suites Paso Robles is nestled in the Central Coast wine region, home to over 200 wineries, beautiful beaches, mountains and diverse attractions. Relax and revive in a comfortable guest room with all you need for a successful stay. You can count on Hampton to deliver value, consistency and service with a smile. We love having you here®
Directions: speedfind.com/PRWine.HamptonInn
Experience the pristine countryside of Paso Robles Wine Country at Lekai Ranch. Lounge on the porch of your private suite and lose yourself in the tranquility and stunning views of the vineyards and oak studded hills beyond. This vacation rental is located just minutes from some of the most distinguished wineries and a premier olive oil estate, and only 15 minutes from downtown Paso Robles' restaurants, wineries and shopping.
Directions: speedfind.com/Lekai | vrbo.com/701796
Enjoy the elegance, style and natural beauty of California's Central Coast at the JUST Inn®. Surrounded by vineyards, our JUST Inn Suites offer luxurious appointments like fireplaces, Tempur-Pedic®mattresses, Frette linens, hydro-spa tubs, and range in size from 600–1,200 square feet. An overnight stay includes breakfast and a tour of the winery and caves.
Directions:  speedfind.com/JustinWine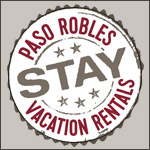 Paso Robles Vacation Rentals, also known as PasoStay.com assists guests in creating memories and wonderful experiences by providing quality privately owned vacation home rentals in Paso Robles Wine Country. With over 90 vacation homes to choose from, small enough for a couple's romantic getaway to large homes amongst local vineyards and olive orchards, PasoStay.com has the perfect option for you. Feel free to call 805-423-9174 to talk with a local expert or book online at PasoStay.com.
Directions:  speedfind.com/PasoRoblesVacationRentals
LEARN MORE