Let's face it. "Toast"—whether topped with avocado, Ahi, or organic grass-fed yack butter—has become the trendy new fad. No, "artisan toast" is not an oxymoron, although it sure sounds like it! Long gone are the days when you could slap a piece of Wonder Bread with a slice of ham and call it a day (now we've got chia seeds, sprouts, superfoods, and balsamic reduction to think about).
We don't make the foodie rules around here, but we sure do love breaking them! In Paso Robles Wine Country, winemakers craft wine by the beat of their own drum. Why not pair fancy toast with an equally high caliber bottle? Instagram pic, right? I mean, as delicious as a perfectly coiffed piece of thick sliced raw-honey-and-elderberry toast might be, the double taps make it all the more tasty!
1. Salted Avocado Toast with a Rhône White
Creamy, satiating and chocked full of "the good fat," avocado has long been a staple on menus across Paso Robles Wine Country and California as a whole. When sliced and fanned artfully atop toasted sourdough bread and sprinkled with flaky Himalayan pink sea salt, the meal is elevated into a simple yet profound kind of art. When paired with Écluse's 2016 Prelude, a citrusy Rhône style white with a hint of honey, you've got a masterpiece on your hands.
Icing on the cake is Écluse's other fabulous wines that consistently win top awards. And their super friendly, family owned, chill boutique winery couldn't be more grounded and lovely; a beautiful reflection of their wines. They have even been named one of the top 25 wineries in the US by Travel and Leisure Magazine. No surprise here!
And dog lovers, you'll want to scoop up Écluse's Blind Dog Wine that honors two of their blind winery dogs. One pup was a hearing assist dog for their property caretaker. They generously donate a percentage of the proceeds to Dogs for Better Lives in Oregon. Their worthy cause rescues shelter dogs and trains them as hearing assist dogs. This touches our hearts!
Mapping and Directions to Écluse Wines click here 
2. Goat Cheese and Fig Toast with a Jammy Zin
Whole grain wheat bread, when toasted, brings out a touch of innocent sweetness. Add a thick smear of tangy fig preserves and you're onto something sultry. The pairing becomes sexier still with the addition of two things. One: Dover Canyon Winery's 2017 Cujo Zinfandel (with flavors of dark berries and sweet plum), and Two: several generous dollops of goat cheese.
Bonus! When you visit Dover Canyon, you will enjoy a small and intimate experience in wine tasting with Glenda or Dan, a noteworthy Paso winemaker with an impressive background that includes working in the cellar with iconic, Gary from Eberle Winery (known as the Godfather of Wine in Paso). Consider bringing a picnic and enjoying beautiful views of the westside countryside with your glass of Dover Canyon Zin – it will be a forever memorable experience. From Yelp: "Although my palate was mostly fried by the time I got to Dover Canyon, I could tell from the first sip of their zinfandel that this was a special winery". Zin lovers, this is for you!
Mapping and Directions to Dover Canyon click here
3. Mushroom Kale Toast with a Structured Red
Toasting a wine barrel brings out certain characteristics, like caramel and oak. The same is true when you toast bread. A firm rustic loaf full of seeds and nuts becomes downright complex when toasted to a deep, dark brown. Next: Add kale, roasted mushrooms and a swirl of olive oil. Yep, you're looking at a crunchy, hearty dinner! Pair with a strong red with firm tannins, like Bodega de Edgar's 2017 Priorato, a haughty blend of Caringnan and Syrah boasting elements of coffee, tobacco and dark tart fruit.
Paso locals love Edgar's story, and we believe you will too; Born to Mexican immigrants seeking a better life for their family, Edgar's wine journey started humbly (a wonderful trait that he has never surrendered) as a bus boy then waiter in a popular Paso Robles, CA restaurant. There he was exposed to many great wine producers. Several became friends and eventually opened their doors to his learning desires (applause team Paso!) and landed him a job as a cellar rat (an endearing term as the bottom of the ladder, go-to guy who tackles whatever job is needed in the cellar, no matter what time of day or night.) This allowed him to move on to learn the many complex and varied aspects of making wine and to learn how to navigate the wine industry. Working and saving, in 2004 he decided to invest in the purchase of 4 barrels and grapes rather than attend college (we're glad he made this call, as are his many enthusiastic followers – taste his wine and you'll be one too). His quick study and enthusiasm for producing great wines brought he and his wife to launch their own prized brand in 2007, Bodega de Edgar. (Bodega is the Spaniard term for a winery or cellar.)
Starting at just 250 cases, the winery is now approaching 2,500 cases. As always, his focus is on sourcing the highest quality fruit from vineyards (who practicing sustainability) to produce the best wines.
Mapping and Directions to Bodega de Edgar click here
4. Almond Butter Banana Toast and a Spicy Mourvedre
Ditch those boring after school snack days. Salty almond butter and creamy banana come together to create a distinctly satisfying topping for cinnamon raisin toast (especially when topped with a drizzle of honey and cinnamon). Pair this morsel with an equally enthralling fruit forward Mourvedre featuring pronounced spice elements reminiscent of cardamom and sandalwood. Yes, we're talking about Paix Sur Terre's 2017 Been Away Too Long, which takes the whole flavor combination into strictly "adult" territory.
A must-visit, uber-boutique family owned winery, Paix Sur Terre (French for "Peace on Earth") is passionate about crafting wines from unique varietals not found anywhere else in Paso Robles. The wines consistently receive praise from notable wine critics, trusted periodicals and journals, sommeliers and, most importantly, visitors to its tasting room. We also love their AMAZING labels designed by Jon Blythe who creates a new piece of art for each vintage. Looking for something unique? Paix Sur Terre is for you!
Mapping and Directions to Paix Sur Terre click here
5. Apple Gorgonzola Toast with Grenache Blanc
Strong, distinct gorgonzola plays up mild, sweet red apples. The toast should be neutral—perhaps a hunk of fresh French baguette lightly toasted on a cast iron pan. Allow the fresh elements of Kiamie Wine Cellars 2018 White Kuvee (with hints of peach schnapps, tarragon and spiced applesauce) to bring this sassy snack to the next level. Better than dessert!
Another must-visit, uber-boutique Westside winery, Kiamie is housed in a fittingly uber-petite, rustic outbuilding that used to be a tack room on the historic Ramage Ranch homesteaded in the 1800's on Adelaida Road between Tablas Creek Winery and Justin. While there get your furry love from the 2 winery dogs, + dog in a goat suit, named, "The Goat", who cruises around the tasting room areas. As Greg says, The Goat thinks he is a dog with the exception of when he devouring the cacti + blueberry bushes.
Adam Bauman, the winemaker, takes great pain to delestage during fermentation. Delestage (day-leh-staj) is a labor intensive, fermentation + maceration technique used in red winemaking that gently extracts phenolic compounds by oxygenating the juice to produce a less astringent, softer wine that exhibits more fruit character. In French, délestage means "lightening", in reference to lightening the tannins in wines.
Mapping and Directions to Kiamie Wine Cellars click here
---

 This blog is written by flavor fiend Hayley Cain. Follow her @flavorslo on Instagram or at astoldbyhayley.com.
---
---
Looking for a place to stay in Paso Robles?
The Adelaide Inn is an iconic, lo
cally owned hotel known for its friendly staff and lush landscaping. With spacious rooms and a convenient location close to highway 101 and the event center – home of the California Mid-State Fair – this hotel is a great choice for most travelers. TOUR VIRTUALLY
Directions: speedfind.com/AdelaideInn
Majestically set among vineyards, olive groves and fruit baring orchards, the 20-acre Allegretto Vineyard Resort is a world unto itself, offering breathtaking settings that inspire and bring joy to all who choose this memorable wine country haven. Featuring 171 rooms and suites, on-site spa, grand ballroom, wine tasting room, and inspired culinary creations at Cello, the resort's full service restaurant.
Directions: speedfind.com/Allegretto
Wouldn't you love to wake up among the vines? Eden House at Carriage Vineyards Bed & Breakfast is on a real working vineyard and longhorn ranch in the Paso Robles Wine Region. Our rooms overlook vineyards, creeks and oaks, right in the Paso Robles Wine Country of Central California.
Directions: speedfind.com/edenhouse
Spend an idyllic getaway at Briarwood Cottage at ONX Estate Vineyards in an English-cottage inspired vineyard-side home. Guests may rent rooms in the main cottage, reserve the entire main cottage for a large group, or book the fully equipped apartment. Wake up to peaceful vineyard views and spend twilight hours sipping wine on the back porch of the cottage. It's a time you won't quickly forget. Contact us for pricing and availability (see form below). Case, 6 Bottle, and 4 Bottle Collective Members receive preferred pricing.
Directions: speedfind.com/BriarCottage
Hampton Inn & Suites Paso Robles is nestled in the Central Coast wine region, home to over 200 wineries, beautiful beaches, mountains and diverse attractions. Relax and revive in a comfortable guest room with all you need for a successful stay. You can count on Hampton to deliver value, consistency and service with a smile. We love having you here®
Directions: speedfind.com/PRWine.HamptonInn
Treat yourself to the ultimate Paso Robles wine country experience by booking your stay at The Inn at Opolo Vineyards. Guests enjoy our luxurious, spacious rooms and all of the sensory pleasures of Paso Robles in one destination. TOUR VIRTUALLY
Directions: speedfind.com/oploVineyards
Enjoy the elegance, style and natural beauty of California's Central Coast at the JUST Inn®. Surrounded by vineyards, our JUST Inn Suites offer luxurious appointments like fireplaces, Tempur-Pedic®mattresses, Frette linens, hydro-spa tubs, and range in size from 600–1,200 square feet. An overnight stay includes breakfast and a tour of the winery and caves. TOUR VIRTUALLY
Directions:  speedfind.com/JustinWine
La Bellasera Hotel & Suites is an elegant boutique hotel nestled in the heart of Central Coast Wine Country. Influenced by Mediterranean and Italian architecture, the luxurious accommodations reflect the aged sophistication of the Central Coast region and the relaxed nature of the California countryside.
Directions: speedfind.com/LaBellasera
Experience the pristine countryside of Paso Robles Wine Country at Lekai Ranch. Lounge on the porch of your private suite and lose yourself in the tranquility and stunning views of the vineyards and oak studded hills beyond. This vacation rental is located just minutes from some of the most distinguished wineries and a premier olive oil estate, and only 15 minutes from downtown Paso Robles' restaurants, wineries and shopping. TAKE AN AERIAL TOUR
Directions: speedfind.com/Lekai | vrbo.com/701796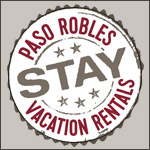 Paso Robles Vacation Rentals, also known as PasoStay.com assists guests in creating memories and wonderful experiences by providing quality privately owned vacation home rentals in Paso Robles Wine Country. With over 90 vacation homes to choose from, small enough for a couple's romantic getaway to large homes amongst local vineyards and olive orchards, PasoStay.com has the perfect option for you. Feel free to call 805-423-9174 to talk with a local expert or book online at PasoStay.com.
Directions:  speedfind.com/PasoRoblesVacationRentals
LEARN MORE