So you think you know a lot about wine, huh? Well, some of these facts may surprise you, still. This is the great nature of wine—and why we can publish a blog post weekly without repeating information. There is just so much to learn about wine! The task is never-ending. Every year, you think you know it all, and then bam. A new statistic or winemaking method or process is thrown at you. For you factoid collectors out there, this is probably half the reason you love drinking, reading (and thinking) about fine wine. Stimulate your brain with these 5 facts and impress your friends with your wide-ranging wine knowledge. Just remember: no one likes a know-it-all!
1. Q: How many wine grape varieties are there around the world?
Brecon's winemaker extraordinaire, Damian, (shown to the left) calculating the number of varieties. A: If you guessed, "At least a thousand," you were on there right track, but still quite a ways away. In fact, there are more than 10,000 varietals of wine grapes grown worldwide! A staggering amount grow in Paso Robles alone. Italian Zinfandel, Rhône Syrah and pretty much everything in between can be found in Paso Robles Wine Country (just try us!). Brecon Estate crafts award winning Spanish Albariño as well as a range of Rhône and Bordeaux varietals.

Mappings and Directions to Brecon Estate
2. Q: How are French Oak barrels made?
A: If you guessed, "By cutting down French oak trees and making them into barrels," you were close, but no cigar! Indeed, French oak barrels can only be made from trees older than 170 years in age. Yeah. 170 years! No wonder these barrels are worth a pretty penny brand-spanking-new, as well as used. If you ever come across one, better hang onto it. Like gold or oil, French oak never really loses its value in the wine world. Cass Winery's 2016 Grenache is aged in 100% French oak barrels, and it shows on the nose!

Mappings and Directions to Cass Winery
3. Q: What country consumes the most red wine?
A: You may think this one's easy. Of course some European country must hold this title, no? Well, you'd be dead wrong. In fact the world's largest red wine consumers are the Chinese, who drank their way to a record 155 million 9-liter cases of red wine in 2013 (beating the French, whose consumption actually decreased 18% that year). Perhaps it's all the health benefits? In China, red is a very lucky color, indeed! At Pelletiere Estate, you'll find a luscious lineup of locally loved reds, like their 2014 Sangiovese Riserva.
Bonus Fact: When it comes to the biggest US wine consumers the leaders are: California, New York followed by Florida. France still drinks more wine (all categories) per capita than the Chinese with 53 liters per capita per year versus 1.9 in China. But which country drinks the most wine per capita? The Vatican with 74 liters per capita per year which is about 99 bottles of 75cl per year!
Mappings and Directions to Pelletiere Estate
4. Q: Who invented Champagne?
A: OK. This is a tough one! French Champagne, one of the world's greatest sparkling wines, is popularly but erroneously thought to have been invented by the Benedictine monk Dom Pierre Pérignon (1638-1715). Although he did not invent or discover champagne, he founded many principles and processes in its production that are still in use today. Note: He purportedly declared upon drinking the bubbly beverage, "I am drinking stars!" If you want to try to slurp up the stars in Paso, try Rava Sparkling Wines, crafted in the "méthode champenoise."

Mappings and Directions to Rava Wines
5. Q: How long does a crop of newly planted grape vines take to grow before the grapes can be harvested?
A: You may know this one, but it still amazes us to think about it. The answer is (drum roll please) five long years! That's longer than it took to earn your Bachelor's Degree, longer than it'll take your sweet freshman student to graduate high school, and way longer than it takes to drink 2.94 gallons of wine (which, at least in 2016, was approximately the amount each American person drank annually). The owners of micro-winery Barr Estate Winery (who hail from New Orleans) know exactly how long it takes to plant a working vineyard, and they also know that all that farming work (and waiting) is totally worth it.
Try their lovely Cabernet Sauvignon, Malbec, Petit Verdot, Petite Sirah, Primitivo, Tannat and Albariño with your 2 for 1 wine tasting coupon!
Mappings and Directions to Barr Estate Winery
---

 This blog was written by Hayley Thomas Cain, food and wine writer for SLO New Times and PasoRoblesWineries.net. You can reach her at hthomas@newtimesslo.com or follow her on instagram @flavorslo.
---
---
Looking for a place to stay in Paso Robles?
The Adelaide Inn is an iconic, lo
cally owned hotel known for its friendly staff and lush landscaping. With spacious rooms and a convenient location close to highway 101 and the event center – home of the California Mid-State Fair – this hotel is a great choice for most travelers.
Directions: speedfind.com/AdelaideInn
Majestically set among vineyards, olive groves and fruit baring orchards, the 20-acre Allegretto Vineyard Resort is a world unto itself, offering breathtaking settings that inspire and bring joy to all who choose this memorable wine country haven. Featuring 171 rooms and suites, on-site spa, grand ballroom, wine tasting room, and inspired culinary creations at Cello, the resort's full service restaurant.
Directions: speedfind.com/Allegretto
La Bellasera Hotel & Suites is an elegant boutique hotel nestled in the heart of Central Coast Wine Country. Influenced by Mediterranean and Italian architecture, the luxurious accommodations reflect the aged sophistication of the Central Coast region and the relaxed nature of the California countryside.
Directions: speedfind.com/LaBellasera
Hampton Inn & Suites Paso Robles is nestled in the Central Coast wine region, home to over 200 wineries, beautiful beaches, mountains and diverse attractions. Relax and revive in a comfortable guest room with all you need for a successful stay. You can count on Hampton to deliver value, consistency and service with a smile. We love having you here®
Directions: speedfind.com/PRWine.HamptonInn
Experience the pristine countryside of Paso Robles Wine Country at Lekai Ranch. Lounge on the porch of your private suite and lose yourself in the tranquility and stunning views of the vineyards and oak studded hills beyond. This vacation rental is located just minutes from some of the most distinguished wineries and a premier olive oil estate, and only 15 minutes from downtown Paso Robles' restaurants, wineries and shopping.
Directions: speedfind.com/Lekai | vrbo.com/701796
Enjoy the elegance, style and natural beauty of California's Central Coast at the JUST Inn®. Surrounded by vineyards, our JUST Inn Suites offer luxurious appointments like fireplaces, Tempur-Pedic®mattresses, Frette linens, hydro-spa tubs, and range in size from 600–1,200 square feet. An overnight stay includes breakfast and a tour of the winery and caves.
Directions:  speedfind.com/JustinWine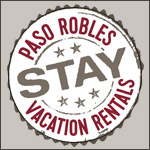 Paso Robles Vacation Rentals, also known as PasoStay.com assists guests in creating memories and wonderful experiences by providing quality privately owned vacation home rentals in Paso Robles Wine Country. With over 90 vacation homes to choose from, small enough for a couple's romantic getaway to large homes amongst local vineyards and olive orchards, PasoStay.com has the perfect option for you. Feel free to call 805-423-9174 to talk with a local expert or book online at PasoStay.com.
Directions:  speedfind.com/PasoRoblesVacationRentals
LEARN MORE