Who's hot and who's so not? What's so "right now" and what's so "totally last year?" These were probably questions you pondered frequently as a teenager, but chances are now—you know, that you're an adult—you couldn't care less what's "trending now." Well, except for when it comes to your Twitter feed. And Pinterest. And Instagram. And, well, your wine. Ok. There's nothing wrong with admitting you want to be "in the know," as long as you spread the news with others and share the experience, right? Head to #PasoRobles now, where wine tasting is about so much more than the stuffy sniff, swirl, spit routine. What can we say? Paso Robles is simply lit, fam!
#CraftDistilleries
Fine wine is everywhere in Paso Robles (and it's heavenly), but did you know that Paso Robles Wine Country is also home to a totally unique, artisanal (and yes, heart-emoji worthy) craft distillery trail? Sounds cool, but what exactly is a craft distillery, you ask? Well, you know craft beer and boutique wine, yes? Consider this the coolest most small-batch version of whatever you consider your poison. From gin and whiskey to bitters and liqueurs, the Paso Robles Craft Distillery Trail is all about smooth spirits boldly poured. Shake up your wine tasting trip at KROBAR Craft Distillery, where the ambiance is one part industrial, two parts luxurious. Located behind Grey Wolf Cellars and just steps away from Barton's Kitchen Window (where you can #nomnom on some famous mac and cheese), this hip haunt is serving up an Americana Bourbon aged in American Oak barrels for over two years and even a (gasp) a totally Instagrammable pink gin. Is it Millennial pink or more of a salmon? You decide.
Mapping and Directions to Krobar Distillery
#Albariño
After visiting Paso Robles, you'll regret ever passing up the whites on the list again. Paso Robles is rife with floral and honied Rhone whites you should absolutely seek out, but Albariño—the uniquely aromatic Spanish white grape—is having a bit of a #moment now. Try Brecon Estate's 2015 Albariño, which is 100 percent pure and unadulterated golden goodness. Crisp yet perfumed, this wine explodes with tropical complexity, richness, and citrus notes. There's even an Albariño festival hosted in Paso Robles each summer celebrating the amazing, award-winning whites. In a region known for its lush reds, this sounds a bit crazy, right? Well, now you know. The secret is most certainly out.

Mapping and Directions to Brecon Estate
Beyond #FarmtoTable
Go beyond the so-called "farm to table" trend and really meet the chefs, farmers—and even winemakers—behind whatever's rolling around your mouth. Truly! In Paso Robles, a long temperate growing season brings on bounty after bounty of fabulous produce, wine grapes, olives, citrus, and lavender. Visit the weekly farmer's market or attend a winemaker dinner at a local tasting to see what's ripe, right now (like, this very week). While wine tasting, it's easy to stop and experience a top notch extra virgin olive oil producer like Pasolivo and taste for yourself. Grab lunch at farm fresh coastal getaway Centrally Grown in Cambria and experience wine flights paired with the region's just picked-produce. You really can't go wrong when it comes to eating in Paso.

Mapping and Directions to Pasolivo Downtown
Mapping and Directions to Pasolivo Countryside
Mapping and Directions to Centrally Grown
It's Still #OldSchool (Sort of)
What's old is new again! For every new, cutting edge winemaker aging in clay or stainless steel, there's a classic winemaker doing it the old fashioned way, vintage after vintage. Paso Robles is full of these salt of the earth folks—guys and gals who won't fix it cause it ain't broken. Vines on the Marycrest is known for its legendary (and ancient) head-trained, dry-farmed Zinfandel. These old timey vines aren't just eligible for a senior citizen discount: They produce smashing wines that ooze with complex layers of flavor. As it turns out, you can filter your photo all you want, but you simply can't fake great wine.
Mapping and Directions to Vines on the Marycrest
#Vacation Goals
Lackluster hotels that treat you like one of a herd of nameless cattle? Not in Paso Robles. The chill wine country vibes don't end when you leave the tasting room. This incredible wine tasting destination is dotted with diverse, stunning stays ranging from intimate winery escapes (try the JUST INN at JUSTIN) to wildly plush, European-styled accommodations that make you want to log out of reality forever (try Allegretto Vineyards Resort and hotel, which also features a fine dining restaurant, vineyards, and tasting room). Of course, you could always move here. Isn't that the ultimate #life goals?
Mapping and Directions to Allegretto Vineyard & Wines
Mapping and Directions to JUSTIN Winery
---

This blog was written by Hayley Thomas Cain, food and wine writer for SLO New Times and PasoRoblesWineries.net. You can reach her at hthomas@newtimesslo.com or follow her on instagram @flavorslo.
---
If you're looking for a place to spend the night in Paso Robles, checkout:
The Adelaide Inn is an iconic, lo
cally owned hotel known for its friendly staff and lush landscaping. With spacious rooms and a convenient location close to highway 101 and the event center – home of the California Mid-State Fair – this hotel is a great choice for most travelers.
Directions: speedfind.com/AdelaideInn
Majestically set among vineyards, olive groves and fruit baring orchards, the 20-acre Allegretto Vineyard Resort is a world unto itself, offering breathtaking settings that inspire and bring joy to all who choose this memorable wine country haven. Featuring 171 rooms and suites, on-site spa, grand ballroom, wine tasting room, and inspired culinary creations at Cello, the resort's full service restaurant.
Directions: speedfind.com/Allegretto
La Bellasera Hotel & Suites is an elegant boutique hotel nestled in the heart of Central Coast Wine Country. Influenced by Mediterranean and Italian architecture, the luxurious accommodations reflect the aged sophistication of the Central Coast region and the relaxed nature of the California countryside.
Directions: speedfind.com/LaBellasera
Hampton Inn & Suites Paso Robles is nestled in the Central Coast wine region, home to over 200 wineries, beautiful beaches, mountains and diverse attractions. Relax and revive in a comfortable guest room with all you need for a successful stay. You can count on Hampton to deliver value, consistency and service with a smile. We love having you here®
Directions: speedfind.com/PRWine.HamptonInn
Experience the pristine countryside of Paso Robles Wine Country at Lekai Ranch. Lounge on the porch of your private suite and lose yourself in the tranquility and stunning views of the vineyards and oak studded hills beyond. This vacation rental is located just minutes from some of the most distinguished wineries and a premier olive oil estate, and only 15 minutes from downtown Paso Robles' restaurants, wineries and shopping.
Directions: speedfind.com/Lekai | vrbo.com/701796
Enjoy the elegance, style and natural beauty of California's Central Coast at the JUST Inn®. Surrounded by vineyards, our JUST Inn Suites offer luxurious appointments like fireplaces, Tempur-Pedic®mattresses, Frette linens, hydro-spa tubs, and range in size from 600–1,200 square feet. An overnight stay includes breakfast and a tour of the winery and caves.
Directions:  speedfind.com/JustinWine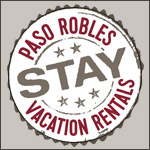 Paso Robles Vacation Rentals, also known as PasoStay.com assists guests in creating memories and wonderful experiences by providing quality privately owned vacation home rentals in Paso Robles Wine Country. With over 90 vacation homes to choose from, small enough for a couple's romantic getaway to large homes amongst local vineyards and olive orchards, PasoStay.com has the perfect option for you. Feel free to call 805-423-9174 to talk with a local expert or book online at PasoStay.com.
Directions:  speedfind.com/PasoRoblesVacationRentals
LEARN MORE