Chill out, you've got this. Whether you're reaching for a chardonnay on a hot day or a sauvignon blanc on a steamy night, summer wines are best served cold. That said, cooling off should be fun, never daunting. If you've ever worried about the right or wrong way to enjoy a glass of chilled Paso Wine, have no fear! We're armed with the 5 simple rules you need to know this summer. Now that's refreshing!
Know your temps
The more you know: So what is "properly chilled," anyway? 45-50 degrees is the ideal range for whites, as this temperature will cool the wine without deadening its delicious characteristics. However, be warned: Chill a white down too much (under, say, 45 degrees) and—well—you might as well be drinking muted grape juice. Now that we've declared these hard and fast rules, we'll let you in on a little secret: personal preference is still king. Chill out: Brecon's lineup of crisp, refreshing whites are begging for a cool-down. The winery's newly released Summer Six Pack features a mix of albarino, rosé and albarino-viognier bottles sure to make a splash at your next pool party.
There's no wrong way
Get creative: There's more than a few ways to get that white cooled to perfection. Submerge the bottle in a salted ice bath, throw it in the freezer or pour it straight into your glass and refrigerate (although this could take a few hours). Our favorite quick-chill hack? Wrap a wet towel around the bottle and stick it in the freezer for 30 minutes (this will chill the bottle down in half the time). Chill out: Regardless of how you choose to cool Pelletiere Estate Vineyard's 2020 Viognier, it's going to taste incredible. Glittering and brilliant, this stainless-steel aged wine is crisp and racy with refreshing aromas of peach, mango and a bouquet of blossoms. Everyone's going to want a taste of this one!
Ice isn't nice
Cold, hard truth: While tossing a few frozen ice cubes into your wine on a hot afternoon might seem tempting, you'll be diluting that gorgeous bouquet and depth of flavor. In other words, just say no to watered-down wine! Other options are available, thankfully. Crafted in a rainbow of colors and shapes, reusable stainless steel ice cubes and insertable Corksicles are all the rage these days. Don't have any of these nifty items on-hand? Reach for a handful of frozen grapes, beautiful and resourceful! Chill out: Crowd pleasing and food friendly, chilled chardonnay is the perfect go-to summer sipper. Try Donati Family Vineyards' 2021 Sisters Forever UnOaked Chardonnay, bursting with tropical pineapple and nectarine juiciness. Clink clink.
Wine fridges are awesome
Consider it: You already knew that wine fridges are amazing, but did you know there are more options on the market than ever before? If you drink a lot of good wine, you might want to consider getting your own (we promise, you'll wonder how you ever lived without one). Plus, with plenty of price ranges to consider, you need not be a fancy wine collector to spring for one of these gadgets designed to keep your bottles at that perfect not-too-cold temp. Chill out: Lone Madrone's 2020 Chenin Blanc is an understated beauty with an intriguing bouquet of lime blossom and dry, summer grasses. With subtle tannins and a long, crisp finish, we dare you to find a better chilled beverage to sip on the beach or in the backyard.
Enjoy the possibilities
Endless refreshment: As a rule of thumb, red wines should be stored between 60 and 69 degrees (room temperature is typically around 70 degrees). However, rosés and lighter-bodied reds can benefit from a subtle chill, too (shoot for 50 degrees for rosés and 54-56 degrees for lighter reds). Why? The cold has a way of lifting delicate aromas and freshness to the fore. How to know if a non-white wine could do well with a blast of cold? The more acidity in the wine, the better it'll taste cooled. Chill out: Hayseed and Housdon's dry, bright 4:19 to Paso Rosé is ready for summer cheese plates and even carnitas tacos. Simply chill, serve and savor till the cows come home.
Get Your Wine Country COUPONS click here!

 This blog is written by flavor fiend Hayley Cain. Follow her @flavorslo on Instagram or at astoldbyhayley.com.
CAN WE HELP YOU FIND?
DISTILLERIES   TOURS & TRANSPORTATION
Looking for a place to stay in Paso Robles?
The Adelaide Inn is an iconic, locally-owned hotel known for its friendly staff and lush landscaping. With spacious rooms and a convenient location close to highway 101 and the event center – home of the California Mid-State Fair – this hotel is a great choice for most travelers. TOUR VIRTUALLY
Directions: speedfind.com/AdelaideInn
Majestically set among vineyards, olive groves and fruit baring orchards, the 20-acre Allegretto Vineyard Resort is a world unto itself, offering breathtaking settings that inspire and bring joy to all who choose this memorable wine country haven. Featuring 171 rooms and suites, on-site spa, grand ballroom, wine tasting room, and inspired culinary creations at Cello, the resort's full-service restaurant.
Directions: speedfind.com/Allegretto
The GENESEO INN is a luxury boutique hotel nestled in the rolling hills of Paso Robles wine country. Built of industrial shipping crates perched above the vines on CASS Winery's 145 acres of vineyard, the experience truly allows you to "breathe in the vineyard views."
Directions: speedfind.com/CassWinery
Spend an idyllic getaway at Briarwood Cottage at ONX Estate Vineyards in an English-cottage inspired vineyard-side home. Guests may rent rooms in the main cottage, reserve the entire main cottage for a large group, or book the fully equipped apartment. Wake up to peaceful vineyard views and spend twilight hours sipping wine on the back porch of the cottage. It's a time you won't quickly forget. Contact us for pricing and availability (see form below). Case, 6 Bottle, and 4 Bottle Collective Members receive preferred pricing.
Directions: speedfind.com/BriarCottage
Hoyt Family Vineyard RetreatsTwo very cool, tiny houses, designed using fertile imagination and repurposing of materials are located on Hoyt Family Vineyard.
Directions: speedfind.com/hoytfamilyvineyards
Hampton Inn & Suites Paso Robles is nestled in the Central Coast wine region, home to over 200 wineries, beautiful beaches, mountains and diverse attractions. Relax and revive in a comfortable guest room with all you need for a successful stay. You can count on Hampton to deliver value, consistency and service with a smile. We love having you here®
Directions: speedfind.com/PRWine.HamptonInn
Experience the pristine countryside of Paso Robles Wine Country at chic, sparkling clean Lekai Ranch. Lounge on the porch of your private suite and lose yourself in the tranquility and stunning views of the vineyards and oak studded hills beyond. This vacation rental is located just minutes from some of the most distinguished wineries and a premier olive oil estate, and only 15 minutes from downtown Paso Robles' restaurants, wineries and shopping. TAKE AN AERIAL TOUR
Directions: speedfind.com/Lekai | vrbo.com/701796
Oxford Suites Paso Robles You'll find that from our lobby, our on-site restaurant, to our meeting spaces, to our 101 spacious suites, every space is beautiful + functional as well as comfortable + chic.
Directions: speedfind.com/oxfordsuitespasorobles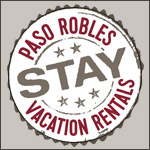 Paso Robles Vacation Rentals, also known as PasoStay.com assists guests in creating memories and wonderful experiences by providing quality privately owned vacation home rentals in Paso Robles Wine Country. With over 90 vacation homes to choose from, small enough for a couple's romantic getaway to large homes amongst local vineyards and olive orchards, PasoStay.com has the perfect option for you. Feel free to call 805-423-9174 to talk with a local expert or book online at PasoStay.com.
The Farmhouse at Pelletiere Estate is a modern & luxurious wine country retreat. Privately situated & surrounded by our estate vineyards, located just off Hwy46w on a very accessible country road, nestled in the heart of Paso Robles' renowned Westside, just 6 miles to Paso's downtown square. The Farmhouse offers stunning vineyard views from every angle, as well as a stylish yet cozy house you're bound to fall in love with!
Directions: speedfind.com/Pelletiere
LEARN MORE