You've probably heard the term "great wine starts in the vineyard." It seems every winemaker around Paso Robles Wine Country humbly points to his or her vines as the real reason behind those high point scores. Well, there's a reason why. There's truth to this oft heard mantra. It is no well kept secret, friends. Good vines equal good wines—and, as we all know—good wine is hard to fake. Either a bottle boasts that je ne sais quoi or it doesn't! As it turns out, that appealing "something special" can be pinned down to one overarching factor. You guessed it. It's all about the vineyard.
1. Terroir
What the heck is this "terroir" everyone's talking about? You can call it the "sense of place" or "essence" specific to a particular vineyard or plot of land. All you have to do is try pinot noir from the same vintage yet sourced from two different Paso Robles vineyards to understand. Combined factors like microclimate, soil, proximity to the coast, water levels—even the way the breeze might waft in at a certain hour—are known to significantly add or detract from the finished wine
Brecon Estate is home to nineteen acres of some of the original, Adelaida district, Bordeaux-varietal plantings of Cabernet Sauvignon and Cabernet Franc. When you taste these bold reds, you know exactly where they came from.
For mapping and directions to Brecon click here
2. Farming
The farming of the vineyard truly matters. There are big, commercial farms that produce big, commercial wines (these tend to come in jugs or boxes at a very low price at your local supermarket) and then there are boutique farming operations that produce less volume yet higher quality. It's not unlike the organic heirloom tomato grown by a small producer versus a hot house tomato grown from a GMO seed. Both are tomatoes, but which would you rather slather with olive oil and eat straight from the vine?
Lusso Della Terra, Italian for "Luxury of the Land," was created to express a true love and passion for the complexity of the grape and the vineyard from where it was grown. The winery specializes in high quality, handcrafted, ultra premium wines that are released in limited quantities. Quality over quantity, to be sure.
For mapping and directions to Lusso Della Terra click here
3. Purity of Varietal
When a particular wine grape is allowed to ripen with optimal weather conditions, it is bestowed a harmonizing balance of sugar and acid. Let the fruit linger longer and the sugars may develop further; pull them sooner, and preserve the fresh acid. It is always up to the winemaker to perform this dance—and to know just when to pull that fruit from the vine. Subtle yet crucial elements like minerality begin right there in the fruit (without  human intervention), and cannot be faked later down the line. A varietal that is allowed to ripen to a balanced and natural state is what many call "varietally pure" or "expressive" of its nature. When your fruit is this balanced, this true to itself, there is no need to throw flavorings into the wine (oak chips, for instance, are often used to mask a sub-par fruit). This is simply not done in Paso Robles Wine Country!
At ONX, the goal is to raise concentrated and highly expressive fruit. The winemaker balances each crop to allow the vines to focus their energy on a limited number of clusters. The vine canopy is manicured to allow dappled sunlight penetration and air movement within the vine canopy.  ONX also employs a variety of trellis approaches that match the rootstock, scion, and soil combinations. This all adds up to varietally joyful wines.
For mapping and directions to ONX click here
4. Sustainability

When we say "great wine" we aren't just talking about flavor. After all, what is a "great" bottle of wine worth if its very existence is damaging and degrading to the Earth? When wines are farmed in a biodynamic manner—honoring the unique web of life—it tastes all the better. Look for certifications like "natural," "sustainably farmed" and "biodynamic." These wines are made without pesticides and are farmed in such a way that farm workers, surrounding ecosystems, and the land itself is protected.
Vines on the Marycrest is located on 26 acres of steep hills in the Adelaida district of westside Paso Robles, a warm climate. Wanting to farm sustainably and retain as much of the unique character of the land, the winemaker dry farms the vineyard, which causes the vines to plant deep roots in search of water. The vines are also head-trained (no supporting trellises), allowing the plants to grow naturally.
For mapping and directions to Vines on the Marycrest click here
5. Depth of Connection

Drinking a bottle of wine is a full body experience: The tannin prickling on your tongue; the round fruitiness filling your mouth; the floral bouquet encompassing your nose. When you actually walk through the vineyard where that bottle was made, a 3D picture of that wine's lifecycle springs into action. To stroll the wine's birthplace and feel the ground under your feet, to smell the soil and experience the subtle microclimate, is an incredibly beautiful experience. This added layer of education can transform a day of wine tasting into a truly immersive realm.
Dover Canyon Winery is located on Vineyard Drive in the Willow Creek appellation and the grapes are grown on a west-facing petite strip of calcareous soil along Vineyard Drive (optimum for growing Zinfandel and Rhône varieties). In Paso Robles, there are no "average vineyards." This one, to be sure, is pretty close to heaven on earth
For mapping and directions to Dover Canyon Winery click here
---

 This blog is written by flavor fiend Hayley Cain. Follow her @flavorslo on Instagram or at astoldbyhayley.com.
---
---
Looking for a place to stay in Paso Robles?
The Adelaide Inn is an iconic, lo
cally owned hotel known for its friendly staff and lush landscaping. With spacious rooms and a convenient location close to highway 101 and the event center – home of the California Mid-State Fair – this hotel is a great choice for most travelers. TOUR VIRTUALLY
Directions: speedfind.com/AdelaideInn
Majestically set among vineyards, olive groves and fruit baring orchards, the 20-acre Allegretto Vineyard Resort is a world unto itself, offering breathtaking settings that inspire and bring joy to all who choose this memorable wine country haven. Featuring 171 rooms and suites, on-site spa, grand ballroom, wine tasting room, and inspired culinary creations at Cello, the resort's full service restaurant.
Directions: speedfind.com/Allegretto
Wouldn't you love to wake up among the vines? Eden House at Carriage Vineyards Bed & Breakfast is on a real working vineyard and longhorn ranch in the Paso Robles Wine Region. Our rooms overlook vineyards, creeks and oaks, right in the Paso Robles Wine Country of Central California.
Directions: speedfind.com/edenhouse
Spend an idyllic getaway at Briarwood Cottage at ONX Estate Vineyards in an English-cottage inspired vineyard-side home. Guests may rent rooms in the main cottage, reserve the entire main cottage for a large group, or book the fully equipped apartment. Wake up to peaceful vineyard views and spend twilight hours sipping wine on the back porch of the cottage. It's a time you won't quickly forget. Contact us for pricing and availability (see form below). Case, 6 Bottle, and 4 Bottle Collective Members receive preferred pricing.
Directions: speedfind.com/BriarCottage
Hampton Inn & Suites Paso Robles is nestled in the Central Coast wine region, home to over 200 wineries, beautiful beaches, mountains and diverse attractions. Relax and revive in a comfortable guest room with all you need for a successful stay. You can count on Hampton to deliver value, consistency and service with a smile. We love having you here®
Directions: speedfind.com/PRWine.HamptonInn
Treat yourself to the ultimate Paso Robles wine country experience by booking your stay at The Inn at Opolo Vineyards. Guests enjoy our luxurious, spacious rooms and all of the sensory pleasures of Paso Robles in one destination. TOUR VIRTUALLY
Directions: speedfind.com/oploVineyards
Enjoy the elegance, style and natural beauty of California's Central Coast at the JUST Inn®. Surrounded by vineyards, our JUST Inn Suites offer luxurious appointments like fireplaces, Tempur-Pedic®mattresses, Frette linens, hydro-spa tubs, and range in size from 600–1,200 square feet. An overnight stay includes breakfast and a tour of the winery and caves. TOUR VIRTUALLY
Directions:  speedfind.com/JustinWine
La Bellasera Hotel & Suites is an elegant boutique hotel nestled in the heart of Central Coast Wine Country. Influenced by Mediterranean and Italian architecture, the luxurious accommodations reflect the aged sophistication of the Central Coast region and the relaxed nature of the California countryside.
Directions: speedfind.com/LaBellasera
Experience the pristine countryside of Paso Robles Wine Country at Lekai Ranch. Lounge on the porch of your private suite and lose yourself in the tranquility and stunning views of the vineyards and oak studded hills beyond. This vacation rental is located just minutes from some of the most distinguished wineries and a premier olive oil estate, and only 15 minutes from downtown Paso Robles' restaurants, wineries and shopping. TAKE AN AERIAL TOUR
Directions: speedfind.com/Lekai | vrbo.com/701796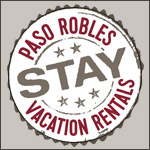 Paso Robles Vacation Rentals, also known as PasoStay.com assists guests in creating memories and wonderful experiences by providing quality privately owned vacation home rentals in Paso Robles Wine Country. With over 90 vacation homes to choose from, small enough for a couple's romantic getaway to large homes amongst local vineyards and olive orchards, PasoStay.com has the perfect option for you. Feel free to call 805-423-9174 to talk with a local expert or book online at PasoStay.com.
Directions:  speedfind.com/PasoRoblesVacationRentals
LEARN MORE