There are plenty of fun things you'll want to pack for your summer vacation in Paso Robles (a selfie stick, a flamingo pool floaty, and that killer new pair of merlot colored heels, to name a few). However, you won't want to forget the essentials. We hate to sound like your mom here, but don't forget a sweater! With hundreds of varietals to choose from, Paso Robles Wine Country is far from a minimalist wine tasting destination. Still, when heading out the door, we like to "KISS:" keep it simple, stupid. Whether you choose white, red, or blush, don't leave home without these five non-negotiable must-haves.
1. A Water Bottle
Happier with H20: On a good day, alcohol is dehydrating. In Paso Robles, where temperatures are known to sizzle into the triple digits each summer, dehydration can creep up even more quickly. As the day wears on and the sun shines brighter, make sure you're consuming enough water to avoid headaches and dizziness (a good rule of thumb: one glass of water per glass of wine). Although you can always grab free water at any Paso Robles Wine Country tasting room, be sure to come prepared with your own bottle for vineyard and winery tours (not to mention the drive between tasting room stops). Keep a refillable gallon jug in your car or bag. We promise—your head will thank us tomorrow!
Tip: Spend the day out and about in Paso Robles Wine Country, but make sure to pace yourself and drink lots of water so you can have the gusto to attend Penman Springs' Second Friday Barbecue! Slated for Friday, June 14 from 5:30-8 p.m., enjoy barbecue, live music, and wine. Stay hydrated and be bright eyed and bushy tailed.
For mapping and directions to Penman Springs, click here
2. Protective Clothing and SPF
Cover up: We love our sun here in Paso Robles (as do the grapes), but we also know how to protect our skin from those damaging rays. Most wine tasting excursions take place between 11 and 3p.m., when the sun's UV rays are strongest. Don't get burned!  Pack a loose outer layer—like a long-sleeve cotton shirt, sunglasses, comfortable shoes, and a wide brimmed hat. Go for a broad spectrum SPF slathered over your face and body in the morning (a shot glass-sized amount will do), then reapply every two hours while in direct sun. All that said, don't be fooled into thinking these hot afternoons will roll on forever. Evening lows can fluctuate by more than 50 degrees. Your mom was right: Do bring a sweater.
At Robert Hall Winery, you can bring your glass outside and play a little bocce ball or take on a lawn game like Giant Chess or Connect Four. When you're dressed properly with protective clothing and shades, fun in the sun is a total breeze.
For mapping and directions to Robert Hall Winery, click here
3. A Map
Proceed to the route: It's no secret that some regions of Paso Robles Wine Country will be spotty zones for your cell. Depending on your cellular provider, you may have trouble accessing service in one area, but not in another. When heading for the hills—and particularly through San Miguel's Pleasant Valley Wine Trail, you'll want to have a map in hand (or at least downloaded). We highly suggest you come prepared with a backup navigation plan so you can let the good times roll. Google Maps is great when it works, but it's best to have a GPS backup if possible, or download our free Paso Robles Wine Country map here. You can always stop at a tasting room to ask for directions or access the internet when in a pinch. Folks in Paso Robles are some of the friendliest around and the WiFi is truly free.
Tip: With world class Bordeaux and Rhone style wines, Villa San-Juliette Vineyard and Winery is worth the drive into scenic-yet-rugged San Miguel. Plan to attend an event, like a sushi-making class (coming up June 13). You won't want to get lost for this one, so download your map before heading out.
For mapping and directions to Villa San Juliette, click here
4. A Snack
Keep your hunger in check, or you may need to check out early. Many Paso Robles wineries boast sit down restaurants that rival some of the best eateries around. That said, many wineries serve only smaller bites, like cheese plates. Many do not serve food at all. Yes, those oyster crackers are great for preparing your mouth to go from the grenache to the syrah, but they do not a meal make! It's always a good idea to eat a hearty breakfast and make lunch plans before you embark on your tasting experience (and make a reservation if needed). However, you'll also want to bring an easy, filling snack to hold you over, too. Wine is acidic and can upset your stomach, especially if you haven't had enough food to start the day. A bag of nuts, a prepared sandwich from a local deli, a banana, or a blueberry muffin procured from your morning coffee stop are all no-frills, easy grab-and-go items that will take you from hangry to happy.
Tip: Plan to have lunch at a local winery and be sure you know the current hours of operation. Opolo is known for its flavorful zinfandel and wood-fired pizzas, which you can enjoy on a beautiful sun dappled patio. Is there any better way to curb those hunger pangs than a shared 'za?
For mapping and directions to Opolo, click here
5. A designated driver and a full tank of gas
Don't get caught on empty. Paso Robles Wine Country is an expansive swath of terrain and its beauty lies in the fact that you won't find gas stations (or fast food drive-thus) on every corner. While driving through verdant vineyards and majestic oaks, it's easy to get sidetracked (the view is dreamy, isn't it?). When that gas light turns on, be sure to perk up and heed the call. Make sure your DD fills up on gas in downtown Paso Robles or on Highway 46 West/East before traversing too far into the hills. Not only would running out of gas ruin all the fun for the day, but it could be quite difficult to contact AAA when you're twenty miles from the nearest main road with limited cell service.
Tip: Better yet, hire a driving service—especially if you're hitting some great wineries as well as a distillery, like KROBĀR Craft Distillery, located on Paso Robles' Highway 46 wine trail. Wine tours are a great responsible way to experience the region without all the planning (just be sure to bring essentials #1, #2 and #4, listed above).
For mapping and directions to KROBĀR, click here
---

 This blog is written by flavor fiend Hayley Cain. Follow her @flavorslo on Instagram or at astoldbyhayley.com.
---
---
Looking for a place to stay in Paso Robles?
The Adelaide Inn is an iconic, lo
cally owned hotel known for its friendly staff and lush landscaping. With spacious rooms and a convenient location close to highway 101 and the event center – home of the California Mid-State Fair – this hotel is a great choice for most travelers. TOUR VIRTUALLY
Directions: speedfind.com/AdelaideInn
Majestically set among vineyards, olive groves and fruit baring orchards, the 20-acre Allegretto Vineyard Resort is a world unto itself, offering breathtaking settings that inspire and bring joy to all who choose this memorable wine country haven. Featuring 171 rooms and suites, on-site spa, grand ballroom, wine tasting room, and inspired culinary creations at Cello, the resort's full service restaurant.
Directions: speedfind.com/Allegretto
Wouldn't you love to wake up among the vines? Eden House at Carriage Vineyards Bed & Breakfast is on a real working vineyard and longhorn ranch in the Paso Robles Wine Region. Our rooms overlook vineyards, creeks and oaks, right in the Paso Robles Wine Country of Central California.
Directions: speedfind.com/edenhouse
Spend an idyllic getaway at Briarwood Cottage at ONX Estate Vineyards in an English-cottage inspired vineyard-side home. Guests may rent rooms in the main cottage, reserve the entire main cottage for a large group, or book the fully equipped apartment. Wake up to peaceful vineyard views and spend twilight hours sipping wine on the back porch of the cottage. It's a time you won't quickly forget. Contact us for pricing and availability (see form below). Case, 6 Bottle, and 4 Bottle Collective Members receive preferred pricing.
Directions: speedfind.com/BriarCottage
Hampton Inn & Suites Paso Robles is nestled in the Central Coast wine region, home to over 200 wineries, beautiful beaches, mountains and diverse attractions. Relax and revive in a comfortable guest room with all you need for a successful stay. You can count on Hampton to deliver value, consistency and service with a smile. We love having you here®
Directions: speedfind.com/PRWine.HamptonInn
Treat yourself to the ultimate Paso Robles wine country experience by booking your stay at The Inn at Opolo Vineyards. Guests enjoy our luxurious, spacious rooms and all of the sensory pleasures of Paso Robles in one destination. TOUR VIRTUALLY
Directions: speedfind.com/oploVineyards
Enjoy the elegance, style and natural beauty of California's Central Coast at the JUST Inn®. Surrounded by vineyards, our JUST Inn Suites offer luxurious appointments like fireplaces, Tempur-Pedic®mattresses, Frette linens, hydro-spa tubs, and range in size from 600–1,200 square feet. An overnight stay includes breakfast and a tour of the winery and caves. TOUR VIRTUALLY
Directions:  speedfind.com/JustinWine
La Bellasera Hotel & Suites is an elegant boutique hotel nestled in the heart of Central Coast Wine Country. Influenced by Mediterranean and Italian architecture, the luxurious accommodations reflect the aged sophistication of the Central Coast region and the relaxed nature of the California countryside.
Directions: speedfind.com/LaBellasera
Experience the pristine countryside of Paso Robles Wine Country at Lekai Ranch. Lounge on the porch of your private suite and lose yourself in the tranquility and stunning views of the vineyards and oak studded hills beyond. This vacation rental is located just minutes from some of the most distinguished wineries and a premier olive oil estate, and only 15 minutes from downtown Paso Robles' restaurants, wineries and shopping. TAKE AN AERIAL TOUR
Directions: speedfind.com/Lekai | vrbo.com/701796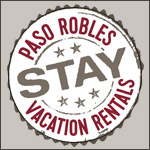 Paso Robles Vacation Rentals, also known as PasoStay.com assists guests in creating memories and wonderful experiences by providing quality privately owned vacation home rentals in Paso Robles Wine Country. With over 90 vacation homes to choose from, small enough for a couple's romantic getaway to large homes amongst local vineyards and olive orchards, PasoStay.com has the perfect option for you. Feel free to call 805-423-9174 to talk with a local expert or book online at PasoStay.com.
Directions:  speedfind.com/PasoRoblesVacationRentals
LEARN MORE