What Paso wine tastes good with steak? If that's your big question, you've come to the right place. In Paso Robles Wine Country, red wines are balanced and rich, providing the ultimate companion to that juicy ribeye, Porterhouse or New York Strip steak. So, what specific wines best compliment a sizzling steak? Meet our go-to cast of dinner companions: cabernet sauvignon, zinfandel, malbec and syrah. Not only are these Paso Robles-sourced offerings fabulous on their  own—they have a way of elevating each savory bite. Hungry for more? Let's slice off a piece of pairing know-how together.
Cabernet Sauvignon – Hope Family Wines
Hail a Cab: Rich, fruit forward and full-bodied, we can confidently say that "cab is king" when it comes to pairing wine with steak. After all, this esteemed varietal provides tangy acidity and ample fruitiness to play off the salt and fat in meat. Paso Robles' own Hope Family Wines, home to one of Wine Enthusiasts' Top Ten Wines in the World (incidentally, a cabernet sauvignon), knows this truth all too well. There's plenty of ravishing reds within their stable to consider, encompassing Austin Hope, Treana, Quest, Liberty School and Troublemaker labels. Our go-to pick? Austin Hope Cabernet Sauvignon 2020, overflowing with black cherry and smoke-laced silkiness. No doubt about it: This cab will prove a winning match for your next meaty mouthful.
Zinfandel – Bella Luna
Zin it to win it: Balance the buttery and umami elements of your favorite steak with a peppery red that gets the party started. Never tried this crave-worthy combo? A Paso Robles classic, you will fall in love with zinfandel and steak, we can be sure of that. While most zins have an element of "jamminess" that ranges from mild to mega, you'll find consistent elements of fruity-sweetness and a spicey, tobacco finish across most bottles. Next time you're grilling up a steak, reach for Bella Luna Wine's 2017 Fighter Pilot Red and watch the sparks fly. Featuring toasty nuances combined with zesty hints of white pepper, you'll be flying high in no time. No steak sauce required!
Malbec – Derby Wine Estates
Malbec, meet meat: Did you know that the tannins in red wine—leftover from the grape skins and seeds as well as the barrel aging process—actually work in tandem with your steak? A little science for you: As tannin molecules soften the fat in the meat, they work to release more of that juicy, meaty flavor. Talk about a symbiotic relationship! Deep purple in color, Paso Robles malbec is known for delivering rich, fruity payoff, structured tannins and a hefty, full body mouthfeel. In other words: this variety was made for some serious steak. Make your malbec dreams come true with Derby Wine Estates 2016 offering, featuring a bouquet of plush red fruit and velvety tannins. Yep, those bad boys are ready to do all the work for you. How luxurious is that?

Syrah – Dubost Wine
Chew your wine: It's not all that surprising that bold Paso Robles syrah has made this list. After all, the varietal is often characterized by its firm tannins and "savory, smokey, herbaceous" allure. If you're wondering if these meat-like elements mimic steak nicely, spoiler alert (they do). Allow this dry, full-bodied wine to delight you with its one-two punch of bacon-esque charm and brisk acidity. Dubost Wine's 2018 Syrah is a great choice for a steak and syrah night: Dark, herbal, meaty and altogether savory, you'll experience strong structure, refined tannins and a tart fruit finish. Sometimes it pays to be a copycat!

Red Blend – Chronic Cellars
Red-y for anything: Our last bit of advice when pairing wine with steak? Don't think too hard about it. When in doubt, remember that red wines go great with red meat, period. Instead of fussing over the specific varietal, a rockstar red blend is your ticket to an easy and lip smacking decision. When in doubt, go for a Paso Robles GSM (a blend of grenache, syrah and mourvedre), known for bright ripe fruit aromas and a grippy, pepper-and-herb finish. Chronic Cellars' 2020 Love Machine GSM is ready to whisk you on a joyride through Paso's El Pomar, Willow Creek, and Adelaida districts—all prime real estate for growing deliciously balanced grapes. Shining notes of candied cranberries, cherry cola, spices and a whiff of lavender make this blend a lazy carnivore love bomb, indeed.
Get Your Wine Country COUPONS click here!

 This blog is written by flavor fiend Hayley Cain. Follow her @flavorslo on Instagram or at astoldbyhayley.com.
CAN WE HELP YOU FIND?
DISTILLERIES TOURS & TRANSPORTATION
Looking for a place to stay in Paso Robles?
The Adelaide Inn is an iconic, locally-owned hotel known for its friendly staff and lush landscaping. With spacious rooms and a convenient location close to highway 101 and the event center – home of the California Mid-State Fair – this hotel is a great choice for most travelers. TOUR VIRTUALLY
Directions: speedfind.com/AdelaideInn
Majestically set among vineyards, olive groves and fruit baring orchards, the 20-acre Allegretto Vineyard Resort is a world unto itself, offering breathtaking settings that inspire and bring joy to all who choose this memorable wine country haven. Featuring 171 rooms and suites, on-site spa, grand ballroom, wine tasting room, and inspired culinary creations at Cello, the resort's full-service restaurant.
Directions: speedfind.com/Allegretto
The GENESEO INN is a luxury boutique hotel nestled in the rolling hills of Paso Robles wine country. Built of industrial shipping crates perched above the vines on CASS Winery's 145 acres of vineyard, the experience truly allows you to "breathe in the vineyard views."
Directions: speedfind.com/CassWinery
Hampton Inn & Suites Paso Robles is nestled in the Central Coast wine region, home to over 200 wineries, beautiful beaches, mountains and diverse attractions. Relax and revive in a comfortable guest room with all you need for a successful stay. You can count on Hampton to deliver value, consistency and service with a smile. We love having you here®
Directions: speedfind.com/PRWine.HamptonInn
Experience the pristine countryside of Paso Robles Wine Country at chic, sparkling clean Lekai Ranch. Lounge on the porch of your private suite and lose yourself in the tranquility and stunning views of the vineyards and oak studded hills beyond. This vacation rental is located just minutes from some of the most distinguished wineries and a premier olive oil estate, and only 15 minutes from downtown Paso Robles' restaurants, wineries and shopping. TAKE AN AERIAL TOUR
Directions: speedfind.com/Lekai | vrbo.com/701796
Oxford Suites Paso Robles You'll find that from our lobby, our on-site restaurant, to our meeting spaces, to our 101 spacious suites, every space is beautiful + functional as well as comfortable + chic.
Directions: speedfind.com/oxfordsuitespasorobles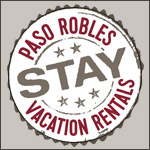 Paso Robles Vacation Rentals, also known as PasoStay.com assists guests in creating memories and wonderful experiences by providing quality privately owned vacation home rentals in Paso Robles Wine Country. With over 160 vacation homes to choose from, small enough for a couple's romantic getaway to large homes amongst local vineyards and olive orchards, PasoStay.com has the perfect option for you. Ask us how you save 15% on booking service fees! Feel free to call 805-423-9174 to talk with a local expert or book online at PasoStay.com.
The Farmhouse at Pelletiere Estate is a modern & luxurious wine country retreat. Privately situated & surrounded by our estate vineyards, located just off Hwy46w on a very accessible country road, nestled in the heart of Paso Robles' renowned Westside, just 6 miles to Paso's downtown square. The Farmhouse offers stunning vineyard views from every angle, as well as a stylish yet cozy house you're bound to fall in love with!
Directions: speedfind.com/Pelletiere
LEARN MORE