Written by Kristina Horton, Owner at Toast Tours
Whether you're a first-timer or just have a single day to explore Paso Robles, you're in for a treat. Today, we're laying out a perfect one-day itinerary in Paso Robles that includes some fantastic wineries, sumptuous wines, and beautiful landscapes.
In this one-day itinerary, we're focusing on wineries that not only offer exquisite wines but also enriching stories and breathtaking vistas. We'll also share the wines you shouldn't miss, food pairing suggestions, and some pro-tips for a hassle-free wine tasting journey.
For more information on how Toast Tours can help you have a one-day or multi day experience in wine country be sure to read until the end. They offer much more than just a lift; they offer an entire experience tailor made to your interests and preferences. Happy sipping!
---
First stop: Tablas Creek
Start your one-day itinerary with a tasting of Rhone varieties at Tablas Creek Winery, an important and historic winery in Paso Robles.
Recently listed in the Top 100 wineries in the world by Wine & Spirits Magazine, this winery on the west side of Paso Robles has a lot to boast about and offer guests. They're known for starting the Rhone wine movement in the U.S. and have been offering elegant and balanced Châteauneuf-du-Pape style wines since their first vintage in 1997.
They're also pioneers in sustainability through their winemaking practices, farming, packaging and more, and recently became the world's first Regenerative Organic Certified vineyard.
I love this winery because it blends some of the best things about Paso Robles – our pioneering spirit, high quality wines at an affordable price point, our focus on the future and sustainability and so much more. They're also one of the few wineries in Paso Robles with a wide selection of white wines, making up 40% of their production, and even offer an all-white flight!
They're also one of the few wineries in Paso Robles with a wide selection of white wines, making up 40% of their production, and even offer an all-white flight!
The experience:
You will enjoy an intimate seated tasting where a knowledgeable wine specialist will talk you through their story while you sample six different wines (including their flagship Esprit de Tablas wines, small-production wines and winery exclusives), You can choose from a classic (mixed), all red wine selection, or all white wine selection flights, served in two flights of three – allowing you to compare wines during the tasting.
If it's the right season, you may see their herd of sheep grazing in the vineyard.
Wines to look out for:
Tablas Creek has a wide variety of wines available to suit every palate, from refreshing whites & rosés to bigger, more age-worthy red and white wines.
For special occasions, be sure to pick up the Esprit de Tablas, their flagship Mourvèdre based Rhone blend. The key components of the blend are always Mourvedre, Grenache, Syrah and Counoise, with some vintages having small amounts of Vaccarese and Cinsaut.
For those hot summer days or to pair with lighter dishes, be sure to pick up some of their Patelin de Tablas Rosé, made in the Provence style and produced from three red Rhône varietals: Grenache, Mourvèdre, and Counoise, with a little bit of Vermentino. Also available in a 3L box, this is the perfect wine to keep in your fridge and drink all day! You'll never look at boxed wines the same again.
Don't forget to use this opportunity to try some unique single varietal wines, such as Counoise – a delicious, fruit forward chillable red wine, or Clairette Blanche – a refreshing white wine with great minerality and stone fruit characteristics.
Book a tasting at Tablas Creek
---
Save Up To 50% on Wine Tasting Fees
We've got a special harvest season offer for our newsletter subscribers.
If you are a wine enthusiast like us and can never get enough wine, you are going to need the Priority Wine Pass. Instead of $59.99 per year, Paso Robles Wineries readers get a year of benefits for $39.99!
Save Money Wine Tasting
---
Second stop: Brecon Estate
Visit Brecon Estate winery for a relaxed tasting of small production wines and a picnic in a tranquil setting.
Nestled in the oak studded hills of the Santa Lucia Mountains, the winery & tasting room were built using recycled materials and won numerous architecture awards for its design – all intended to reconnect its physical presence to the terroir, while offering a welcoming and relaxing environment.
The limestone terroir specifically is what drove Damian Grindley, a proud Welshman and avid cave explorer, to settle in Paso Robles and produce small-batch award winning wines from historic sustainably farmed estate vineyards, with a focus on Bordeaux varieties.
The experience:
You'll enjoy a relaxed tasting in the shade of historic oak trees on their extensive garden or patio area while a knowledgeable host pours a flight of their award-winning wines, which are only available directly through the tasting room.
Their relaxing and beautiful outdoor space, in addition to their delicious and food-friendly wines, provide the perfect opportunity to enjoy some nourishment during your day out wine tasting
Wines to look out for:
If you see a bottle of their Brecon Estate Albariño, a fresh & bright dry white wine with honeysuckle characteristics, be sure to pick it up! This refreshing and delicious white wine is very popular and sells out quickly whenever it's released.
For a special occasion bottle, pick up their Brecon Reserve Cabernet Franc. Produced from 50 year old vines that are planted at the highest point of their Estate vineyard, with rocky soils that make the vines struggle, producing super intense berry flavors. Soft and elegant, this wine pairs well with a delicious steak or can be savored on its own. Only 166 cases are produced, so it sells out fast!
Pro-tip: Bring a picnic to enjoy during your tasting here! Their relaxing and beautiful outdoor space, in addition to their delicious and food-friendly wines, provide the perfect opportunity to enjoy some nourishment during your day out wine tasting.
You can pack your own picnic, or I recommend picking something up from Red Scooter Deli. They have delicious sandwiches, wraps and salads that will keep you full and ready to enjoy more wine! No time to pick it up in the morning? They'll deliver!
You can even order the day before, so when you arrive at your lunch stop – your food will already be waiting for you.
Book a tasting at Brecon Estate
---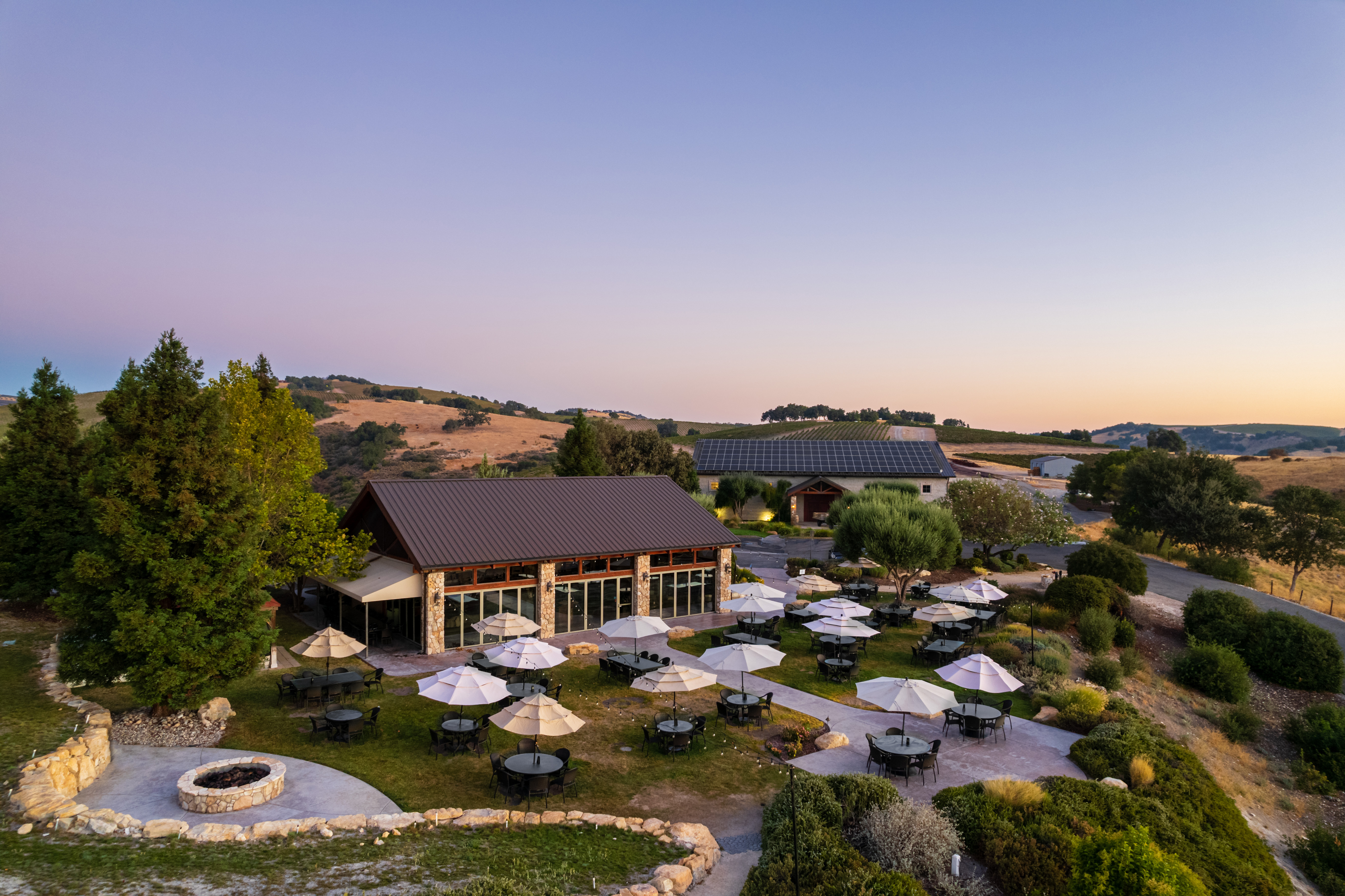 Last Stop: Calcareous Winery
Finish the day at Calcareous Winery, perched atop the Santa Lucia mountains with epic views and a great combination of Rhone and Bordeaux varieties.
The name comes from the limestone based Calcareous soils where father and daughter team – Lloyd Messer and Dana Brown – chose to plant their estate vineyard at the top of a mountain in early 2000.
It is a true labor of love cultivating vineyards on the steep hillsides and challenging topography, but the goal is to craft high-quality, small-lot terroir driven wines.
The experience:
You will enjoy a relaxed tasting seated on their spacious patio taking in the sweeping panoramic views from this secluded spot. A friendly host will share their story and tidbits about their winemaking practices while pouring you through a selection of their current lineup.
Wines to look out for: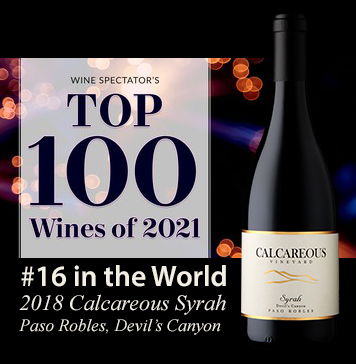 Their 2018 Calcareous Devil's Canyon Syrah was listed in the Top 100 Wines of 2021 by Wine Spectator, and while that vintage may not be available during your visit – their Syrah is always a sensation.
Another popular wine is their Lloyd, a traditional Bordeaux blend consisting of Merlot, Cab Franc, Cab Sauv, Malbec and Petit Verdot. Full of earthy spice and ripe dark red fruit, this wine has dense tannins and refreshing acidity which make it worthy of aging, or enjoy it now with a big steak or rich protein.
Book a Tasting at Calcareous
---
Want to Keep Going?
After you finish your tasting, you're just a quick 15 minutes from Paso Robles' vibrant downtown area where we recommend finding a relaxed patio to grab a bite and reminisce on your perfect day out in wine country.
If you want delicious food, a great cocktail and top-notch people watching, grab a bar seat on the patio at Alchemists Garden looking onto the park.
In more of a beer mood?
Head over to the Backyard on Thirteenth and relax in their spacious beer garden where you can choose from over two dozen delicious beers and wine on tap, as well as a delicious menu prepared using seasonal ingredients by Chef Michael Learned.
---
Tips and Considerations
Whenever you're planning your day out in wine country whether its a one day itinerary or a few, drink plenty of water and be sure to have a plan for how you'll get around safely.
Most Paso wineries are on windy, mountain roads and wine tasting can add up quickly when you're visiting multiple stops.
An average pour of wine is 1 – 2 ounces, with most wineries pouring between 4 to 6 wines (not including re-visits and extra pours), so tasting at three wineries could be upwards of one bottle of wine per person! That's a lot of wine and over the California legal driving limit.
In order to stay safe, relax and make the most out of your visit, we recommend hiring a local and knowledgeable tour guide to take you around during your day wine tasting.
---
More About Toast Tours
Offering more than just a driving service, Toast Tours is a boutique wine tour company focused on providing quality experiences that take guests beyond the tasting room to showcase what makes Paso Robles & its wines so special.
Owned by a Dutch/American couple with sommelier training who have lived and worked in wine regions in California and Spain, their knowledgeable team can offer fascinating information about Paso Robles history, winemaking, farming and more, all while driving you around in a spacious comfortable vehicle.
Each tour is tailored specifically for you, so they can take you to the wineries listed above, or recommend additional stops based on your interests and preferences. They can include other local interests such as Hearst Castle, local farms, craft distilleries and breweries, horseback riding and more.
Listed by Travel & Leisure as one of the best wine tours in California, reach out today to have them plan your perfect trip!
LEARN MORE