Put down the feathered quill. You don't need to write paragraphs of billowy verbiage to understand (and document) what makes a great wine truly "great." In fact, the closer you stay to your own vocabulary and sensibilities, the easier it will be to decipher that description later down the road! Here's six easy tips for taking better wine notes in a pinch. Don't worry: There's no pop quiz at the end of all this! These instructions are not mandatory. However, they are strongly suggested if you want to be an A+ taster.
1. Take notes (really)
You may feel unqualified or you may just be lazy. Regardless, we want you to try taking a few notes next time you head out to the tasting room. Trust us! Whether you scrawl your flavor findings on a napkin or record them in a beautiful leather bound book, believe me, they you'll be glad you committed your thoughts to paper. How else will you remember which red you wanted to give as holiday gifts this year and which one is just for you? The first step is simply bringing a pen.
2. Your nose knows
Now, onto the note-taking. Identify the aroma and write it down under the name and vintage of the wine (you could also write your notes directly on a tasting sheet, if available). Of course, understanding the scent of your wine is easier said than done! A good glass will feature many layers for your nose to explore. Is it fruity? Floral? Herby? These are often primary aromas, as they will appear upon your first whiff of the bouquet. Stick with those first. Next, jot down any secondary aromas, which—tip alert!—usually point toward the fermentation side of things: (fresh baked bread or lager notes could link to the yeast used; sour cream or yogurt could come from malolactic fermentation). Third, tertiary aromas tend to come from the aging process, especially oak aging. Perhaps you get a whiff of dill, baking spices, vanilla, coconut, or smoke. Try to write down two aromas for each tier: primary, secondary and tertiary (That's six total). Totally doable, right?
Example: Hug Cellars 2013 Syrah romances your nose immediately! This inky wine hits you with a perfume of blackberry, black cherries, and black liquorish.
Mapping and Directions to Hug Cellars
3. Body language
One of the first things you'll also notice about your wine (even before the flavor) is the body. Perhaps you've never really thought about it before, but the viscosity—or thickness—of the wine really changes the way it feels in your mouth. Does the wine coat your tongue with a velvety texture or does it feel lighter and more watery? Think of the wine in terms of milk: Is it whole, 2% or skim? At the very least, write down which type of milk you'd relate the wine to. Weird, but effective!
4. Take on the tannin
The word "tannin" scares some people, and we get why. It is a tricky thing to talk about, although we all know what tannins do to our mouths (which is, dry them out). Does the tannin have a lot of grip to it? Does it make your lips stick to your teeth? Does the tannin fill your mouth with delicate tiny prickles? Remember, tannin will always have intensity, but it can also manifest as bruising, fine, or velvety, too.
Example: Kiamie Wines 2016 R'Own Style Blend features soft, yet lush and refined tannins engulf the palate, elongating with time.
Mapping and Directions to Kiamie Wine Cellars
5. The acid test
This one is quite easy because acid is straight-to-the-point. Just think about citrus. How tart or puckering is this wine? For instance, a wine with high acidity (low on the pH scale) will have acidity similar to a lemon or lime, whereas lower acidity wines are closer to the light acidity of a watermelon. Feel free to jot down the fruit acid you'd associate with the wine (or draw a cute little doodle; up to you). Tip: When someone says the wine is "bright" they mean it's got more acidity, not that it's a smarter choice.
Example: Jada 2017 1149 Rose is beloved its fresh acid appeal, leaning more towards juicy strawberry.
Mapping and Directions to Jada Vineyard
6. Finish strong
The finish (what happens after the wine goes down your gullet) is everything with a good wine! After all, this is the addictive experience that either keeps you coming back for another sip or has you putting the glass down and moving onto something else. Finishes should be described by how long they linger on the back of your tongue, A short, abrupt finish or a long, luxurious one? Also, how does the finish feel? Is it soft/tart/tingly/juicy? Pinpoint the length and the general feel of the finish and you're on your way to extra credit. The finish is often the defining moment of a wine; it can be the difference between the humdrum and spectacular. Don't forget to record this final impression. Much like with people, you'll want to spend time with wine that leaves a positive and joyful feeling.
Example:
The only thing better than this Seven Oxen 2013 Zinfandel's bouquet of vanilla and wood? It's elegant, lingering finish.
Mapping and Directions to Seven Oxen Estate Wines
---

 This blog was written by Hayley Thomas Cain, food and wine writer for SLO New Times and PasoRoblesWineries.net. You can reach her at hthomas@newtimesslo.com or follow her on instagram @flavorslo.
---
---
Looking for a place to stay in Paso Robles?
The Adelaide Inn is an iconic, lo
cally owned hotel known for its friendly staff and lush landscaping. With spacious rooms and a convenient location close to highway 101 and the event center – home of the California Mid-State Fair – this hotel is a great choice for most travelers.
Directions: speedfind.com/AdelaideInn
Majestically set among vineyards, olive groves and fruit baring orchards, the 20-acre Allegretto Vineyard Resort is a world unto itself, offering breathtaking settings that inspire and bring joy to all who choose this memorable wine country haven. Featuring 171 rooms and suites, on-site spa, grand ballroom, wine tasting room, and inspired culinary creations at Cello, the resort's full service restaurant.
Directions: speedfind.com/Allegretto
La Bellasera Hotel & Suites is an elegant boutique hotel nestled in the heart of Central Coast Wine Country. Influenced by Mediterranean and Italian architecture, the luxurious accommodations reflect the aged sophistication of the Central Coast region and the relaxed nature of the California countryside.
Directions: speedfind.com/LaBellasera
Hampton Inn & Suites Paso Robles is nestled in the Central Coast wine region, home to over 200 wineries, beautiful beaches, mountains and diverse attractions. Relax and revive in a comfortable guest room with all you need for a successful stay. You can count on Hampton to deliver value, consistency and service with a smile. We love having you here®
Directions: speedfind.com/PRWine.HamptonInn
Experience the pristine countryside of Paso Robles Wine Country at Lekai Ranch. Lounge on the porch of your private suite and lose yourself in the tranquility and stunning views of the vineyards and oak studded hills beyond. This vacation rental is located just minutes from some of the most distinguished wineries and a premier olive oil estate, and only 15 minutes from downtown Paso Robles' restaurants, wineries and shopping.
Directions: speedfind.com/Lekai | vrbo.com/701796
Enjoy the elegance, style and natural beauty of California's Central Coast at the JUST Inn®. Surrounded by vineyards, our JUST Inn Suites offer luxurious appointments like fireplaces, Tempur-Pedic®mattresses, Frette linens, hydro-spa tubs, and range in size from 600–1,200 square feet. An overnight stay includes breakfast and a tour of the winery and caves.
Directions:  speedfind.com/JustinWine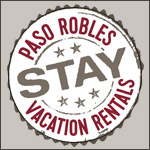 Paso Robles Vacation Rentals, also known as PasoStay.com assists guests in creating memories and wonderful experiences by providing quality privately owned vacation home rentals in Paso Robles Wine Country. With over 90 vacation homes to choose from, small enough for a couple's romantic getaway to large homes amongst local vineyards and olive orchards, PasoStay.com has the perfect option for you. Feel free to call 805-423-9174 to talk with a local expert or book online at PasoStay.com.
Directions:  speedfind.com/PasoRoblesVacationRentals
LEARN MORE