You think the Kardashians have been around for a while? Well, wine has been around since Biblical times. Naturally, a LOT of gossip has surrounded this age old beverage, beloved by kings, peasants, movie stars, and even—yes–reality stars alike. While some rumors may seem obviously false to you, others may completely blow your mind (newsflash: not all whites should be served ice cold). So, humble yourself and put down your long-held judgements. The best part about hanging around the Paso Robles wine world is the fact that there's always something new to learn. Ready students? Let's begin.
1. You Should Only Cellar Reds
Wrong! Plenty of white wines, including Rieslings, dry whites, and even chardonnay, can be cellared for years with spectacular results. Granted, as a rule of thumb, you shouldn't age whites as long as most reds, which have a higher tannin content and higher general ageabilty. Still, aging whites give the wine a beautiful, deep golden color, more complex flavor, and sultry spiciness that you just can't experience fresh from the bottling line.
White Hot: Hearst Ranch Winery's 2015 Proprietor's Reserve Chardonnay isn't just ageworthy: It could successfully linger in your cellar for up to ten years! Fermented in barrel for 30 days and bottled after aging nine months in 50% new French oak, this classic chardonnay will only become creamier and more zesty over time.
Buy now
For Mappings and Directions to Hearst Ranch Winery in San Simeon
For Mappings and Directions to Hearst Ranch Winery in Paso Robles
2. Serious Wines are Always Sealed with a Cork
Sorry, folks. As it turns out, cork taint, or TCA—which, at best, causes a wine to smell of musty cardboard and at worst, of nasty mold—is more common than you'd think. Although no one can really agree, it's estimated that anywhere from 1 to 15 percent of all cork-sealed wines are probably contaminated with this horrid chemical compound. While many in the wine world simply choose to move forward and accept cork taint as a simple fact of life, many modern winemakers are taking control with synthetic cork and twist-cap closures. No one way to seal your wine is "correct," but the next time you assume a wine with a screw cap isn't so great, think again. It may taste far better than that fancy corked bottle!
Screw it: Brecon Estate's 2015 Albarino is by all means very serious: Styled after a crisp yet aromatic food-friendly wine famous in the plateaus of Northern Spain, this offering is the product of careful fermentation that includes neutral barrel treatment and stainless steel. Select yeast was used to emphasize the refreshing, fruity aromatics that seem to leap out of the glass. The best part? You can enjoy anywhere, anytime thanks to a handy (TCA resistant) screw cap.
But now
Mappings and Directions to Brecon Estate
Top it off: For centuries there's been an entire wine culture behind corks, now there's a cult following of wines sealed with a high-tech closure system made in Italy, "Ardeaseal" that performs like oak bark, but doesn't decay. Many of the top wineries are using this system in Burgundy, Bordeaux and the Rhone, as well as throughout Italy and even Hungary and Greece. Oso Libre is the first winery in Paso to use this technology to cork their 2012 Quixotic wine. You can breathe easy now knowing that this wine will cellar without spoiling for up to ten years. Yeah, ten years, I'll drink to that!
Buy now
Mappings and Directions to Oso Libre
3. A 'Bad Vintage' Means Bad Wines All Around
Not so! Conditions are so vastly different from vineyard to vineyard, so there is no way to make such a vast blanket statement. Sure, some vintages are "better or worse" than others in terms of rainfall or natural disasters (think: wildfire, rot, or searing heat), but that doesn't mean you can't find a diamond in the rough. Don't throw the baby (or the wine) out with the bathwater or judge a vintage by its cover.
A Good Year: In 2015, intensifying drought conditions in California cut Paso Robles' winegrape harvest in half. By all accounts, that's a pretty "bad" vintage for growers. That said, it was actually quite a good vintage for resourceful winemakers. In many cases, what fruit did prevail was highly concentrated, extra flavorful, and even prized. Vines on the Marycrest offers up a beautiful 2015 Sangiovese made with grapes grown at Hearthstone Vineyard in the Adelaida District of Paso Robles. Despite the severe drought conditions, this wine shows gentle floral notes, bright acidity, spice, and great nuttiness.
Buy now
Mappings and Directions to Marycrest
4. Expensive = Better
Although close to all premium bottles will cost more than your average grocery store find, that doesn't mean that boutique wines cannot be affordable or even (dare we say it) a bargain! I mean, why pay more when you can save a little extra dough and have your fancy wine, too? Many small boutique wineries have a small or nonexistent staff, a direct to consumer marketing strategy, no tasting room overhead, or other cost-cutting measures (for one, not owning their own estate vineyard or equipment can save a ton of money). On the flip side, some expensive wines may cost more due to extravagant labels or other outside factors that have nothing to do with actual quality of the wine itself. As long as you can see clearly a specific vintage and place of origin, give it a try. You're always better off judging a wine based on its flavor, not its price tag.
Packs a wallop, kind to your wallet: Eberle Winery is a Paso Robles icon, known for producing incredible reds since the 1970s. That said, you can still find decently priced bottles from this revered producer, including their rustic, French inspired 2016 Cotes-du-Robles Rouge (grenache, syrah, mourvedre), for just $30. Think a bold, Paso Robles syrah should surly bank? Try Eberle's 2016 Syrah, which is full bodied and packed with blackberry jam charm for just $28.00.
Buy now
Mappings and Directions to Eberle Winery
5. Sweet Wines are for Beginners
Sweet IS sophisticated. Say what? I mean it. Sweeter wines can be just as well crafted and delicious as any other boutique bottle out there, but they got a bad rap thanks to that cheap-o bulk rose you can find in a box. Certain varietals are naturally sweeter, and plenty of dessert wines are coveted by wine aficionados around the world. Try a decadently sweet ice wine, as delicious as it is ageworthy (yes, you can age them too). Plenty of Paso's iconic reds—including its heritage varietal, zinfandel—can be considered "on the sweeter side." Not sure how to ease into sweeter wines? Pair with a blue cheese or medium-dark chocolate. Nothing could be less novice!
How sweet it is: Try Lone Madrone's plush, sweet (but not cloying) 2008 Bad Shepherd, an old vine zinfandel perfect for festive celebrations. Another fabulous sweetie? Lone Madrone's 2012 Sweet Cheeks, a golden viognier, which is jokingly referred to as "bottled pie" by winemaker Neil Collins.
Buy now
Mappings and Directions to Lone Madrone
---

 This blog was written by Hayley Thomas Cain, food and wine writer for SLO New Times and PasoRoblesWineries.net. You can reach her at hthomas@newtimesslo.com or follow her on instagram @flavorslo.
---
If you're looking for a place to spend the night in Paso Robles, checkout:
The Adelaide Inn is an iconic, lo
cally owned hotel known for its friendly staff and lush landscaping. With spacious rooms and a convenient location close to highway 101 and the event center – home of the California Mid-State Fair – this hotel is a great choice for most travelers.
Directions: speedfind.com/AdelaideInn
Majestically set among vineyards, olive groves and fruit baring orchards, the 20-acre Allegretto Vineyard Resort is a world unto itself, offering breathtaking settings that inspire and bring joy to all who choose this memorable wine country haven. Featuring 171 rooms and suites, on-site spa, grand ballroom, wine tasting room, and inspired culinary creations at Cello, the resort's full service restaurant.
Directions: speedfind.com/Allegretto
La Bellasera Hotel & Suites is an elegant boutique hotel nestled in the heart of Central Coast Wine Country. Influenced by Mediterranean and Italian architecture, the luxurious accommodations reflect the aged sophistication of the Central Coast region and the relaxed nature of the California countryside.
Directions: speedfind.com/LaBellasera
Hampton Inn & Suites Paso Robles is nestled in the Central Coast wine region, home to over 200 wineries, beautiful beaches, mountains and diverse attractions. Relax and revive in a comfortable guest room with all you need for a successful stay. You can count on Hampton to deliver value, consistency and service with a smile. We love having you here®
Directions: speedfind.com/PRWine.HamptonInn
Experience the pristine countryside of Paso Robles Wine Country at Lekai Ranch. Lounge on the porch of your private suite and lose yourself in the tranquility and stunning views of the vineyards and oak studded hills beyond. This vacation rental is located just minutes from some of the most distinguished wineries and a premier olive oil estate, and only 15 minutes from downtown Paso Robles' restaurants, wineries and shopping.
Directions: speedfind.com/Lekai | vrbo.com/701796
Enjoy the elegance, style and natural beauty of California's Central Coast at the JUST Inn®. Surrounded by vineyards, our JUST Inn Suites offer luxurious appointments like fireplaces, Tempur-Pedic®mattresses, Frette linens, hydro-spa tubs, and range in size from 600–1,200 square feet. An overnight stay includes breakfast and a tour of the winery and caves.
Directions:  speedfind.com/JustinWine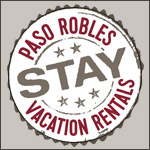 Paso Robles Vacation Rentals, also known as PasoStay.com assists guests in creating memories and wonderful experiences by providing quality privately owned vacation home rentals in Paso Robles Wine Country. With over 90 vacation homes to choose from, small enough for a couple's romantic getaway to large homes amongst local vineyards and olive orchards, PasoStay.com has the perfect option for you. Feel free to call 805-423-9174 to talk with a local expert or book online at PasoStay.com.
Directions:  speedfind.com/PasoRoblesVacationRentals
LEARN MORE