All year, Paso Robles residents get to brag about how great it is to live in wine country. With lots of lush vineyards, majestic oak trees, friendly tasting rooms, and unique dining stops, it does feel a little heavenly. Well, until that sizzling summer heat kicks in. Yes, we are well into the dog days of summer, when Paso Robles temps soar into triple digits (no one bats an eyelash at a 100 degree, or even a 103 degree forecast). We say: Keep calm, and slather on (the SPF, that is). The wine grapes, especially those sun loving red varietals like Cabernet Sauvignon, are ripening to perfection! Plus, there's always tons of world class white wine to cool you down. Here's 5 ways to freshen up, fast:
1. Head for the A/C
You don't need to duck into a movie or department store to cool down. Just head for one of Paso Robles' hundreds of wineries, which are (smartly) equipped with air conditioning! You'd also be wise to book your stay at a Paso Robles hotel with a pool or spa, for added chill factor.
Icy escapes: Rava Wines, Oso Libre, Seven Oxen, and Tudor Wines tasting rooms are all chilled to perfection. Splash into a luxurious poolside experience at La Bellasera Hotel & Suites or Allegretto Vineyard Resort.
Mapping and Directions to Rava Wines
Mapping and Directions to Oso Libre
Mapping and Directions to Seven Oxen Estate Wines
Mapping and Directions to Tudor Winery
Mapping and Directions to La Bellasera Hotel & Suites
Mapping and Directions to Allegretto Vineyard Resort
2. White Wine to the Rescue
Paso Robles is known for its bold and luxurious reds, but its aromatic and intriguing whites have become big celebrities as of late. Expressive white Rhône varietals, especially, are the on every wine critic's lips. That's good news for you, because there is nothing more refreshing than a chilled glass of viognier or grenache blanc on a sweltering hot afternoon!
Bright and light: Try white Rhône offerings at Lone Madrone, Cass Winery, Sextant, Vines on the Marycrest for maximum cool-down deliciousness.
Mapping and Directions to Lone Madrone
Mapping and Directions to Cass Winery
Mapping and Directions to Sextant
Mapping and Directions to Vines on the Marycrest
3. Crash the Coast
Located just a few miles from Paso Robles Wine Country, the coast of Cambria and San Simeon is gorgeous this time of year (plus, temps are regularly 20-30 degrees cooler). Whether you stop for lunch, wine tasting, golf, or simply to see sights like Hearst Castle, you can rest assured you won't sweat through your shirt. Plus, there are a ton of fabulous wineries lining Highway 46 West from Paso to the coast, which is truly the best route to take from Paso Robles to scenic Highway 1.
When the coast calls: Head to Centrally Grown, where you can sip local Paso Robles wines and nosh on a farm fresh lunch or explore the quaint town of Harmony and enjoy a tasting at nearby Harmony Cellars. Explore San Simeon beach just north of Cambria (my fave) and see if you can spot a sea otter or whale. Then stroll up to Hearst Ranch Winery and enjoy a burger and artisan Leo Leo Gelato at historic Sebastian's General Store. Highway 46 Wineries are always a great stop, too. Try Tooth and Nail, Four Lanterns, and Jada for a quick pit-stop on your way from Paso Robles to the coast.
Mapping and Directions to Centrally Grown
Mapping and Directions to Harmony Cellars
Mapping and Directions to Hearst Ranch Winery
Mapping and Directions to Tooth and Nail Winery
Mapping and Directions to Four Lanterns Winery
Mapping and Directions to Jada
4. Brake for the Lake
Paso Robles Wine Country visitors and locals alike love to flock to Lake Nacimiento each summer, where you can take part in water sports galore! Camp, RV, or book a vacation rental and experience the wet and wild side of Paso Robles. In fact, there are plenty of incredible wine tasting rooms on your way out to the lake, so you can grab a few bottles on your way there. This makes lakeside picnicking a cinch.
Tasting near the lake: Stop at Chronic Cellars, Dubost Winery, and JUSTIN Vineyards & Winery for wine experiences (or to-go bottles) before or after your lakeside adventure.
Mapping and Directions to Chronic Cellars
Mapping and Directions to Dubost Winery
Mapping and Directions to JUSTIN Vineyards & Winery
5. Head Underground
Yes, I mean this literally. Ever wonder how wineries used to keep their precious barrels cool during these warm summer months before the advent of man-made cooling systems? Two words: Wine Caves! Sure, it sounds sort of rudimentary, but they were (and still are) totally effective and eco-friendly, too. Plus, and maybe this is just me, but they have sort of a romantic feel, eh?
Embark on your wine cave exploration: Eberle Winery is famous for its beautiful and functional wine cave, still used for storing wine barrels today.
Mapping and Directions to Eberle Winery
---

 This blog was written by Hayley Thomas Cain, food and wine writer for SLO New Times and PasoRoblesWineries.net. You can reach her at hthomas@newtimesslo.com or follow her on instagram @flavorslo.
---
---
Looking for a place to stay in Paso Robles?
The Adelaide Inn is an iconic, lo
cally owned hotel known for its friendly staff and lush landscaping. With spacious rooms and a convenient location close to highway 101 and the event center – home of the California Mid-State Fair – this hotel is a great choice for most travelers.
Directions: speedfind.com/AdelaideInn
Majestically set among vineyards, olive groves and fruit baring orchards, the 20-acre Allegretto Vineyard Resort is a world unto itself, offering breathtaking settings that inspire and bring joy to all who choose this memorable wine country haven. Featuring 171 rooms and suites, on-site spa, grand ballroom, wine tasting room, and inspired culinary creations at Cello, the resort's full service restaurant.
Directions: speedfind.com/Allegretto
La Bellasera Hotel & Suites is an elegant boutique hotel nestled in the heart of Central Coast Wine Country. Influenced by Mediterranean and Italian architecture, the luxurious accommodations reflect the aged sophistication of the Central Coast region and the relaxed nature of the California countryside.
Directions: speedfind.com/LaBellasera
Hampton Inn & Suites Paso Robles is nestled in the Central Coast wine region, home to over 200 wineries, beautiful beaches, mountains and diverse attractions. Relax and revive in a comfortable guest room with all you need for a successful stay. You can count on Hampton to deliver value, consistency and service with a smile. We love having you here®
Directions: speedfind.com/PRWine.HamptonInn
Experience the pristine countryside of Paso Robles Wine Country at Lekai Ranch. Lounge on the porch of your private suite and lose yourself in the tranquility and stunning views of the vineyards and oak studded hills beyond. This vacation rental is located just minutes from some of the most distinguished wineries and a premier olive oil estate, and only 15 minutes from downtown Paso Robles' restaurants, wineries and shopping.
Directions: speedfind.com/Lekai | vrbo.com/701796
Enjoy the elegance, style and natural beauty of California's Central Coast at the JUST Inn®. Surrounded by vineyards, our JUST Inn Suites offer luxurious appointments like fireplaces, Tempur-Pedic®mattresses, Frette linens, hydro-spa tubs, and range in size from 600–1,200 square feet. An overnight stay includes breakfast and a tour of the winery and caves.
Directions:  speedfind.com/JustinWine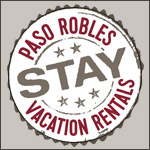 Paso Robles Vacation Rentals, also known as PasoStay.com assists guests in creating memories and wonderful experiences by providing quality privately owned vacation home rentals in Paso Robles Wine Country. With over 90 vacation homes to choose from, small enough for a couple's romantic getaway to large homes amongst local vineyards and olive orchards, PasoStay.com has the perfect option for you. Feel free to call 805-423-9174 to talk with a local expert or book online at PasoStay.com.
Directions:  speedfind.com/PasoRoblesVacationRentals
LEARN MORE