Why should you care how your wine was grown, what pesticides are sprayed across the vines and how the earth around the vines were treated? Well, it's not just a matter of taste—it's a matter of decency. Drinking sustainably grown wines isn't just good for the environment and farm workers, these wines are better for your health, too. After reading this post you'll surely want to do your part. Drink responsibly!
1. Good for you
Now, we aren't saying you should believe every online study or health claim flung at your eyeballs (and there are certainly a lot these days, aren't there?), but some news is just too hard to ignore. Eating organic produce isn't just trendy, it's proven to be good for your health, too. Organically grown wine grapes are free of synthetic fertilizer, GMOs, chemicals, pesticides, and herbicides. News flash: Food is medicine, and your health hinges on what exactly you put into your body. In fact, CBS' The Morning Show just reported that people that eat organic foods are 25% less likely to be effected by cancer.
Sustainable Star: Oso Libre Winery
Learn how Oso Libre Winery uses cows, sheep, and chickens to graze and fertilize the land naturally.
Mapping and Directions to Oso Libre Winery
2. Good for the environment
Wines that are grown in a sustainable manner—as in, not using too much water or promoting erosion; not spraying pesticides or using synthetic fertilizer—is good for our environment, too. Biodynamically farmed vines are grown with an eye toward every web in the food chain, from the tiny worms and microbes in the soil to preserving and working with the surrounding animals and vegetation. After all, vineyards are "farms," and more and more progressive vineyard managers believe that farms should work harmoniously with the surrounding land, not hinder (or pollute) it.
Sustainable star: Brecon Estate
Learn about the vineyards: https://breconestate.com/about/our-vineyards
Mapping and Directions to Brecon Estate
3. Good for Farm workers
Programs like SIP Certified aren't just the gold standard for growing sustainable vines, they also promote a high bar for treatment of vineyard workers. These employees work long hours, often in tough conditions (high heat, or in the wee hours of the morning, during harvest). It's important to know that your wine is not only great tasting and grown responsibly, but that every human hand that touched it was paid a living wage, given adequate breaks, and is healthy and happy.
Sustainable Star: Rangeland Winery
Learn how Rangeland has kept and preserved 1,500 acres of wild oak woodland on its Paso Robles ranch, which also includes a 40-acre sustainably farmed vineyard.
Mapping and Directions to Rangeland Winery
4. Tastes Great
Wine just tastes better when it's grown responsibly! While some of this may very well be psychosomatic, there is cause to believe that wines grown in a more natural, sustainable manner are closer to the Old World standard of ancient winemaking techniques. After all, what is "terroir?" If you really want to taste the land where the wine was grown, it helps that the land, vines, and people farming it are feeling good vibes, eh?
Sustainable Star: Peachy Canyon Winery
Learn how Peachy Canyon composts all byproducts from the winery in an effort to bolster the soil every other year as well as how they grow barley between the vines to prevent winter erosion.
Mapping and Directions to Peachy Canyon Winery
5. You Can Change the Market
Vote with your dollar! If you want to see more sustainably and responsibly grown wines on the market, it's all up to you. You can also inquire at tasting rooms about growing practices and get involved in the conversation. Stay educated, keep up to date on the latest standards and practices, and don't be afraid to ask, "How were your vines farmed?" Most winemakers can't wait to answer that question.
Sustainable Star: Écluse Winery
Learn about how the winery uses compost tea to conserve water and natural predators instead of pesticides : https://www.eclusewines.com/our-story/lock-vineyard.php
Mapping and Directions to Écluse Winery
---

 This blog was written by Hayley Thomas Cain, food and wine writer for SLO New Times and PasoRoblesWineries.net. You can reach her at hthomas@newtimesslo.com or follow her on instagram @flavorslo.
---
---
Looking for a place to stay in Paso Robles?
The Adelaide Inn is an iconic, lo
cally owned hotel known for its friendly staff and lush landscaping. With spacious rooms and a convenient location close to highway 101 and the event center – home of the California Mid-State Fair – this hotel is a great choice for most travelers.
Directions: speedfind.com/AdelaideInn
Majestically set among vineyards, olive groves and fruit baring orchards, the 20-acre Allegretto Vineyard Resort is a world unto itself, offering breathtaking settings that inspire and bring joy to all who choose this memorable wine country haven. Featuring 171 rooms and suites, on-site spa, grand ballroom, wine tasting room, and inspired culinary creations at Cello, the resort's full service restaurant.
Directions: speedfind.com/Allegretto
La Bellasera Hotel & Suites is an elegant boutique hotel nestled in the heart of Central Coast Wine Country. Influenced by Mediterranean and Italian architecture, the luxurious accommodations reflect the aged sophistication of the Central Coast region and the relaxed nature of the California countryside.
Directions: speedfind.com/LaBellasera
Hampton Inn & Suites Paso Robles is nestled in the Central Coast wine region, home to over 200 wineries, beautiful beaches, mountains and diverse attractions. Relax and revive in a comfortable guest room with all you need for a successful stay. You can count on Hampton to deliver value, consistency and service with a smile. We love having you here®
Directions: speedfind.com/PRWine.HamptonInn
Experience the pristine countryside of Paso Robles Wine Country at Lekai Ranch. Lounge on the porch of your private suite and lose yourself in the tranquility and stunning views of the vineyards and oak studded hills beyond. This vacation rental is located just minutes from some of the most distinguished wineries and a premier olive oil estate, and only 15 minutes from downtown Paso Robles' restaurants, wineries and shopping.
Directions: speedfind.com/Lekai | vrbo.com/701796
Enjoy the elegance, style and natural beauty of California's Central Coast at the JUST Inn®. Surrounded by vineyards, our JUST Inn Suites offer luxurious appointments like fireplaces, Tempur-Pedic®mattresses, Frette linens, hydro-spa tubs, and range in size from 600–1,200 square feet. An overnight stay includes breakfast and a tour of the winery and caves.
Directions:  speedfind.com/JustinWine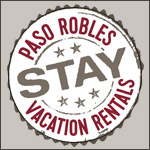 Paso Robles Vacation Rentals, also known as PasoStay.com assists guests in creating memories and wonderful experiences by providing quality privately owned vacation home rentals in Paso Robles Wine Country. With over 90 vacation homes to choose from, small enough for a couple's romantic getaway to large homes amongst local vineyards and olive orchards, PasoStay.com has the perfect option for you. Feel free to call 805-423-9174 to talk with a local expert or book online at PasoStay.com.
Directions:  speedfind.com/PasoRoblesVacationRentals
LEARN MORE