As if you need a good reason to drink Paso Robles cabernet sauvignon, home of the 7th top wine of world – read on! (But if you do, here's a few). Balanced and bold, Paso Robles cabernet sauvignon is a timeless classic for a reason. Fruit-forward, savory and age-worthy, this ever-popular varietal is a total showstopper! Whether you're hosting a few friends for dinner or picking out the perfect anniversary wine, Paso Robles cabernet sauvignon is an excellent choice. Maybe we're biased, but our more than 300+ tasting room attendants tend to agree. In Paso Robles Wine Country, cab will always be king!
Food friendly
The delicious truth: Paso Robles cabernet sauvignon plays well with food. The wine's complex and layered vibes coax magic out of even the most basic dishes, whether it be spaghetti night or backyard barbeque. Thanks to its higher tannins and savory character, you'll find fat and umami-based dishes pair exceptionally well with this iconic red. Think: steak, burgers, robust cheeses, Italian pasta dishes and tomato-based soups and stews. Here's one to drool over: Robert Hall Winery's 2018 Cavern Select Cabernet Sauvignon, with aromas of black currant, tarragon and pipe tobacco. We recommend enjoying alongside grilled lamb chops, decadent chocolate desserts or aged blue cheese. When's dinner? (Hungry? Robert Hall has a full-on restaurant that includes an amazing wine and food pairing menu!)
Awesome on its own
Standalone flavor: You can also just as easily enjoy a glass of Paso cab all by its lonesome! Thanks to the wine's full-bodied texture and rich flavors of dark fruit, you need no other accompaniment. Aromas of dried herbs round out a truly pleasurable experience, so be sure to swirl the glass, take a big whiff and sip slowly. Here's a fun one to enjoy solo: Ecluse Wines' 2017 Cabernet Sauvignon Reserve, which took 91 POINTS FROM Wine Enthusiast. Deep purple in color, you'll savor elegant aromas of black cherry, currant, vanilla cola, caramel and a hint of honeysuckle. It all leads to luscious notes of black cherry, baking spice, dark chocolate and vanilla on the palate. Yes, it's self-care in a bottle!
Grows great in Paso
Star crop: Did you know that cabernet sauvignon is a hybrid grape? Originally formed by the crossing of cabernet franc (a red grape) and sauvignon blanc (a white grape), this famous red wine grows incredibly well in Paso Robles. Thanks to our long, temperate growing season and dynamic terroir, these wines are exceptionally well balanced (and, oftentimes, award-winning). Looking for a vine-ripened example? Try Brecon Estate's 2019 Reserve Cabernet Sauvignon, which garnered 96 POINTS from Somm Journal in 2022. Sourced from the winery's 58-year-old cab vine (the oldest planted in Paso), you'll get a good impression of our star crop. Nicely balanced with lingering notes of dark forest fruit, this wine proves that we make the best cab in the land. Period.
Crowd pleaser
Popularity comes easy: Hope Family Wines, named 2022 American WINERY OF THE YEAR by Wine Enthusiast, is home to the iconic Austin Hope Cabernet Sauvignon that WON TOP 7th WINE IN THE WORLD. Another fun fact! Cabernet Sauvignon is the world's most popular red wine. It only takes one delicious bottle of Paso cab to understand why. A full body, moderate acidity and balanced tannins are bolstered by loveable fruit overtones. Who doesn't want that? Next time you need to please a crowd, reach for Hope Family Wines' Treana Cabernet Sauvignon 2021. With an alluring depth of color and intense nose, this wine features universally beloved flavors of rich blackberry, warm vanilla, toasted coffee and black cherry. Finishing strong with firm-yet-refined tannins, this alluring wine is sure to have everyone at your table smiling in agreement.
Age-worthy
Long live the king: Wine is alive. When cab enters the bottle, its story continues. Over the years, a Paso cab might develop concentrated aromas or smooth, integrated tannins. The fun is in the waiting! How to know if a bottle is age-worthy? Grab a quality cab from Paso. Due to complex flavors, firm tannins and lively acidity, the aging process is a beautiful journey. Lone Madrone's 2019 Cabernet Sauvignon is a great example of an age-worthy cab that only grows in power: Rich and structured, the winery's 27th cab vintage features vibrant fruit led by classic blackcurrant vibes. Although quite appealing as a young offering, this bottle is sure to wow after a few years of rest. Patience sure pays great dividends when you invest in the right wine! (Visit Lone Madrone and savor their wines with an elevated, limited seated Pinnacle Tasting in their new lounge with your dedicated wine expert.)
Get Your Wine Country COUPONS click here!

 This blog is written by flavor fiend Hayley Cain. Follow her @flavorslo on Instagram or at astoldbyhayley.com.
CAN WE HELP YOU FIND?
DISTILLERIES TOURS & TRANSPORTATION
Looking for a place to stay in Paso Robles?
The Adelaide Inn is an iconic, locally-owned hotel known for its friendly staff and lush landscaping. With spacious rooms and a convenient location close to highway 101 and the event center – home of the California Mid-State Fair – this hotel is a great choice for most travelers. TOUR VIRTUALLY
Directions: speedfind.com/AdelaideInn
Majestically set among vineyards, olive groves and fruit baring orchards, the 20-acre Allegretto Vineyard Resort is a world unto itself, offering breathtaking settings that inspire and bring joy to all who choose this memorable wine country haven. Featuring 171 rooms and suites, on-site spa, grand ballroom, wine tasting room, and inspired culinary creations at Cello, the resort's full-service restaurant.
Directions: speedfind.com/Allegretto
Enjoy time with your loved ones with a glass of wine while taking in the panoramic views of ONX Wines Certified Sustainable Estate Vineyard. Clark House is a five-bedroom, four-bathroom home that is a perfect escape for up to ten people. All five bedrooms offer views of the vines and are impeccably furnished to help you unwind from an exciting day of exploring the Paso Robles area.
Directions: speedfind.com/ONX
The GENESEO INN is a luxury boutique hotel nestled in the rolling hills of Paso Robles wine country. Built of industrial shipping crates perched above the vines on CASS Winery's 145 acres of vineyard, the experience truly allows you to "breathe in the vineyard views."
Directions: speedfind.com/CassWinery
Hampton Inn & Suites Paso Robles is nestled in the Central Coast wine region, home to over 200 wineries, beautiful beaches, mountains and diverse attractions. Relax and revive in a comfortable guest room with all you need for a successful stay. You can count on Hampton to deliver value, consistency and service with a smile. We love having you here®
Directions: speedfind.com/PRWine.HamptonInn
Experience the pristine countryside of Paso Robles Wine Country at chic, sparkling clean Lekai Ranch. Lounge on the porch of your private suite and lose yourself in the tranquility and stunning views of the vineyards and oak studded hills beyond. This vacation rental is located just minutes from some of the most distinguished wineries and a premier olive oil estate, and only 15 minutes from downtown Paso Robles' restaurants, wineries and shopping. TAKE AN AERIAL TOUR
Directions: speedfind.com/Lekai | vrbo.com/701796
Oxford Suites Paso Robles You'll find that from our lobby, our on-site restaurant, to our meeting spaces, to our 101 spacious suites, every space is beautiful + functional as well as comfortable + chic.
Directions: speedfind.com/oxfordsuitespasorobles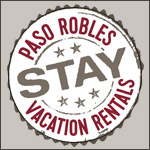 Paso Robles Vacation Rentals, also known as PasoStay.com assists guests in creating memories and wonderful experiences by providing quality privately owned vacation home rentals in Paso Robles Wine Country. With over 160 vacation homes to choose from, small enough for a couple's romantic getaway to large homes amongst local vineyards and olive orchards, PasoStay.com has the perfect option for you. Ask us how you save 15% on booking service fees! Feel free to call 805-423-9174 to talk with a local expert or book online at PasoStay.com.
The Farmhouse at Pelletiere Estate is a modern & luxurious wine country retreat. Privately situated & surrounded by our estate vineyards, located just off Hwy46w on a very accessible country road, nestled in the heart of Paso Robles' renowned Westside, just 6 miles to Paso's downtown square. The Farmhouse offers stunning vineyard views from every angle, as well as a stylish yet cozy house you're bound to fall in love with!
Directions: speedfind.com/Pelletiere
LEARN MORE