Can Paso wine teach us a life lesson or two? If you ask us, Paso Robles winemakers share a lot of similarities to history's greatest philosophers. Why? Vineyards make great professors! From showing us how to embrace our age to daring us to take big leaps of faith, Paso Robles wine has much to teach us about a life well lived. As we step into a new year, let's all take a moment to appreciate the glowing nuggets of wisdom we've already received right here in Paso Robles Wine Country. If these bottles could speak, here's exactly what they'd say:
Go with the flow
Don't force it: When allowed to thrive without intervention, vines do their best work. This applies to humans, too! At Bella Luna, wines are terroir-driven and grown with a dry-farmed, minimalistic approach. What does that mean, exactly? In a nutshell, the winemaker allows nature to take its course. This doesn't mean that the wines are "meh," however. On the contrary! It simply means that the winemaker works with fate, not against it. You might be surprised to know that Bella Luna's most intense fruit comes from their estate vineyard's "rock pile," made up of alluvial river bottom. According to experts, this dry, unforgiving soil is incredible for growing rockstar grapes. Next time you're between a rock and a hard place, ask yourself: "How can I grow from this?" The results will speak for themselves. 
Age gracefully
True beauty never fades: In Paso Robles Wine Country, age isn't just a number–it's a huge reason to celebrate! At Brecon Estate, Paso's oldest cabernet sauvignon vines stand proudly–not unlike those smile lines you've incurred over years of love and laughter. In fact, Brecon's chic and elegant tasting room and winery are nestled next to these old vines, an homage to the sage soothsayers who recognized the outstanding terroir and possibilities of Paso's westside. It's not just that their vines continue to age beautifully, either: Brecon's sophisticated wine offerings keep surpassing all expectations year after year with Damien's (winemaker/partner) extraordinary talent. Take a tip from this time-honored winery and cherish time's ability to add character, structure and charm. Every vintage is remarkably beautiful.
Enjoy the little moments
Savor each sip: "The days are long, but the years are short." Can you relate to this wistful sentiment? Take some advice from Riboli Family Wines and learn to enjoy life's little moments more often. At the winery's Paso Robles tasting room you can linger over a fabulous tasting or sit down for a big bistro meal with friends and family. Featuring Italian staples like gourmet pizzas, pastas and salads, there's always a delicious bite to pass around (plus local favorites like the oak-smoked angus beef tri-tip sandwich with grilled onions, horseradish and mozzarella). In Paso Robles Wine Country, good food brings people together like nothing else. Add a splash of world class wine and you've got stellar memories-in-the-making. Don't blink and you could miss this magic moment!
Take the leap
And the rest is history: Many Paso Robles winemakers share a similar backstory: Before moving to Paso, they took a huge leap of faith. What are you working up the courage to do? Copia Vineyards would not exist if Anita and Varinder Sahi had taken a life-changing jump. Before opening Copia, the couple led dramatically different lives: He, as an engineer and businessman and she, a restaurant and marketing veteran. After a chance trip to Paso Robles Wine Country in 2015, they made the dramatic decision to commit to a whole new venture: wine. Two short years later, the couple found the perfect site to produce premium Rhône and Bordeaux varietals. It's no wonder that Copia means "abundance or plenty," an apt name for a winery born from the idea that the glass is always half full!
Mapping & directions Copia Downtown
Mapping & directions Copia Vineyards
Be yourself
The real deal: Why fake it? There's only one you. In Paso Robles Wine Country, winemakers are famous for bucking the status quo and getting down with their bad selves. Sure, Paso might be an award-winning wine region, but we still know how to have fun and express a unique vision. Echoing Paso's pioneering spirit, Iron Oaks Winery marches to the beat of a different drum. From coyly-named small-batch blends that sell out in a flash to upholding a rugged, cowboy atmosphere in their tasting room, you're always getting an authentic taste of Paso when you kick your boots up here. Even better? The popular wine hangout (which also sells local grass-fed beef) will reopen in a brand new downtown location in 2023! Come as you are and let the good times roll.
Get Your Wine Country COUPONS click here!

 This blog is written by flavor fiend Hayley Cain. Follow her @flavorslo on Instagram or at astoldbyhayley.com.
CAN WE HELP YOU FIND?
DISTILLERIES TOURS & TRANSPORTATION
Looking for a place to stay in Paso Robles?
The Adelaide Inn is an iconic, locally-owned hotel known for its friendly staff and lush landscaping. With spacious rooms and a convenient location close to highway 101 and the event center – home of the California Mid-State Fair – this hotel is a great choice for most travelers. TOUR VIRTUALLY
Directions: speedfind.com/AdelaideInn
Majestically set among vineyards, olive groves and fruit baring orchards, the 20-acre Allegretto Vineyard Resort is a world unto itself, offering breathtaking settings that inspire and bring joy to all who choose this memorable wine country haven. Featuring 171 rooms and suites, on-site spa, grand ballroom, wine tasting room, and inspired culinary creations at Cello, the resort's full-service restaurant.
Directions: speedfind.com/Allegretto
Enjoy time with your loved ones with a glass of wine while taking in the panoramic views of ONX Wines Certified Sustainable Estate Vineyard. Clark House is a five-bedroom, four-bathroom home that is a perfect escape for up to ten people. All five bedrooms offer views of the vines and are impeccably furnished to help you unwind from an exciting day of exploring the Paso Robles area.
Directions: speedfind.com/ONX
The GENESEO INN is a luxury boutique hotel nestled in the rolling hills of Paso Robles wine country. Built of industrial shipping crates perched above the vines on CASS Winery's 145 acres of vineyard, the experience truly allows you to "breathe in the vineyard views."
Directions: speedfind.com/CassWinery
Hampton Inn & Suites Paso Robles is nestled in the Central Coast wine region, home to over 200 wineries, beautiful beaches, mountains and diverse attractions. Relax and revive in a comfortable guest room with all you need for a successful stay. You can count on Hampton to deliver value, consistency and service with a smile. We love having you here®
Directions: speedfind.com/PRWine.HamptonInn
Experience the pristine countryside of Paso Robles Wine Country at chic, sparkling clean Lekai Ranch. Lounge on the porch of your private suite and lose yourself in the tranquility and stunning views of the vineyards and oak studded hills beyond. This vacation rental is located just minutes from some of the most distinguished wineries and a premier olive oil estate, and only 15 minutes from downtown Paso Robles' restaurants, wineries and shopping. TAKE AN AERIAL TOUR
Directions: speedfind.com/Lekai | vrbo.com/701796
Oxford Suites Paso Robles You'll find that from our lobby, our on-site restaurant, to our meeting spaces, to our 101 spacious suites, every space is beautiful + functional as well as comfortable + chic.
Directions: speedfind.com/oxfordsuitespasorobles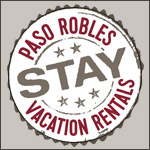 Paso Robles Vacation Rentals, also known as PasoStay.com assists guests in creating memories and wonderful experiences by providing quality privately owned vacation home rentals in Paso Robles Wine Country. With over 160 vacation homes to choose from, small enough for a couple's romantic getaway to large homes amongst local vineyards and olive orchards, PasoStay.com has the perfect option for you. Ask us how you save 15% on booking service fees! Feel free to call 805-423-9174 to talk with a local expert or book online at PasoStay.com.
The Farmhouse at Pelletiere Estate is a modern & luxurious wine country retreat. Privately situated & surrounded by our estate vineyards, located just off Hwy46w on a very accessible country road, nestled in the heart of Paso Robles' renowned Westside, just 6 miles to Paso's downtown square. The Farmhouse offers stunning vineyard views from every angle, as well as a stylish yet cozy house you're bound to fall in love with!
Directions: speedfind.com/Pelletiere
LEARN MORE