What's all this chatter about acid? No, it's not at all like the stuff you'd squeeze from a lemon or use to remove your chipped manicure. When it comes to the various layers of nuance in a good glass of wine—from bouquet and viscosity, from mineralogy to tannins—acid can sometimes become the forgotten middle child. Not anymore. Modern winemakers know that few elements are so important, or more relevant, when it comes to crafting sophisticated, award winning wine in 2019. These days, big, bold, heavily fruity reds—not unlike the California craft beer world's super strong IPAS—are seeing a bit of a lull (after all, your palate eventually needs a break from all that flavor and tannin). Even in Paso Robles—where Cab is King and blends tend to run wild—winemakers are trending toward lower alcohol, higher acid wines that allow the grape varietal to truly shine. Not only is this a very chic European way of winemaking, it also produces a more food friendly, balanced sip. But what exactly makes these acidic wines so…"bright" anyway? Allow us to illuminate you.
1. Balance it Out – Vines on the Marycrest 2017 Viognier
When wine grapes are still green, they have very high acidity, but—like people—they evolve and change as they grow. As the grapes ripen, the acidity tapers down and the sweetness increases. The perfect moment of balance, of course, is when the grape is perfectly ripe, yet still possessing enough acidity to balance the sweetness. When exactly is the perfect second to pick? Well, that's the winemaker's job. This crisp Viognier is a good example of that balance. Light and bright with a tropical nose and a deep yet refreshing palate, you'll want to pair this with grilled halibut or Thai food.
Mapping and Directions to Vines on the Marycrest
2. Last longer – Jada 2012 Malstria Estate Rhone and Bordeaux Blend
Did you know that something as hard to put your finger on as acidity helps wines age longer? Great wines are in balance with their four fundamental traits (acidity, tannin, alcohol and sweetness) and as wines age, the acidity acts as a buffer to preserve the wine. Jada's 2012 Malstria—which features a medium body with moderate acid that integrates flavors of pomegranate, cocoa, and nutmeg—can be sipped now or saved for much later.
Mapping and Directions to Jada Vineyard
3. Cut the fat –  Barr Estate Winery's 2017 Rosé
Ever wonder why bright, fresh, tart wines and cheese go so well together? Acidity cuts through salt and fat in a satisfying and refreshing way. With beautiful floral notes and tart cherry fruit plus a round, mildly structured mouth feel, this wine is the perfect palate cleaner for your creamiest, cheesiest dishes.
The Rosé has sold out! A great option for high acidity is the Sangiovese.
Mapping and Directions to Barr Estate
4. Taste the terroir – Robert Hall Rosé de Robles
Although Paso Robles has a famously long, warm growing season, and, as a result, is a great place for ripening big, sugary, high alcohol reds, the region's dramatically cool nights—paired with dynamic soil—work to keep grapes elegant and poised. This stylish rose (picked in the early morning before temperatures rise) features fresh aromas of fresh strawberry and hints of raspberry and tangerine. Bright red berry fruit and citrus zest flavors echo the bouquet. Refreshing and dry, the Rose de Robles is medium-bodied with a balanced acidity that lingers on the tongue.
Mapping and Directions to Robert Hall Winery
5. Bring on the night – Four Lanterns 2017 Rosso de Passo: Chilled Red Blend
While heavier, richer, jammier wines can weigh down your mouth, fresher, lighter, more acidic options keep the party rolling on. You'll find they pair more easily with a wider range of dishes. Also, less sugar also means less alcohol, so you can enjoy one more glass without the guilt. Refreshing fruit flavors make up Four Lantern's classic summer wine, best served cool. When the perfect splash of acid meets an optimal chill, there's no saying where the night can take you.
Mapping and Directions to Four Lanterns
---

 This blog was written by Hayley Thomas Cain, food and wine writer for SLO New Times and PasoRoblesWineries.net. You can reach her at hthomas@newtimesslo.com or follow her on instagram @flavorslo.
---
---
Looking for a place to stay in Paso Robles?
The Adelaide Inn is an iconic, lo
cally owned hotel known for its friendly staff and lush landscaping. With spacious rooms and a convenient location close to highway 101 and the event center – home of the California Mid-State Fair – this hotel is a great choice for most travelers.
Directions: speedfind.com/AdelaideInn
Majestically set among vineyards, olive groves and fruit baring orchards, the 20-acre Allegretto Vineyard Resort is a world unto itself, offering breathtaking settings that inspire and bring joy to all who choose this memorable wine country haven. Featuring 171 rooms and suites, on-site spa, grand ballroom, wine tasting room, and inspired culinary creations at Cello, the resort's full service restaurant.
Directions: speedfind.com/Allegretto
La Bellasera Hotel & Suites is an elegant boutique hotel nestled in the heart of Central Coast Wine Country. Influenced by Mediterranean and Italian architecture, the luxurious accommodations reflect the aged sophistication of the Central Coast region and the relaxed nature of the California countryside.
Directions: speedfind.com/LaBellasera
Hampton Inn & Suites Paso Robles is nestled in the Central Coast wine region, home to over 200 wineries, beautiful beaches, mountains and diverse attractions. Relax and revive in a comfortable guest room with all you need for a successful stay. You can count on Hampton to deliver value, consistency and service with a smile. We love having you here®
Directions: speedfind.com/PRWine.HamptonInn
Experience the pristine countryside of Paso Robles Wine Country at Lekai Ranch. Lounge on the porch of your private suite and lose yourself in the tranquility and stunning views of the vineyards and oak studded hills beyond. This vacation rental is located just minutes from some of the most distinguished wineries and a premier olive oil estate, and only 15 minutes from downtown Paso Robles' restaurants, wineries and shopping.
Directions: speedfind.com/Lekai | vrbo.com/701796
Enjoy the elegance, style and natural beauty of California's Central Coast at the JUST Inn®. Surrounded by vineyards, our JUST Inn Suites offer luxurious appointments like fireplaces, Tempur-Pedic®mattresses, Frette linens, hydro-spa tubs, and range in size from 600–1,200 square feet. An overnight stay includes breakfast and a tour of the winery and caves.
Directions:  speedfind.com/JustinWine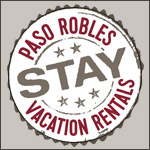 Paso Robles Vacation Rentals, also known as PasoStay.com assists guests in creating memories and wonderful experiences by providing quality privately owned vacation home rentals in Paso Robles Wine Country. With over 90 vacation homes to choose from, small enough for a couple's romantic getaway to large homes amongst local vineyards and olive orchards, PasoStay.com has the perfect option for you. Feel free to call 805-423-9174 to talk with a local expert or book online at PasoStay.com.
Directions:  speedfind.com/PasoRoblesVacationRentals
LEARN MORE