Are you a wine purist? Well, you'll sure want to be after reading this alarming (but true) blog post. Cheap, bulk wines may have a place in American supermarkets and liquor stores, but they'll never have a place on our tabletops here in Paso Wine Country. From adding "tannin powder" to increase structure in a sub-par wine to illegal cases of adding diethylene glycol (used in brake fluid) to dubious bottles, it seems that the world of cheap bulk wine is all about the bottom line. In Paso Robles, this couldn't be farther from the case.
The grapes in Paso Robles are far too incredible to ever dilute, doctor, or disguise. In this world renowned wine region, winemakers strive to express the flavor of each grape, the vintage, and the land, and that means keeping things pure and honest along the way. That means in Paso, all you'll only taste fruit, acid, tannin, minerality—and perhaps a little French or American oak. Not so much with the other guys. Beware of these 5 Dirty tricks employed by winemaking imposters, and when in doubt … pour it out!
1. The Dirty Trick: Dyes
Yes, you heard right! Plenty of bulk wineries add a coloring agent called Mega Purple to give their wines a deceptive, deep purple hue. According to the Daily Beast, winemakers use an estimated 10,000 gallons of the stuff every year, and because only a tiny amount is needed to fix an entire barrel, Mega Purple is probably being added to over 25 million bottles of wine annually. We all know that dyes are obviously unnatural and that some are even harmful to our health (how many of us have ridded red dye from our kids' diets?). Next time you pick up that $6 bottle of richly colored purple merlot, remember that you're probably looking at something akin to a colored sports drink. Put it down and just walk away.
The Paso Pure Way: Drink the Rainbow (Naturally)
If you order a glass of grenache, mourvedre or petite sirah in world renowned Paso Robles, you'll certainly taste the rainbow—but never to the detriment of your health. Each wine has its own distinct natural color due to the kind of wine grape used and the amount of skin-to-juice contact during the winemaking process. This is how it should be. Like people, wine grapes come in all colors—and all are gorgeous. This is why Paso winemakers allow each unique grape to express its rightful beauty: from delicate, light garnet to vivid cherry red to a dark, inky maroon that appears almost black in the glass.
Try: Talk about a colorful wine! Tooth and Nail's 2014 Glutton is a medium bodied syrah blend bursting with herbs and spices, plus seductive cherry and dark fruit. Note the rich, dark red color in the glass. That's all natural, baby.
Buy now
Mapping and Directions to Tooth & Nail
2. The Dirty Trick: Added Sugar
So you've made a cheap-o wine and it's got a ton of flaws. What do you do? Well, many bulk winemakers would quickly grab the sugar. What for? Think about it. More sugar means more alcohol, and more alcohol "blows out" the flavor of the wine while adding a richer mouthfeel. Win win? We say lose lose!
The Paso Pure Way
Paso Robles has been known for its "bigger" wines—especially higher alcohol Cabernet Sauvignons—throughout the years. But don't confuse this natural occurrence with what the tricksters are up to. While some Paso Cabs are naturally higher in sugar due to a longer, warmer growing season, the fakers physically add sugar to the grape juice prior to fermentation. In Paso Wine Country, this is a sin punishable by banishment! Just kidding. But seriously, this just isn't done in Paso

Try: Opolo's 2015 Cabernet Sauvignon is balanced with just an elegant sugar-to-acid ratio, thanks to a warm, long growing season and keen winemaking. Experience this wine's exuberant nose of pepper spice, red currant and mint. Unlike the other guys, it'll age well for 10+ years.
Buy Now
Mapping and Directions to Opolo Vineyards
3. The Dirty Trick: Oak Chips
Sipping on a cheap red, you might find the traditional flavors of oak. But dig a little deeper, and you'll soon find that this wine never saw aging in barrel. Instead, the fakers have added oak chips to their staves. Why on earth would someone do such a thing to a wine? Well, aging in oak barrels is expensive—it adds at least $1 to each bottle of wine. Cheap-o winemakers care more about profit than crafting an honest bottle.
The Paso Pure Way
Whether aged in French, Hungarian, or American oak, Paso Robles wines are routinely aged for anywhere from eight to 20 months. This time spent in the barrel adds incredible complexity to the wine, including some of those traditional oak characteristics you might have come to love (caramel, toast, vanilla among them). In Paso, we know that paying a tad more for a premium bottle means getting the real deal (and it's so much more delicious). Seems like a small price to pay, eh?
Try: Taste what 17 months in once-used French oak barrels actually tastes like. JUSTIN's 2015 Zinfandel is big, bold and balanced with full bodied fresh berry flavor and subtle oak notes. You can bet that's the real thing.
Buy now
Mapping and Directions to JUSTIN Winery
More Wines that are Purely Paso
Rava's vineyards were established in 1996 and span over 2000 acres, 26 varieties and growing regions in Monterey and San Luis Obispo counties. Specializing in sparkling wines méthode champenoise, the winery has all the vital equipment needed to control the entire process in house from vine to bottle. Read More >>
Mapping and Directions to Rava Wines

With two locations in Paso Robles and San Luis Obispo, Sextant Wines is a legendary stop on the Central Coast. Grapes are sourced from both properties and reflect the distinct soil and microclimates therein. Read More >>
Mapping and Directions to Sextant Wines, Paso Robles
Mapping and Directions to Sextant Wines, San Luis Obispo
---

This blog was written by Hayley Thomas Cain, food and wine writer for SLO New Times and PasoRoblesWineries.net. You can reach her at [email protected] or follow her on instagram @flavorslo.
---
If you're looking for a place to spend the night in Paso Robles, checkout:
The Adelaide Inn is an iconic, lo
cally owned hotel known for its friendly staff and lush landscaping. With spacious rooms and a convenient location close to highway 101 and the event center – home of the California Mid-State Fair – this hotel is a great choice for most travelers.
Directions: speedfind.com/AdelaideInn
Majestically set among vineyards, olive groves and fruit baring orchards, the 20-acre Allegretto Vineyard Resort is a world unto itself, offering breathtaking settings that inspire and bring joy to all who choose this memorable wine country haven. Featuring 171 rooms and suites, on-site spa, grand ballroom, wine tasting room, and inspired culinary creations at Cello, the resort's full service restaurant.
Directions: speedfind.com/Allegretto
La Bellasera Hotel & Suites is an elegant boutique hotel nestled in the heart of Central Coast Wine Country. Influenced by Mediterranean and Italian architecture, the luxurious accommodations reflect the aged sophistication of the Central Coast region and the relaxed nature of the California countryside.
Directions: speedfind.com/LaBellasera
Hampton Inn & Suites Paso Robles is nestled in the Central Coast wine region, home to over 200 wineries, beautiful beaches, mountains and diverse attractions. Relax and revive in a comfortable guest room with all you need for a successful stay. You can count on Hampton to deliver value, consistency and service with a smile. We love having you here®
Directions: speedfind.com/PRWine.HamptonInn
Experience the pristine countryside of Paso Robles Wine Country at Lekai Ranch. Lounge on the porch of your private suite and lose yourself in the tranquility and stunning views of the vineyards and oak studded hills beyond. This vacation rental is located just minutes from some of the most distinguished wineries and a premier olive oil estate, and only 15 minutes from downtown Paso Robles' restaurants, wineries and shopping.
Directions: speedfind.com/Lekai | vrbo.com/701796
Enjoy the elegance, style and natural beauty of California's Central Coast at the JUST Inn®. Surrounded by vineyards, our JUST Inn Suites offer luxurious appointments like fireplaces, Tempur-Pedic®mattresses, Frette linens, hydro-spa tubs, and range in size from 600–1,200 square feet. An overnight stay includes breakfast and a tour of the winery and caves.
Directions:  speedfind.com/JustinWine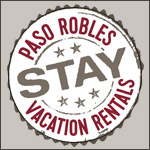 Paso Robles Vacation Rentals, also known as PasoStay.com assists guests in creating memories and wonderful experiences by providing quality privately owned vacation home rentals in Paso Robles Wine Country. With over 90 vacation homes to choose from, small enough for a couple's romantic getaway to large homes amongst local vineyards and olive orchards, PasoStay.com has the perfect option for you. Feel free to call 805-423-9174 to talk with a local expert or book online at PasoStay.com.
Directions:  speedfind.com/PasoRoblesVacationRentals
LEARN MORE