If the world of fine wine seems overly glamorous, romanticized and glossy, you haven't yet visited Paso Robles! Here, we revel in our authenticity as well as our world class wine offerings. Around here, cowboy country meets wine country and boots meet barrel. Life is a messy, rugged and oh-so rewarding. Join us as we fall into 5 common wine foibles (and find our way out with grace and ingenuity).
1. Forgot the corkscrew
So, you're on a splendid picnic in Paso Robles Wine Country, surrounded by those famous rolling green hills and grazing cows. Then, you suddenly realize, to your horror, that you forgot the wine opener! We feel your pain: it's happened to us all…much more often than we'd like to admit. If you fancy yourself a true wine hound, you'll roll up your sleeves and give these nifty—and surprisingly effective—DIY wine-opening hacks a try. Around here, we pride ourselves on our "can do" attitude. Give it a try!
Never be caught cork-screwed again: Another easy way to ensure you'll always be able to enjoy that bottle of Paso Robles wine? Grab a screw-top bottle! Robert Hall's 2019 Sauvignon Blanc greets the senses with crisp apple and citrus aromas and a satisfyingly dry finish. While in the past screw tops may have indicated lesser quality, a bevy of incredible sought-after wines are now endowed with those gloriously easy-to-open closures. Huzzah!
For mapping and directions to Robert Hall click here
2. Feeling the stain
Oops you did it again. Who hasn't accidentally bumped a glass (or two…or three) off the bar? At Paso Robles wine tasting rooms, you'll never get the side-eye for a making this all-too-common boo boo. I mean, we do like to talk with our hands around here! When you slosh a little syrah onto your favorite blouse, try to stay calm and grab the salt or white vinegar or Wine Away (wine lovers consider keeping a spray bottle handy at all times). In Paso Robles, wine stains aren't necessarily a bad thing. Think of them as ever-lasting memories you'll wear around forever.
Sooo worth it: Even if you do spill a little wine on your most comfy pair of skinny jeans, at least you'll know you enjoyed yourself. That's especially true if you're drinking Pelletiere's 2017 Syrah, a smooth, decadent red that pairs perfectly with oak-grilled ribs (and barbecue sauce-covered fingers). Finger lickin' good!
For mapping and directions to Pelletiere click here
3. Cork dork
D'oh! If you've ever had a cork break up while you're trying to open a bottle of wine, you know the true meaning of frustration. Instead of straining the wine or pouring teeny bits of cork into your glass (not-so-yummy), grab a simple drinking straw. Put the straw over the bits of cork, hold your finger over the top to create suction, and lift the cork bits right out! Yes, you can thank us later.
Poppin' bottles: You won't have to deal with stubborn corks at all when you go for a sumptuous sparkling wine that pops off with festive flair. Sculpterra's Sparkling Wine is a stone-fruity affair strewn with ribbons of bright bubbles. What are we celebrating? Who cares?
For mapping and directions to Sculpterra click here
4. Air head
Everyone knows that oxygen is kryptonite to that fancy bottle of wine. While a bit of air allows the full beauty of the flavors and aromas to bloom, too much air for too long will bring on off-putting vinegar tones and a brownish-orange color. Alas, you've got half a bottle of delicious Paso Robles wine on your counter with no intention of chugging the other half before bed. Savor that precious wine for a few more days (and minimize the trauma of oxidation) by sucking out the air with a vacuum stopper. Whew! Crisis averted. No harm no foul.
Keeping it fresh: ONX's Reckoning 2013, a powerful blend of syrah, petite sirah, cabernet sauvignon and malbec, should be cherished till the very last drop! Exuberant and flashy, the nose offers up layers of bold aromatics worth preserving (not to mention the palate, a racy mix of Asiann spices, plum sauce and toasted pistachio). Wow. Could this wine be even better the next day?
For mapping and directions to ONX click here
5. No chill
So you bought a refreshing bottle of Paso Robles rosé just in time for the beach hang. Unfortunately, just like your least favorite nosey neighbor, the wine has absolutely zero chill. What to do? When it comes to cooling down bottles super fast, we here in Paso Robles prescribe to a no-fuss method that works every time: Wrap your wine in a damp towel and pop it in the freezer for a spell. While it usually takes somewhere around three hours for a room temp bottle to get to its perfect state of chilled perfection, you can do the deed in no less than ten minutes. Wow. Go you!
So cool: It's gonna be a hot one. Trust us: you'll want to stock several bottles of Allegretto Wines 2019 Rosé Tannat in your fridge this summer. Effortlessly drinkable yet totally sophisticated, it will be your companion for cheese plates and fruit salads alike. If only fitting into last summer's  swimsuit was this easy!
For mapping and directions to Allegretto click here
---

 This blog is written by flavor fiend Hayley Cain. Follow her @flavorslo on Instagram or at astoldbyhayley.com.
---
---
Looking for a place to stay in Paso Robles?
The Adelaide Inn is an iconic, lo
cally owned hotel known for its friendly staff and lush landscaping. With spacious rooms and a convenient location close to highway 101 and the event center – home of the California Mid-State Fair – this hotel is a great choice for most travelers. TOUR VIRTUALLY
Directions: speedfind.com/AdelaideInn
Majestically set among vineyards, olive groves and fruit baring orchards, the 20-acre Allegretto Vineyard Resort is a world unto itself, offering breathtaking settings that inspire and bring joy to all who choose this memorable wine country haven. Featuring 171 rooms and suites, on-site spa, grand ballroom, wine tasting room, and inspired culinary creations at Cello, the resort's full service restaurant.
Directions: speedfind.com/Allegretto
Wouldn't you love to wake up among the vines? Eden House at Carriage Vineyards Bed & Breakfast is on a real working vineyard and longhorn ranch in the Paso Robles Wine Region. Our rooms overlook vineyards, creeks and oaks, right in the Paso Robles Wine Country of Central California.
Directions: speedfind.com/edenhouse
Spend an idyllic getaway at Briarwood Cottage at ONX Estate Vineyards in an English-cottage inspired vineyard-side home. Guests may rent rooms in the main cottage, reserve the entire main cottage for a large group, or book the fully equipped apartment. Wake up to peaceful vineyard views and spend twilight hours sipping wine on the back porch of the cottage. It's a time you won't quickly forget. Contact us for pricing and availability (see form below). Case, 6 Bottle, and 4 Bottle Collective Members receive preferred pricing.
Directions: speedfind.com/BriarCottage
Hoyt Family Vineyard Retreats  Two very cool, tiny houses, designed using fertile imagination and repurposing  of materials are located on Hoyt Family Vineyard.
Directions: speedfind.com/hoytfamilyvineyards
new
Hampton Inn & Suites Paso Robles is nestled in the Central Coast wine region, home to over 200 wineries, beautiful beaches, mountains and diverse attractions. Relax and revive in a comfortable guest room with all you need for a successful stay. You can count on Hampton to deliver value, consistency and service with a smile. We love having you here®
Directions: speedfind.com/PRWine.HamptonInn
Enjoy the elegance, style and natural beauty of California's Central Coast at the JUST Inn®. Surrounded by vineyards, our JUST Inn Suites offer luxurious appointments like fireplaces, Tempur-Pedic®mattresses, Frette linens, hydro-spa tubs, and range in size from 600–1,200 square feet. An overnight stay includes breakfast and a tour of the winery and caves. TOUR VIRTUALLY
Directions:  speedfind.com/JustinWine
The Kiler Canyon Vineyard Retreat Perched on top of a hill on ONX Estate's vineyard with gorgeous 360 degree views of the Willow Creek AVA
Directions: speedfind.com/KilerRetreat
new
La Bellasera Hotel & Suites is an elegant boutique hotel nestled in the heart of Central Coast Wine Country. Influenced by Mediterranean and Italian architecture, the luxurious accommodations reflect the aged sophistication of the Central Coast region and the relaxed nature of the California countryside.
Directions: speedfind.com/LaBellasera
Experience the pristine countryside of Paso Robles Wine Country at Lekai Ranch. Lounge on the porch of your private suite and lose yourself in the tranquility and stunning views of the vineyards and oak studded hills beyond. This vacation rental is located just minutes from some of the most distinguished wineries and a premier olive oil estate, and only 15 minutes from downtown Paso Robles' restaurants, wineries and shopping. TAKE AN AERIAL TOUR
Directions: speedfind.com/Lekai | vrbo.com/701796
new
Oxford Suites Paso Robles You'll find that from our lobby, our on-site restaurant, to our meeting spaces, to our 101 spacious suites, every space is beautiful + functional as well as comfortable + chic.
Directions: speedfind.com/oxfordsuitespasorobles
new
Peachy Canyon Guest Inn Sits above Peachy Canyon Winery + acres of vines at Mustang Springs Vineyard. The house has 2 bedrooms, 2.5 baths, living room, family room + panoramic views.
Directions: speedfind.com/PeachyInn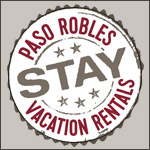 Paso Robles Vacation Rentals, also known as PasoStay.com assists guests in creating memories and wonderful experiences by providing quality privately owned vacation home rentals in Paso Robles Wine Country. With over 90 vacation homes to choose from, small enough for a couple's romantic getaway to large homes amongst local vineyards and olive orchards, PasoStay.com has the perfect option for you. Feel free to call 805-423-9174 to talk with a local expert or book online at PasoStay.com.
Directions:  speedfind.com/PasoRoblesVacationRentals
Rio Seco Winery Guest House 2 comfortable suites each with 2 bedrooms, complete with kitchens are set amongst the vines at iconic Rio Seco Vineyard & Winery. Enjoy your own barbeque + firepit.
Directions: speedfind.com/riosecovineyard
LEARN MORE