R

eady for a room with a vineyard view? In Paso Robles Wine Country, cozy winery accommodation and stays abound, combining lush vines, stately oaks and enticing vineyard offerings. With unique inns ranging from ultra-modern suites perched atop rolling hills to quaint cottages with all the amenities of home, you'll find unforgettable hotels and winery accommodations amidst the vines.

Awaken to the pleasant chirp of birdsong, take advantage of exciting tours and savor the sweeping romance of 360-degree vineyard views at sunset. For those who strive to dig deeper into Paso Robles soil, there's no better way to stay: Choose from rustic ranch rooms, elegant inns and plush bed and breakfasts, too. If you're looking to fully immerse yourself in all that Paso Robles has to offer, consider booking one of these charming retreats located in the heart of wine country. Go on, be our guest!
1. Dunning Vineyards Guest Villa
Vibe: Romantic bed and breakfast guest suite located on the scenic Dunning Vineyards Winery estate.
Stay: 1-room villa
Beds: 1 (California King)
Sleeps: 1-2
Check-in to romance: Love blossoms at Dunning Vineyards Guest Villa, nestled on 40 acres of Paso Robles vineyards. Leave your cares at the door when you book a luxurious one-bedroom guest suite with incredible views of lush vines and coastal mountains. With a California King bed, luxury marble shower and spa tub for two, this westside Paso love nest is perfect for couples looking to reconnect or celebrate. Soak in the panoramic vineyard views from your own private patio terrace or prepare meals together thanks to a convenient kitchenette. Hungry for more? Downtown Paso Robles is just a ten minute drive, making date night totally seamless.
The winery: A local gem, Dunning Vineyards offers estate wines, including chardonnay, pinot noir, cabernet sauvignon, zinfandel, grenache, petite sirah and cabernet franc, among others.
Insider Tip: Enjoy benefits for Dunning Vineyards wine club members as well as mid-week stay bargains.
2. Hearst Ranch Winery's Luxury Adobe Guest Home – "La Hacienda"
Vibe: Historic luxury adobe guest home opposite Hearst Ranch Winery's tasting room.
Stay: 4-room guest house
Beds: 4 (Kings/Queens)
Sleeps: 8
Check-in to history: Early California history comes alive at Hearst Ranch Winery's Luxury Adobe Guest Home, "La Hacienda." Rise with the sun, breathe in the fresh air and savor star-studded evenings under the oaks. Dating back to the 1700s, this ranch-style, four-bedroom adobe accommodation is decked with distinctive decor, including saltillo tile floors and historic touches like original oak flooring. Invite your loved ones to enjoy awesome amenities like plush beds, gas fireplaces, cozy living spaces and smart TVs in every bedroom. In case you were wondering, the adobe is also home to four bathrooms, too, so you won't run out of space. There's even a full kitchen, barbecue area and private hot tub ideal for hosting festive gatherings.
The winery: Blending history and innovation, Hearst Ranch Winery crafts award-winning estate syrah, petit sirah, petit verdot, malbec and tempranillo.
Insider Tip: Check out complimentary wine tasting and discounts for club members.
3. Inn at Opolo
Vibe: Well-appointed bed and breakfast with diverse packages located on the Opolo Estate.
Stay: 3 rooms to choose from
Beds: 1 (King)
Sleeps: 1-2
Check-in to Old World luxury: The Inn at Opolo captures the epitome of wine country living, from dreamy vineyard walking paths to a garden-flanked bocce ball court. The pampering begins with a fuzzy robe, slippers and freshly-baked cookie for arriving guests. Choose from three spacious rooms outfitted with King-sized beds wrapped in buttery soft luxury Italian linens. Tasty breakfast treats are offered to guests each morning, from eggs benedict to blueberry pancakes (plus, an onsite Mediterranean kitchen is outfitted with an espresso machine, so you're never far from a warm mug). Sip with friends on the shared patio, where cushioned lounge chairs offer a comfortable and memorable way to greet the day. Come nightfall, enjoy a couple's soak in a massage-jet tub or wind down with complimentary wine and appetizers in front of your own remote-controlled fireplace.
The winery: Known for its Mountain Zinfandel, Opolo crafts award-winning zinfandel, cabernet sauvignon, chardonnay, albarino and distinctive blends.
Insider Tip: Ask about the inn's special packages, ranging from Stay & Play, Romance and
Celebration to the ever-popular Relaxation package.
4. JUST Inn at JUSTIN Winery
Vibe: Upscale wine country stay located on the multifaceted JUSTIN Winery Estate.
Stay: Choose from 3 suites, 1 villa, 1 chateau
Beds: 1-4 (plus queen sofa beds in some rooms)
Sleeps: 1-8+
Check-in to style: Discover the secret to JUSTIN's enduring legacy with five luxurious vineyard stays ranging from intimate to opulent. Regardless of which you choose, revel in King-size Tempur-Pedic beds, Frette linens, Hydro-Spa bathtubs and an inclusive, farm-to-table breakfast. Whether you prefer the 1,400-square-foot French country-inspired Vintner's Villa surrounded by vines and working winery or the more intimate, 600-square-foot Justification Suite (equally impressive thanks to two walk-out balconies), you'll unlock the magic of the JUSTIN estate, one night at a time. Located just a short stroll from the JUSTIN tasting room and celebrated JUSTIN Restaurant, the 1,200-square-foot Isosceles Suite is appointed with contemporary touches, a fireplace and stylish living room. Meanwhile, the JUSTIN Chateau gives new meaning to the concept "more is more." This lavish 12,000 square-foot mansion features four grand bedrooms with private bathrooms, a chef's kitchen, dining room, stately living room and library.
Winery: Known for its iconic Isosceles blend, JUSTIN Winery crafts world class Bordeaux-style wines.
Insider Tip: Inquire about premium wine tastings for overnight guests and preferred access to The Restaurant at JUSTIN, a Michelin Star-rated culinary experience.
5. Peachy Canyon Winery's Canyon Inn
Vibe: A serene, family-friendly hangout located above Peachy Canyon Winery.
Stay: 2-bedroom guest house
Beds: 3 King, 2 Twin
Sleeps: Up to 8
Check-in to comfort: A hidden hillside haven with panoramic vineyard views, Peachy Canyon Winery's home away from home is great for group gatherings. Featuring four comfy bedrooms and two bathrooms, this spacious vineyard guest house is kid-friendly, allowing the entire family to come together for a weekend or the week. Play board games on the deck or crack open a book on the sun-dappled wraparound veranda. Come dinnertime, make good use of the onsite barbecue area, full kitchen, formal dining room and large patio perfect for joyful meals together. Looking for a fun picnic lunch among the vines? Simply head out the front door and into your own personal wine country wonderland. Plus, the inn is located mere minutes from downtown Paso Robles, where dining, shopping and entertainment await.
Winery: With a rich legacy in Paso Robles, Peachy Canyon Winery is known for crafting top notch zinfandels as well as premium cabernet sauvignon, malbec, petite sirah, viognier and more.
Insider Tip: Mid-week stays for a more peaceful experience.
6. CASS Winery's Geneseo Inn
Vibe: Modern shipping crate lodging located on the sprawling Cass Winery Estate Vineyard.
Stay: 8 units to choose from
Beds: 1 (King), additional sofa bed available in the At Last suite.
Check-in to modern: Book outside the box at CASS Winery's Geneseo Inn, a refreshing twist on traditional wine country lodging. Crafted from repurposed industrial shipping crates, each of the inn's eight units overlook CASS Winery's 145 acres of estate vines. Modern amenities like luxurious King-sized beds, fine linens, private balconies and maid service come along with a dose of playful whimsy. With rooms like "Bohemian Rhapsody," which features shag pillows, a lava lamp and glazed ceramic elements, expect the unexpected, to be sure. All stays are inclusive of an evening Happy Hour followed in the morning by room service of their gourmet Estate Breakfast, with options like crab cake eggs benedict and lemon ricotta pancakes. Plus, start your day off with an array of thrilling experiences, including horseback rides and adventurous e-bike excursions through the vines. Close proximity to the popular CASS Winery tasting room and onsite restaurant round out this totally unique wine country experience.
The winery: Blending Paso personality with French DNA, CASS Winery specializes in estate Rhone and Bordeaux varieties on their sustainable vineyard, such as syrah, mourvedre, grenache, viognier, roussanne, Marsanne, Cabernet, Merlot, Malbec, and Touriga Nacional.
Insider tip: Check out Camp CASS for additional activities, events and workshops hosted at the winery estate.
7. SummerWood Inn
Vibe: A boutique-style contemporary inn backdropped by vineyards and hills.
Stay: 9 rooms to choose from
Beds: 1-2 (King, Eastern King, Queen, Double-Queen)
Sleeps: 1-4
Check-in to wine country charm: Combining wine country charm and contemporary vibes, SummerWood Inn is a breath of fresh air on Paso's enchanted Highway 46 West. With nine bedrooms, a demonstration kitchen and picturesque outdoor dining space, you'll find this "farmhouse stay" far from rustic. Surrounded by rolling hills, picturesque vineyards and oaks, enjoy the intimacy of a bed and breakfast with all the amenities of an upscale retreat, including concierge service ready to guide your every whim. Guests can also expect a complimentary bottle of SummerWood wine, seasonal apps, farm-to-table gourmet breakfast (made-to-order) plus dessert and coffee each evening. Choose from a Roof Top Luxury Suite with California King Bed & Sofa sleeper, Junior Luxury King Bed Suite, Double Queen Bed Suite and Eastern King Bed Guest Rooms. Each option offers its own charms, from vaulted ceilings and private balconies to fireplaces. Turkish robes, 300-count cotton sheets and custom-made Pillow Top Mattresses round out the refined feel.
The winery: SummerWood Winery offers handcrafted cabernet sauvignon, mourvedre, syrah, grenache blanc, viognier and marsanne, among others.
Insider Tip: Known for hosting incredible wine country weddings, ask about reserving SummerWood Inn as your venue or guest lodging for that upcoming special event.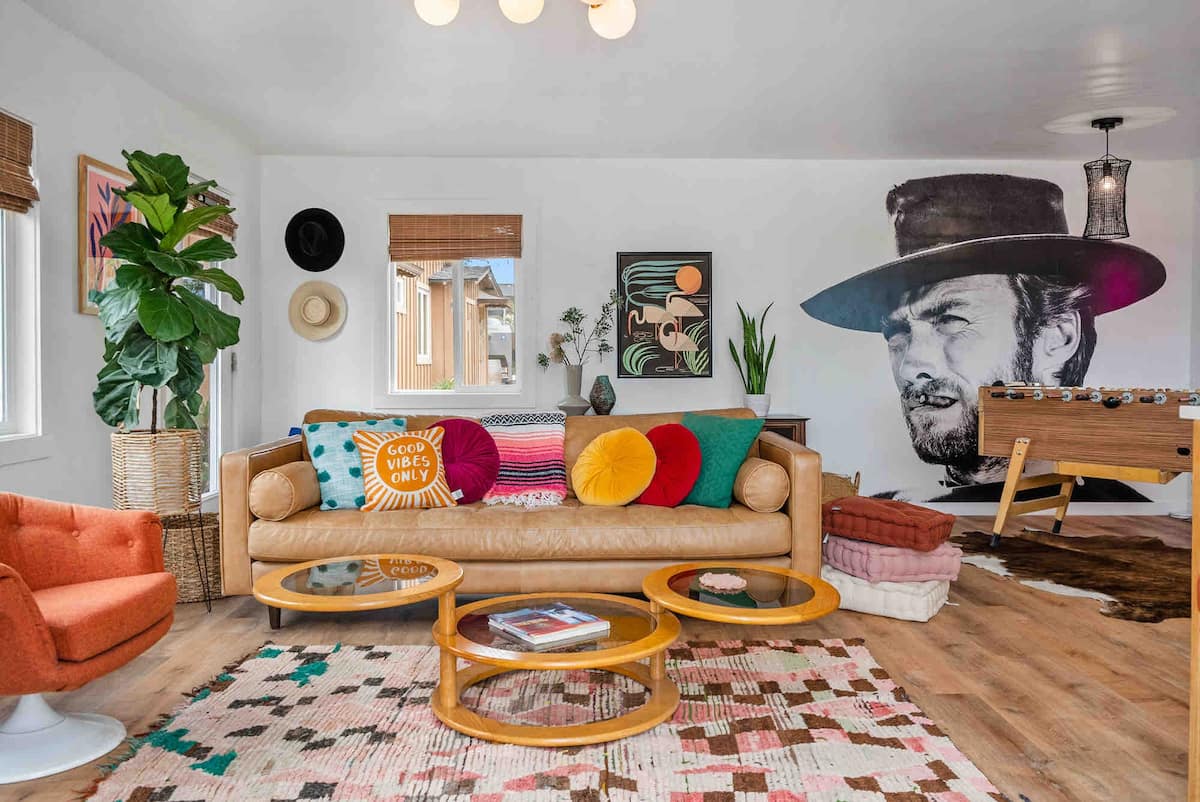 8. Pelletiere Estate Farmhouse and The Eastwood Cassita 
The vibe: Choose from two incredible vineyard stays at Pelletiere Estate Winery. The sophisticated, two-bedroom, two-bath Farmhouse is perfect for cooking and lounging, while the hip, one-bedroom one-bath Eastwood Casita showcases dynamic style with majestic views.
Check-in to fun: The playful Eastwood Casita, aptly named after its floor-to-ceiling Clint Eastwood mural, blends Mid-Century and boho accents with whimsical results. From the vintage furniture to the bountiful natural light shining through ample windows, you'll reach for your phone to capture the magic. Enjoy a full kitchen, fireplace, foosball table and laid back patio area perfect for stargazing with a glass of wine in hand. Set back on 16 acres of working vineyards, spin a few records on the turntable and dance like nobody's watching (1 bedroom, 2 beds; sleeps 2 guests max).
Check-in to farmhouse chic: The Farmhouse at Pelletiere Estate is the quintessential wine country hideaway surrounded by vines. Private and serene, this hidden oasis is nestled in the foothills of the Willow Creek District in the heart of Paso Robles' renowned Westside—far, far away from the stress of your to-do list. With two-bedrooms and two bathrooms, the farmhouse features a charming kitchen complete with a coffee service island, breakfast nook, and granite countertops. In the dining room and living room, French doors open onto an expansive multi-level deck overlooking vineyard views (3 bedrooms; 1 King, 1 Queen, 1 Twin; sleeps 4).
The winery: Pelletiere Estate Winery is known for sustainably-crafted Italian varietals including sangiovese, nebbiolo, montepulciano, aglianco, lagrein, cannonau and primitivo.
Insider Tip: Inquire about Pelletiere Estate Winery vineyard tours, always an educational and immersive experience.
---
More Vineyard Stays in Paso
The Rustic Farmhouse at Villa San-Juliette
Vibe: A casual, ranch-style oasis set amidst the vines of Villa San-Juliette.
Stay: 2-bedroom guest house
Beds: 2
Sleeps: 5
Check-in to rustic charm: Live like a Paso Robles winemaker for the weekend at The Rustic Farmhouse at Villa San-Juliette, located a stone's throw from the stunning Villa San-Juliette vineyard in northeastern Paso. This intimate two bedroom, two bathroom guest house allows guests to wake up to wine country—not to mention the popular Villa San-Juliette winery, a Mediterranean-styled gem. Enjoy paired gourmet fare at the tasting room, kick up your boots on a private patio overlooking manicured garden grounds, or head for the hills to discover an array of nearby eastside wineries (with more than a dozen wineries to explore within as many miles of the property, there's plenty of fun to be had). Truly, this simple-yet-charming stay is the perfect homebase for two couples or a group of friends exploring the region, sip by sip.
The winery: Villa San-Juliette offers award-winning Bordeaux and Rhone-style wines in approachable styles, including petit verdot, merlot, cabernet franc, cabernet sauvignon, grenache and more.
Insider Tip: Consider booking this lavish locale for weddings or special events.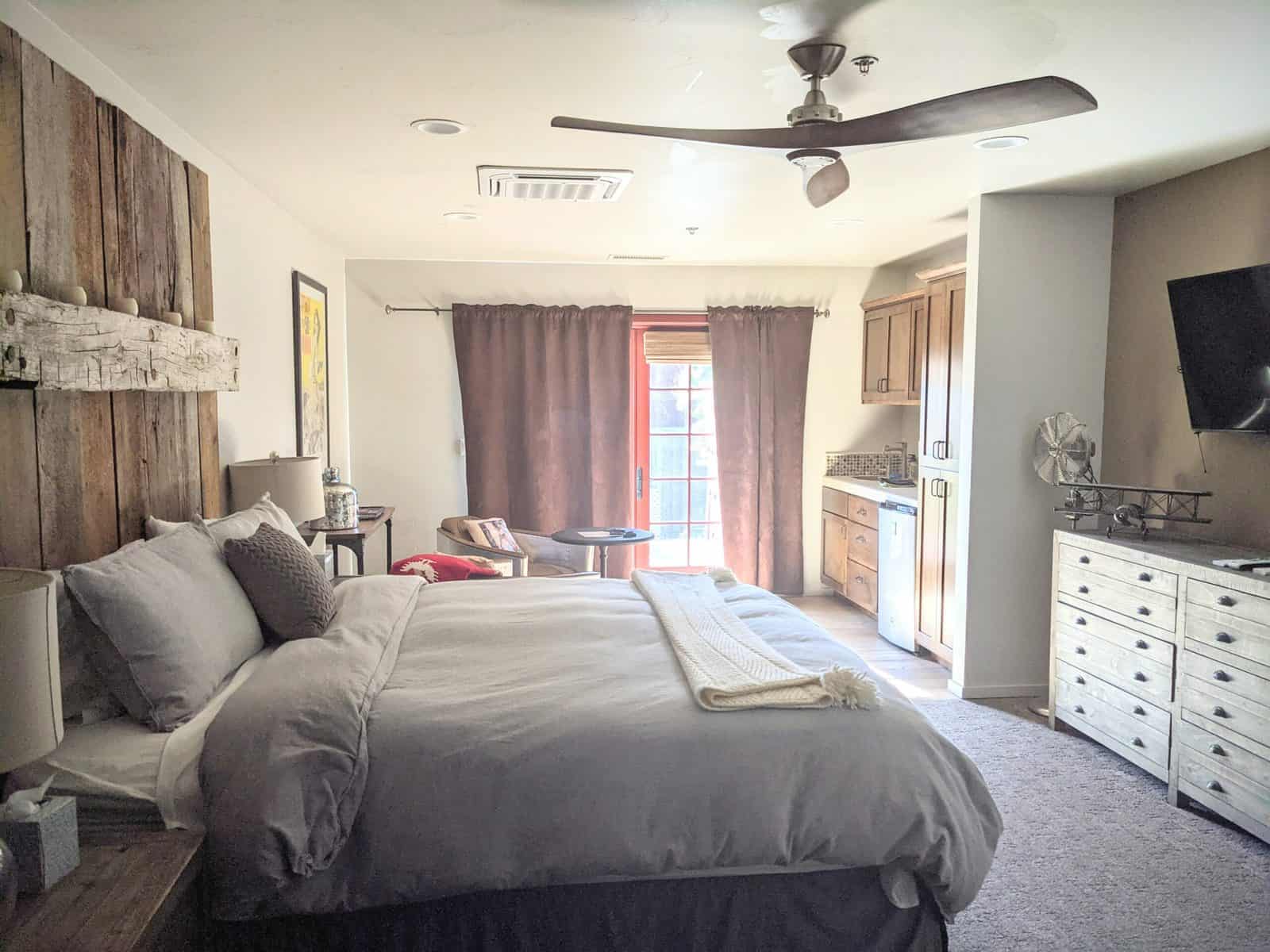 Venteux Vineyards Guest House
The vibe: Cozy accommodations situated on an estate vineyard or atop the Venteux Vineyards tasting room.
Stay: 4-bedroom guesthouse; 1-bedroom loft; 1 bedroom studio
Beds: 1-4 (King)
Sleeps: 8
Check-in to action: Find a wine country hideaway that puts you inside the action at Venteux Vineyards. Located on the winery's 22-acre estate dry-farmed vineyard, the ample Guest House is ready to welcome family and friends with four bedrooms, a full kitchen, two living areas, fire pit, enclosed yard, and barbecue area. While this lodging is open to the public, two additional onsite accommodations require wine club membership to access. These include the elegant one-bedroom Winemaker's Loft —perched above the tasting room with full kitchen, living area and patio —and the Cellar Studio, a modern retreat with King bed, mini fridge, patio and small living area.
The Winery: Venteux Vineyards crafts premium estate wines including grenache, dry-farmed cabernet sauvignon, syrah and Bordeaux-style blends.
Insider Tip: Venteux Vineyards overnight guests enjoy a complimentary tasting in the tasting room.
---
Paso Robles Vacation Rentals
Ready to book your own Paso Robles vineyard stay? Unlike traditional hotels, wine country vacation rentals offer up elevated and unconventional experiences. Get ready for vibrant wine country suites, plush upgrades and the chance to live like a local. Plus, you'll discover extra perks you just won't get anywhere else! See more about these vacation rentals on Instagram.
Red House Paso
Kick it old school: Built in 1892, Red House Paso is a historic vacation rental that combines Old World charm with modern comfort.
Stay on the vineyard
Vines for days: Stay on the Vineyard offers up unmatched wine country getaways with a private vineyard suite, eco-friendly amenities and access to 350+ nearby tasting rooms. Great for hosting events, too!
Sona Hills Paso Robles
You do you: Perfect for large groups and events, Sona Hills is a modern five-bedroom seven-bath villa with breathtaking views you'll savor from 1,000-foot elevation. Plus, enjoy a gourmet kitchen, outdoor oasis with pool and hot tub as well as personalized itineraries.
The Windwood Ranch Paso
Get back to basics: Reconnect with what's real at Windwood Ranch Paso, a glamping resort and private party venue with oodles of ambiance. Glamp (glamorously camp) under the stars or discover a renovated ranch home with quick access to pool, wineries and hiking trails. Plus, sister company Vinyl Vineyards is always a treat!
Manor at Santellan Vineyards Inn & Suite
With a popular wine tasting bar perfect for celebrating the moment, Santellan Vineyards Inn & Suite is a boutique inn with a stunning vineyard backdrop ready for vacationers and the soon-to-be-wed. Choose between an Inn that sleeps eight, or the Symphony Suite that sleeps one lucky couple.
---
Want to explore the best wineries, discover new wines & delightful dining experiences?
Let's face it, planning a trip to wine country is exciting but can also be a bit daunting. Why? Paso Robles alone boasts over 300 wineries, each offering a unique blend of wines, tasting experiences, and beautiful vistas.
With so many vineyards to choose from, the choices are endless and the fear of missing out on that perfect wine or that unforgettable view is real.
Take the stress out of planning.
We've crafted something just for you to make it easy, rewarding, and also a little less expensive.
Ready to make your Paso Robles experience truly unforgettable? Click the button below to grab your tailored Digital Itinerary and start your wine adventure like a pro!
👇 Get Your Digital Itinerary Now
Special Bonus: As an introductory promotion, we're excited to offer you a massive 50% discount! Use the code FRIENDS50 at checkout. But hurry, this offer won't last long!
---
FAQ: Booking Vineyard Stays in Paso Robles
What are vineyard stays in Paso Robles?
Vineyard stays in Paso Robles are accommodations located on or near vineyard estates in this picturesque wine region. These include rooms, suites, guest houses and vacation rentals, among other lodging options. Guests can enjoy a unique experience where they can stay in close proximity to vineyards and immerse themselves in the wine country lifestyle.
What types of accommodations are available in Paso Robles vineyards?
Vineyard stays offer a range of accommodations, including vineyard inns, wine country suites, vacation rentals, and even cozy cottages. The options vary, providing something for every traveler's taste and budget.
What amenities can I expect at a vineyard stay in Paso Robles?
Amenities often include access to the vineyard, wine tastings, picturesque views, and sometimes even on-site dining. Some properties also offer special activities, such as vineyard tours, wine and food pairings, and more.
Is it necessary to be a wine enthusiast to stay at a vineyard accommodation?
While vineyard stays are perfect for wine lovers, they are equally appealing to anyone seeking a serene, scenic escape. You can enjoy the beautiful landscapes, relax, and explore the local culture, even if you're not a wine connoisseur.
How do I book a vineyard stay in Paso Robles?
To book a vineyard stay, visit the official websites of the vineyard inns and suites, or utilize popular travel and accommodation booking platforms. It's advisable to make reservations well in advance, especially during peak seasons.
When is the best time to visit Paso Robles wine country?
Paso Robles boasts a Mediterranean climate, making it a year-round destination. The grape harvest season (late summer to early fall) is particularly popular for wine enthusiasts, but any time of year offers its unique charm.
Are vineyard stays family-friendly?
Many vineyard stays welcome families, but it's essential to check the specific property's policy and available amenities, such as family suites or activities suitable for children.
Can I host events or weddings at vineyard accommodations in Paso Robles?
Yes! Some vineyard stays offer event and wedding venues. If you plan to host an event, contact the property directly to inquire about availability and any associated costs or requirements.
What's the best way to get to Paso Robles wine country?
Located midway between San Francisco and Los Angeles, Paso Robles is easy to get to by car or plane. Visitors may fly into San Luis Obispo County Regional Airport (SBP) or drive from other regional airports. Visitors can also arrive by rail, as Paso Robles is home to an Amtrak train station. Enjoy your stay in Paso Robles wine country!
LEARN MORE