Join us on a weekend getaway to explore the Paso Robles Zinfandel wines. This itinerary will immerse you in the world of this exceptional grape variety. Pack your bags and get ready for a delightful adventure!
Paso Robles has long been celebrated for its Zinfandel wines, and rightly so. The region's unique climate and soil conditions create the perfect backdrop for Zinfandel to flourish. In this article, we invite you to embark on a weekend getaway like no other, where Zinfandel takes center stage.
Our mission is simple: to guide you through a curated Zinfandel wine tasting itinerary that will immerse you in the world of this exceptional grape variety and some of the history of Paso Robles. Whether you're a seasoned wine connoisseur or new to the world of Zinfandel, we promise an experience that will leave you with a deeper appreciation for Paso Robles and its wine heritage.
Zinfandel in California
A Historical Background of Zinfandel in California
Zinfandel, often hailed as "California's Heritage Grape," has a rich and storied history in the region. Paso Robles has one of the highest concentrations of old Zinfandel vineyards in America. At least a dozen were planted nearly a century ago.
The Paso Robles AVA has at least a dozen vineyards that are truly legendary. Walking through their time-honored vines, you can feel the history of generations of dedicated winegrowers.
It was brought to the United States by European immigrants in the mid-1800s and found its prosperity in California. They recognized the region's terroir for growing Zinfandel grapes, and their passion for winemaking led to the establishment of vineyards that have now endured for nearly a century. Some even survived the prohibition era, when the production and sale of alcohol were illegal. During this time many Paso Robles vineyards were uprooted or converted to other crops.
These venerable vineyards, such as the Ueberroth Vineyard, planted in 1885, and the Dusi Vineyard, established in the early 1920s, are celebrated for their contribution to the Zinfandel heritage in Paso Robles. Turley Vineyards sources its fruit from the Ueberroth Vineyard, known for its extreme conditions and resulting depth and complexity in the wines. The Dusi Vineyard, on the other hand, has become a symbol of Paso Robles' Zinfandel fame, with many renowned wineries sourcing their fruit from this historic vineyard.
Richard Sauret and a Dry Farming Legacy
No overview of Zinfandel in Paso Robles would be complete without a mention of Richard Sauret. He was a third-generation Paso Robles farmer, born in Paso in 1935 and a champion of Zinfandel and dry farming. He helped dozens of grape growers plant, maintain, or rescue their Zinfandel vineyards
Sauret planted a vineyard in 1965 that produced fruit for Rosenblum's Sauret Vineyard Designate wine (often found on the Top 100 lists of various wine publications). After Rosenblum was acquired by Constellation, Sauret sold the vineyard to a young couple who allowed it to go fallow. Stephanie Shakofsky purchased the vineyard in 2017 and renamed it Saint Marie Vineyard. She is committed to revitalizing the vineyard and continuing Sauret's legacy.
The Paso Robles AVA has at least a dozen more vineyards that are truly legendary. Walking through their time-honored vines, you can feel the history of generations of dedicated winegrowers. Tasting their wines, you'll understand why these vineyards consistently produce outstanding wines.
Now, let's go taste some Zin.
Day 1 Itinerary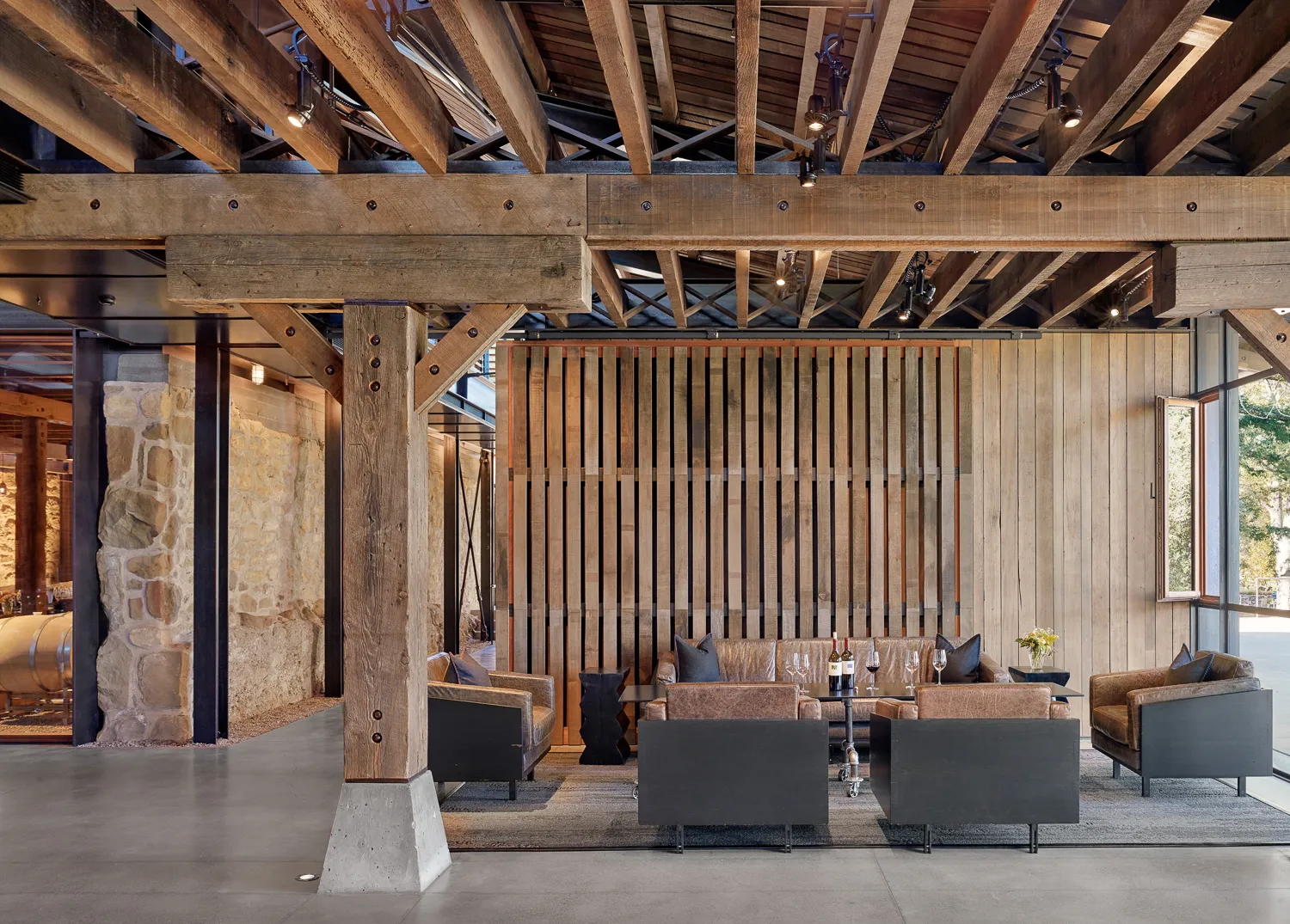 Stop 1 – Epoch Estate
Start your Zinfandel adventure at Epoch Estate Wines, where the art of winemaking meets the echoes of history. Their estate vineyards – Paderewski, Catapult, and York Mountain – produce artisanally crafted Rhône, Zinfandel, and Tempranillo varieties. The legacy of the vineyards is entwined with the story of Andrew York, the visionary rancher from Indiana who planted a Zinfandel vineyard on his 240-acre homestead in the late 1870s.
Today, Epoch Estate Wines proudly holds the title of the oldest continuously operating winery in North County, thanks to the passion and dedication of Bill and Liz Armstrong, who took over the vineyard in 2004.
Enjoy their estate-grown Zinfandel wines any day of the week between 10AM and 4 PM. Generally their wines are 100% Zinfandel, yet in some vintages there might be a splash of Syrah, Mourvèdre or even Carignan for spice and texture. This Zinfandel pays homage to Ignacy Jan Paderewski who was the first to plant Zinfandel in Paso Robles.
The winery is dog friendly and picnics are welcome outside on the patio.
Learn more | Mapping and directions
Stop 2 – Castoro Cellars
Next head to Castoro Cellars, where you can enjoy certified organically farmed Zinfandels. How about a picnic amidst the breathtaking vineyard landscapes? Or, if you're up for some recreational fun, consider a spirited round of disc golf in the vineyard.
All are available at Castoro Cellars situated in the Templeton Gap AVA. This stretch of Paso Robles boasts a collection of exceptional wineries. The Templeton wine region benefits from the daily infusion of cool Pacific Ocean air, resulting in wines that beautifully reflect the unique terroir of the area.
Founded by Niels and Bimmer Udsen in 1983, this is a true Central Coast vineyard family with deep roots in the region. Inspired by his upbringing, they named their fledgling winery with Niels' childhood nickname. "Castoro" is Italian for "beaver," and thus, their motto, "Dam Fine Wine," reflects their dedication to crafting exceptional certified organic estate wines.
Here, you'll discover a captivating selection of Zinfandel wines that embody the essence of Paso Robles' organic excellence.
Their Zinfusion wine has become a cov­et­ed wine amongst Zin lovers. This Paso Rob­les Zin­fan­del is a mar­riage of SIP and CCOF organ­ic cer­ti­fied Estate grown Zin­fan­del, Prim­i­ti­vo and Petite Sir­ah. This wine is dry, yet fruity; great for late after­noon grilling of your favorite red meat or salmon.
Learn more | Mapping and directions
---
Need to stop for a snack?
Barton's Kitchen serves up seasonal flatbreads, light salads, kalamata olive dip and premium charcuterie plates perfect for a shared appetizer with your main squeeze.
---
The Dusi family's name is synonymous with Paso Robles wine history, and they proudly own two historic vineyards.
Just a minute away you'll find yourself at an essential Paso Robles stop – J Dusi Wines. Here, you'll have the opportunity to visit, savor, purchase, and pay your respects in the company of the great-granddaughter of one of Paso's most renowned wine families.
The Dusi family's name is synonymous with Paso Robles wine history, and they proudly own two historic vineyards. These vineyards supply grapes to a select group of Zinfandel producers who proudly feature the distinguished Dusi name on their labels. Janell Dusi, the torchbearer of this illustrious heritage, expertly crafts Zinfandel wines from her grandfather's iconic Zinfandel vineyard, Dante Dusi. In addition to her Zinfandels, Janell offers a captivating lineup of other exceptional wines, each showcasing her winemaking prowess across various varietals.
Janell's winemaking mission is beautifully encapsulated in the phrase, "A family tradition with a new perspective." While she embraces modern methods and cutting-edge equipment, she remains firmly rooted in the timeless essence of the vineyards. The age-old expression of these historic vineyards remains at the forefront of her winemaking philosophy.
After trying some of their fabulous 100% estate Zinfandels (don't miss the Benito Dusi Zinfandel), also try their Zinfandel port. It's made from late harvest Zinfandel, fortified with brandy and barrel aged for 2 years.
Learn more | Mapping and directions
---
Dinner Suggestions
Ready to tuck into a hot dish together? Ditch the stuffy white tablecloth and enjoy elevated comfort food at Hatch Rotisserie + Bar, a Michelin-star rated restaurant where succulent rotisserie-grilled chicken, local produce and creative cocktails collide. While the food here is truly a cut above, there's no dress code to speak of. You and your love are free to kick back among Paso's unique population of travelers, winemakers and cowboys. Just a reminder: Save room for hot skillet cornbread cornbread or a slice of delectable housemade cream pie!
835 13th St, Paso Robles, CA | Reserve a table
Dine: Modern Mexican vibes and an extensive tequila list come together to create a refreshing farm-to-table experience in downtown Paso Robles—with a fiery kick. Indoor and outdoor seating is perfect for a celebratory group or date night, depending on the mood. From fish tacos laden with flavorful local produce to savory enchiladas topped with heavenly guac, taste Paso Robles fare with a Baja twist.
Serving: Baja-inspired dinners and lunches; extensive tequila and mezcal offerings; Mexican and craft beer; creative cocktails.
Farm-to fork: Fish Gaucho is committed to sourcing the freshest seafood, shellfish, local produce, organic meats and ingredients courtesy of local farmers, ranchers and fishermen.
1244 Park St, Paso Robles, CA | Reserve a table
---
Day 2 Itinerary
This winery and inn have a special place in the hearts of Central Coast residents and visitors alike. Founded in 2001 by neighbors turned winemaking enthusiasts, Rick Quinn and Dave Nichols, Opolo Vineyards has grown to become one of the most beloved wineries on the Central Coast.
In 1999, Rick and Dave embarked on an ambitious journey to create a 300-acre vineyard estate, winery, and hospitality venue that would resonate with both dedicated club members and first-time guests. The name "Opolo" draws inspiration from the Serbian rosé wine, a nod to founder Rick Quinn's ancestral roots. Interestingly, it's quite fitting that this winery, known for its Zinfandel prowess, has adopted the grape variety now recognized as originating on the coast of Dalmatia.
Opolo Vineyards is not just a winery; it's a vibrant hub of entertainment. The winery and its original tractor barn have been transformed into an inviting space that offers something for everyone. Here, you'll find The Inn at Opolo, tasting rooms, event venues, vineyard tours, a welcoming covered patio, a bustling pizza oven and kitchen, and even a distillery.
While Opolo Vineyards boasts a diverse portfolio of wines, it's their organically farmed offerings that truly shine. Amidst the myriad of tasting experiences available, Zinfandel enthusiasts are in for a treat. Keep an eye out for the opulent and beautifully crafted Mountain Zinfandel and the Reserve Zinfandel, which exemplify the winery's commitment to quality.
Learn more | Mapping and directions
---
Want a special lunch on a vineyard?
Niner Estate is one of the "Best Winery Restaurants in America" according to Food and Wine Magazine and "Top 10 Winery Restaurants" by USA Today. Their vines originally came from the Ueberroth vineyard on the Westside of Paso Robles, which was one of the first vineyards in the area. As for lunch, they cook all of their food using locally sourced ingredients and the restaurant is open daily by appointment (lunch includes a tasting). Their Zinfandel is a lighter, elegant style of Zinfandel with notes of rhubarb and cranberry, complemented by spiced barrel notes.
Reserve a table | Mapping and directions
---
At Shale Oak Winery, the commitment to sustainability extends beyond just the vineyards and into the heart of winemaking. This commitment is expertly guided by none other than Curtis Hascall, the talented winemaker who has been at Shale Oak since 2010.
Curtis's journey into the world of winemaking is as intriguing as the wines he crafts. Born in Watford, England, he initially aspired to become a master beer brewer. However, life had different plans for him.
Under Curtis's expert guidance, the winemaking team at Shale Oak Winery has achieved a remarkable list of awards and accolades in a relatively short span of time. When you take your first sip of Shale Oak's wines, you'll immediately understand why.
Now, let's turn our attention to the star of the show – Shale Oak's Zinfandel. This Zinfandel, with its deep garnet red hue, tantalizes the senses with ripe black and red raspberry notes on the nose, which gracefully transition to the palate. The texture is luxuriously rich and brimming with flavors of mocha and briar.
Learn more | Mapping and directions
This hallowed ground was once home to the historic Pesenti Vineyards, a site that Turley took under its wing in 2000,
Conclude your Zinfandel journey with a visit to Turley Wine Cellar, just a short drive away. This hallowed ground was once home to the historic Pesenti Vineyards, a site that Turley took under its wing in 2000, establishing it as the cornerstone of their Central Coast winemaking.
Turley's story is one of passion and preservation. Founded by Larry Turley, a physician by trade, in 1993, the winery was built on the idea of safeguarding California's oldest vineyards. It swiftly earned critical acclaim for its exceptional Zinfandels.
Today Turley boasts three wineries across Napa Valley, Amador, and Templeton, producing a remarkable array of 47 wines, with a primary focus on Zinfandel, sourced from an astonishing 50 different vineyards. This level of dedication to sourcing and nurturing Zinfandel grapes is unparalleled.
Turley's Paso Robles portfolio includes distinguished vineyards such as Ueberroth, Dusi, Amadeo, and the iconic Pesenti Vineyards. As you step into Turley's hospitality area, you'll find a welcoming tasting room, a well-stocked bar, and a charming patio where you can engage in friendly and informative tastings.
Turley Vineyards is more than a winery; it's a testament to the enduring legacy of Zinfandel and the commitment to preserving California's vinicultural history. As you sip their exceptional wines amidst the backdrop of historic vines, you'll undoubtedly feel the profound sense of place and tradition that Turley embodies. It's a fitting finale to your Paso Robles Zinfandel adventure, a journey that has unlocked the essence of this remarkable wine region.
Learn more | Mapping and directions
---
Where to Stay for your Zinfandel Weekend in Paso?
High end oasis
Relax at Paso's European-styled resort complete with onsite spa, wine tasting room, pool and farm-to-table restaurant. Surrounded by verdant vines and decorated with museum-worthy art, this world class resort offers romantic packages combining couple's massage, sightseeing excursions, tastings and more. Get the best rates
Other options for a little pampering downtown Paso are Hotel Cheval (check out their new coffee shop) and The Piccolo Hotel.
Vineyard stays
Discover the perks of the vineyard lifestyle at Geneseo Inn, a luxury boutique hotel nestled in the rolling hills of Paso Robles. Built of industrial shipping crates perched above the beautiful Cass Winery property, wake up to exciting opportunities like equestrian and e-bike rides through the vines. Get the best rates
The Inn at Opolo
Treat yourself to the ultimate Paso Robles wine country experience by booking a stay at The Inn at Opolo Vineyards. Guests enjoy our luxurious, spacious rooms that boast fireplaces, soaking tubs, showers and made-to-order breakfast to enjoy each morning of your stay. They also offer complimentary wine and appetizers each afternoon. If you are hungry dont miss their casual food offerings on the outdoor patio.The Menu is seasonal and changes based on availability. Get the best rates
Budget friendly favorites
Enjoy Paso Robles' famous hospitality, quality amenities and all the comforts of home at local favorite Adelaide Inn. Conveniently located at the intersection of Highway 46 East and Highway 101, this family owned bed and breakfast is known for delivering a cozy, quiet and romantic getaway. Get the best rates
Check in to the newly renovated Farmhouse in downtown Paso Robles, a charming twist on a classic Central Coast motel. With crackling fire pits, complimentary Linus bicycles and lemonade in the lobby, this reimagined Mid Century marvel encourages couples to slow down together. Get the best rates
---
References:
https://zinfandel.org/legends-of-paso-robles/
https://zinfandel.org/region/central-coast/
https://thedrunkencyclist.com/2021/04/07/more-legendary-zinfandel-in-paso-robles/
LEARN MORE