With its grueling Mondays and monotonous tasks, reality just isn't all it's cracked up to be. Sure, you can escape to your own fantasy land with great music, movies and art. But what about Paso Robles wine? Located on the stunning California coast midway between San Francisco and Los Angeles, this award winning wine region is a whole lot closer than you think! If to-do lists and responsibilities have you pining for vineyard-dotted hills and carefree afternoons, we have the inspirational quote you need to get up, get going, and plan that trip to Paso. Better jot this down!
"Beer is made by men, wine is made by God."
People didn't know much about the ways of the world way back in the 1500s, but German professor of theology, priest and composer Martin Luther sure knew a thing or two about the ethereal nature of great wine. Some of Paso's finest winemakers tend to agree with the statement above (at least theoretically). With an emphasis on minimal human intervention and allowing nature to take its course to create exceptional vintages, Paso Robles wines don't merely spring forth from mortal hands. They come from another realm entirely!
Heavenly bottles: The estate grown wines at Cass Winery start their lives within a sun drenched 145 acre vineyard (and end their journey inside your glass). Lounge away the afternoon in the winery's outdoor patio, where these natural stars steal the spotlight, despite equally show-stopping gourmet grub.
More info, click here
Wine Pick: Cass Winery 2020 Viognier
Tasting Notes: A seduction of orange blossom, poached pear, ripe apricot and clove honey drift from the glass. Sultry essence of exotic spice, fresh pineapple and crushed coconut evoke memories of a lush tropical isle. A lifted acidity highlights elements of lemon verbena, herbal tea, ripe melon and flowering jasmine.
Description: Aiming to preserve the intense fruit and aromatics of the variety, this Viognier was fermented and aged in 100% stainless steel. Hand-picked in the early morning, the cold grapes were pressed within moments after coming off the vine. Following juice settling, a long, cold fermentation commenced. Malolactic fermentation was inhibited to preserve acidity, keeping the wine fresh and crisp.
Mapping and directions, click here
"Love the wine you're with!"
Groovy songster Stephen Stills may have passionately urged us to "love the one you're with" way back in 1971, but here in Paso, we have a slightly revamped request. "Loving the wine you're with" is truly easy around these parts, where hundreds of unique varietals beckon with an endless rainbow of flavor profiles. Really, what's not to love?
Peace, love, and wine: With exciting red blends, crisp whites and tiny hand-crafted lots, you'll explore Paso's most fresh and fabulous varietals at Brecon Estate. When in doubt, try the path less traveled. We promise: It always leads to a bliss in Paso Robles Wine Country!
Learn more, click here
Wine Pick: Brecon Estate 2020 Albariño
This wine will bowl you over with a feather kind of wine. Most folks just never see it coming, even knocks those red wine only aficionados off their lofty perch! This is the pure expression of the vineyard that started Brecon on its wildly successful Albariño ride. Aromatic as ever, it veritably jumps from the glass with hints of Sauvignon Blanc and day lily blossom (that edible flower). Being varietally true it's all citreen, with crisp fresh limes dominating the palate. So refreshing, yet the finish is surprisingly rich with a softness and biscuity toastiness reminiscent of a classic champagne.
Mapping and directions, click here
"My only regret in life is that I did not drink more wine."
The Great American author Ernest Hemingway may have lived a famously adventurous life, but he still had one last regret when he came to the end of his final chapter. Don't let the wine slip through your hands! Head to Paso Robles, where your every wine wish is our command. With vacation rentals and hotels ranging from cozy to plush, there has never been a better time to start your own delicious narrative.
Plot twist: JUSTIN's home-away-from-home (aptly named the JUST INN) is a MOST pleasurable place to wake up to wine country! Surrounded by vineyards, these spectacular suits offer up luxurious appointments like fireplaces, Tempur-Pedic mattresses, and Frette linens. An overnight stay even includes a bottle of JUSTIN wine, breakfast, a complimentary tasting and turndown service!
Learn more, click here
Wine Pick: JUSTIN 2018 CABERNET SAUVIGNON
With attractive aromas of black fruit and spice, this smooth, ready-to-drink Cabernet Sauvignon is made in Paso Robles with the same care as the highest quality, traditionally crafted Bordeaux styled wines. Their grapes are hand-picked and berry-sorted for consistent quality and flavor. JUSTIN Cabernet Sauvignon then spends more than a year in traditional small oak barrels to impart depth and complexity, highlighting the exceptional balance of flavors and textures that the unique climate and soils of Paso Robles add to the classic Cabernet character in this exceptional wine.
Mapping and directions, click here
"Wine makes daily living easier, less hurried, with fewer tensions and more tolerance."
This sounds like a witty excuse you might use to shut up the spouse who thinks you spend a little too much of the monthly budget on wine experiences. Well, next time you get that disproving look, remind your partner that, indeed, founding father and inventor Benjamin Franklin is credited for the quote above! I mean, the guy is on our money! Better listen to him, right?
Appreciating value: Limited edition, organically grown bottles from Jada are always a wise investment! From luxurious reds to exciting blends, each vintage is sure to improve with each passing moment.
More info, click here
Wine Pick: Jada 2017 WCS JackJohn (94 Points Wine Enthusiast!)
"Comprised of 91% Grenache and 9% Syrah, the 2017 WCS Jack John offers dramatic and layered aromatics on the nose. It glides easily from bold notes of loamy soil, tar, and fruit infused tea, to a bright, sexy perfume of dried flowers, dried cherries, and a sweet/ savory tension of lemon oil and Provençal spices. Aged in a combination of concrete and large format barrels, the wine is pure in fruit and medium-bodied, with soft, seamless tannins."
Mapping and directions, click here
"Home is where the wine is!"
We don't know who first said this, but it should probably be crocheted onto a throw pillow. Home is where all your favorite things await (and pants are always optional). If you can't go to Paso, allow Paso to go to you! Our hundreds of boutique wineries offer up stellar wine club offerings that bring all of that juicy goodness right to your doorstep. Don't just come home to comfort—come home to fabulous wine!
From their home to yours: Sextant not only affords its wine club members with amazing discounts, special gifts and exclusive access to top notch wines—you'll also gain access to VIP winery events (perfect for when you can actually come visit Paso Robles for yourself). See you then!
Learn more, click here
Wine Pick: Sextant's 2019 Reserve Chardonnay, Sant Lucia Highlands
A Chardonnay lover's dream, the 2019 Sextant Reserve Chardonnay is popping with aromas of buttered popcorn, vanilla, and pumpkin seed.  A silky smooth mouthfeel is highlighted by flavors of creme brulé and butterscotch.  From onset to finish, this wine holds its weight, with a perfect balance of cream and acidity. Mmmmm.
Mapping and directions, click here
Get Your Wine Country COUPONS click here!

 This blog is written by flavor fiend Hayley Cain. Follow her @flavorslo on Instagram or at astoldbyhayley.com.
CAN WE HELP YOU FIND?:
DISTILLERIES   TOURS & TRANSPORTATION
Looking for a place to stay in Paso Robles?
The Adelaide Inn is an iconic, lo
cally owned hotel known for its friendly staff and lush landscaping. With spacious rooms and a convenient location close to highway 101 and the event center – home of the California Mid-State Fair – this hotel is a great choice for most travelers. TOUR VIRTUALLY
Directions: speedfind.com/AdelaideInn
Majestically set among vineyards, olive groves and fruit baring orchards, the 20-acre Allegretto Vineyard Resort is a world unto itself, offering breathtaking settings that inspire and bring joy to all who choose this memorable wine country haven. Featuring 171 rooms and suites, on-site spa, grand ballroom, wine tasting room, and inspired culinary creations at Cello, the resort's full service restaurant.
Directions: speedfind.com/Allegretto
Wouldn't you love to wake up among the vines? Eden House at Carriage Vineyards Bed & Breakfast is on a real working vineyard and longhorn ranch in the Paso Robles Wine Region. Our rooms overlook vineyards, creeks and oaks, right in the Paso Robles Wine Country of Central California.
Directions: speedfind.com/edenhouse
Spend an idyllic getaway at Briarwood Cottage at ONX Estate Vineyards in an English-cottage inspired vineyard-side home. Guests may rent rooms in the main cottage, reserve the entire main cottage for a large group, or book the fully equipped apartment. Wake up to peaceful vineyard views and spend twilight hours sipping wine on the back porch of the cottage. It's a time you won't quickly forget. Contact us for pricing and availability (see form below). Case, 6 Bottle, and 4 Bottle Collective Members receive preferred pricing.
Directions: speedfind.com/BriarCottage
Hoyt Family Vineyard Retreats  Two very cool, tiny houses, designed using fertile imagination and repurposing  of materials are located on Hoyt Family Vineyard.
Directions: speedfind.com/hoytfamilyvineyards
new
Hampton Inn & Suites Paso Robles is nestled in the Central Coast wine region, home to over 200 wineries, beautiful beaches, mountains and diverse attractions. Relax and revive in a comfortable guest room with all you need for a successful stay. You can count on Hampton to deliver value, consistency and service with a smile. We love having you here®
Directions: speedfind.com/PRWine.HamptonInn
Enjoy the elegance, style and natural beauty of California's Central Coast at the JUST Inn®. Surrounded by vineyards, our JUST Inn Suites offer luxurious appointments like fireplaces, Tempur-Pedic®mattresses, Frette linens, hydro-spa tubs, and range in size from 600–1,200 square feet. An overnight stay includes breakfast and a tour of the winery and caves. TOUR VIRTUALLY
Directions:  speedfind.com/JustinWine
The Kiler Canyon Vineyard Retreat Perched on top of a hill on ONX Estate's vineyard with gorgeous 360 degree views of the Willow Creek AVA
Directions: speedfind.com/KilerRetreat
Experience the pristine countryside of Paso Robles Wine Country at chic, sparkling clean Lekai Ranch. Lounge on the porch of your private suite and lose yourself in the tranquility and stunning views of the vineyards and oak studded hills beyond. This vacation rental is located just minutes from some of the most distinguished wineries and a premier olive oil estate, and only 15 minutes from downtown Paso Robles' restaurants, wineries and shopping. TAKE AN AERIAL TOUR
Directions: speedfind.com/Lekai | vrbo.com/701796
Oxford Suites Paso Robles You'll find that from our lobby, our on-site restaurant, to our meeting spaces, to our 101 spacious suites, every space is beautiful + functional as well as comfortable + chic.
Directions: speedfind.com/oxfordsuitespasorobles
Peachy Canyon Guest Inn Sits above Peachy Canyon Winery + acres of vines at Mustang Springs Vineyard. The house has 2 bedrooms, 2.5 baths, living room, family room + panoramic views.
Directions: speedfind.com/PeachyInn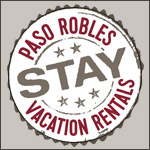 Paso Robles Vacation Rentals, also known as PasoStay.com assists guests in creating memories and wonderful experiences by providing quality privately owned vacation home rentals in Paso Robles Wine Country. With over 90 vacation homes to choose from, small enough for a couple's romantic getaway to large homes amongst local vineyards and olive orchards, PasoStay.com has the perfect option for you. Feel free to call 805-423-9174 to talk with a local expert or book online at PasoStay.com.
Directions:  speedfind.com/PasoRoblesVacationRentals
LEARN MORE