We get it. With social media tugging at your brain, kids running around, and work emails piling up, it's hard to read up on every new wine trend. How does one keep up to date with all the new information coming out every day on polyphenols (yep— scientists keep coming out with evidence that they are outrageously good for your health), various fermentation methods (these just keep getting stranger), and revolutionary packaging methods that test decades of social norms (boxed wine: not just for the cheap stuff purveyors anymore). It's enough to make your head spin, right? Good thing for you, we've gathered a few headlines that will bring you back up to speed. Consider these your wine headline cliff notes. Let's begin!
1. Canned Wine is the New Normal
Canned wine not only offers up a solution to product spoilage (no uncorking and re-opening a bottle of wine, exposing the contents to destructive air again and again), a six pack of chardonnay also allows for new adventures to unfold far beyond the white table cloth. Outdoor adventures are so much easier with a few cans thrown in a cooler or backpack. Plus, handy cans are light, durable and there's no need for a glass of any kind! According to Wine Spectator, cans are one of the fastest-growing forms of alternative wine packaging on the market—a burgeoning category that includes bag-in-a-box and Tetra Paks, the same packaging being used for juice boxes. Last year, canned wine sales jumped 69 percent to more than $69 million, totaling 739,000 cases in retail outlets tracked by Nielsen. That's up from just $2 million in sales in 2012. Better crack open a cold one because canned wine is here to stay.
2. Cannabis Infused Wine is on the Rise
It's a brave new world isn't it? Our grandparents would probably balk at the addition of cannabis into their nightly glass of merlot! In weed-friendly states like Colorado and California, anything goes it seems. There's still red tape to contend with for these pioneering producers, but that hasn't deterred this new market from expanding. Whether spiked with CBD (which produces a non-psychoactive, feel good body high) or THC (the stuff that makes you feel—for lack of better words—"stoned"), you should know one important fact. According to Yahoo Finance, "despite using the name 'wine,' most of these drinks don't actually contain alcohol. Instead, they're being positioned as the 'health and wellness' versions of traditional wine." Curious to try for yourself? Hey. We're all allowed to have an experimental phase (or two)!
3. Vegan Wine is a Thing (Seriously)
But isn't all wine vegan? Well, that's a tricky question. Animal by-products derived from milk, eggs, fish as well as gelatin are often used in a part of the winemaking process to "fine and clarify" the wine before bottling. According to Sommelier's Choice Awards, vegan wines will become a growing trend thanks to the increased popularity of vegan food and restaurants. So, what should we look for? Wines that are fined with bentonite (a type of clay) are vegan-friendly, as are wines that are "unfined" and unfiltered (unless they're biodynamic wines, as animal bones are used in compost mixtures of the vineyards). Yes, it's a lot to keep track of. Don't even get us stated on whether gluten free wine.
4. The Rosé Trend has Grown Up
By now you're probably a little sick of the phrase "rosé all day," right? That's probably because this pink drink has already been a huge trend in the USA for the past few years. What you might not know: this popularity has led to an oversupply of California grown rosé. According to the experts, demand is increasing, but not at the rate of production. That means that we should start to see a lot more site-specific, variety-focused rosé like bottles from places such as Australia, Portugal and Argentina. French rosé from regions outside of Provence are all affordable bottles this year, especially versions from Languedoc, Loire, Rhône Valley, Gascony and Bordeaux. Goodie for us!
5. Hybrids are Here
It sounds sci-fi, but growers have been cross-breeding varieties of grapes for years, creating unique half-breeds of all sorts. Hybrid wine grapes, bred varieties that cross vinifera (European grapevines) with other grape species, have long been a sensible solution to making wine in difficult conditions. Until now, they've also been considered second-class citizens in the wine world (experts have traditionally felt they lacked the quality of more purebred offerings). But that's all changing now—and fast! In fact, hybrids are well on their way to true sophisticated status. Keep your eyes peeled. Perhaps they may even become the next hot trend!
5 Timeless Paso Robles Wines That Defy Trends
1. Kiamie Wine Cellars R'Own Style Blend
Every year that harvest allows, Kiamie Wine Cellars produces a variety of distinctive blends. Try their R'Own Style Blend – A unique Rhone style blend exhibiting ripe fruit qualities, intense flavors and velvety tannins.
Quick, easy mapping and directions to Kiamie includes 1 click to hail an UBER or Lyft
Enjoy an infinitely drinkable wine that pairs with anything you throw at it. Aged 17 months in 25% new oak and the remaining in neutral barrels, the grapes are  25% estate fruit;  75% sourced from the winery's next door neighbor, McGourty vineyard.
Quick, easy mapping and directions to Dubost includes 1 click to hail an UBER or Lyft
This petit verdot is rich with complex black fruit. Extended aging in French oak barrels for 30 months allows the wine to mature with spicy oak flavors and pronounced tannins.
Quick, easy mapping and directions to Villa San Juliette includes 1 click to hail an UBER or Lyft
Great wines and locally raised beef collide at Iron Oaks Winery. Next time you're looking for a place to sip while letting it all hang out, stop by this roadside hangout. On a hot Paso Robles day, nothing beats a chilled glass of their chardonnay, sauvignon blanc and viognier blend.
Quick, easy mapping and directions to Iron Oaks includes 1 click to hail an UBER or Lyft
Get ready for aromas of violet and berry, flavors of wild strawberry and raspberry, followed by a crisp mineral finish.
Quick, easy mapping and directions to Dover Canyon includes 1 click to hail an UBER or Lyft
---

 This blog is written by flavor fiend Hayley Cain. Follow her @flavorslo on Instagram or at astoldbyhayley.com.
---
---
Looking for a place to stay in Paso Robles?
The Adelaide Inn is an iconic, lo
cally owned hotel known for its friendly staff and lush landscaping. With spacious rooms and a convenient location close to highway 101 and the event center – home of the California Mid-State Fair – this hotel is a great choice for most travelers. TOUR VIRTUALLY
Directions: speedfind.com/AdelaideInn
Majestically set among vineyards, olive groves and fruit baring orchards, the 20-acre Allegretto Vineyard Resort is a world unto itself, offering breathtaking settings that inspire and bring joy to all who choose this memorable wine country haven. Featuring 171 rooms and suites, on-site spa, grand ballroom, wine tasting room, and inspired culinary creations at Cello, the resort's full service restaurant.
Directions: speedfind.com/Allegretto
Wouldn't you love to wake up among the vines? Eden House at Carriage Vineyards Bed & Breakfast is on a real working vineyard and longhorn ranch in the Paso Robles Wine Region. Our rooms overlook vineyards, creeks and oaks, right in the Paso Robles Wine Country of Central California.
Directions: speedfind.com/edenhouse
Spend an idyllic getaway at Briarwood Cottage at ONX Estate Vineyards in an English-cottage inspired vineyard-side home. Guests may rent rooms in the main cottage, reserve the entire main cottage for a large group, or book the fully equipped apartment. Wake up to peaceful vineyard views and spend twilight hours sipping wine on the back porch of the cottage. It's a time you won't quickly forget. Contact us for pricing and availability (see form below). Case, 6 Bottle, and 4 Bottle Collective Members receive preferred pricing.
Directions: speedfind.com/BriarCottage
Hampton Inn & Suites Paso Robles is nestled in the Central Coast wine region, home to over 200 wineries, beautiful beaches, mountains and diverse attractions. Relax and revive in a comfortable guest room with all you need for a successful stay. You can count on Hampton to deliver value, consistency and service with a smile. We love having you here®
Directions: speedfind.com/PRWine.HamptonInn
Treat yourself to the ultimate Paso Robles wine country experience by booking your stay at The Inn at Opolo Vineyards. Guests enjoy our luxurious, spacious rooms and all of the sensory pleasures of Paso Robles in one destination. TOUR VIRTUALLY
Directions: speedfind.com/oploVineyards
Enjoy the elegance, style and natural beauty of California's Central Coast at the JUST Inn®. Surrounded by vineyards, our JUST Inn Suites offer luxurious appointments like fireplaces, Tempur-Pedic®mattresses, Frette linens, hydro-spa tubs, and range in size from 600–1,200 square feet. An overnight stay includes breakfast and a tour of the winery and caves. TOUR VIRTUALLY
Directions:  speedfind.com/JustinWine
La Bellasera Hotel & Suites is an elegant boutique hotel nestled in the heart of Central Coast Wine Country. Influenced by Mediterranean and Italian architecture, the luxurious accommodations reflect the aged sophistication of the Central Coast region and the relaxed nature of the California countryside.
Directions: speedfind.com/LaBellasera
Experience the pristine countryside of Paso Robles Wine Country at Lekai Ranch. Lounge on the porch of your private suite and lose yourself in the tranquility and stunning views of the vineyards and oak studded hills beyond. This vacation rental is located just minutes from some of the most distinguished wineries and a premier olive oil estate, and only 15 minutes from downtown Paso Robles' restaurants, wineries and shopping. TAKE AN AERIAL TOUR
Directions: speedfind.com/Lekai | vrbo.com/701796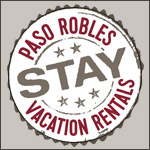 Paso Robles Vacation Rentals, also known as PasoStay.com assists guests in creating memories and wonderful experiences by providing quality privately owned vacation home rentals in Paso Robles Wine Country. With over 90 vacation homes to choose from, small enough for a couple's romantic getaway to large homes amongst local vineyards and olive orchards, PasoStay.com has the perfect option for you. Feel free to call 805-423-9174 to talk with a local expert or book online at PasoStay.com.
Directions:  speedfind.com/PasoRoblesVacationRentals
LEARN MORE