So you want to learn more about Paso Robles wine (and winemaking). We salute you! However, it can feel like a never-ending task, can't it? Once you learn one term—say, phenolics—you're tasked with learning an entirely new concept altogether. The search for wine knowledge never truly ends, which is why so many wine aficionados find the journey so fascinating and rewarding. Don't be discouraged! Learning is all the fun. So, pull up a chair and take some notes. Here are 5 winemaking terms you may not know, but totally should. Now you can add them to your vocabulary (and maybe even teach someone else a thing or two).
1. Malolactic Fermentation
Pass the butter, please. Malolactic fermentation (also known as malolactic conversion or MLF) is a process in winemaking in which tart-tasting malic acid, naturally present in grape must, is converted to softer-tasting lactic acid. Malolactic fermentation is most often performed as a secondary fermentation shortly after the end of the primary fermentation, but can sometimes run concurrently with it. The process is standard for most red wine production and common for some white grape varieties such as Chardonnay, where it can impart a "buttery" flavor from diacetyl, a byproduct of the reaction. Now you know why that wine is so lip-smacking good!
Tooth and Nail's Amor Fati 2015 Chardonnay showcases the creamy, buttery charm you've come to associate with malolactic fermentation. Golden wheat in color, the nose and palate are equally voluptuous and enticing, featuring notes of oatmeal cookie, Asian pear, peach, butter on fresh baked bread, caramel corn, and apricot.
2. Free Run Juice
Freedom is a beautiful thing, isn't it? This term describes the juice that flows freely from the skin of grapes before they are pressed. The natural weight of the grapes, when stacked on each other, tends to release an initial dibble of juice (this is the good stuff). Because this juice is not pressed, it contains  fewer tannins, making it less bitter and generally of higher quality. Perhaps this is why some winemakers call it "the noble juice!" French winemakers generally specify the types of wine made from noble juice (they call it vin de goutte and the resulting wine is called vin de presse). Not all wines are specifically one or the other. Free-run juice and pressed juice may be combined, with the noble juice allowing for a reduction in tannins in the wine.
Did you know that the prized, free run juice is also coveted by Paso Robles distillers like KROBAR Distillery ? See how this unique craft distillery is using wine grape juice to craft unbelievable hooch.
3. Whole Cluster Fermentation
Yep, it's the whole enchilada. The rise of mechanical de-stemming has been great—it means modern winemakers can ferment their fruit without pesky stems getting in the way. However, many winemakers are now looking back longingly at those old, rustic days (as difficult as they were). Winemakers who use whole cluster fermentation believe that allowing the fruit—plus some stems and foliage—into the winemaking process offers potentially delicious results. You may not know this, but the grape stems have an impact on the wine itself. Stems abound in phenolic compounds, particularly tannins. Going "whole hog" is known to add spice, structure, black tea flavors or even a more dynamic expression of site specificity.
Stems and all: Jada's popular 2013 Hell's Kitchen GSM blend features a mix of whole cluster and de-stemmed fruit (8% of the Syrah, 100% of the Mourvedre and 50% of the Grenache was fermented whole cluster). If you have a bottle, consider yourself lucky! Check out their 2014-2018 vintages and the rest of their biodynamic boutique wines here.
4. Botrytis
Hard to say, easy to drink. "Botrytis" is a fungus that can attack the buds, flowers, leaves and stems of a vine, but it's not necessarily a bad thing for the grapes. Surprising, right? One particular strain of the fungus, a beneficial gray mold, pierces the skin of grapes and causes dehydration, resulting in natural grape juice exceptionally high in sugar. If the grape is wet, this can be dangerous and even lethal. However, if the grapes stay dry, this funky fungus can make ever more yummy results. Believe it or not, but botrytis is largely responsible for the world's finest dessert wines. That's why many winemakers call this particular mold "the noble rot." Winemakers sure like to call things "noble," am I right?
Sweet Treat: Speaking of dessert wines, Peachy Canyon Winery has a particularly sumptuous bottle ready to close out your next summer soiree. A 15-year blend, their Non Vintage Zinfandel Port is nutty, with rich mocha and brown butter flavors.
5. Vitis Vinifera
You can call her the mother of all vines. Many scientists believe that most of humanity sprang to life from a single place: Africa. This begs the question, where did the first wine grape vines' ancient roots spring from? Well, thanks to hardworking researchers, we now know the answer. Vitis vinifera, a.k.a "the common grape vine," is a species of Vitis, native to the Mediterranean region, central Europe, and southwestern Asia, from Morocco and Portugal north to southern Germany and east to northern Iran. Scientists believe that 99 percent of the world's wine grapes (regardless of varietal) first came from this iconic species. Pay your respect by knowing (and honoring) her name!
Respect your elders: They may not have the oldest wine in Paso Robles, but they are considered one of the oldest (if not the oldest) winery in Northern San Luis Obispo County. Rotta's rich history begins back in 1856, when Adolph Siot, a French immigrant, planted the first wine grapes and built the first winery in Templeton. Joe Rotta, who immigrated from Italy, purchased the winery in the early 1900s, and the rest is history. Learn more about Rotta's time-honored wines here.
---

 This blog is written by flavor fiend Hayley Cain. Follow her @flavorslo on Instagram or at astoldbyhayley.com.
---
---
Looking for a place to stay in Paso Robles?
The Adelaide Inn is an iconic, lo
cally owned hotel known for its friendly staff and lush landscaping. With spacious rooms and a convenient location close to highway 101 and the event center – home of the California Mid-State Fair – this hotel is a great choice for most travelers. TOUR VIRTUALLY
Directions: speedfind.com/AdelaideInn
Majestically set among vineyards, olive groves and fruit baring orchards, the 20-acre Allegretto Vineyard Resort is a world unto itself, offering breathtaking settings that inspire and bring joy to all who choose this memorable wine country haven. Featuring 171 rooms and suites, on-site spa, grand ballroom, wine tasting room, and inspired culinary creations at Cello, the resort's full service restaurant.
Directions: speedfind.com/Allegretto
Wouldn't you love to wake up among the vines? Eden House at Carriage Vineyards Bed & Breakfast is on a real working vineyard and longhorn ranch in the Paso Robles Wine Region. Our rooms overlook vineyards, creeks and oaks, right in the Paso Robles Wine Country of Central California.
Directions: speedfind.com/edenhouse
Spend an idyllic getaway at Briarwood Cottage at ONX Estate Vineyards in an English-cottage inspired vineyard-side home. Guests may rent rooms in the main cottage, reserve the entire main cottage for a large group, or book the fully equipped apartment. Wake up to peaceful vineyard views and spend twilight hours sipping wine on the back porch of the cottage. It's a time you won't quickly forget. Contact us for pricing and availability (see form below). Case, 6 Bottle, and 4 Bottle Collective Members receive preferred pricing.
Directions: speedfind.com/BriarCottage
Hampton Inn & Suites Paso Robles is nestled in the Central Coast wine region, home to over 200 wineries, beautiful beaches, mountains and diverse attractions. Relax and revive in a comfortable guest room with all you need for a successful stay. You can count on Hampton to deliver value, consistency and service with a smile. We love having you here®
Directions: speedfind.com/PRWine.HamptonInn
Treat yourself to the ultimate Paso Robles wine country experience by booking your stay at The Inn at Opolo Vineyards. Guests enjoy our luxurious, spacious rooms and all of the sensory pleasures of Paso Robles in one destination. TOUR VIRTUALLY
Directions: speedfind.com/oploVineyards
Enjoy the elegance, style and natural beauty of California's Central Coast at the JUST Inn®. Surrounded by vineyards, our JUST Inn Suites offer luxurious appointments like fireplaces, Tempur-Pedic®mattresses, Frette linens, hydro-spa tubs, and range in size from 600–1,200 square feet. An overnight stay includes breakfast and a tour of the winery and caves. TOUR VIRTUALLY
Directions:  speedfind.com/JustinWine
La Bellasera Hotel & Suites is an elegant boutique hotel nestled in the heart of Central Coast Wine Country. Influenced by Mediterranean and Italian architecture, the luxurious accommodations reflect the aged sophistication of the Central Coast region and the relaxed nature of the California countryside.
Directions: speedfind.com/LaBellasera
Experience the pristine countryside of Paso Robles Wine Country at Lekai Ranch. Lounge on the porch of your private suite and lose yourself in the tranquility and stunning views of the vineyards and oak studded hills beyond. This vacation rental is located just minutes from some of the most distinguished wineries and a premier olive oil estate, and only 15 minutes from downtown Paso Robles' restaurants, wineries and shopping. TAKE AN AERIAL TOUR
Directions: speedfind.com/Lekai | vrbo.com/701796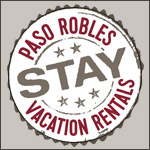 Paso Robles Vacation Rentals, also known as PasoStay.com assists guests in creating memories and wonderful experiences by providing quality privately owned vacation home rentals in Paso Robles Wine Country. With over 90 vacation homes to choose from, small enough for a couple's romantic getaway to large homes amongst local vineyards and olive orchards, PasoStay.com has the perfect option for you. Feel free to call 805-423-9174 to talk with a local expert or book online at PasoStay.com.
Directions:  speedfind.com/PasoRoblesVacationRentals
LEARN MORE