When we first start drinking fine wine, we might use simple adjectives like "delicious," to describe the experience. Sure, you can probably tell that the Paso Robles grown Cab you're drinking is fruit-forward, but you might want to dive a little deeper: Is it tart like a blackberry? Sweet, like a ripe cherry? Jammy and nuanced like spiced plum compote?
If wine lingo tends to throw you off, no worries. In Paso Robles wine country, tasting is all about being accessible, friendly and educational (never stuffy). We know you don't have time or to study like a sommelier. That's why we've developed this quick and easy five sensory checklist to ensure you're truly appreciating—and not just sipping—that bottle of Paso Robles wine. No, none of this will be on the test!
Feast with your eyes
See what's in front of you. Take a moment to behold the beauty in your hands. Here's how: Hold up a napkin or paper towel to your wine glass (a white background really helps keep the color in clear contrast). Is your wine blood red, more or a purple tone or a true, brilliant garnet? You should also make a note of the opacity of your wine (a.k.a. how much light shines through when you hold it up to the window). If you're enjoying a nice white, does it have a tinge of gold or straw hue to it? Is the "core" of the wine a slightly brighter color than the outer edges? They say you eat with your eyes first. Well, it's the same for wine tasting, too!
Sip the rainbow:
A bottle of 2018 Rio Seco Vineyard and Winery Rosé isn't just bright and delightful on the palate—it's a sight to behold: the color is a true, warm pink with a flushed, salmon core. "Pretty" doesn't even begin to describe this one.
Learn more about Rio Seco, click here
For mapping and directions to Rio Seco, click here
Swirl (carefully)
You've probably seen folks swirl with abandon before taking a first sip—and it does look fancy, doesn't it? While it's true that all wine enthusiasts have their own unique swirling style (some keep their glass conservatively on the table; others swirl wildly with one fluid motion), there is a point behind this universal commotion. In fact, swirling causes a layer of wine to coat the inside of the glass, increasing its evaporation rate (and its scent). An initial five-second swirl will lift the fragrances into the glass, but some wines—especially richer reds—will also need to be decanted (a fancy name for what you do when you swirl). Think about swirling like turning up the volume on your car stereo. Suddenly, you'll be primed to smell the bouquet ten times better than before. Just be careful not to swirl too enthusiastically…mishaps are known to happen.
Motion of devotion:
A healthy swirl of Seven Oxen's 2016 Zinfandel conjures up a clean, peppery nose that contrasts beautifully with flavors of peach preserves, tobacco and sweet cream.
Learn more about Seven Oxen, click here
For mapping and directions to Seven Oxen, click here
Use your nose
Smell like you mean it! Now, it's time to  really enjoy the full bouquet of your wine (and as we all know, smell accounts for most of any flavor experience). Really, don't be shy! Poke your nose as far into that wine as the glass will allow. Is it floral? If so, what flowers are coming to mind, whether they be honeysuckle or violet? Is the wine herbaceous, like rosemary? Vegetal, like bell pepper or fresh cut grass? Do you smell chocolate, caramel, toast or vanilla notes common in the oak aging process? Some wines feature an elusive minerality factor akin to the scent of wet stone. Once you start linking smells to their real-life counterparts, you'll be surprised at the words that come to mind. Juicy Fruit bubblegum? Peanut butter and jelly? Stranger aromatics have occurred. Trust us.
Sniff, sniff, hooray:
Eberle Winery's 2019 Estate Chardonnay boasts a bouquet that is unmistakably oaky, which is quite common for a rich, classic chardonnay style. Still, a layered whiff of green apple and zesty Meyer lemon give that old school buttery profile a fresh twist.
Virtually Tour Eberle, click here
Learn more about Eberle, click here
For mapping and directions to Eberle, click here
Gulp greatly
Are you ready to take a big, big sip? Yes, you're going to take mega-sip that is far larger than you ever would at a social hangout. You may even slurp it a bit. Why are we asking you to forget your table manners? It's all for good reason. See, you're trying to get as much information about the wine as you can, and the more wine in your mouth, the easier your tasting detective work will be. Seriously: Try coating every last tastebud! You'll get a much more dynamic taste, every time. Whether you gurgle, chew or swish, the important thing is that you keep the wine in your mouth for a few seconds. Is it on the sweeter side, or completely dry (void of all sweetness)? Do you feel the tingle at the sides of your tongue that indicate a citrus-like acidity? How does the scent of the wine boost or contrast with the fruit flavor and/or presence of oak? What fruit or foods come to mind? These are all big flavor questions and  fantastically fun to figure out.
Have fun with flavor:
"Burnt cherry" is undoubtedly a good thing when it comes to the flavor profile of Hoyt Family Vineyards Grenache, well balanced with smokey pepper and gardenia aromas.
Learn more about Hoyt, click here
For mapping and directions to Hoyt, click here
Feel your way
Reach out and touch it. Wait, there's more! Your wine sensory checklist is lacking without lastly considering the mouthfeel of the wine. If you've never considered this element before—or always felt a little confused when people spoke about it—you're not alone. However, we are here to show that it is one of the easiest parts of the whole experience. Trust us: You don't need to "feel" the wine with your fingers to sense that a higher alcohol merlot is fuller bodied or more viscous in your mouth than a delicate pinot noir. Lighter bodied wines will truly feel more sheer (less syrupy) as you swish it over your tongue. Ask yourself: Is this wine thicker, like a sauce, or thinner, like a fine broth? Is it the texture of juice, milk, or more like water? Similarly, there is no mystery behind the idea of tannin: Simply recall the last time you had black tea or walnuts, and consider how much of this moisture-wicking power your glass holds. Yes, now you finally know what "soft" tannins mean (yep: less tannin). Look at you—already a master of the lingo.
More than a feeling:
Spicy, tart and dark, Harmony Cellars 2017 Petite Sirah features lush, velvety tannins and a rich texture that coats the palate for a long, supple finish.
Learn more about Harmony Cellars, click here
For mapping and directions to Harmony Cellars, click here
---

 This blog is written by flavor fiend Hayley Cain. Follow her @flavorslo on Instagram or at astoldbyhayley.com.
---
---
Looking for a place to stay in Paso Robles?
The Adelaide Inn is an iconic, lo
cally owned hotel known for its friendly staff and lush landscaping. With spacious rooms and a convenient location close to highway 101 and the event center – home of the California Mid-State Fair – this hotel is a great choice for most travelers. TOUR VIRTUALLY
Directions: speedfind.com/AdelaideInn
Majestically set among vineyards, olive groves and fruit baring orchards, the 20-acre Allegretto Vineyard Resort is a world unto itself, offering breathtaking settings that inspire and bring joy to all who choose this memorable wine country haven. Featuring 171 rooms and suites, on-site spa, grand ballroom, wine tasting room, and inspired culinary creations at Cello, the resort's full service restaurant.
Directions: speedfind.com/Allegretto
Wouldn't you love to wake up among the vines? Eden House at Carriage Vineyards Bed & Breakfast is on a real working vineyard and longhorn ranch in the Paso Robles Wine Region. Our rooms overlook vineyards, creeks and oaks, right in the Paso Robles Wine Country of Central California.
Directions: speedfind.com/edenhouse
Spend an idyllic getaway at Briarwood Cottage at ONX Estate Vineyards in an English-cottage inspired vineyard-side home. Guests may rent rooms in the main cottage, reserve the entire main cottage for a large group, or book the fully equipped apartment. Wake up to peaceful vineyard views and spend twilight hours sipping wine on the back porch of the cottage. It's a time you won't quickly forget. Contact us for pricing and availability (see form below). Case, 6 Bottle, and 4 Bottle Collective Members receive preferred pricing.
Directions: speedfind.com/BriarCottage
Hoyt Family Vineyard Retreats  Two very cool, tiny houses, designed using fertile imagination and repurposing  of materials are located on Hoyt Family Vineyard.
Directions: speedfind.com/hoytfamilyvineyards
new
Hampton Inn & Suites Paso Robles is nestled in the Central Coast wine region, home to over 200 wineries, beautiful beaches, mountains and diverse attractions. Relax and revive in a comfortable guest room with all you need for a successful stay. You can count on Hampton to deliver value, consistency and service with a smile. We love having you here®
Directions: speedfind.com/PRWine.HamptonInn
Enjoy the elegance, style and natural beauty of California's Central Coast at the JUST Inn®. Surrounded by vineyards, our JUST Inn Suites offer luxurious appointments like fireplaces, Tempur-Pedic®mattresses, Frette linens, hydro-spa tubs, and range in size from 600–1,200 square feet. An overnight stay includes breakfast and a tour of the winery and caves. TOUR VIRTUALLY
Directions:  speedfind.com/JustinWine
The Kiler Canyon Vineyard Retreat Perched on top of a hill on ONX Estate's vineyard with gorgeous 360 degree views of the Willow Creek AVA
Directions: speedfind.com/KilerRetreat
new
La Bellasera Hotel & Suites is an elegant boutique hotel nestled in the heart of Central Coast Wine Country. Influenced by Mediterranean and Italian architecture, the luxurious accommodations reflect the aged sophistication of the Central Coast region and the relaxed nature of the California countryside.
Directions: speedfind.com/LaBellasera
Experience the pristine countryside of Paso Robles Wine Country at chic, sparkling clean Lekai Ranch. Lounge on the porch of your private suite and lose yourself in the tranquility and stunning views of the vineyards and oak studded hills beyond. This vacation rental is located just minutes from some of the most distinguished wineries and a premier olive oil estate, and only 15 minutes from downtown Paso Robles' restaurants, wineries and shopping. TAKE AN AERIAL TOUR
Directions: speedfind.com/Lekai | vrbo.com/701796
Oxford Suites Paso Robles You'll find that from our lobby, our on-site restaurant, to our meeting spaces, to our 101 spacious suites, every space is beautiful + functional as well as comfortable + chic.
Directions: speedfind.com/oxfordsuitespasorobles
Peachy Canyon Guest Inn Sits above Peachy Canyon Winery + acres of vines at Mustang Springs Vineyard. The house has 2 bedrooms, 2.5 baths, living room, family room + panoramic views.
Directions: speedfind.com/PeachyInn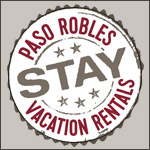 Paso Robles Vacation Rentals, also known as PasoStay.com assists guests in creating memories and wonderful experiences by providing quality privately owned vacation home rentals in Paso Robles Wine Country. With over 90 vacation homes to choose from, small enough for a couple's romantic getaway to large homes amongst local vineyards and olive orchards, PasoStay.com has the perfect option for you. Feel free to call 805-423-9174 to talk with a local expert or book online at PasoStay.com.
Directions:  speedfind.com/PasoRoblesVacationRentals
Rio Seco Winery Guest House 2 comfortable suites each with 2 bedrooms, complete with kitchens are set amongst the vines at iconic Rio Seco Vineyard & Winery. Enjoy your own barbeque + firepit.
Directions: speedfind.com/riosecovineyard
LEARN MORE